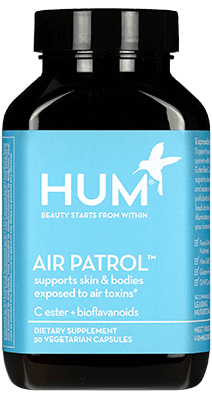 AIR PATROL™
supports skin & body exposed to air toxins
Helps fight off free radicals caused by air pollution

Boosts skin, lungs and immune system protection

Supports health while traveling

C Ester & Bioflavonoids

30 vegan capsules, 30 days
4.2

6 Reviews
$10
Add to Bag
Science
Vitamin C is an important antioxidant that can help clear out harmful free radicals and support the immune system. It has been shown to protect the body against endogenous and exogenous oxidative challenges and its action as a cofactor for numerous biosynthetic and gene regulatory enzymes plays a key role in its immune-modulating effects.
More Info
Ingredients
Vitamin C

Skin Illuminant

Calcium

Bone Boost

Citrus Bioflavonoid Complex

Of Lemons and Oranges

How To Take

Take 1 capsule

at

Any time

with

Food

How It Works

Protect your skin, lungs and immune system from harmful air toxins in urban air or smoke.

Read More

Nutritionists LOVE HUM

Non-GMO

Sustainably Sourced

Pure and Potent

Gluten Free

Premium Quality

Clinically Proven

NEED HELP FINDING THE RIGHT
PRODUCT FOR YOU?

Our 3-minute look and feel great quiz will change your life forever.

Meet your free personal nutritionist and earn

$10 off your first order!

GET STARTED
Hello!
Not a member yet?
Find the nutrients you need today
Personal Nutritionist
Nutrition Report
$10 off your first order
Get Started
Close