Two Experts on How to Deal with Cystic Acne
Fun fact: There'd be no HUM if it weren't for acne.
HUM's (Hum)ble Origin Story
It all started with some painful cystic acne. HUM cofounder Walter Faulstroh struggled with breakouts for years. "It's awful. It's physically painful but more importantly, it chips away at your confidence," he says.
Walter tried topical treatments. He got facials. He was prescribed Accutane and antibiotics. These worked temporarily, but the breakouts would come back after each course of medication.
Finally though, it was a nutritionist who gave him a long-term solution. "It was pure luck. I was fortunate enough to meet one of the best nutritionists in London through a project at my last company, and we started talking about my skin. She gave me a few recommendations. Since I'd already tried everything else, I thought I might as well give it a go."
From there, Walter limited his sugar intake and removed processed foods from his diet. He started supplementing with chlorella, spirulina, and probiotics. "It was a gradual process, but after two months I could see a real difference. I felt better overall in my body and more energetic."
The results stuck and the experience was eye-opening. "I'm a skincare junkie," Walter says, "but I'd never made the connection between nutrition and skin health." He knew it was a connection he wanted to share.
With that, the concept for HUM was born: a beauty brand that worked from the inside out to look and feel your best, with personal advice and access to nutritionists.
Today, we're returning to and exploring the issue that started it all: cystic acne. First, a dermatologist advises on what it is and how to prevent it. After, we get advice from a registered dietitian on how you can fight it from the inside out.
(Also, to hear more about Walter's story, watch his recent interview with Elissa Goodman above!)
What Is Cystic Acne?
"Cystic acne can be caused by a number of triggers," says dermatologist Dr. Eric Meinhardt, M.D., from California Dermatology Specialists. "The formation of acne can occur from one of a few processes. Bacteria, irregular cell turnover, increased sebaceous gland production, and clogging of pores can all trigger inflammation and lead to acne."
"In particular, cystic acne is more inflammatory, which means the immune system is causing the reaction below the surface of the skin. In women, hormonal acne is often cystic and located in a chin/jawline distribution."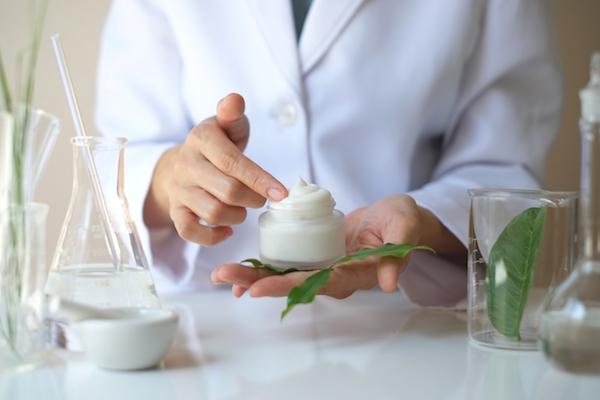 How Do We Make It Go Away?
"Stress is a very important trigger, so lowering stress can help acne significantly," says Dr. Meinhardt.
"If someone is suffering from cystic acne, it's crucial to see a board-certified dermatologist to prevent scarring. Washes with benzoyl peroxide and salicylic acid can help clear pores, as they have benefits to combat bacteria. Also, antibiotics can treat bacteria, which can help cystic acne. Furthermore, there are a number of prescription medications that are very helpful for cystic acne, including retinoids."
"To prevent clogging of pores, it's very important to avoid placing any oils on the face," he adds. "Many products use oils, but it's not ideal for acne-prone skin. Along with being oil-free, skin care products should also be fragrance-free, if possible."
Fighting Cystic Acne With Nutrition
"I always challenge people to start with the gut," says Sarah Greenfield, RD. "Look at the foods you're eating to ensure there are no potential food allergens in your diet, or foods causing an inflammatory response. The most common foods that can cause issues are gluten, dairy and sugar."
"Adding in supplements like chlorella, zinc, probiotics, and omega-3 fatty acids can support skin health. Daily Cleanse and OMG! are great places to start," she says. "Also, be sure to start the day off with a healthy breakfast that includes fiber, healthy fat, and protein. It helps set the tone for hormone balance throughout the day."
Finally, lifestyle changes are key. "I recommend drinking more water, eating lots of vegetables, aiming for eight hours of sleep every night, and managing your stress. Then, if making some of these basic changes don't help, I recommend getting your stool tested to see if you have a bacterial imbalance. It can give more insight into what next steps you can take to heal your skin."