A Vegan, Low FODMAP Protein Powder Your Body Will Love
Looking for a plant-based protein powder that's smooth, tasty, and non-bloating? Meet
Core Strength™
, HUM's vegan, low FODMAP protein powder that helps build lean muscle. Maryam Tantawy, our Director of Product Marketing and Innovation, and HUM Nutritionist
Gaby Vaca-Flores, RD
, explain what makes Core Strength the best protein powder for digestion.
What Is Core Strength?
Core Strength is a vegan protein powder made from pea, hemp and pumpkin seeds. Complemented by a natural vanilla flavor, this plant protein blend provides all 22 amino acids and 20 grams of protein per serving. It's also
low FODMAP certified by Monash University
, ensuring that our plant-based protein powder is easy to digest—especially for those who suffer from GI distress. All the while, Core Strength promotes lean muscle mass and complements a well-rounded diet.
Why We Made This Low FODMAP Protein Powder
As you may know, the market for protein powders is saturated with endless options. For that reason, we surveyed 1,000 HUM consumers to understand exactly which features are most important to them when shopping for the best protein powder for their concerns.
Innovation Based on Consumer Need
From our survey, we found that:
87 percent of consumers prefer flavored protein powder (with vanilla as the top choice)
80 percent prefer plant-based protein
the most desired benefits are easy digestion + support to build lean muscle
With these insights on hand, we went through rounds of R&D to deliver these exact solutions. It's also worth noting that while Core Strength is vegan-friendly, it's still attractive to people with a diverse range of dietary preferences. "We saw this formulation preference as a testament to recent food trends in general, with people growing curious about the
benefits of plant-based diets
," Maryam shares. Plus, our customers also helped us select the blend of Core Strength's three plant-based proteins. While pea protein is a common ingredient in many vegan protein powders, we were excited to see that people were open to trying newer varieties. "Though hemp and pumpkin seed are relatively new sources on the market, when paired with pea protein, they complete the full amino acid profile," Maryam explains.
Low FODMAP Certified for Easy Digestion
As far as the most popular desired benefit goes, the majority of consumers surveyed hope to find the best protein powder for digestion. "Many protein powders can cause bloating—especially those made from dairy sources," Maryam says. "For instance, some types of dairy-based proteins contain casein and/or lactose, which, depending on your level of sensitivity, can cause digestive discomfort." To sidestep these potential side effects, we went the extra mile to formulate Core Strength as a low FODMAP protein powder, certified for easy digestion. Never
heard of FODMAPs
? They stand for fermentable oligosaccharides, disaccharides, monosaccharides, and polyols. They're packed in a variety of foods (both healthy and otherwise), may be poorly absorbed, and can thus contribute to digestive issues. Gaby shares that
low FODMAP dietary sources are beneficial
for those who regularly experience:
bloating
gas
irregular bowel movements
other types of stomach issues
"A low FODMAP diet helps the digestive system to reset," Gaby summarizes, "and Core Strength allows for a more comfortable supplemental protein experience."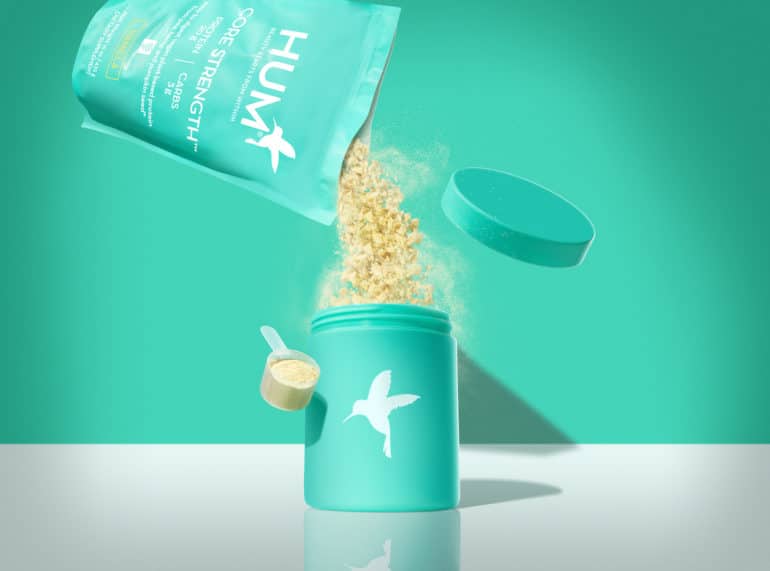 Why Protein Is So Important
If you need a refresher on why we need protein, Gaby shares some quick yet important details. "Protein is one of the three main macronutrients, with the others being carbohydrates and fats," she begins. "Of the three, protein is perhaps the most important one. It contains
amino acids
—the building blocks of protein—that play a vital role in every function of the body." Further, she continues, "There are nine essential amino acids (meaning the body can't create them), which we need to get from food." Protein supports (among many other things):
cell tissue + structure
muscle movement + contraction
the immune system
hormone balance
bone health
sleep quality
How Much Protein Do You Need?
While Gaby notes that protein deficiency isn't very common, she says that most people can benefit from adding more protein to their diets. She shares that most sedentary adults require at least 0.8 grams to one gram of protein per kilogram of body weight. For instance, if you weigh 150 pounds (68 kilograms) and are mildly active, you should aim for a daily intake of about 54 to 68 grams of protein per day. Otherwise, for those who follow
more active lifestyles
—think athletes and moderate-to-intense fitness buffs—Gaby suggests upping the daily quota to 1.3 or 1.6 grams of protein per kilogram of body weight. That means that an active person weighing 150 pounds (68 kilograms) should aim for 88 to 109 grams of protein daily. At any rate, one serving of Core Strength packs 20 grams of plant-based protein to help you reach the recommended daily intake of this vital macronutrient.
Note:
Gaby says that the uppermost limit
shouldn't exceed 2 grams of protein
per kilogram of body weight. "Over time, that excess protein can take a toll on your digestive system," she cautions.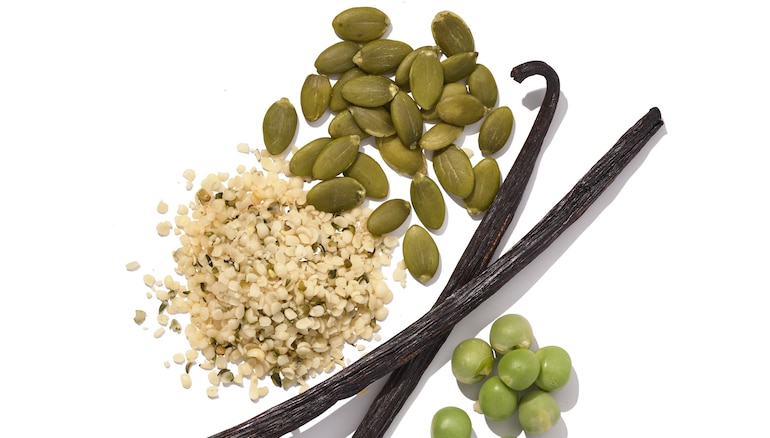 Ingredients + Benefits
As with the rest of HUM's supplements, Core Strength is formulated solely with clinically proven ingredients that are:
clean + natural
gluten-free
non-GMO
free of artificial colors, flavors + preservatives
triple-tested for purity + verified by independent labs for potency
Furthermore, Core Strength includes 15 servings that each pack 20 grams of protein—including all 22 amino acids—in a natural vanilla flavor. Now, let's take a closer look at the star ingredients in our low FODMAP protein powder.
Plant Protein Blend
Core Strength contains three sources of plant-based protein:
pea protein
organic hemp seed protein
organic pumpkin seed protein
Why these varieties? As Gaby puts it, vegan protein powders require a mixture of different sources to complete the "puzzle" to include all 22 amino acids.
Digestive Blend
Next, to further support digestion while boosting protein intake, Core Strength's digestive blend includes:
flax seed, which provides both soluble + insoluble fiber
digestive enzymes, which improve digestion + nutrient absorption
L. acidophilus, the most researched probiotic strain for gut health
Fast Facts
If you have lingering questions, this section should clear things up.
Who it's Good For
Core Strength is a terrific vegan protein powder for anyone who leads an active lifestyle. Whether you're an athlete or fitness enthusiast, Core Strength can help you
build and maintain lean muscle
. Additionally, our low FODMAP protein powder is especially suited for those who regularly experience digestive issues. It's also great for vegetarians, vegans, and
plant-based eaters
concerned about reaching their protein intake. Lastly, if you're trying to prioritize weight management or simply know you're not getting enough protein, Core Strength is universal enough to be a beneficial addition to any wellness regimen.
How to Take It
Of course, Core Strength is a great addition to smoothies. Simply add two scoops to your favorite recipe. Alternatively, you can mix it with eight ounces of water or nut milk.
However, it's also incredibly versatile. Yes, you can sip it down, but Maryam notes that since Core Strength has no grit, it's also "smooth enough to creatively include in your favorite baking recipes for an extra dose of protein." As for
when
to take Core Strength? If your goal is to build lean muscle, Gaby clarifies the common assumption that you should have protein within a short anabolic window (15 to 60 minutes) following a workout. "This topic is often debated, but the
current consensus
is that the post-exercise window is longer (around two hours or more) and still beneficial for muscle recovery."
Note:
Core Strength isn't meant to serve as a meal replacement. Instead, it should supplement your regular meals and whole-food sources of protein.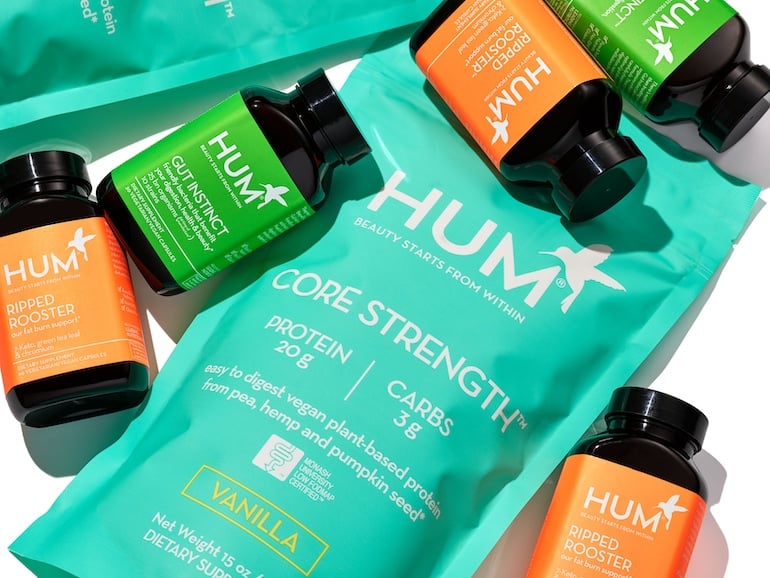 HUM Pairings
Wondering how Core Strength can fit into your current HUM regimen and help achieve your wellness goals? First, our vegan protein powder works well with all of our other supplements, so there's no need to worry about potential pairing issues. That said, we particularly recommend pairing Core Strength with the following HUM products to enhance your wellness journey:
The Bottom Line
All said, our vegan, low FODMAP certified protein powder is easy to digest and also supports countless aspects of your health. Last but not least, we made sure that Core Strength is eco-friendly. It comes in a recyclable pouch with a refillable tub as a gift with your first purchase.
Add Core Strength to your wellness regimen for leaner, stronger, more gut-friendly days ahead.
More like this