How to Maintain Good Gut Health During the Holidays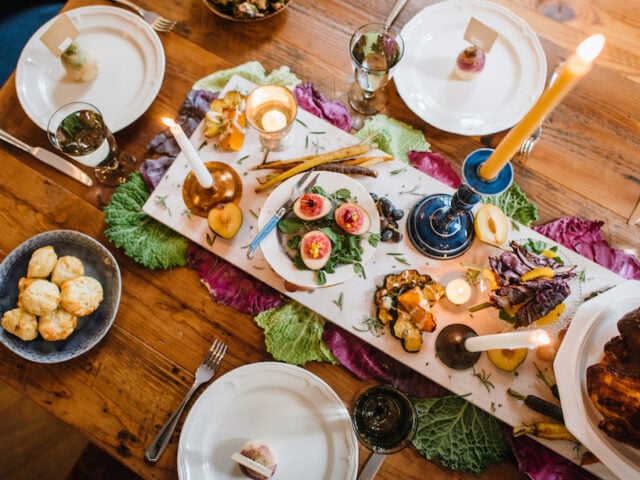 The weeks between Thanksgiving and New Year's are often filled with delicious sweets and alcohol-filled parties, not to mention lots of family time. Here's how to maintain a healthy diet and keep your digestive system happy with gut-friendly foods—without giving up on all the fun. Spoiler: It's all about what you add to your plate. Not what you take away.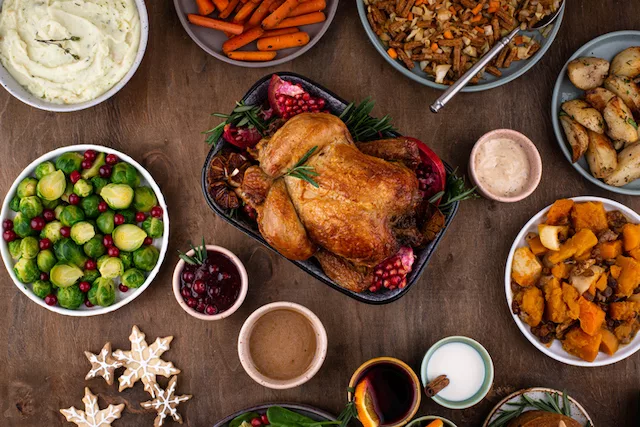 With the holiday season approaching quickly, you might be wondering how your upcoming celebrations may impact your health—specifically, your gut health. After all, the most wonderful time of the year is also the most food- and alcohol-filled. The holidays can also be very stressful and take us out of our usual routines—two additional things can take a toll on the digestive system.
"Due to extra family events and travel, people tend to be very tired, stressed, and out of sync with their usual routine during the holiday season," explains Amy Shapiro, MS, RD, the founder of Manhattan-based dietetics practice Real Nutrition. "As a result, some people don't eat enough, relying only on coffee to propel them through their days. While others may only have time to grab processed foods that lack gut-friendly nutrients like fiber and probiotics." Shapiro also says the onslaught of parties synonymous with the season often means we're collectively consuming more sugary desserts and alcohol, which can negatively impact the balance of good and bad bacteria in the gut.
The Importance of Gut Health
While a few indulgent meals here and there aren't going to make any long-term changes to your gut health, issues may arise when indulging becomes the status quo, explains gut health dietary expert Amanda Sauceda, MS, RD.
"The gut microbiome is made up of trillions of bacteria that break down fiber from foods. This process produces short-chain fatty acids (SCFA), which help keep the gut healthy and aid other areas of wellness, including bone health and immunity. When the gut doesn't get the fiber it needs to produce SCFA, it may lead to an imbalance of good to bad bacteria in the gut," explains Sauceda.
Early signs of an imbalanced gut microbiome are usually related to digestion. "You may feel bloating or experience constipation or diarrhea. You may also feel like foods you've never had a problem with are seemingly irritating your gut," Sauceda says.
If you notice any of these signs, it's time to take steps to improve the overall balance of good and bad bacteria in your gut through your diet.
Maintaining Good Gut Health Day-to-Day During the Holidays  with gut-friendly foods
Sure, all the parties and indulgent dinners can make it hard to feed your gut the nutrients it needs, but it's definitely possible—all it takes is a little planning. But no matter what, don't stress too much about your diet; that will only negatively impact your microbiome. Just do the best you can!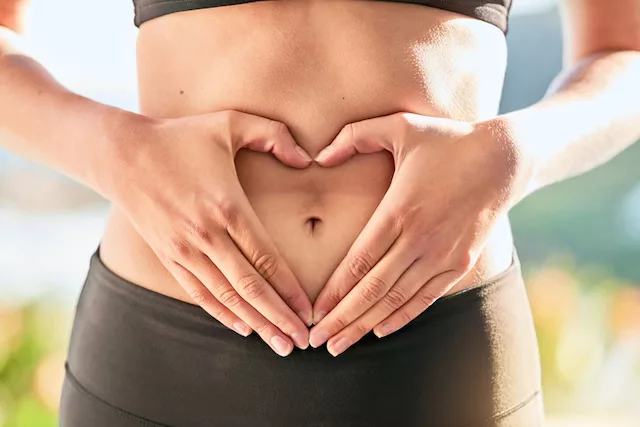 "I think people get really freaked out about their diet about the holidays, and that creates more stress, which is bad for the gut bugs in itself," says Isabel Smith, RD, CDN, the founder of Isabel Smith Nutrition. "So first and foremost, don't overthink your diet; just do your best to sneak in fibrous foods like fruits, vegetables, and whole grains when you're not at celebrations. This way, more indulgent food and drinks will have less of a toll on your gut bugs when you decide to have them. Small steps can have a big impact!"
Shapiro agrees, noting that focusing on the meals you likely have more control over, like breakfast, lunch, and your afternoon snack, can make a big difference. "The key is to maximize those meals for fiber to keep the gut happy," she says
Some easy Smith- and Shapiro-approved ways to sneak in more fiber into your day-to-day include:
Adding frozen cauliflower or spinach to your smoothies
Adding veggies to omelets and other meals—keep frozen options on hand to make doing this easier
Adding berries and seeds to Greek yogurt
Swapping cereal for oatmeal at breakfast
Topping toast or bagels with avocado and kimchi instead of cream cheese
Snacking on veggies with hummus or an apple with nut butter
Roasting a big batch of vegetables to use in meals throughout the weak
If the idea of adding more fiber to your diet stresses you out, Sauceda recommends focusing on maintaining your status quo instead. "Life and food can be different during this time of the year, but a good gut goal is to keep as much as you can the same in terms of your diet. Your gut likes consistency, particularly with fiber foods, so when you enter the holiday season, try to keep your normal fiber-filled foods in your meals."
The Role of Supplements & Exercise  With Gut-friendly foods
If you're worried you're not getting enough fiber during the holiday season, adding a supplement to your routine may aid digestion and help keep your gut bugs happy. "Certain supplements can help to maintain your gut health and keep you from feeling sluggish and bloated. Just be sure to work with a healthcare professional who can recommend what is best for you," Smith says.
Shapiro agrees and notes that the holiday season is a great time to start taking a probiotic supplement. "It can ensure you're supporting your gut health in times of decreased nutrition and increased germ exposure," she explains. "A probiotic with a prebiotic might be helpful if you are not eating or meeting your fiber goals," she adds. 
Movement can also help with digestion. "It helps with keeping your bowels regular and helps to promote healthy bacteria in the gut," Sauceda points out. "A walk with your family after your holiday meal or even doing some steps in your office after a potluck can be really helpful."
Gut-Friendly Holiday Dishes & Ingredients
Attending a party or hosting a get-together? You likely have some cooking to do! So why not whip up some gut-healthy dishes to add to the spread featuring the nutrient-dense foods detailed below?
Oats
Oats contain a type of soluble fiber called beta-glucan. It forms a gel-like substance in the gut that helps keep you regular, explains Sauceda. "I love oats because you can use them to make sweet or savory dishes."
Sauceda recommends using oats to create a delicious fruit crumble topping or combining them with onions and chicken stock to make a Scottish stuffing alternative called skirlie. 
Bulgur
Bulgur is a good source of gut-friendly dietary fiber, and it's the perfect ingredient for a holiday side dish, says Sauceda. "You can mix this grain with some veggies to add even more flavor and fiber." 
Interested in giving something like that a try? Consider whipping up this dish, which combines bulgur with roasted vegetables, golden raisins, feta, and a blend of delicious spices. 
Berries
"Raspberries, blackberries, blueberries, and strawberries are high in fiber and low in sugar. They are also rich in antioxidants that decrease inflammation," says Shapiro.
Make berries part of your holiday dessert spread by placing them on a tray along with chocolate truffles and festive cookies. Alternatively, add them to a side salad or whip up a beautiful berry salsa to serve with entree proteins or along with chips as an appetizer, Shapiro suggests.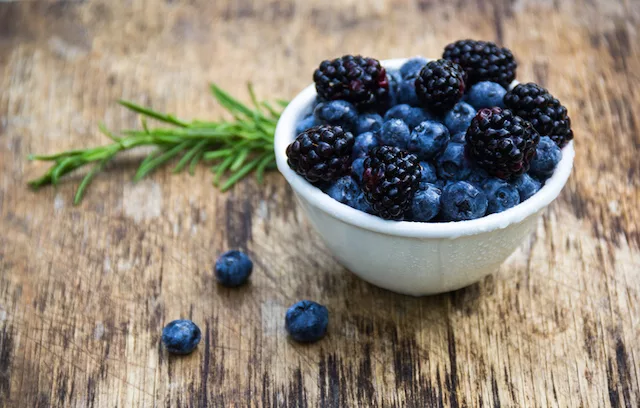 Miso
Miso is a fermented paste made from soybeans that's full of beneficial bacteria that are excellent for gut bugs. "If you can, find a brand that adds probiotics, which can also help maintain gut health," says Smith.
Miso is a flavorful addition to holiday sauces, dressings, and soup bases, Smith tells HUM. "A little bit goes a long way, which is good since miso is also high in sodium," she adds. Try adding it to your holiday menu lineup with this Miso-Maple Salmon recipe.
Lentils
Prebiotics are a type of fiber that feeds the "friendly" bacteria in the gut, and lentils are a great source of them, says Sauceda. She recommends adding lentil-stuffed squash to your holiday table this year. "It's really yummy and adds some filling protein to a side dish that otherwise would have any."  
Yogurt
"Greek yogurt contains probiotics which can help to maintain a healthy gut microbiome," says Shapiro. "I recommend incorporating it into a veggie dip for your next party instead of a sour cream-based recipe. No one will know!"
Swiss Chard
"Swiss chard is a winter seasonal veggie that contains fiber and antioxidants to help balance our gut microbiome and fight free radicals in the body," Shapiro explains. For an easy-to-make, heart-healthy holiday side, Shapiro recommends sauting the greens and topping them with pomegranate seeds. Get step-by-step instructions here.
Onions
Another great source of prebiotics, onions are a versatile ingredient to add to savory holiday dishes, Smith says. Use them to make a side dish like this mouthwatering Gorgonzola-Roasted Mushrooms and Onions dish from Food & Wine. Or try this French Onion Chicken recipe from Skinnytaste.
The Gut-Friendly Foods Takeaway? 
Maintaining a healthy gut microbiome during the hectic holiday season can be challenging, but it's not impossible. It just takes a bit of planning—and is well worth the effort.
By making time to consume gut-friendly foods, you're taking steps toward keeping uncomfortable side effects like bloating, constipation, and diarrhea at bay, so you can enjoy celebrating with loved ones.
More like this