I'm Vegan: Here's Everything I Eat in a Day (plus the one supplement I can't live without)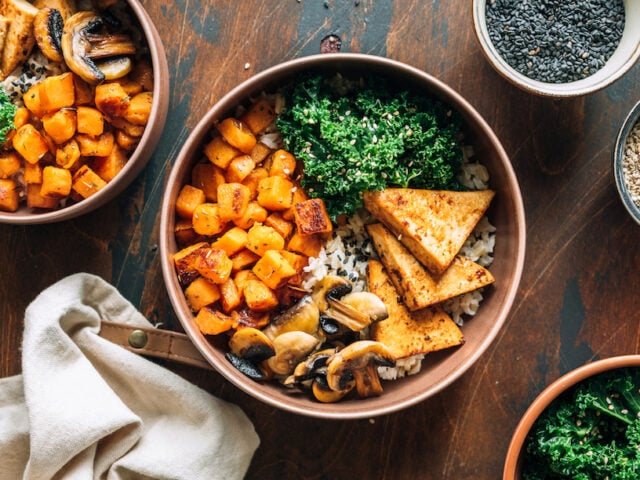 Labels, love 'em or dislike them–I am proud to call myself plant-based, a.k.a vegan. I don't eat animal products, nor "processed" foods (I put processed in quotes because it's a broad term). My household pantry is filled with whole foods like: nuts, seeds and grains. My refrigerator is stocked with fruits, veggies and lots of pickled concoctions I make to mitigate food waste but also create gut-friendly foods.
In this article I am bringing you everything vegan I eat in a day. Think of this as a peek into my whole food plant-based life that I hope can be of inspiration to you!
Whole Food Plant-Based Vegan
First things first. I live by a whole food plant-based diet, which means that I eat minimally processed foods. Additionally, I am "vegan" which means I don't consume animal products. I like to stress the whole food plant-based aspect because it's the most healthy way to eat, because trust me there is such a thing as a bad vegan diet. There are an overwhelming amount of highly processed vegan food options out there–beware.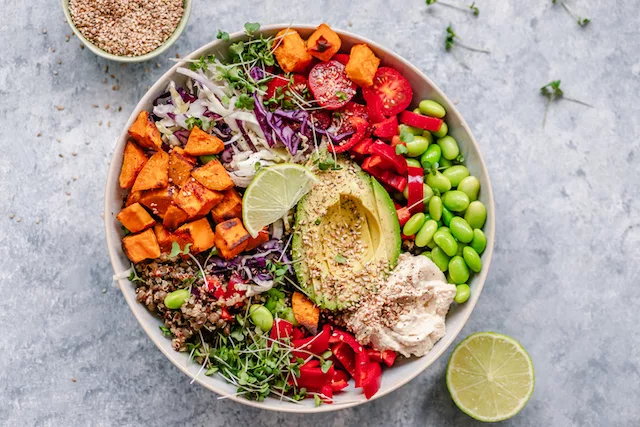 Daily Food Plan
Early AM
Water with lemon and celtic salt
Every morning I spring out of bed and head to the kitchen for filtered water. This isn't just any water, though. I add celtic salt and fresh lemon. This is a great way to kickstart my system, optimize hydration and balance my gut.
Coffee
Organic espresso with homemade nut mylk
After I have worked on my hydration I head directly to my espresso machine. I live for a strong Americano! I always use organic dark roast beans, pull 4 shots and steam up homemade nut milk. Typically my Americanos are topped off with honey and a dash of cinnamon.
Breakfast
Curry tofu scramble with olives and avocado or Berry smoothie with HUM core strength powder
Depending on my mood my breakfast routine toggles between two constants: a tofu scramble or berry smoothie. Let's start with the smoothie for lighter on-the-go-days.
I throw a cup or two of organic frozen berries in the blender with hemp milk. Then, I add a scoop of HUM's core strength protein powder and a tablespoon of organic almond butter.
On a harder workout day, and when time permits, I like to scramble up a curry tofu with a piece of avocado toast. I simply squeeze the moisture out of the tofu block and then smash it up with a fork. Then, I add curry powder, various herbs and spices and scramble it up with some organic avocado oil.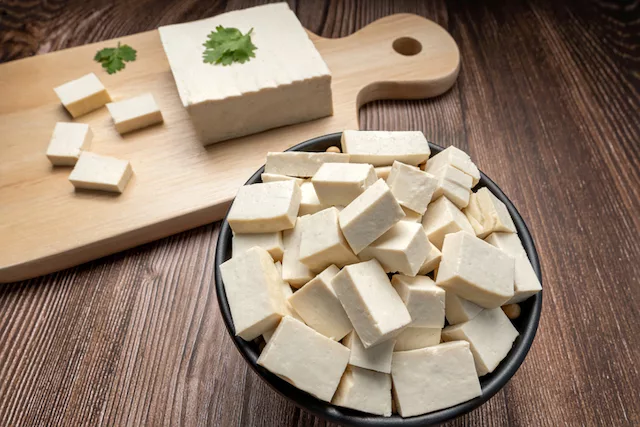 Lunch
Roasted veggies with quinoa
Lunch, I like to keep it light so I don't overwhelm my digestive system–especially at work! On Sundays I cook up a big batch of quinoa in veggie broth and mix this with veggies throughout the week. For a quick packed lunch I'll throw in a one half to a cup of quinoa with roasted veggie and drizzle tahini on top.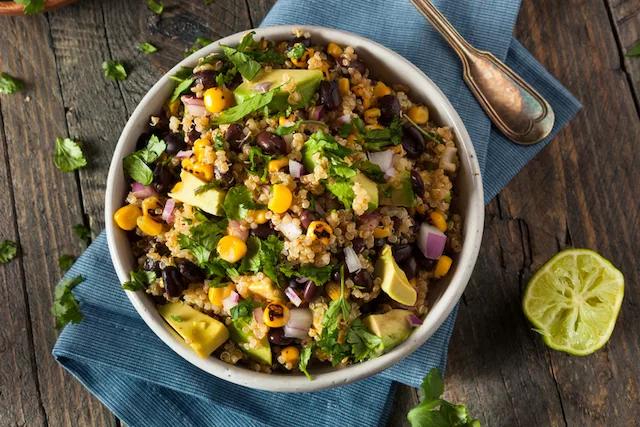 Snack
Apple with almond butter or veggies with hummus
I'm not a big snacker but it's important to keep healthy calories going throughout the day when I have had a big workout. I like to reach for an organic apple with a scoop of almond butter.
If I am in a more savory mood I'll nosh on organic veggies with homemade hummus!
Dinner
Chickpea pasta with tomato sauce or vegan pizza and salad
There is nothing better than a warm and hearty dinner in the Fall. Ahead of the New York City Marathon, I like to make nutrient dense larger dinners of pasta or pizza; all homemade of course. 
My family and I started a pizza night tradition several years ago and I really took to it. Hot tip: pick up fresh dough from the local bakery! I use organic pizza sauce and layer lots of vegan cheese on top. A side salad is a must to get my daily greens, topped with vinegar!
Dessert (if any!)
Hot cocoa or popcorn
I'm not a sweets person, but once in a while I really crave something sweet and salty, like a vegan chocolate chip cookie or ice cream from Salt & Straw. At home I keep it simple with homemade organic popcorn with a little coconut oil and a pinch of sea salt. OR I make it a sweeter night and steam nut milk with cocoa powder and maple syrup for a warm cup of hot chocolate.
The ONE supplement I can't live without
As someone who eats mainly plants it is important that I get a boost of b12 in my diet. This helps with brain function, support healthy blood and nerve cells as well as prevent megaloblastic anemia. So, this is my go-to cant' live without supplement!
The Healthy Takeaway…
Daily I try to get lots of fruits and veggies. Also, I make an effort to eat seasonally to not only support farmers but it's best to do so for the body as well. Remember that everyone is different and you should eat for your needs! When I am marathon training my daily diet looks one way and when I am in a more gentle and less cardio-driven block of my life, I eat gently and less carbohydrate driven. But let's be honest, I never met an unprocessed carb I didn't like! Happy eating, vegans! 
More like this