Fall Wellness Hacks Heading Into The Holidays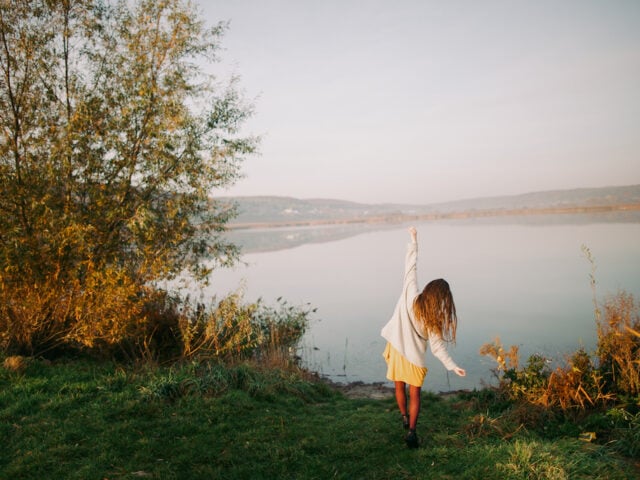 For many of us, summer has always been synonymous with a slower, more relaxing time of year. Even when it's filled to the brim with warm-weather activities, vacations, and reunions with family and friends, summer has always been the perfect time to sit back, relax, and lean into soul-nourishing practices designed to recharge our batteries.
From centering morning routines and energizing workouts to nutritious meals, grounding moments in nature, and restorative nighttime rituals, these summer wellness practices have a way of making us feel our best. 
All too often, though, we let our summer habits go as soon as the hustle and bustle of fall makes itself known. To be honest, we've been wired to do just that. Growing up, we eagerly anticipated summer break all year long, yearning for a season when we could forget about the stresses and responsibilities of school and make time for our favorite hobbies. Then, as soon as the first day of school came into sight, anything school-related was expected to come first.
While it's definitely important to dedicate attention, time, and energy to your responsibilities in the fall (and throughout every season), it's just important to prioritize your self-care and wellness routines all year round. With that in mind, today we're here to remind you of the benefits of carrying your summer wellness routine into fall. Perhaps this is the year when you can make time not only for work and the demands of those around you, but for your health, happiness, and healing, too.
Reflecting on Summer Wellness Achievements
It's all too common to overlook our own achievements. Because of that, we urge you to take a moment to zoom out. What do you see?
Maybe you're proud of how consistent you became with your workout routine, whether it was morning and evening walks, regular group fitness classes, or embarking on a strength training regimen that you were initially intimidated by.
Perhaps you put a lot of time and effort into creating nutritious weekly meal plans and can feel the immediate impact on your body and mind.
Maybe, for the first time in a long time, you stuck to a consistent sleep and rise schedule, and noticed how much better you've felt as a result.
No matter what your summer wellness achievements are, it's important to acknowledge them, applauding the effort, dedication, and time required to make them the enduring habits you've come to love over the past couple of months. In doing this—directly pinpointing their positive effect on your overall well-being and life as a whole—you'll feel more inclined to carry them from one season to the next.
While analyzing and appreciating your habits in your mind can certainly help with the process, we suggest writing down your thoughts, feelings, and ultimate takeaways from your summer wellness routine so that you have something solid to look back on, not to mention something to serve as the basis for your wellness routine in the seasons ahead.
"Taking more time to journal, pray, and reflect can be a powerful way to welcome the beginning of fall," says Katie Silcox, New York Times Best-Selling Author of Healthy, Happy, Sexy and soon-to-be-published, Glow-Worthy: Practices for Awakening Your Inner Light and Loving Yourself as You Are―Broken, Beautiful, and Sacred (which debuts on October 3, 2023).
Although any notebook or notepad will do, we love the idea of an aesthetic journaling practice that will make you want to jot down personal anecdotes even more. If that sounds like your cup of tea, allow us to introduce you to Papier. The brand's hardbound notebooks are sold in dozens of colors and prints and can be personalized with your name and the year. They even sell a Wellness Journal ($38) if you prefer a bit more structure to your journaling.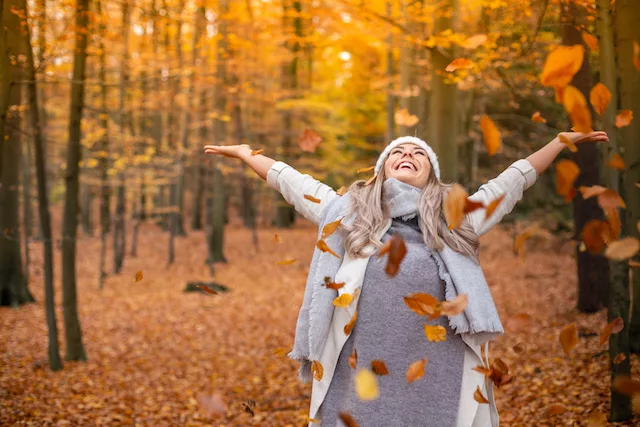 Sustaining Healthy Habits for Fall
After determining the most fulfilling aspects of your summer wellness routine, it's time to uncover ways to ensure you always have plenty of time for them in fall, too.
If you feel most grounded after working out…
Find a time that works for your schedule and stick to it. Don't just leave that hour open on your calendar, though—block it off as if it were a meeting with a CEO; something so important you'd never dream of skipping it. 
If you feel most clear-headed when you eat well…
Pick a day of the week to grocery shop and meal prep so that you always have nutritious snacks and meals readily available. That way, even on your busiest days, you won't feel inclined to reach for something less than stellar that will only leave you crashing within an hour of consumption. 
When picking out your groceries, prioritize foods that make you feel your best, like whole grains, fruits, vegetables, and high protein sources. If possible, shop at a farmer's market to stock up on local seasonal produce to really embrace the flavors of autumn.
Since meal prep can feel monotonous, we suggest spicing up the routine with your favorite music, as well as kitchen gadgets that streamline the process and/or bring you joy. For example, the colorful Cuisinart 12-Piece Kitchen Knife Set ($27.73) adds a fun pop of color to your kitchen while also ensuring you can slice and dice anything on the menu. Meanwhile, if you love to start your day with a smoothie, the nutribullet Pro 900 ($119.99) makes whipping up delicious smoothies easier than ever (you can even recreate celebrity-favorite Erewhon smoothies with it, as the site posts all ingredients online). More of an ice cream lover? Create your own nutritious cold concoctions with the Ninja CREAMi Breeze™ Ice Cream Maker and Frozen Treat Maker ($169), which is adored by wellness fans all over TikTok. For salad fanatics, skip the pricey store-bought mixes and whip up your own perfectly chopped salad with the OXO Good Grips Salad Chopper ($29).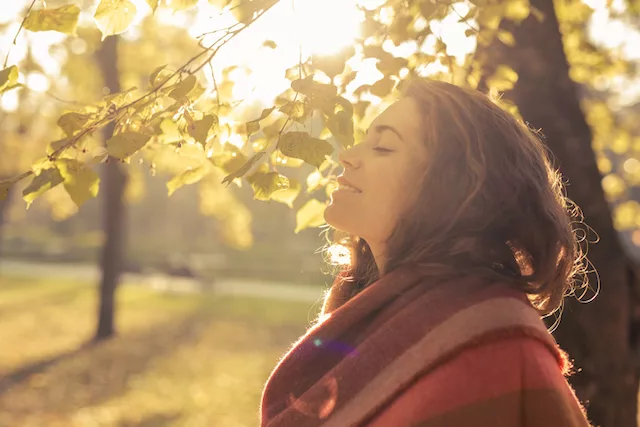 If you feel most energized with a consistent sleep schedule…
Set bedtime reminders and daily alarms to make going to bed and waking up at the same time every day less of a hassle. And, just as with working out, schedule your morning and bedtime routines on your calendar so that you won't schedule other activities during those times. 
If you have trouble falling asleep and/or waking up at the same time during the cooler, darker months of the year, do yourself a favor and add a sunrise alarm clock to your bedside table. The Hatch Restore 2 ($199.99) is a best-seller thanks to its sunset and sunrise routines, not to mention its chic, minimalist appearance. 
Transitioning Exercise Routines
The trickiest part about transitioning your summer exercise routine to fall—apart from ensuring you have the time to work out—is moving indoors. If you're someone who likes to run or bike outside, the idea of running on a treadmill or cycling on a stationary bike may feel miserable. To keep your movement exciting and fulfilling, consider opting for more interactive indoor exercise. For example, invest in a Bowflex Treadmill 22 or NordicTrack Commercial 2450 so that you can enjoy visuals from destinations all over the world, which will make you feel like you're still tracking miles outside. If you love to cycle but hate focusing on a leaderboard or an instructor staring back at you, instead sign up for Les Mills The Trip at a club near you. The incredible wide-screen visuals will make you feel like you're cycling out of this world. 
Meanwhile, if you prefer group fitness settings but your outdoor summer bootcamp or vinyasa flow has come to an end, consider enrolling in a boutique fitness class, such as Barry's, Orangetheory, Y7, or CorePower Yoga. By surrounding yourself with like-minded individuals, you'll be more likely to stick to your summer-to-fall fitness routine. 
That said, if you're not sure where you want to (or should) start, Silcox has a suggestion. "I try to focus on exercise that incorporates more fluid movements like walking, gentle yoga, and body weight mobility circuits," she says. "In the fall, it's super important to walk more and run less, favor resistance training over cardio loading, and practice gentle yoga and meditation." With this in mind, you may enjoy signing up for on-demand fitness subscriptions, like Les Mills+ (which offers 21 fitness programs) or Alive by Whitney Simmons (an app that offers over 100 daily workouts, as well as weeks-long fitness programs). 
Nourishing with Fall Foods
As we mentioned above, one great way to embrace the transition from summer to fall is by stocking your fridge with fall produce and ultra-nourishing foods. "Think of foods that help to counteract gas and bloating and focus on foods that nourish and strengthen the liver," Silcox says. "This is the perfect time for stewed mung beans, roasted winter squash, and cooked dandelion greens with ginger and fresh turmeric. Apples cooked with a small amount of ghee and spices would also be a great way to hydrate the body and help to keep things moving."
Speaking of, if you want to kick off fall with a cleanse to reset, Silcox says that there's no better time. "Ayurveda highlights the time between September 15th and October 15th as the ideal range for a kitchari cleanse," she reveals, noting that it helps to reset your eating habits for the season ahead. Specifically, a kitchari cleanse is comprised of warm, hearty soups that combine grains and legumes to eliminate toxins from the body while imparting enough energy to function and flow through the transition from summer to fall. While you can make homemade kitchari cleanses, an easy way to whip one up is with the Divya's Complete Kitchari Bundle ($49.99).
Meanwhile, if you're looking for the perfect nourishing sweet treat for fall, Silcox can't say enough about her Gluten Free Buckwheat Muffins with Apples and Cinnamon, the recipe for which is shown below.
Dry ingredients: ½ cup crushed walnuts; 1 cup almond flour; ½ cup buckwheat flour; ⅓ cup ground flax seed; 1 tsp each powdered ginger, cinnamon & salt; ¼ tsp each nutmeg, cardamom & allspice; ½ tsp each of baking powder & baking soda
Wet ingredients: ½ cup coconut oil, ½ cup maple syrup, 3 eggs, ⅓ cup non-dairy yogurt, ¼ cup nut milk, 1 tsp vanilla extract, 2 finely diced apples (medium-sized)
Instructions: Combine all dry ingredients in a large bowl. In another bowl, mix wet ingredients, including apples. Add wet to dry and mix well. Spoon mixture into greased muffin tin and bake at 400 degrees for 20-25 minutes. -Katie Silcox- New York Times Best-Selling Author of Healthy, Happy, Sexy and author of soon-to-be-published, Glow Worthy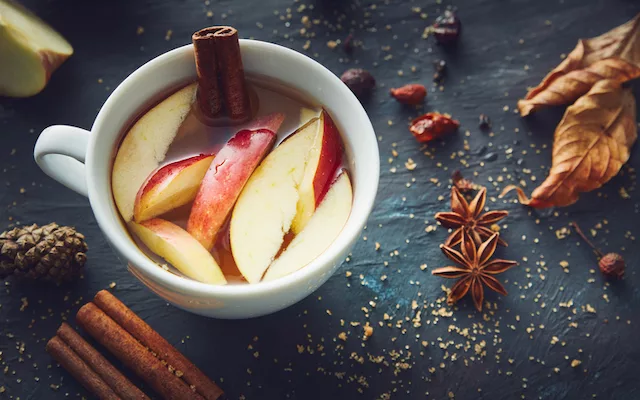 Boosting Immunity for Colder Months
As the temperatures drop during fall, it's normal to fall under the weather a bit easier. To prevent this from happening, Silcox says it's important to boost your immunity however you can. While staying hydrated and getting adequate sleep are key, she says that adding herbs and mushrooms to your autumn wellness routine can help, too.
"Try adding some reishi, chaga, or lion's mane to your morning or evening beverage—these mushrooms are considered major superfoods and are strongly anti-inflammatory, promote longevity, better immune function, and mental clarity," she says, recommending the Anima Mundi Apothecary Chaga Body Guard Herbal Supplement ($45). "Tulsi, ashwagandha, licorice, and gotu-kola are all some of our favorite ayurvedic herbs for fall. Tulsi and licorice make a delicious tea to sip on all throughout the day."
Prioritizing Self-Care in the Colder Months
All forms of self-care are beneficial. They're also subjective—what works for one person may not be as effective for you. Because of this, it's worthwhile to explore different forms of self-care. So, in addition to prioritizing sleep, nutrition, and movement, Silcox suggests meditation and reflection.
"Meditation in the morning and evening sun can be most effective and taking the time to journal can help to ease any extra stress," she says. "In particular, it could be helpful to use writing prompts such as I let go of or I release. Taking the time to reflect on what has and has not served you in the last six months would be constructive and intentional practice as you move forward into the season of release and surrender." Other self-care practices she recommends include: taking a sauna break and making self-oil massage a daily ritual.
Adapting Skincare and Beauty Routines
If your skincare routine is one of your favorite forms of self-care and a highlight of your wellness regimen overall, make sure to adjust it for fall to continue benefiting from it as much as possible. Generally speaking, you'll want to opt for heavier moisturizers and steer clear of drying ingredients like alcohol, as the cooler months of the year already tend to be more dehydrating for the complexion. And remember: Even if the daylight hours are shorter, SPF is still a must.
Embracing Seasonal Mindset Shifts
At the end of the day, carrying your summer wellness routine into fall requires the proper mindset. You have to be cognizant of the shorter days and cooler weather, and work with them instead of letting them work against you and the rituals that serve you the most.
While fall is known to kick deadlines and work into high gear, do your best to step into the season slow and steady, and with the utmost intention. Doing so will allow your body and mind to thrive, and your wellness routine to survive.
More like this