13 Ways to Winterize Your Beauty Routine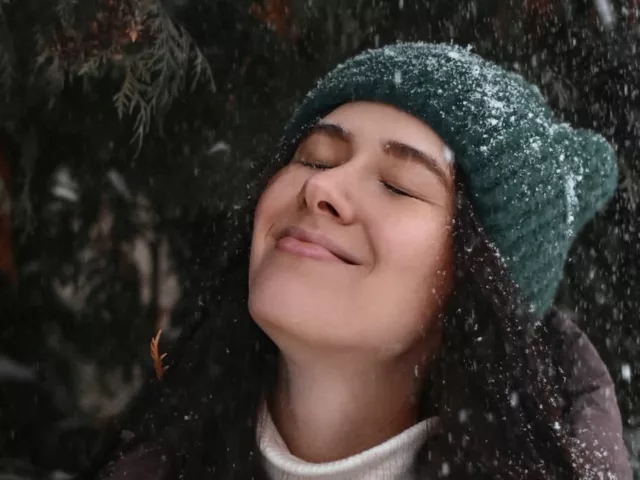 Baby, it's cold outside! But don't let that stop you from achieving soft hair, strong nails, and glowing skin. Read on for expert-backed nail care, hair care, and skincare tips for the winter.
The weather outside is frightful—and the way it affects your hair, skin, and nails is, erm, not very delightful. Cold, windy weather outside paired with dry, hot heat inside can cause some serious dryness.
"In the cold winter months, humidity levels are often lower," explains Shani Darden, celebrity esthetician and founder of Shani Darden Skin Care. "The dry air can cause your skin to feel parched and appear dull." This goes for your nails and your hair too: The lack of moisture in the air leads to dryness, which can cause damage down the road.
The good news? There are a few small changes you can make to your beauty routine during the colder months to keep your hair soft and shiny, your nails long and strong, and your skin glowing and gorgeous. While you don't have to adjust your products and habits with every season, it's usually best to do a skincare audit twice a year. Read on to see the best expert nail care, hair care, and skincare tips for the winter.
Your Guide to Winter Skincare, Hair Care, and Nail Care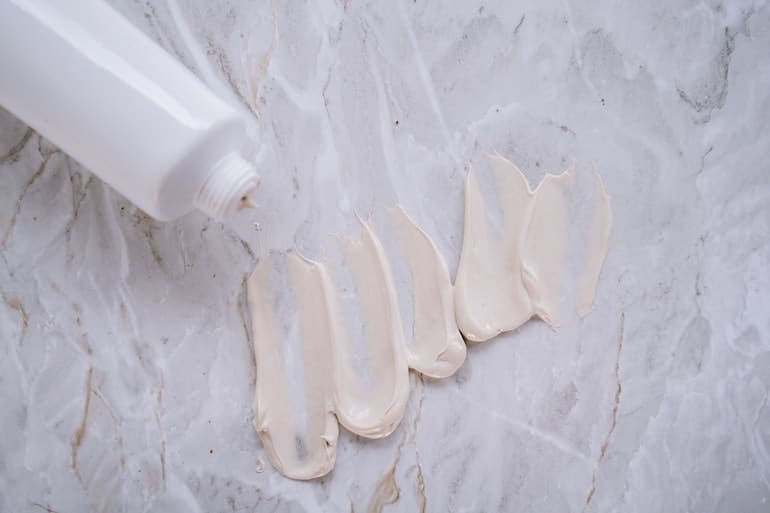 Ready to winterize your beauty routine? Here are 13 ways to adapt your habits and product lineup to the colder season.
1. Exfoliate Regularly
Exfoliating is an essential step regardless of the season. And while it may sound intimidating when your skin is drier and more sensitive than usual, it will ultimately give you glowing skin. That's because the buildup of dry, dead skin cells actually impede your skincare products—plus they can clog pores over time and lead to dullness and blemishes. "Exfoliation is necessary to remove the dead layer of skin on the surface so that hydrating products can do their job," Darden says. For winter skincare, she recommends adding a chemical peel (like Dr. Dennis Gross Alpha Beta Peel Pads) to your rotation once or twice a week. PSA: Don't overdo it on the exfoliation, as that will damage your skin barrier and lead to dryness and irritation.
2. Use a Retinol Regularly
You might have skipped retinol in the summertime (some people do because of the large amount of sun exposure, but you don't have to). But in the winter, this active ingredient is a must. Darden recommends using a retinol product every other night to help with fine lines, wrinkles, dullness, and acne.
If your skin is too dry and sensitive from the winter weather, another option is to remove your cleanser with gauze. "The gauze will gently exfoliate the skin in the process, resulting in brighter skin," Darden says. If your skin can't handle retinol, she says a product like her Lactic Acid Serum is a great option to exfoliate and brighten the skin instantly overnight. " This helps to refine dull and congested skin for a more even-toned complexion." 
3. Turn Down the Temperature
Stepping into a steaming-hot shower may sound tempting during the colder months. But excessively hot water can be harsh on the skin, and cause even more dryness. Darden recommends using warm water instead—this will help your skin retain moisture throughout the season. Pro tip: Turn down the temp when you're washing your face too. It will help keep dry, flaky skin at bay.
4. Apply Moisturizer While Skin Is Damp
During the winter, your skin loses its moisture rapidly. One way you can restore its hydration levels is by applying your moisturizer when your skin is still damp. After you bathe, your first inclination might be to towel dry immediately after. But leaving your skin somewhat damp before applying moisturizer can help revive dry, dehydrated skin. "It's beneficial to apply moisturizers while skin is damp so that they absorb better," Darden explains. By leaving some moisture on your skin, the lotion will lock and seal in the hydration for gorgeous, glowing skin.
5. Invest in a Humidifier
The cold air outside and the dry, hot heat inside zap your skin and hair of moisture, which can cause severe dryness and frizzy, brittle hair. Help combat this by investing in a humidifier. It's a small change that can make a big difference. "Using a humidifier in your bedroom at night will add moisture back into the air and help keep skin comfortable and hydrated," Darden says. (We recommend Hey Dewy's small, personal humidifier, which you can use everywhere—from your desk to your nightstand to your car).
6. Don't Forget SPF
One of the best winter skincare tips by dermatologists? Wear hydrating sunscreen. Yes, you read that right. Even during the colder, darker winter months, your skin needs sun protection. That's because harmful UV rays can still cause damage to your skin through those gray, snowy clouds (yikes!). Help prevent fine lines, wrinkles, discoloration, and skin cancer by using your SPF every single day. To ward off winter skin woes, look for sunscreens that also contain hydrating ingredients, like Elta MD's UV Clear formulation. It contains niacinamide, a hydrating agent to help nourish and protect your complexion. Apply it as the last step in your skincare routine to keep your skin happy and healthy.
7. Add Hyaluronic Acid to Your Lineup
By now, you've likely heard of hyaluronic acid. But what it is, and what does it do? It's a sugar molecule that our bodies naturally produce. It attracts and retains water to help our skin look plump and hydrated. However, our levels can be affected by factors like age and environment (we're looking at you, winter). To give your complexion a boost, try incorporating a hyaluronic acid serum before your sunscreen in the morning and before your moisturizer at night. "Using a hyaluronic acid serum will help to deeply hydrate and plump up the skin," Darden says.
Another way to boost your HA levels? By eating hyaluronic acid foods (think: bone broth) or taking a hyaluronic acid supplement (like HUM's Glow Sweet Glow). Supporting your body's hyaluronic acid levels can help restore moisture to your complexion.
8. Switch to a Heavier Moisturizer
As the humidity in the air goes down, it becomes critical to add hydration back into your skin. One way to do that? By investing in a heavier moisturizer for the winter season. Lotion and creams are a mixture of oil and water. However, creams are heavier and contain more oil (while lotions are lighter and contain more water). During the winter, look for creams, which are heavier and will replenish the oil your skin cells have lost in the harsh weather.
Whether you use it as a night cream or first thing in the morning, a heavy moisturizer will help trap moisture and lock it in so you don't experience any dryness, itchiness, or flakiness. If you have oily skin or are acne-prone, look for an oil-free, non-comedogenic moisturizer.
9. Take HUM's Red Carpet
Just like your skincare routine, it's also a good idea to adjust your supplements for winter. Because nutrition plays a major role in the health and appearance of your skin and hair, HUM's Red Carpet is one of our go-to additions for winter. It contains black currant seed oil and vitamin E to nourish hair follicles and hydrate skin. In a customer survey, 94 percent of users reported that their hair felt stronger, shinier, or healthier after taking it for three months.
10. Dry Hair Before Going Outside
We know mornings can be rushed, and leaving the house with wet hair happens. But it's critical to dry your hair before braving the cold weather. That's because your wet hair will expand rapidly in the cold water, which can put you at risk for breakage (plus it can make your color fade faster). Instead, use a warm (not hot!) blow dryer to dry out your hair post-shower.
11. Get a Gentle Cleanser
Step away from the clarifying cleanser. While you might normally use an intensive cleanser in the summer (because of the summer sweat and grime), it can end up doing more harm than good in the winter. Instead, try a gentle cleanser (made with hydrating ingredients and free of harsh ones like exfoliants or salicylic acid) to help keep your skin's hydration levels intact. "A gentle cleanser that doesn't strip your skin is essential for all skin types, especially in the winter," Darden says. Look for formulations with gentle, nourishing ingredients, like Darden's Cleansing Serum. It contains glycerin and hyaluronic acid, which help to draw moisture to the skin. It also contains oat bran extract, which helps to repair the skin's barrier and prevent moisture loss.
12. Use a Weekly Hair Mask
Dry air also means dry hair. Help revive your strands by using a hydrating hair mask once a week. Apply the mask and let it sit in your hair for 10 to 30 minutes before rinsing it out. Your hair will feel softer, look shinier, and feel healthier. Another winter hair care tip: Use hair oil on the ends of your hair before bed as an overnight beauty treatment to rehydrate your hair.
13. Hydrate Your Hands
Between the cold, dry air and constant hand washing (we see you, flu season), your hands can feel extremely dry. When this happens, your nails and your nail cuticles also dry out, which can cause cracked skin around the nails, split cuticles, and brittle nails. Give your nails some TLC by applying a nourishing hand cream throughout the day (especially at night!). And for an extra boost, try taking HUM's Killer Nails to help support strong, healthy nails from the inside out.
More like this