Newness! Welcome Best of Berberine for weight management and healthy glucose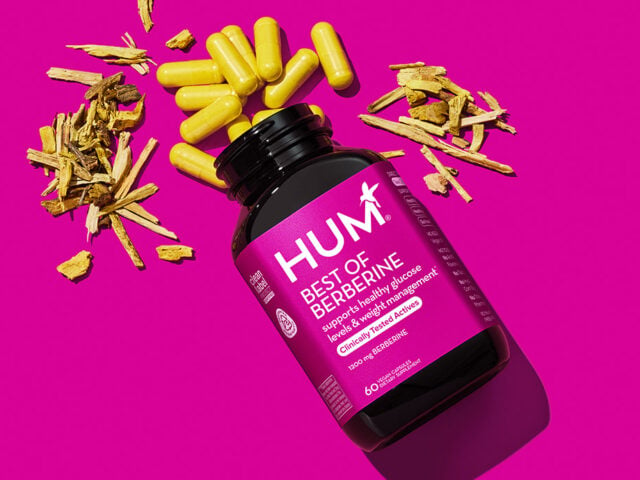 Want to effectively maintain healthy glucose levels, weight and support your gut health? Try our newest supplement Best of Berberine! This is the best berberine supplement on the market. Some say it's nature's ozempic, we say it's just what we needed! Let's dive into our newest product and why this is a must-add to your daily routine.
Okay, okay, so…are we all blue in the face from the ozempic talk? Forget the weekly shot, we're going the natural route with our newest supplement. Meet Berberine–"nature's ozempic". We wrote about this a while back–which you can check out here–and now we have clean berberine, Best of Berberine, to add to your HUM routine and lineup.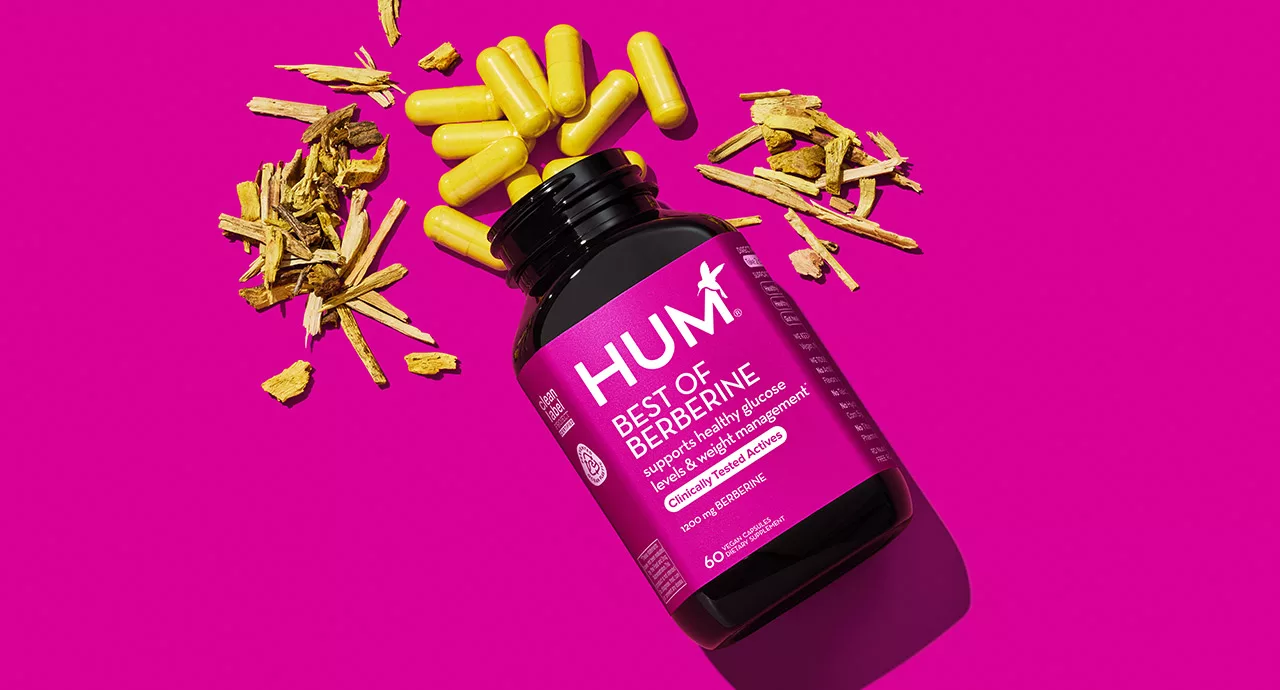 What is Best of Berberine?
Best of Berberine is our newest supplement made up of Berberine and BioPerine. The combination of these two ingredients help support healthy glucose levels and weight management. This supplement acts in a few different, beneficial ways. "Berberine works in different ways in the body- one of these is by activating an enzyme that is considered to be the body's metabolic master switch, adjusting how our body's produce and use energy. This activation supports glucose and fat metabolism," says Jennifer Martin-Biggers, PhD, MS, RDN, vice president of scientific affairs and education.
The Key Formula Ingredients:
Berberine 1200mg
BioPerine 5mg
What are the main benefits of the Best of Berberine?
This verified clean berberine helps support weight management, healthy glucose levels and supports digestion. You may be wondering how long before you see results. "Most of the clinical research on the benefits of Berberine show benefits after taking daily for at least two months. However, some benefit may be seen after one month of use," says Dr. Martin-Biggers.
What does it do exactly? We break it down:
What it does:
Glucose metabolism support*
Supports healthy glucose levels*
Supports healthy glucose metabolism*
Supports healthy weight management*
Supports gut health*
Supports healthy fat metabolism*
Supports heart health*
Supports healthy cholesterol already in the normal range*
Clinically tested dose of Berberine in just 2 capsules
Supports glucose & fat metabolism
Supports healthy weight management
Verified Clean
Clinically Tested Actives
Triple Tested by independent labs for purity and potency
No Artificial Colors, Sweeteners, Flavors or Preservatives
100% prevented ocean plastic bottle + cap
How to Take It
Take 2 capsules daily with food
Fun Facts
Clean Berberine works well with all HUM supplements. We recommend checking with your health care provider before starting a supplement regimen if you are on prescription medication.
If you'd like some help choosing the best supplement routine for your unique goals, reach out to your personal HUM RD via your account dashboard.
How is Clean Berberine different from Counter Cravings?
Clean Berberine contains a clinically studied dose of berberine that is shown to support the body's metabolism of glucose and fats, which help support healthy glucose, cholesterol, and weight management. Counter Cravings™ contains clinically studied Chromax® chromium shown in clinical studies to reduce carb cravings as well as support healthy glucose levels, in addition to forskolin and fucoxanthin at clinically studied doses that support weight management.
Is Clean Berberine made in an FDA-approved facility?
All of our products are made in facilities that are certified to follow GMPs (Good Manufacturing Processes), required by the FDA. This means our manufacturers have specific quality standards to ensure every product has the right identity, purity, strength and composition.
Is Clean Berberine vegan?
Yes, Clean Berberine is vegan.
Is Clean Berberine gluten-free?
Yes! All HUM products are gluten-free and tested to ensure gluten isn't present at levels greater than 20ppm, which is the regulatory criteria for "gluten-free" set by the FDA.
Is Clean Berberine non-GMO?
Yes! All HUM products are non-GMO.
The Takeaway
The takeaway? We are so excited for this product. In the wake of the ozempic craze, there is finally a natural way to approach weight management and healthy glucose levels. Are you a good candidate to take this product? Dr. Martin-Biggers says that, "People who are looking to support their fat and glucose metabolism are good candidates for Best of Berberine."
More like this