Extra, Extra! Say hello to Flatter Me® Extra Strength, HUM's New ultimate debloat supplement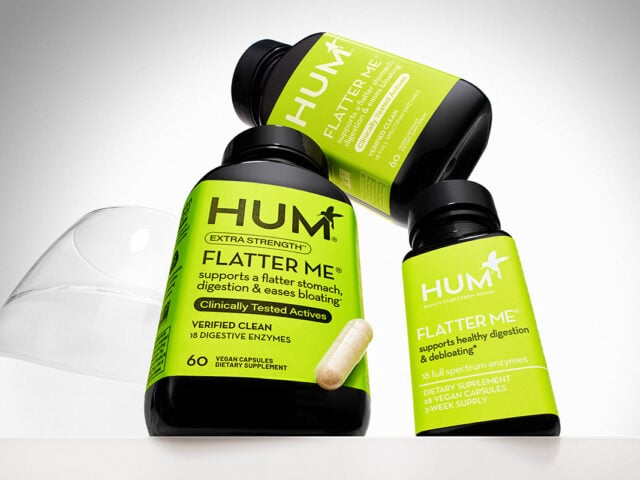 Want to give your digestion an extra boost to beat the bloat? Try HUM's Flatter Me® Extra Strength: A supplement that has 18 digestive enzymes and a triple herb blend that helps break down food and improve digestion.
The HUM Flatter Me® family just got bigger. Welcome our new formulation that is 50% more powerful; Flatter Me® Extra Strength. Get ready to say hello to the foods you have been avoiding and combat the bloat with our latest supplement that supports a flatter stomach, digestion and eases bloating.
What is Flatter Me Extra Strength?
Flatter Me® Extra Strength is HUM's newest supplement created to combat bloating. With 50% more Flatter Me® enzymes, this formula boasts more digestive enzymes to provide a more powerful boost in digestion, reducing that uncomfortable bloat.
Why Flatter Me® Extra Strength?
There are various reasons why an Extra Strength version of Flatter Me® is a good option. Some people find themselves still needing relief from bloat with some types of foods or when the indulge. We also produce fewer digestive enzymes as we age. Jennifer Martin-Biggers, PhD, MS, RDN, the VP of scientific affairs and education at HUM Nutrition says, "we are so excited to launch Flatter Me Extra Strength- we know and showed in a clinical study that Flatter Me® is able to help reduce bloating after a meal and Flatter Me Extra Strength provides even more power with 50% more of our 18 digestive enzyme blend to help breakdown macronutrients, supporting digestive processes and reduce bloating."
What are the Benefits?
Most of us need a bit of help breaking down our favorite foods. You know that burger you love so much? Those fries you can't resist? The grain bowl you dream of at the office? No more dreaming, just eating. Flatter Me® Extra Strength will be your best friend for comfort with your meals. This supplement helps:
Helps break down protein, carbs, fiber, lactose and fats*
Helps manage bloating*
Optimizes digestive processes*
50% more Flatter Me® Digestive Enzymes
50% more potent Flatter Me® Digestive Enzymes
Made with Flatter Me® enzymes and herb blend, clinically studied to reduce bloating by up to 2" after 1 use**
**Average ½" less bloating. Based on a HUM-sponsored placebo-controlled crossover clinical study of Flatter Me® with 19 participants who took two identical test meals, one with Flatter Me® and one with a placebo. Each participant was assessed by waist circumference measurements.
Key Formula Ingredients
374 mg proprietary enzyme blend
45 mg herbal blend
Ginger root powder, fennel seed powder, peppermint leaf powder
To break down protein: protease 3.0 (22.5 SAPU), protease 4.5 (30,000 HUT), protease 6.0 (52,500 HUT), peptidase (3,750 HUT), bromelain (975,000 FCCPU), neutral bacterial protease (30,000 PC), papain (375,000 FCCPU)
To break down fats: lipase (525 FIP)
To break down carbs: amylase (5,250 DU), glucoamylase (8 AGU), alpha-galactosidase (112.5 GalU), invertase (225 SU), diastase (487.5 DP)
To break down fiber: hemicellulase (1,875 HCU), cellulase AN (300 CU), beta-glucanase (15.9 BGU), phytase(4.7 FTU)
To break down milk sugar: lactase (225 ALU)
How To Take It
It's easy breezy. Take 1 capsule before your 2 main meals!
The Takeaway
Ready to say bye-bye to bloat? We sure are. Get ready for more powerful results and don't be afraid of the sides, the fries or the veggies and take one capsule before your main meals.
More like this