The Results Are In: Users Reduced Stomach Bloating by Up to 2 Inches After A Meal when Taking HUM Nutrition's Flatter Me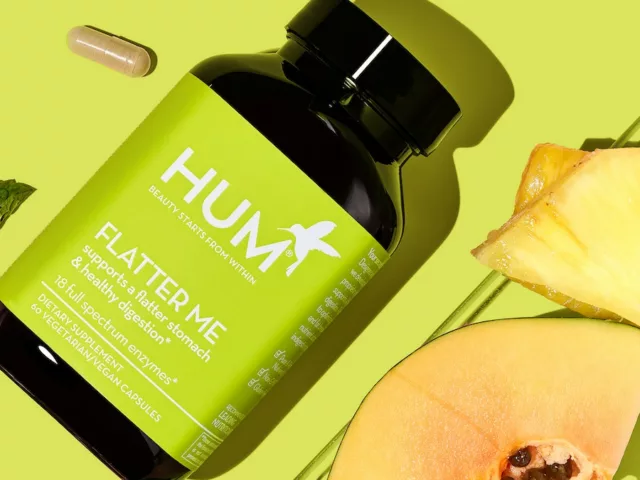 If you want fast-acting bloating relief, HUM's Flatter Me supplement may be just what you've been looking for. In fact, we were so confident in its ability to reduce bloat that we conducted a clinical trial to see how effective this digestive enzyme supplement is. See how it stood up to a slice, ahead.
Nothing can ruin a good meal quite like bloat. Unfortunately, it's all too common—around one in five healthy individuals report bloating, according to the World Journal of Gastroenterology.
Bloating can also be accompanied by distension, or physical swelling of the belly that can sometimes be painful.
Pain, annoyance, embarrassment—they're all good reasons to want to beat bloat. It's no surprise then that Flatter Me, HUM's digestive enzyme supplement, has been a customer favorite ever since its launch.
Flatter Me helps to break down the protein, carbs, fiber, lactose, and fats in food. It also helps to optimize the digestive process and support nutrient absorption. All of this can help to reduce bloating.
Here's why: If your body does not properly digest your food—which includes being broken down by digestive enzymes—undigested pieces of food can pass to the large intestine causing issues like gas and bloating. This can also mean you're missing out on key nutrients from your food.
Flatter Me's standout ingredients for healthy digestion are:
18 full-spectrum enzymes
Ginger root
Peppermint leaf
Fennel seed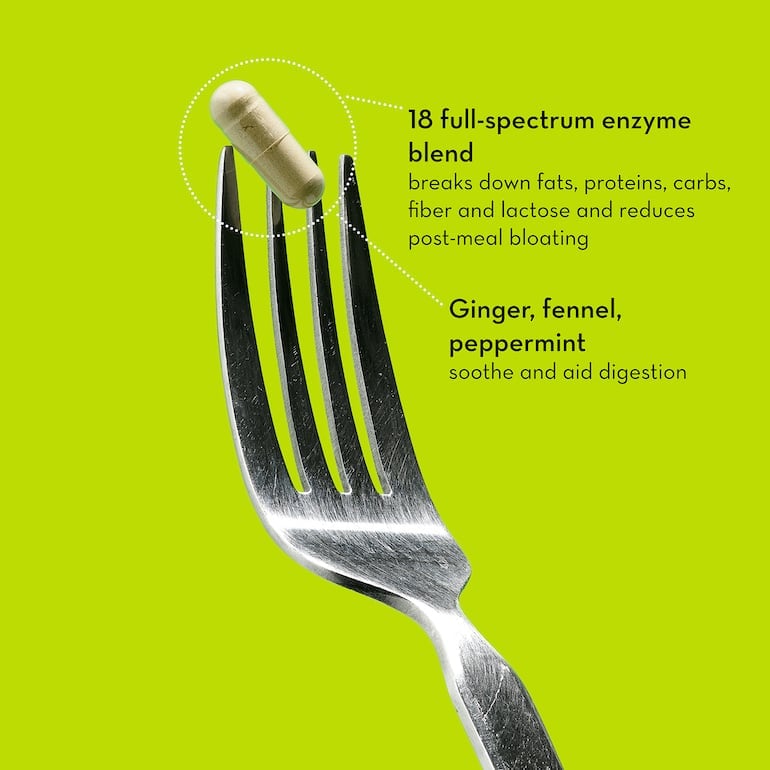 Specifically, alpha galactosidase breaks down the linkages in fibers and is especially beneficial for digesting high-fiber foods like beans and other foods high in FODMAPs, explains Jennifer Martin-Biggers, PhD, MS, RDN, the VP of scientific affairs and education at HUM Nutrition. "Lactase also helps to break down lactose," she says. "Some people may have mild discomfort from time to time with dairy foods and this may help."
But just how good is it really? We put Flatter Me to the test in a double-blind placebo-controlled clinical trial and the results surprised even us.
"This is the first randomized controlled clinical study of a commercially available product that targets bloating with a broad spectrum digestive enzyme product in people with recurrent bloating and indigestion but no diagnosed medical issue that may be causing it," says Dr. Martin-Biggers.
Find out how Flatter Me fared.
How the Study Worked
20 healthy women ages 18 to 45 years old with self-reported bloating or stomach distension at least once daily after eating meals participated in a randomized, placebo-controlled crossover clinical study.
We worked with an independent, third-party clinical research lab in California to ensure there was no bias. The research lab adhered to clinical research ethical and legal requirements. To ensure that a clinical study is conducted ethically, an independent ethics committee, called an Institutional Review Board (IRB), reviewed the study plans to make sure it was safe and designed according to research standards.
Study participants visited the lab on two separate occasions (one to two weeks apart) after an overnight fast. During both visits, they completed a baseline survey and took baseline waist measurements. Then they ate a test meal of cheese pizza and consumed either Flatter Me or the placebo right before consuming the test meal. Both visits were blinded, so the participants did not know which visit they took the Flatter Me and which visit they took the placebo.
Wondering why we went with cheese pizza? "We wanted to choose a food that could be easily replicated with people coming into the lab on different days and was made the same way," says Dr. Martin-Biggers. "We also wanted a product that had all of the nutrients that Flatter Me targets— cheese pizza has carbs, protein, fiber, fat, and lactose. It's also a common bloating culprit for some people," she explains.
Following the meal and assigned supplement, participants answered survey questions and had their waist circumference measured 30 and 90 minutes after eating. The waist circumference measurement assessed for distension and bloating at both stages. The survey questions focused on commonly experienced negative symptoms associated with gastrointestinal health.
Result Highlights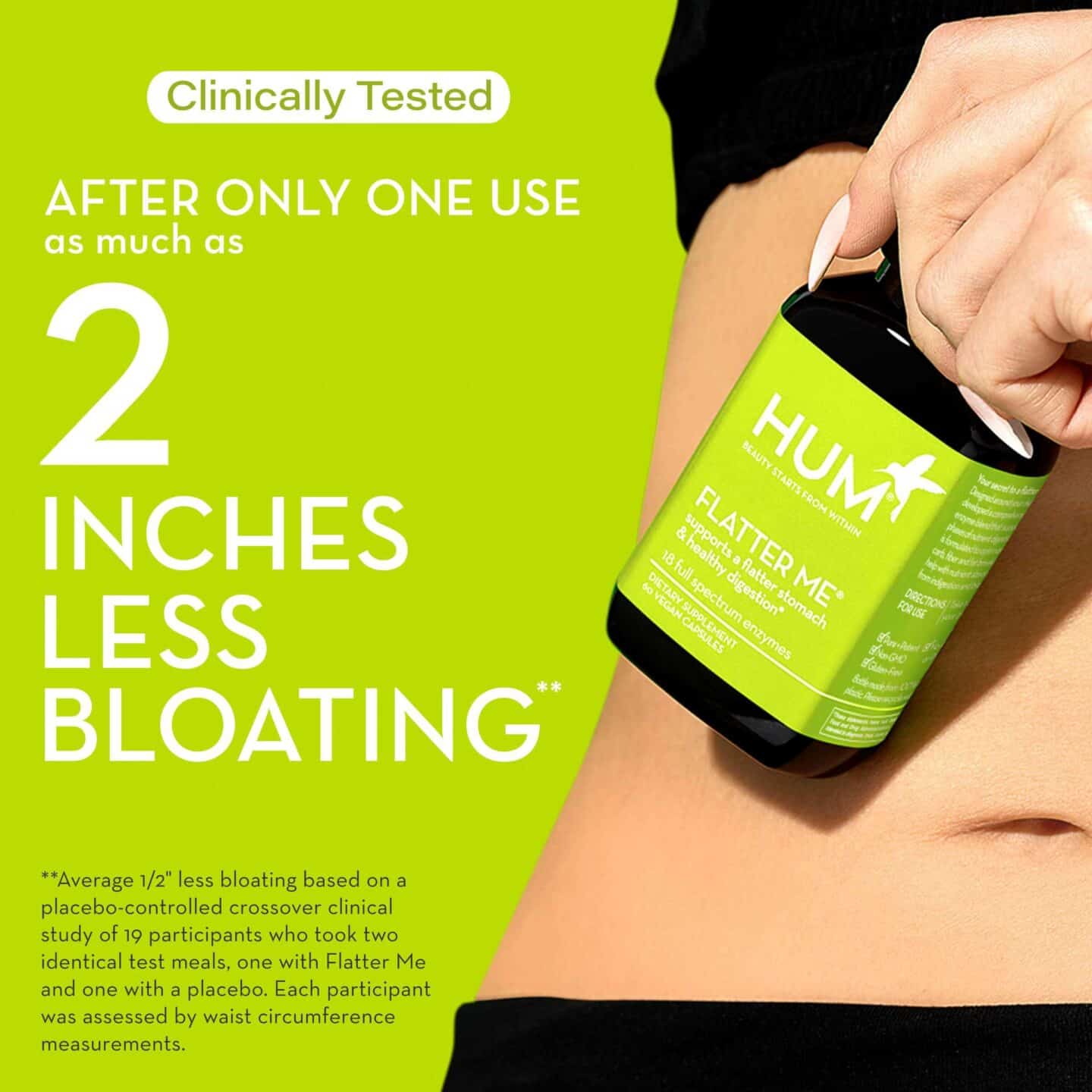 After only one use…
80% of participants had less bloating when they took Flatter Me compared to a placebo.
On average, participants experienced 0 .57 inches and as much as 2.06 inches less stomach bloating after a meal compared to taking a placebo (after only one use).
Participants were significantly more likely to want to continue taking Flatter Me compared to the placebo.
65% of participants felt less stomach discomfort after eating a meal compared to how they normally feel.
55% of participants felt less gassy than normal when taking Flatter Me.
55% of participants felt Flatter Me helped them digest better.
*Based on a crossover clinical study of 20 participants who took Flatter Me once with a test meal and a placebo once with an identical test meal, as assessed by waist circumference measurements.
"We saw a quantifiable difference between the bloating people experienced when they took either Flatter Me or the placebo pill with a meal," explains Dr. Martin-Biggers. "It was very exciting to see numbers from measured bloating and distention to support how people were feeling."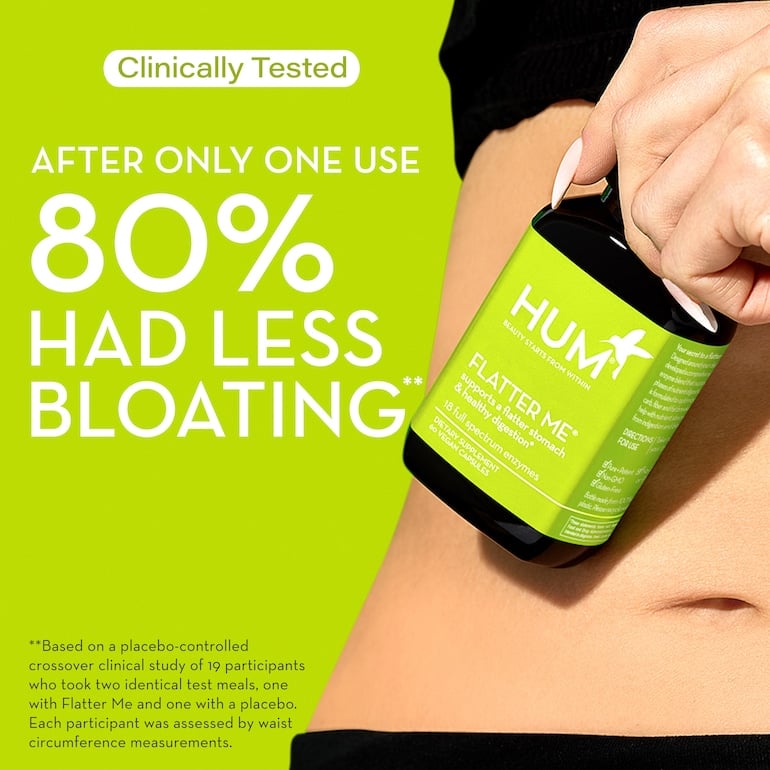 Why Take A Digestive Enzyme?
"If someone is experiencing digestive upset, like indigestion, gas, or bloating after meals, they should consider taking a digestive enzyme," says Dr. Martin-Biggers.
"Your body may not be producing enough enzymes or you may benefit from the soothing herbal blend to calm indigestion. Or you may just need a little boost to break down your foods to help reduce occasional bloating that some foods may cause," she explains. (Learn more about how digestive enzymes work to help break down food.)
There can be many causes of bloating, so if you're concerned you may have a medical condition or your digestive discomfort is accompanied by other symptoms, consult with your physician before taking a digestive enzyme.
How to Get Started with HUM's Flatter Me
Flatter Me can be taken daily before your two largest meals of the day or can be taken one off before eating a larger or more rich meal. "Many people benefit from taking it regularly for relief to help with recurrent bloating from meals," advises Dr. Martin-Biggers. Just remember: Make sure to take it with food so it can get to work!

Sara Angle
November 1, 2022
More like this