Here's What I Eat in a Day on a WFPB Diet
Want to transition to a whole-foods, plant-based diet, but not sure what your daily options look like? To inspire your inner chef, here's a look at a sample menu of what I eat in a day on a WFPB diet.
My WFPB Diet Guidelines
Overall,
my whole-foods, plant-based diet challenge
focused on following a vegan diet without relying on processed foods and ingredients. Along the way, I learned that "processed" is a highly gray area (who knew baby carrots are processed!?). But for my purposes, I just tried to
eat as many plants as possible
and avoid any artificial ingredients. To be really extra about it, I also excluded oil, alcohol, and sugar as processed foods from my diet.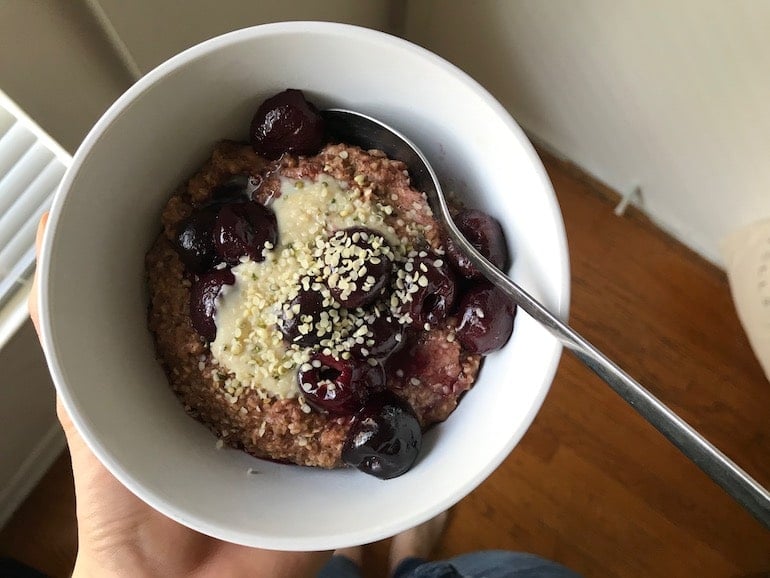 What I Eat in a Day on a WFPB Diet
Breakfast
I've eaten a bowl of oatmeal for breakfast every day this month. I know! It sounds really boring, but you have to do it right. I switch up my toppings and ingredients to keep it interesting. It's warm and filling and it helps me feel grounded for the day ahead. Today, I made my oatmeal with steel-cut oats (less processed, more "whole" than rolled oats),
hemp seeds (for extra
plant protein and omegas), store-bought nut milk, cacao powder, flax seeds, and a scoop of tahini. If you're a purist, you can
make your own nut milk at home
, but I just looked for a brand with ingredients of only nuts and water. (Elmhurst's unsweetened line is a good one!) The same goes for tahini; some brands add oil, so check that there are only sesame seeds on the label. For a naturally sweet oatmeal topping, I like to heat frozen berries with a splash of water in a separate pan while my oatmeal cooks. The berries get nice and juicy, and the juice reduces down to a thick syrup-like consistency.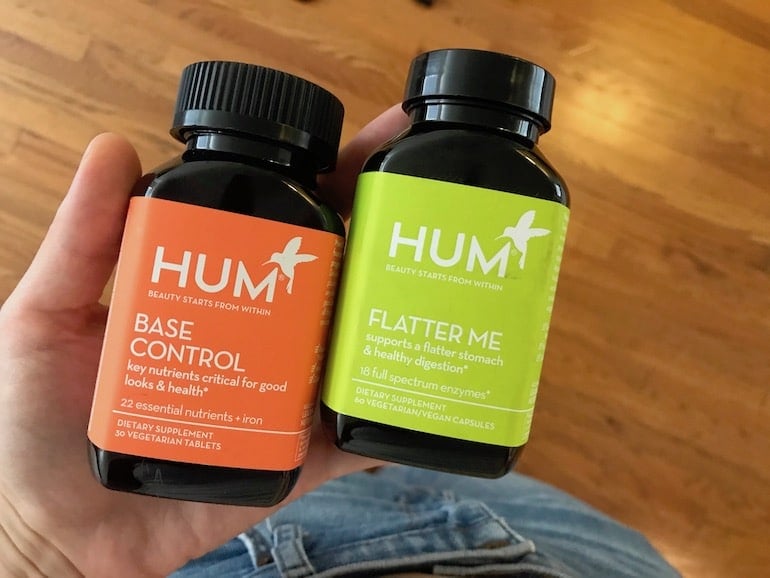 Supplements
Admittedly, supplements are a processed item. But they are also incredibly helpful in supporting big dietary changes so I'm keeping them in my daily routine as an exception. After breakfast, I take HUM's
Base Control multivitamin
. I think of multivitamins as an insurance policy for your basic nutrient needs, especially when you are
eliminating food groups
on a specialty diet like this. Another supplement I've found very helpful during this challenge is
Flatter Me
. On the WFPB diet, beans are the primary source of protein. You also drastically increase the amount of fiber in your diet due to all the vegetables and whole grains. These digestive enzymes help break down food so it's easier for your body to digest to avoid issues with gas and bloating.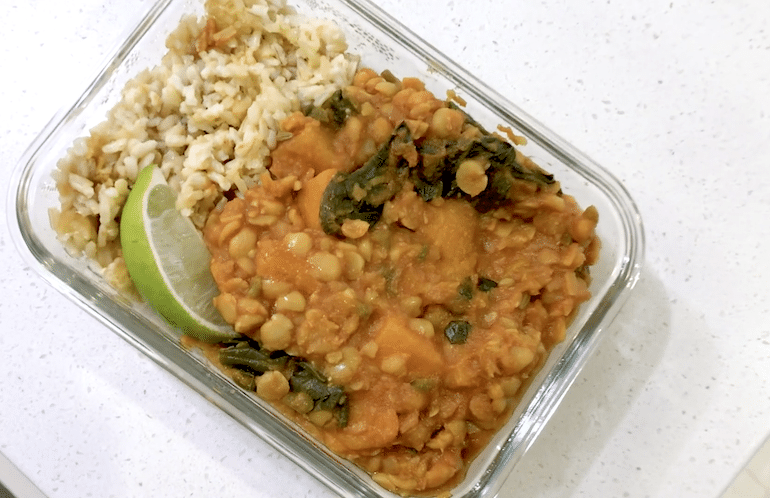 Lunch
An important thing to know about a WFPB diet is that you will cook…
a lot
. Even in Los Angeles, it's hard to find restaurant foods without processed ingredients or oil. To make life easier, I meal prep my lunches for the week so I can easily grab and reheat them. This week, I prepared a split pea yellow daal for lunch. I got the recipe from
The
How Not to Die Cookbook
by Dr. Michael Greger
. I like to add pre-cubed butternut squash to his recipe to get an extra vegetable in. If you're interested in learning more about the benefits of a whole-foods, plant-based diet, I highly suggest reading his books. They are really well-researched and make a great case for adapting a WFPB diet.
Snack
I tend to get snacky around three or four. Prior to my WFPB challenge, I used to indulge in a tall cup of Goldfish. But this month, I am in the habit of cutting up a green apple and having it with a handful of walnuts as my afternoon snack. It's sweet, crunchy, and very satisfying. The combination of healthy fats and fiber also keeps your blood sugar from spiking and crashing.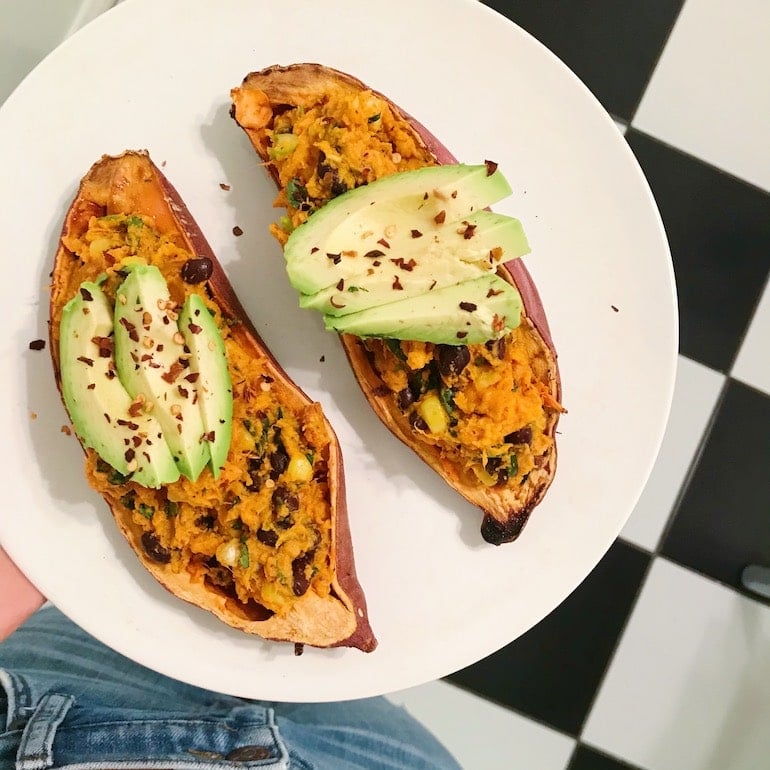 Dinner
For my WFPB dinner today, I'm making a
stuffed sweet potato recipe from the Happy Pear
. Their YouTube channel has been an amazing resource for recipes! It's like a little WFPB Food Network. This recipe for baked sweet potato is easy to put together and really tasty. You just roast sweet potatoes in the oven and then scoop out the insides to mix with corn, black beans, cilantro, scallions, jalapeño, lime, and spices. I like to top mine with avocado for extra healthy fat in my day and red pepper flakes for heat.
Dessert
I have a pretty big sweet tooth and thought that would be the hardest part of this challenge. I've made a few WFPB desserts but I also avoid any extra cooking where I can. So instead, I usually just have a piece of fruit or some dates and that actually hits the spot! Dates really are like nature's candy. I know someone will roll their eyes when I say this but, to me, it's like having a little mini Snickers bar. Yum!
More like this