A Simple Sweet Potato Black Bean Enchilada Recipe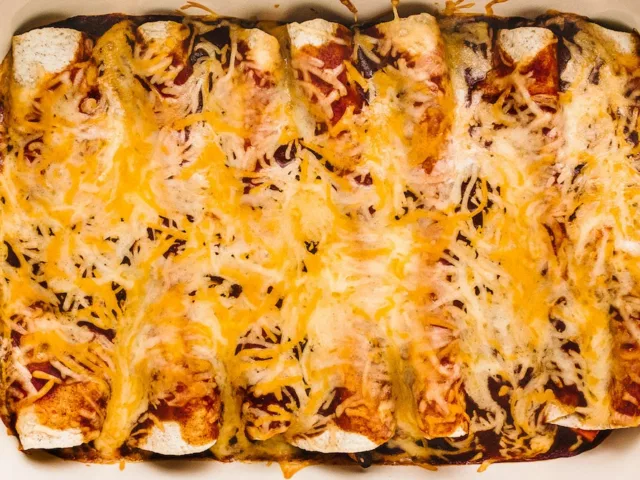 Jessica Bippen, MS, RD, shares a simple yet tasty sweet potato black bean enchilada recipe, which requires only seven ingredients.
Don't let the idea of making enchiladas intimidate you! Many recipes call for homemade enchilada sauce, a long list of ingredients, and lots of time in the kitchen. Yet rest assured that this one simply doesn't. Fortunately, this sweet potato and black bean enchilada recipe comes together quickly with just a few pantry staples. Healthy, homemade enchiladas have never been easier, making for an easy weeknight meal.
About This Recipe
These enchiladas are made with
healthy pantry staples
, including onion, black beans, sweet potato, and tortillas. (If you don't consider enchilada sauce a pantry staple, promise you'll keep this spicy sauce on hand from now on?) If you're unfamiliar with enchilada sauce, it's a pureed sauce made from rehydrated dried chili peppers, tomato, onion, and spices such as cumin. Enchilada sauce adds flavor and comfort to these vegetarian enchiladas. However, you can also mix it in chili, tortilla soup, Mexican skillets, or as a marinade or a sauce to drizzle on top of grain bowls. However, if you don't have enchilada sauce, you can always substitute with your favorite jarred salsa. Tip: When purchasing enchilada sauce or salsa, make sure to
read the ingredient label
. Avoid those that contain added sugar or inflammatory oils like canola oil. These aren't necessary and don't contribute to your overall health. Looking to make this recipe vegan? You can easily make these enchiladas vegan by using dairy-free Mexican cheese, vegan queso, or homemade cashew cream. Alternatively, you can replace the cheese altogether and add sliced avocado just before serving.
Nutrition Highlights
Not only are these sweet potato black bean enchiladas delicious, but they're also an incredibly healthy option when you're craving comfort food. The black beans and sweet potato filling in these vegetarian enchiladas pack in the nutrition.
Black Beans
Black beans are an excellent source of plant-based protein, fiber, folate, and iron. Pairing the black beans with sweet potatoes and a tomato-based enchilada sauce or salsa, which are rich in vitamin C,
helps increase iron absorption
. Pairing vitamin C with plant-based iron is especially important for those following a plant-based or vegan diet, as it can be harder to consume and
absorb the proper amount of iron
through plant-based foods.
Sweet Potatoes
Next, sweet potatoes are a good source of fiber, vitamin C, and vitamin A. The beta-carotene in sweet potatoes
converts to vitamin A
in the body, and getting enough beta-carotene and vitamin A promotes healthy vision and supports immune health. One five-inch sweet potato provides 18,869 IU's of vitamin A. (For reference, the daily recommended allowance is 3,000 IU for men and 2,333 IU for women.)
Enchiladas for Meal Prep
Enchiladas make an excellent
meal prep
recipe. You can make them for the week ahead and reheat them easily in the oven or microwave when it's time to dine. Even better: They also freeze well! Simply assemble your sweet potato black bean enchiladas, then cover them with aluminum foil and freeze for up to one month. When you're ready to eat them, preheat oven to 350 degrees and bake for 40 to 50 minutes or until heated through.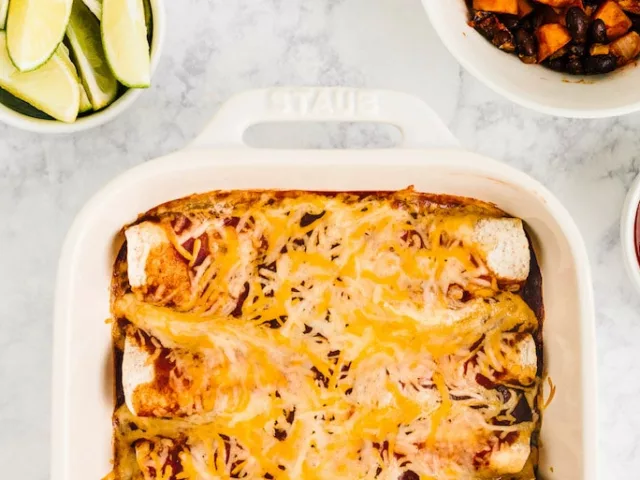 Sweet Potato Black Bean Enchilada Recipe
PREP
20 min
COOK
25 min
SERVES
4
INGREDIENTS
1 tbsp olive oil
1/2 medium onion
15 oz can black beans, drained and rinsed
1 medium sweet potato, diced
15 oz jar red enchilada sauce
8 count 8-inch tortillas (whole grain, corn, grain-free)
3/4 cup Mexican-style cheese (regular or dairy-free)
SUPPLIES
Large skillet with lid
9 x 11″ baking dish
INSTRUCTIONS
Preheat oven to 375 degrees Fahrenheit.
In a large skillet, heat the olive oil over medium-high heat. Add the onion and sweet potato. Sauté for 5 minutes until the onion is soft. Add the black beans and 1/2 cup of enchilada sauce. Turn the heat down to medium-low, place the lid on, and let cook for 10 minutes, stirring occasionally. Remove from heat and set aside.
Place 1/4 cup of enchilada sauce on the bottom of the baking dish to lightly coat the bottom. To assemble the tortillas, scoop 1/4 cup of the black bean sweet potato filling inside the tortilla and roll up. Place the seam side down. Continue with remaining tortillas, laying them side by side.
Top enchiladas with the remaining 3/4 cup of enchilada sauce, followed by the cheese. Bake for 20 to 25 minutes, or until the cheese is melted and the enchiladas are heated through.
More like this