We don't mean to steal spring cleaning's thunder. In fact, we love a fresh start to warmly welcome each new season. But while renewal and cleansing are usually synonymous with the season of greenery and superblooms, we think your kitchen, in particular, could benefit from some dedicated attention sooner. Consider cleaning out your pantry to jumpstart your wellbeing this year.
Whether you're interested in a break from sugar or alcohol, or simply to consume more greens, optimizing your living space to support your health goals is crucial to success—particularly in the kitchen. Here are some tips to follow to declutter your kitchen for better living.
4 tips to clean out your pantry for better health
Pave the way for your wellness-minded goals by starting in your pantry. Clearing the physical space can also create mental space, opening channels of creativity for welcome changes in your home cooking.
1. Refresh your Spice rack
A great place to begin is with your spices, since dried herbs and spices can actually, in a sense, die. Whole spices have the longest shelf lives, and can typically last about four years without losing flavor. However, ground spices only last about a year or two before they lose their flavor, potent health properties, and kick. By that time, they'll typically impart more of a dusty quality to your meals instead of a flavor-enhancing one. (Read: Your jar of off-brand pumpkin spice you bought in 2013 likely isn't getting much use, so now's a good time to toss and/or replace it.)
2. Toss out Junk Food
Another tactic for your kitchen cleanse is being mindful of what you keep stocked. Trying to eat cleaner this new year? Then ditch the typical SAD (Standard American Diet) staples in your pantry. These include white sugar, bleached flour, chocolate chips, fried snacks, and candy. Donate whatever can be salvaged, then toss the rest. Keeping these types of ingredients and snacks around can slow you down, ultimately derailing you from reaching your goals.
3. Make Healthy Swaps
If such an overhaul sounds too drastic and has you throwing in the towel early on your healthy resolutions, don't be discouraged. There are countless incredible swaps you can make to not only make more nutritious versions of your favorite guilty-pleasure foods, but also diversify your gut with a variety of ingredients. Examples include tigernut flour for pie crusts, or almond and cassava flour for cookies. Also, arrowroot powder is an excellent thickener for sauces, soups, stews, and puddings. Bonus: It's also a wonderful stimulant for circulation and metabolism.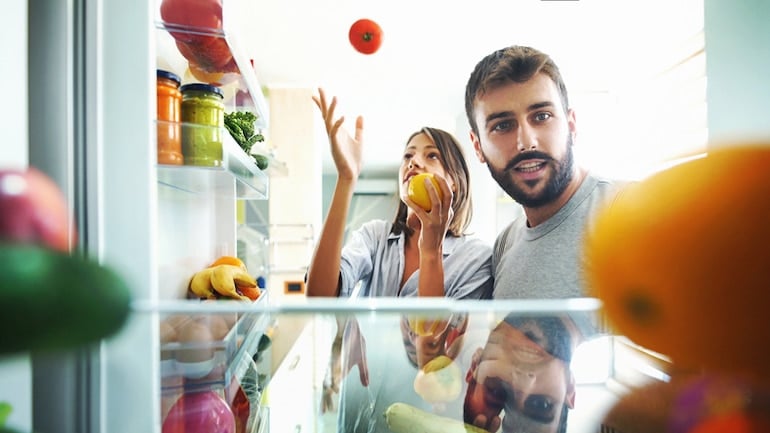 Similarly, if you're combing through your fridge to toss expired goods and condiments, keep an eye on the ingredients lists for items you deem as "keepers." Sugar and hydrogenated oils sneak into standard basics, such as ketchup and mayonnaise. There are amazing swaps you can make to replace these, like lower-sugar ketchup sweetened only with honey, and mayo made with high-quality olive oil.
4. Introduce More Nutrient-Packed Staples
After detoxing your kitchen, you might find yourself with a good deal of extra space. Take this opportunity to designate a shelf for healthy staples, such as smoothie supplies like proteins and fiber powder. Other great additions include adaptogens, herbs, teas, and supplements.
You don't have to stock up immediately and extensively to make radically healthy changes in your life. Yet clearing the real estate and taking ingredient inventory is the perfect way to streamline new healthy practices and carve a path for realistic resolutions.