What Nutritional Psychiatrist Dr. Uma Naidoo Eats in a Day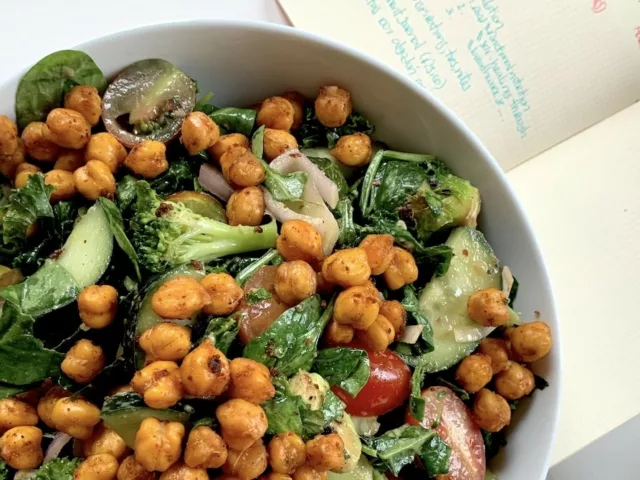 Nutritional psychiatrist Uma Naidoo, MD, shares what she eats on a typical day to naturally boost mental health.
Have you ever wondered how to eat to improve your mood and mental health? I'm
Uma Naidoo, MD
, a Harvard-trained nutritional psychiatrist, chef, and Director of Nutritional and Lifestyle Psychiatry at Massachusetts General Hospital.
The Food Diary of Nutritional Psychiatrist Dr. Uma Naidoo
Here's my personal food diary for a typical Bostonian day.
Pre-Breakfast
After I wake up and do my morning meditation, I usually have a cup of golden milk with fresh ginger before I start my day. It's been a tradition I shared with my grandmother since childhood. It helps me ground myself, set my intentions for the day, and start off with the right mindset.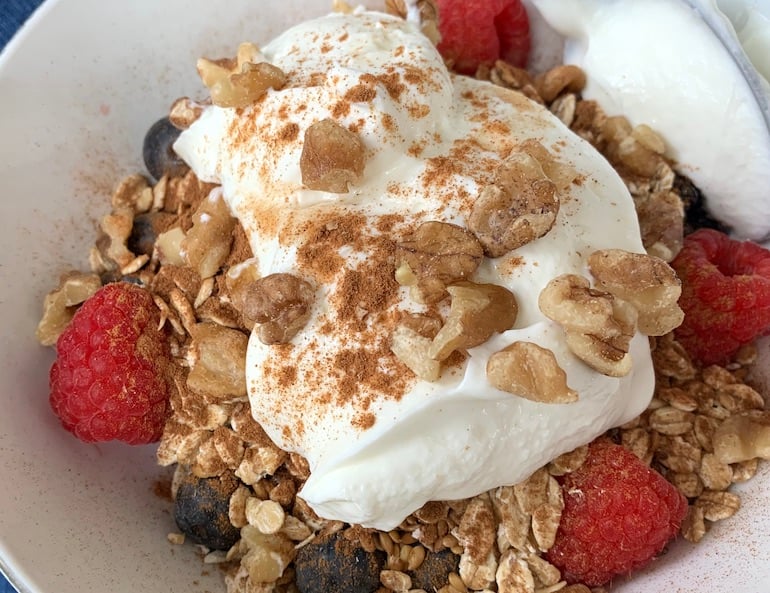 Breakfast
Having a healthy and nutritious breakfast is very important to me and for mental well-being. In fact, research shows starting your day with a breakfast full of nutrients, fiber, protein, and healthy fats is key to
boost your mood and reduce stress
. My go-to breakfast is a creamy chia pudding, which I prepare with almond milk the night before to make my morning routine easier. In the morning, I top it with plain coconut yogurt, crushed hazelnuts, and a handful of blueberries.
Tip:
Blueberries are probably one of my favorite fruits. Research shows that blueberries can potentially
increase serotonin levels
(commonly known as the happiness hormone) in the brain and reduce inflammation caused by
free radicals
. And who doesn't want to wake up to a good mood? Also, fermented foods are incredibly beneficial for your gut, thus making them a great food for mental health. I particularly recommend:
plain coconut or greek yogurt with live active cultures
kimchi
tempeh
Supplements
You've probably heard about heavy winters in Boston and NYC. The cold, gray, and mostly snowy months make it difficult to get the necessary RDA of vitamin D your body and brain need. I try to get all of my nutrients from whole foods and a varied, rich diet. However, there are some times when we all need some extra help—with wintertime among them. I often take HUM's vegan vitamin D supplement,
Here Comes the Sun
. Its clean formula gives me a great mood and immune system boost when my body needs it most.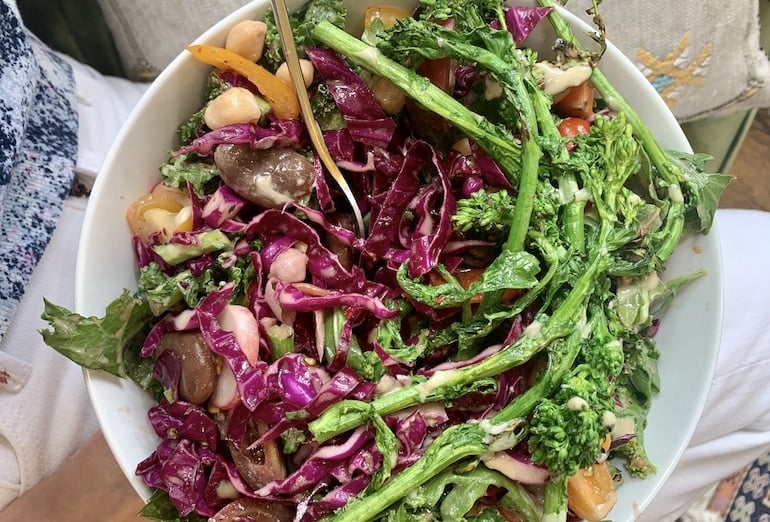 Lunch
In the morning, I'm usually doing clinical work, on a radio interview, or recording a podcast. Every day looks completely different, but my lunch is often the same. On the weekend, I save some time for a few hours of food prep, which I firmly believe helps to plan out healthier options during the week. I cut fresh veggies and chop a variety of greens. I usually try to have a big colorful salad with as many fresh vegetables (and some leftover roasted vegetables) added. It's a party of color on my plate and fulfills one of my pillars in nutritional psychiatry:
Eat the rainbow
. My typical salad will consist of:
a mix of leafy greens (spinach, romaine, and arugula are my favorites)
sliced radish
cucumbers
cherry tomatoes
red cabbage
red onion
fresh cilantro
cooked chickpeas, quinoa, or tempeh (for protein)
pumpkin seeds
This mixed salad is a great option to make sure I'm getting all the nutrients my body needs while being an easy to-go lunch for when I work at the hospital. Plus, it provides a true fiber feast for brain health.
Tip:
As far as stress goes, fiber is your friend! Dietary fiber
promotes the growth of "good" gut bacteria
. As I say, a happy gut means a happy mood. The best sources of fiber include:
whole fruits + vegetables
beans
nuts
seeds
lentils
healthy whole grains
Afternoon Snack
You know how your energy plummets around 4 p.m.? Well, I feel the same way. Instead of reaching for a
quick sugar hit
from a pastry or donut, my favorite snack is a handful of roasted nuts, which I prepare in a batch beforehand. I roast them with some avocado oil and use spices like:
turmeric (with a pinch of pepper)
paprika
powdered garlic
Himalayan salt
This healthy snack is full of fiber, healthy omega-3s, and magnesium.
Tip:
Magnesium can ease stress responses by
changing levels of harmful stress chemicals
in the brain. You can get your magnesium fix in:
chickpeas
dark chocolate
pumpkin seeds
almonds
avocado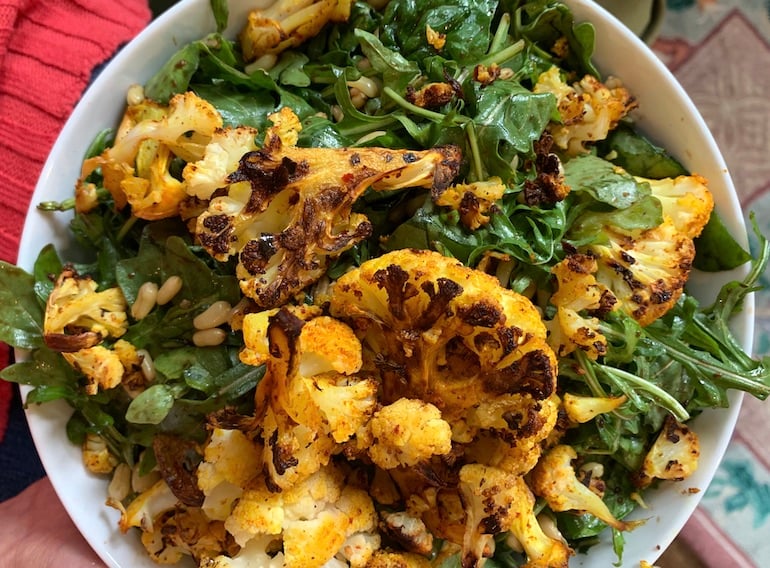 Dinner
Some people like to break the work day with Scotch, but cooking is my go-to! Cooking has always been one of my greatest pleasures, and an easy way for me to get creative and disconnect from daily work stress. For a typical weekday dinner, I'll make vegetable curry or cauliflower tikka masala with brown rice, sautéed broccoli, spinach, and/or Brussels sprouts. I also love a fusion of Tuscan bean stew with spinach, extra veggies, and spices like turmeric with black pepper. After a long day at work, I like having something warm at night that's full of healing spices and nutrients that help fight inflammation and set me in the right mood to de-stress and finish the day. After all, we now know inflammation is the
number-one cause
of major mental health conditions. As I always say, gut inflammation is brain inflammation.
Tip:
Turmeric
is my go-to anti-stress food. Curcumin, its active ingredient, improves mood, decreases stress, and changes the corresponding brain chemistry by
protecting the hippocampus
since stress can deactivate it. I add turmeric to smoothies, salads, soups, and even tea—always adding a pinch of black pepper to make it more bioavailable.
Dessert
I loved pastries and baking with my family when I was a child. But now, after learning about the impact sugar has on brain and mental health, I try to limit my intake. One of my latest favorite brain food desserts is a creamy
dark chocolate avocado mousse
. My recipe has only has four ingredients and is super easy to prepare! If I have an extra stressful day, I also like to have a chamomile tea right before going to bed.
The Bottom Line
Every day, I try to make sure my diet has as many different colors as possible to maximize the range of nutrients I'm ingesting. They're all beneficial in a cumulative way for my brain and overall health. I also make sure I take some time off when I'm eating. I find that
mindful eating
and being present with my body during meals improves flavor and levels of satisfaction in the brain.
You can find all the foods to improve your mood, energy, sleep, and other mental health conditions plus brain-food recipes in Dr. Uma Naidoo's book,
This Is Your Brain on Food
. She also shares the latest science in the field of nutritional psychiatry on her Instagram account.
More like this