Does Jackfruit Taste As Weird As It Looks?
Jackfruit, which was rarely found in the US until recently, is now everywhere, from vegetarian tacos to "chicken nuggets" to vegan pulled pork sandwiches. The massive melon-like fruit contains quite a bit of fruit and can be eaten fresh, dried, or canned, too. It's true that the jackfruit's flavor varies quite a bit based on how it's prepared, but what does jackfruit taste like, and what are the benefits of eating jackfruit?
First things first…
What is Jackfruit?
A jackfruit is a tropical fruit native to Southeast Asia. It looks like this: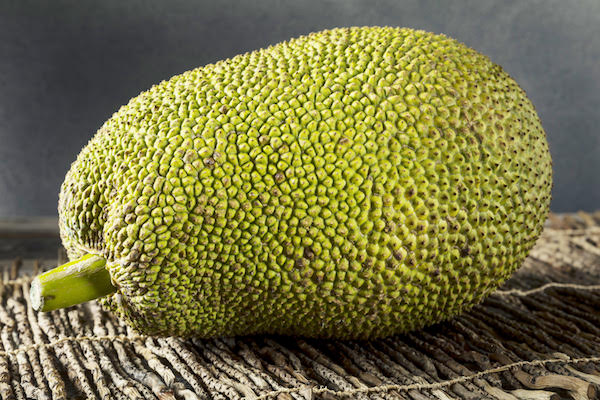 It's the largest fruit to grow on a tree, and a single fruit may weigh anywhere from 10-50 pounds. (The one we found at Whole Foods was about 20 pounds.) Since each jackfruit tree produces between 150-250 fruits each year, it's considered an incredibly abundant food source.
In addition to its abundance, jackfruit is becoming quite notorious for its versatility. When harvested, here's what jackfruit pieces look like: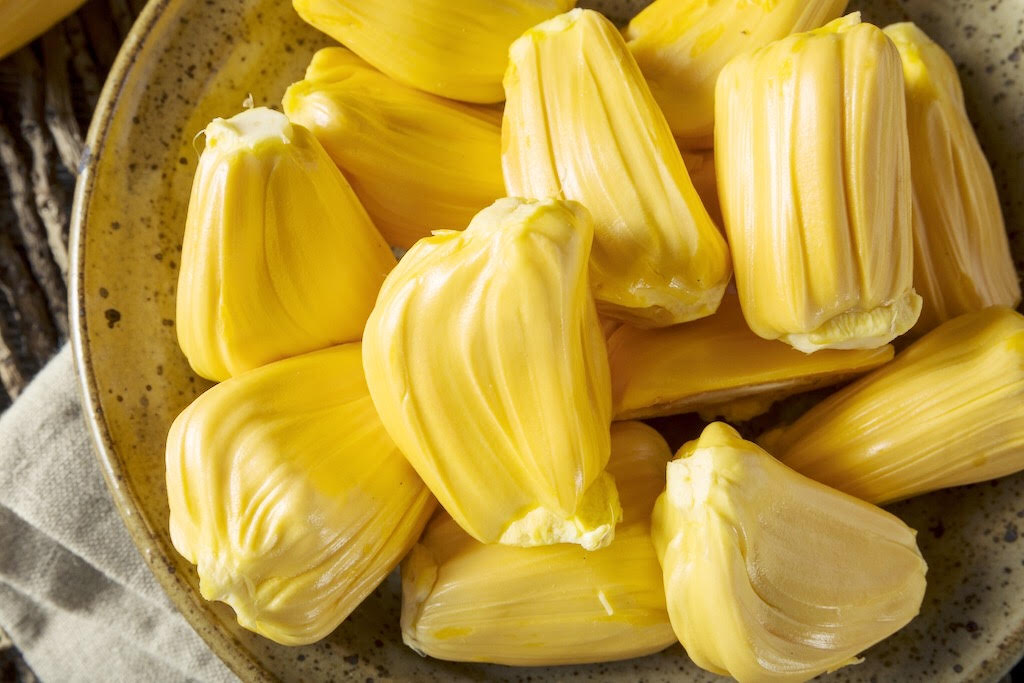 Though the jackfruit taste is naturally sweet, the crunchy strand texture of jackfruit pieces lends itself to meat substitutes quite nicely. Also, canned varieties are available to cook down with your own savory sauce into a vegetarian pulled pork. You can even buy pre-packaged jackfruit teriyaki and barbecue products.
What Are the Jackfruit Benefits?
Jackfruit is rich in vitamin C and antioxidants to help the body fight free radicals. As a meat substitute, it has a ton of fiber which satisfies the appetite and is great for digestion. Bonus jackfruit benefits are that it also has a fair dose of magnesium, calcium, and B6 among other phytonutrients.
Here's the breakdown of noteworthy nutrients in jackfruit (per cup):
2 g fat
3 g protein
38 g carbs
2.5 g fiber
22.6 mg vitamin C (18 percent of the RDI)
47.8 mg magnesium (15 percent of the RDI)
0.125 mg copper (15 percent of the RDI)
739 mg potassium (14 percent of the RDI)
What Does Jackfruit Taste Like?
When prepared as a meat substitute, an unripe jackfruit flavor is more bland and tastes more like meat plus whatever sauce you douse it with because of the texture, explains Gaby Vaca-Flores, RDN, CLE, HUM's education specialist. "Fresh jackfruit has a sweeter taste, so if you're going for a savory recipe, reach for unripe or young canned jackfruit," says Vaca-Flores.
(See for yourself in the video above how HUM staffers reacted to the jackfruit taste. We tried this tropical fruit four different ways: fresh, packaged teriyaki, canned, and dried.)
Here are some more jackfruit recipe ideas from Vaca-Flores.
Jackfruit tacos – Believe it or not, you can now find jackfruit tacos at most Mexican restaurants that have plant-based options. To make jackfruit tacos at home, simply season thinly sliced young jackfruit with taco seasoning and cook over medium to high heat. Once the jackfruit begins to soften, use a potato masher to shred the jackfruit. Enjoy with tortillas or in a rice bowl with lime, shredded lettuce, onions, and salsa.
Slow cooker jackfruit "pulled pork" sandwich – Jackfruit is the perfect texture for a pulled pork or pulled chicken sandwich substitute. To recreate the sandwich, cook young or canned jackfruit with water (enough water to cover the bottom of the slow cooker) and barbecue sauce for four to six hours on high. Using a potato masher or fork, shred the jackfruit. Enjoy with sandwich buns.
Jackfruit smoothie – Jackfruit also makes a good base for vegan smoothies due to its versatile taste and texture. In a blender, pulse fresh jackfruit arils with the plant-based milk of your choice, your favorite nut butter, lime juice and ice cubes.
Is It Safe for Everyone to Eat Jackfruit?
For the most part, yes. If you have an allergy to birch pollen, you may also have a reaction to jackfruit because the allergens are similar, research has shown. "Aside from those individuals, most healthy people should be able to enjoy jackfruit worry-free," says Vaca-Flores.
More like this