What Our Asian Mothers Taught Us About Beauty and Wellness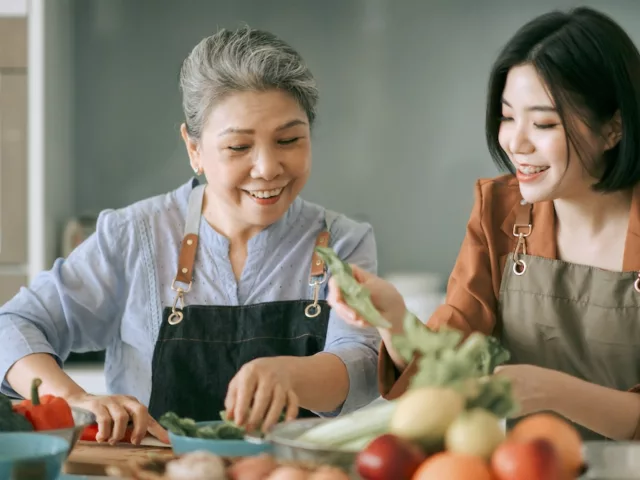 In honor of AAPI Heritage Month, members of Team HUM share beauty and wellness advice passed on to us from our Asian mothers (and grandmothers!).
Here's what they taught us about taking care of our skin, hair, and health.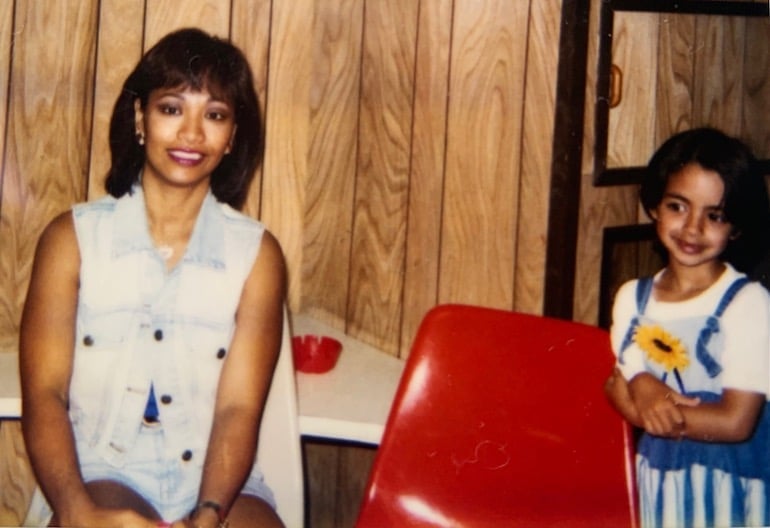 Michele, Content Editor
My mom (who moved from the Philippines to the US at 16 years old) has the most beautiful skin ever—super smooth, soft, and clear, with a gorgeous tone. Unfortunately, I have to work extra hard for my skin to even come close!
Moisturize + Protect
While she's more into beauty and makeup (versus my skin-first approach), she's still rigorous (or "religious," as she says) with her skincare routine.
Like me, she loves the potency that serums can deliver, and also prizes moisturizer for her enviable complexion. She's all about luxury and counts Chanel, La Mer, and Natura Bissé as her go-tos, whereas I typically prefer to test out clean options from newer/indie brands.
But above all, she wears sunscreen daily and never sits out in the sun, which must be why (at least in part) her skin still looks incredible in her mid-60s.
Supplements
As far as skin-supporting supplements go, she takes vitamins C and D daily.
Facials
From her, I learned the importance of getting facials (we both love HydraFacials) and other treatments regularly to keep skin fresh, clear, and healthy. Whenever I go back home, our version of quality time typically consists of a spa visit to get our glow on.
Final Thoughts
It's been a lifelong journey for me to feel comfortable and confident with my complexion, but I'm extra grateful that my parents have always supported me on my quest. It's honestly just dawning on me now how much my mom has influenced my obsession with skincare!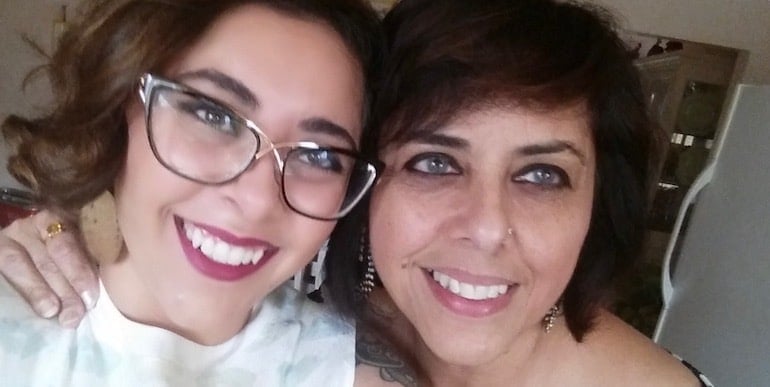 Vani, Programmatic Marketing Manager
Being raised by my Desi mother and grandmother, the majority of advice was around hair health and how to nurture and promote healthy hair growth.
It's funny that after years of not taking their advice seriously, I've rediscovered these hair care solutions as recommendations from others—particularly, when I started my journey in curly hair care a handful of years ago.
Their advice generally fell into two categories: what to eat and what topical solutions are necessary for healthy hair.
Eat fresh Fruits + Nuts
They placed a heavy emphasis on eating nuts to help promote healthy and strong hair growth. I've definitely adopted this into my daily routine; I like to keep small bowls of fruits and nuts at my desk to snack on when working throughout the day. Since implementing this a few years ago, I've seen a glow in my skin and my hair is less dry and has less fallout.
Coconut Oil hair masks
Marinating your hair in coconut oil is a staple practice in most Desi homes. I remember sitting on a weekly basis to get hot coconut oil poured on my scalp and a vigorous scalp massage. Then my mother would try to detangle and braid my crazy, curly hair.
I escaped this practice as soon as I was old enough to avoid it. But now I've found myself right back to it after all these years! On a bi-weekly basis, I massage warm coconut oil or castor oil in my scalp and marinate with a hot cap for a couple of hours before washing it out with a clarifier. As a result I've seen that my hair is much stronger and softer. Since readopting this practice, there's also less fallout.
Final Thoughts
As I get older, I've found that I lean more on traditional Desi practices of using natural solutions when it comes to skin, hair, and general wellness. You see some of these being adopted by mainstream wellness brands in using ingredients like turmeric and coconut oil.
Honestly, getting back to these practices makes me feel closer to my cultural identity. This has always been important to me as someone who was born in India but was raised in Western culture in the Bay Area.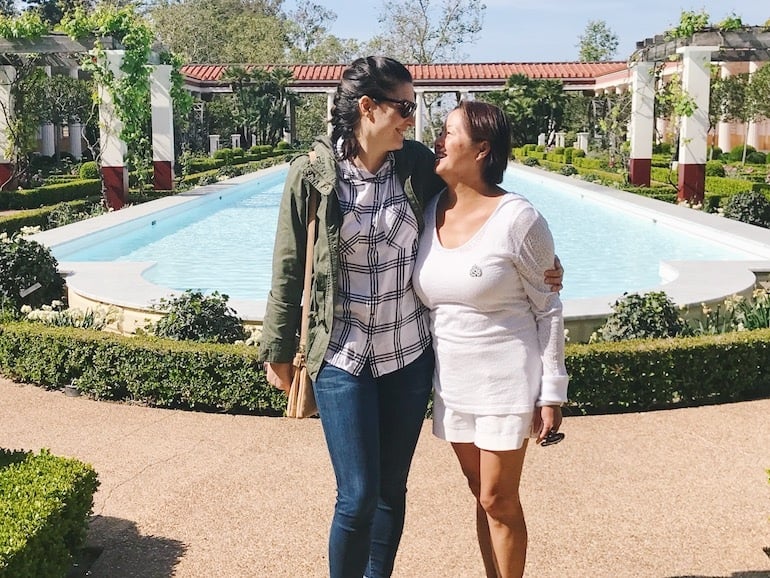 Zena, Editorial Director
For as long as I can remember, people have complimented my mother on her beautiful skin and youthful appearance. She rarely wears any makeup so her beauty routine is entirely skincare-based. Neither my sister nor I wear much makeup on a day-to-day basis and I think it's from her example.
Don't Touch your facE
My mother is very diligent about moisturizing. I remember always feeling lotion on her face when I was a kid. On that note, she also used to tell us not to touch her face so she wouldn't get wrinkles. I don't know if it really makes a difference with that, but I do think it's a good habit to leave your face alone as much as possible. Picking at blemishes or other imperfections only makes them worse. We can also transfer bacteria from our hands to our face, easily.
Wear Protective Clothing
Similarly, my mom is also very adamant about sun protection. She wears SPF on her face every day, but also wears hats and clothing to protect herself from the sun. She even had a sleeve accessory in the car to protect her bare arm from sunlight coming in from the side window in the driver's seat. I made fun of it when I first saw it, but now that I'm in my 30s and more skincare savvy, I get it! When I go to the beach now, I prefer to wear long, loose, breathable layers while sitting in the shade.
Don't Sleep with Wet Hair
My mother was really, really insistent on this one when I was little. She always said I would get sick if I slept with wet hair. I've read that's not necessarily true, but that sleeping with wet hair is not as good for your scalp as letting it dry.
Eat + Drink Warm food and beverages
In terms of wellness advice, my mom subscribes to a lot of principles of Traditional Chinese Medicine (TCM). She doesn't drink water while she eats meals and prefers to hydrate before or after to keep her digestive system focused on breaking down food.
Also, when we go out to eat at restaurants, the first thing she always asks for is a glass of hot water with lemon. She avoids drinking cold or ice water and prefers to sip room temperature or hot water to improve digestion.
Similarly, she prefers lightly cooked foods as opposed to raw fruits and vegetables. She's also always encouraged me to eat warm, grounding foods on my period.
Final Thoughts
It's funny—growing up, I used to think these tips were all so random. But the more I've learned about how the body and digestion work, the more it all makes perfect sense to me. I love that TCM places such a big emphasis on how digestion relates to overall health and that it's common household knowledge.
More like this