We Tried to Get Glass Skin with Glow Recipe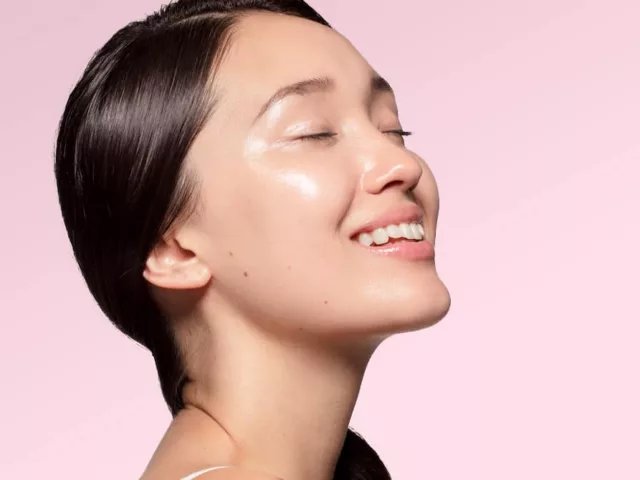 I wouldn't necessarily call myself a skincare junkie. However, as a beauty industry vet and a Korean American, I've certainly heard of both K-Beauty and the glass skin trend. I also know that 
Glow Recipe
has spearheaded the K-Beauty market to millennials. So, when I was given the opportunity to try out their Glowipedia Glass Skin Kit, my thirsty skin was fully committed to the cause.
First, what is glass skin?
I spoke with Glow Recipe's co-founder Sarah Lee, who shared her expert take on glass skin: "Glass skin, or
yuri pibu
in Korean, refers to translucent, poreless, and hydrated skin—almost like a pane of glass. Glass skin is healthy and glows from within. Women can achieve it with consistent hydration, exfoliation, and protection. Consistency is important to not only achieve glass skin, but also keep skin in its best possible state." Lee recommends that newbies stick to the Glowipedia Glass Skin Kit. She also explained how each product was handpicked to create the ideal glass skin look: "Glow Recipe's perfect glass skin regimen consists of cleansing with our gentle
Blueberry Bounce Cleanser
, brightening with our
Pineapple-C Bright Serum
, and hydrating with our
Pink Juice Moisturizer
. A glass skin hack is to layer the
Watermelon Glow Mist
in between steps to rehydrate skin before applying the next product. For extra credit, our
Watermelon Sleeping Mask
locks in all the goodness overnight so you wake up with glowing, glass skin."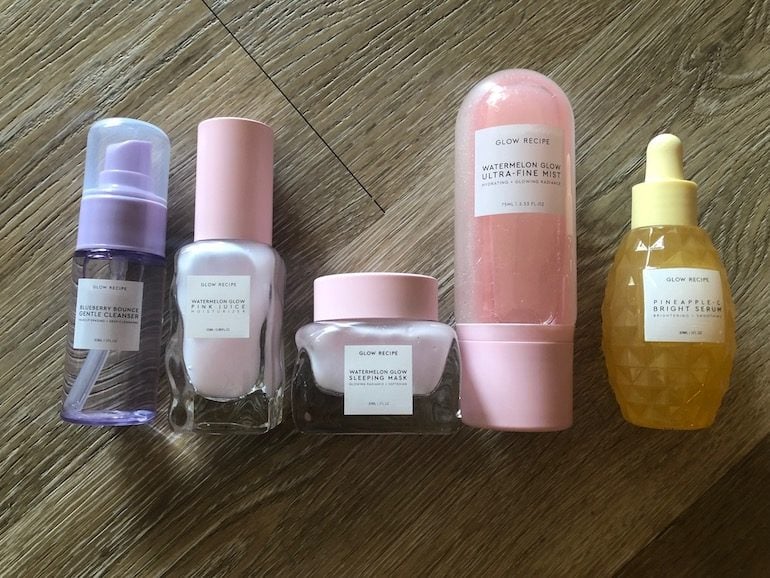 After doing some extra research and fawning over dozens—okay, hundreds—of glass skin photos, I dove into the routine ready to live my glassiest life.
My Standard Skincare Routine
I'm lucky in that I lack some of the biggest skincare concerns shared by my peers. (Please don't come for me!) However, my skin errs on dry and dehydrated, plus semi-combo on my T-zone. Over the past few years, I've discovered a select number of products that work for my skin type. They skillfully keep irritation,
dryness
,
breakouts
, and all the skin no-no's at bay. I rely on both a gentle scrub and a chemical exfoliant twice weekly to boost skin cell turnover. Also, hydration station is my jam. Otherwise, I keep the rest of my routine fairly… routine.
my Glass Skin Routine
Day 1: No, I don't want no scrub
I started my glass skin routine on a humid Wednesday night, temporarily parting ways with my beloved peels and scrubs. Surprisingly, this K-Beauty routine features a friendly five-step system. It's a breeze compared to the overwhelming 10-step routine my Korean mother follows. Seriously,
what even is essence?
The whole regimen took five minutes. Thereafter, I opened my eyes to a positively quenched complexion. I wanted to make sure I was properly reading the instructions for each product, toggling between product pages while waiting for all the wonderful, glow-boosting ingredients to sink in. Once I woke up though, the glassiness had dialed down back to same-old, regular skin. To complement my journey, the other half of Glow Recipe, Christine Chang, offered some extra lifestyle tips for
glowing skin
: "There are always ways to glow from the inside out. Aside from your skincare regimen,
hydration
is key. Be sure to drink the recommended daily amount of water. Also, maximize
nutrient-packed fruits and vegetables
for your body in addition to your skin." Luckily, HUM always stocks nutritious and delicious food, so maintaining a nutrient-rich diet wasn't too hard. Furthermore, the LA heatwave helped when it came to keeping hydrated. Chang also emphasized the
 importance of a full night's rest
, which getting is easier said than done for all of us working ladies. I stuck to my nightly vitamin routine of HUM's
Beauty zzZz
to fully implement Chang's advice.
Day 3: New Skin, Who Dis?
It took roughly three days before I streamlined the routine into an easy few minutes. I gently cleansed and allowed the mist, serum, and moisturizer to set between each step. I noticed some of my skin irritation from LA summer started to subside. Instead of relying on higher-coverage CC cream, I braved the day in tinted moisturizer sans setting powder to showcase my dew. Nearly halfway through, I began to miss my regular routine of
physical and chemical exfoliants
. I love the way my skin feels fresh off a peel: baby soft with purified pores. My skin was now incredibly hydrated, but it started to feel like I was piling on moisture atop moisture. (Hence, glass skin goals.)
Day 5: Demystifying Porefection
I focus in on my pores all the time. And to truly achieve glass skin, your skin should look virtually poreless. Then it struck me: I was attempting to rise to the upper echelon of skin goals based on social media influencers and Korean celebrities.
This isn't real life
, I reminded myself. From there, I started to unplug from the perfect, retouched visuals crowding my screen. Instead, I started to watch videos from
Glow Recipe's YouTube channel
on how to maximize skin "translucency," which offered additional steps I hadn't thought of. Innovative takes included mixing my tinted moisturizer with the Watermelon Pink Glow Juice, misting with the Watermelon Glow Ultra-Fine Mist between steps, and finishing with the Pineapple-C Bright Serum to the high planes of my face to boost my natural highlight. My excitement started grow with experimenting with the regimen in unexpected ways.
Day 7: Nude awakening
By the last day in my glass skin routine, I showed off my skin in its natural state and ditched my tinted moisturizer. As someone who wears foundation or CC cream regularly, I felt naked without a veil of color. What surprised me was the number of compliments I received from my coworkers who knew nothing of my glass skin trial. I received uplifting nuggets like "your skin is glowing," and my personal favorite, "you look so fresh and young!"
Glass Skin Before and After
[before_after id=1]
Final Thoughts
I'm not sure if my skin made a full transformation after a week, but I did leave with newfound confidence about my complexion. Having spent nearly two decades relying on pigmented cosmetics, I never imagined I'd face a workday with naked skin. From my perspective, skincare is an extension of
self-care
. Through trying something new, I was able to step outside of my comfort zone and tap into newfound skin self-love.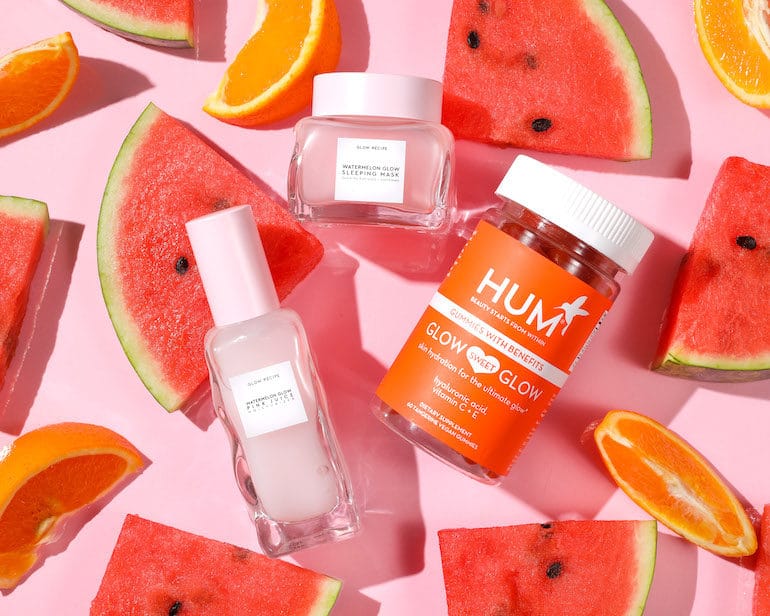 This month, HUM is excited to partner with Glow Recipe to gift subscribers samples of their Watermelon Glow Pink Juice Moisturizer and Sleeping Mask. Not yet a subscriber? Not a problem—simply take our three-minute quiz to start getting personalized vitamin recommendations and beauty freebies each month!
More like this