How to Keep Summer Breakouts at Bay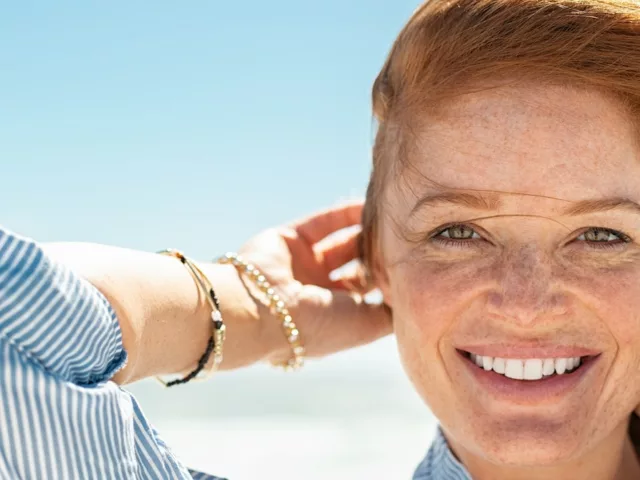 If you're a summer person, you likely spend all year looking forward to beach days and outdoor parties. However, if you spend a lot of time outside, you might find that your skin is more prone to breakouts in the summertime. How come? Thick, humid summer air mixes with dirt and oil, which then creates a veil over the skin that traps in sweat. When sweat glands get blocked and sweat beads can't make it to the skin's surface to evaporate, that's when acne breakouts occur.
Wondering how you can enjoy your favorite summertime activities without annoying breakouts getting in the way? Here's a list of tips and products to consider if you want to keep summer breakouts at bay.
Tips to prevent summer Breakouts
First things first: Changes in weather mean that you should adjust your skincare routine accordingly. You'll want to opt for lightweight products that won't clog your pores once you're hit with thick summer air.
Next, washing up after a long day in the sun will also help prevent future breakouts, especially if you wear makeup. Your makeup can trap dirt, oil, and free radicals that lead to breakouts. The same goes for when you're sweating. Whether you're exercising or just happen to work up a big sweat while laying out by the pool, changing out of damp clothes and washing your body will help prevent acne flareups.
Need product suggestions for when the temperatures start to rise? Look no further:
Cleansers
When it comes to cleansers, you don't want to use anything too harsh for a number of reasons. For starters, using a cleanser that acts as an intense exfoliator on a daily basis can result in over-washing. Over-washing strips the skin of its natural oils and can eventually lead to dryness, inflammation, and even more breakouts. Additionally, intense cleaners can cause irritation and ultimately result in sensitive skin that's even more susceptible to sunburn.
Looking for a cleanser that'll get rid of makeup, dirt, and impurities but won't result in overwashing? A jelly cleanser like Belif's Aqua Bomb Jelly Cleanser is a safe bet. Belif's jelly cleanser is packed with glycerin-based cleansing agents that gently remove makeup and impurities via lightweight foam, while also adding bursts of moisture.
Serums
To prevent breakouts this summer, opt for a serum that'll work with your skin to fight dirt and impurities all day long. Look for an option that contains salicylic acid as the active ingredient. Salicylic acid is a BHA (beta hydroxy acid) that cuts through pore-clogging oil. It's a must-have to treat and prevent breakouts in acne-prone skin.
For a lightweight BHA serum that'll battle breakouts all day long, go for The Ordinary's Salicylic Acid 2% Solution. It'll exfoliate the skin, fight off blemishes, and give a clear complexion while you go about your fun summer days.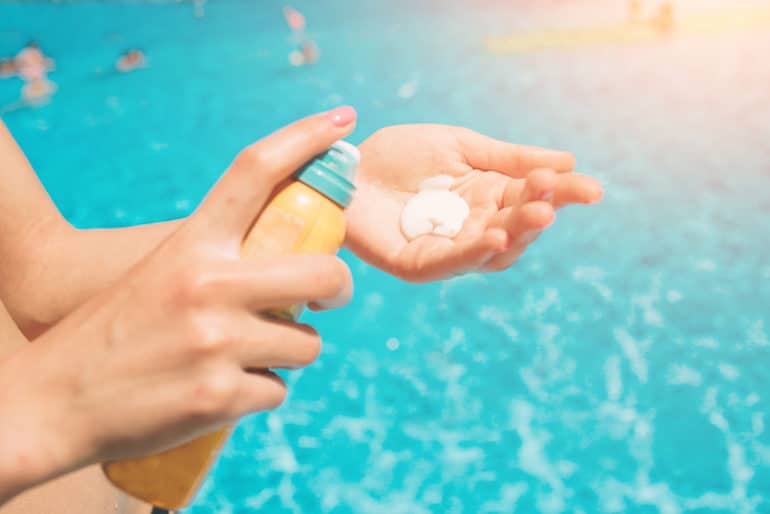 Sunscreen
You probably already know that sunscreen is one of the most important parts of any summer skincare routine. But one of the major keys to preventing breakouts is to use SPF that isn't based in oil. Oil-based sunscreens can clog your pores even further and lead to more intense breakouts.
For a lightweight sunscreen that'll protect your skin from the sun but still feel good on the skin, check out Glossier's InvisIble Shield. It has a water-gel texture that melts into the skin and doesn't leave a white cast like many other sunscreens. Fortunately, it's light enough to be worn under makeup or by itself. The lightweight gel has an SPF of 35, so it'll provide adequate sun protection on a daily basis.
Masks
Treat yourself to a self-care Sunday following a weekend spent in the sun. Grab a facial mask that'll exfoliate to prevent breakouts and soothe any inflammation. With the help of the right mask, you can get your best summer glow.
Do double duty with the Pure-Clay Clear & Comfort Face Mask by L'Oreal Paris. It uses naturally derived clays to clear pores of impurities while also leaving skin smooth, soft, and calm.
Supplements
Finally, while topical products are important, clear skin really does start from within. Seeking smooth and radiant skin that's also free of blemishes? Consider taking oral supplements that'll cleanse, detoxify, and fight off inflammation from the inside out.
HUM's Daily Cleanse is a tried-and-true solution that'll detox your system thanks to key botanical herbs and minerals. Next, OMG! Omega the Great helps reduce redness and promote an even skin tone with omega-3 fatty acids. Finally, you can opt for HUM's probiotic supplement for clear skin, Skin Squad, to simultaneously nurture your gut and complexion.
More like this