5 of the Best Summer Skincare Tips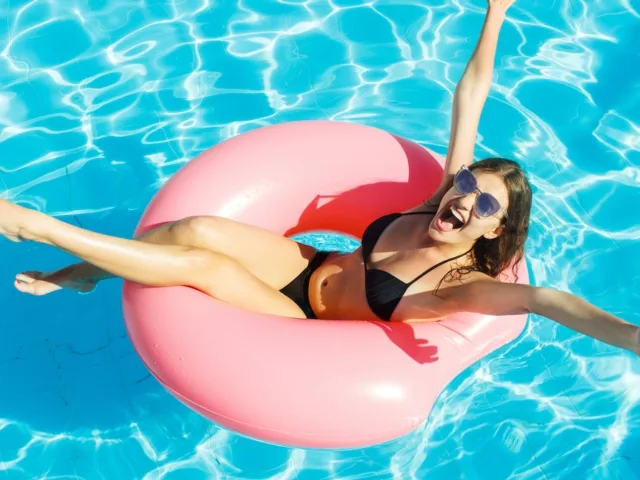 Five tips and tricks for you to get your best summer skin yet. June has arrived and we're ready to hit the beach, pool, lake… basically any body of water will do. But first, skincare. Beauty blogger
Jamie Stone
 shares these tips for soaking up rays and keeping your skin looking silky smooth and protected.
5 Must-Follow Summer Skincare Tips
1. AWS (Always Wear SPF)
We know we don't have to even explain 
why 
to you at this point. But as a reminder, aside from painful sunburn, one in five Americans will develop skin cancer in the course of their lifetime (according to the
Skin Cancer Foundation
). Always remember to apply a "shot-glass full" of your favorite sunscreen every two to three hours or immediately after swimming. We love:
COOLA Eco-Lux SPF Tropical Coconut Sunscreen Spray
2. Don't forget your lips and scalp
When it comes to putting SPF on your face and body, you're probably already a pro. But what about those forgotten areas like your lips and scalp? If you've ever had a scalp burn, we know you feel us here.
Hello, fake dandruff.
For the scalp, we love the easy application of a spray sunscreen. You can also use a mineral powder SPF.
For lips, we love:
COOLA Mineral Liplux SPF 30
Our scalp favorites:
Mineral Fusion SPF 30 Brush-On Sun Defense
3. Keep eye cream in the fridge
There's nothing more refreshing than a cooling eye cream straight from your refrigerator. You can also try cooling your moisturizer, or even a body spray! Our favorite products to stay cool:
Simple Revitalizing Eye Roll On
,
Farmhouse Fresh Guac Star Soothing Avocado Hydration Mask
4. Don't scratch bug bites
Often, the price to pay for connecting with Mother Nature is a souvenir of itchy bug bites. We know it's tempting, but—just like your mother told you—scratching makes bug bites worse and can even cause scarring! Instead, try keeping an anti-itch cream in your purse for any surprise insect attacks. We love:
Aveeno 1% Hydrocortisone Anti-Itch Cream
,
Benadryl Itch Stopping Cream
5. Prevent razor bumps and burns
Since you're probably
shaving
the most during the warm summer months, it's important to always prepare your skin properly for the sometimes harsh process of shaving. Here's are a few shaving-specific tips:
Use a body scrub to gently exfoliate your skin before you start shaving.
Swap out dull blades for clean, sharp razors.
Apply a generous amount of shaving cream.
Shave with the grain (i.e., the direction in which the hair grows).
Moisturize liberally directly after showering.
A few shaving products we love:
Caudalie Crushed Cabernet Scrub
,
Bliss Ingrown Eliminating Pads
,
Shaveworks Pearl Souffle Luxurious Shave Cream

Zena Wozniak
June 6, 2017
More like this