Healthy skin isn't just the products you put on your face! It starts from within. Below are the top ten foods for healthy skin.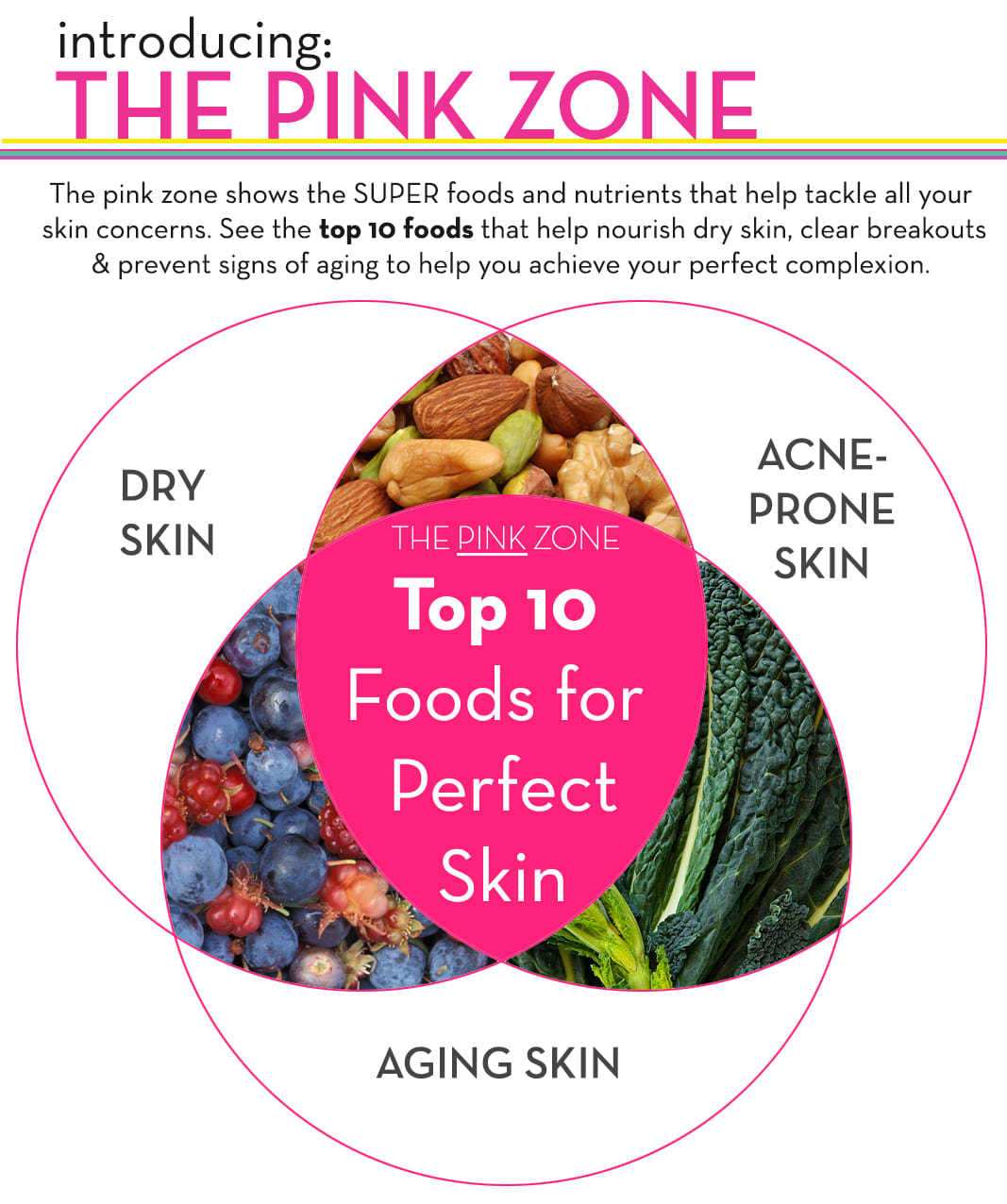 top 10 Foods for Healthy Skin
Ready to nourish your skin from within? Choosing the best food for healthy skin is made simple with our guide to navigating the best foods and nutrients for your skin concern. Introducing the Pink Zone, where the top ten nutrients across the board gather for nourishing dry and dull, acne-prone, and aging skin. The Pink Zone is where you want your meals to meet to achieve clear, radiant, and youthful-looking skin.
1. Water
Hydrating your body is key to replenishing water in the cells to lock in moisture, boosting that soft, plump, and glowing feel. In addition, choosing water also means foregoing something else—namely, sugar-packed juices and sodas. High blood-sugar levels are known to be harmful to the collagen that keeps skin firm and elastic. Drink up!
2. Berries
Think blackberries, blueberries, and raspberries. These dark berries are packed with Pink Zone nutrients including antioxidants, phytochemicals, flavanoids, carotenoids, polyphenols, vitamins, and minerals. They protect and support the health of skin cells.
3. Herbs (rosemary, peppermint, thyme)
A study in the International Journal of Epidemiology found that consuming four or more herbs regularly was associated with up to a 60% reduced risk of melanoma (the most serious type of skin cancer). Researchers laud the antioxidants that protect the skin from harmful free-radicals caused by UV rays.
4. Nuts
Almonds, pumpkin seeds, and Brazil nuts are packed with minerals such as zinc and selenium. These minerals are essential to skin health and function. Also, they're known to attract and remove acne-causing toxins in the body.
5. Beetroot
High in vitamin A, potassium, sodium, calcium, magnesium, and vitamin E, beetroot can be a blood purifier. It cleanses the body from skin-scarring toxins and protects the skin from neutralizing free radicals that cause wrinkles and sagging.
6. Kale
The last few years have seen a kale frenzy, but it makes sense why. Packed with vitamin C, beta-carotene, kaempferol, and quercetin, this superfood is an antioxidant superstar. With one of veggies' highest ORAC (Oxygen Radical Absorbance Capacity) ratings, kale has the super ability to prevent the loss of skin elasticity triggered by collagen-damaging free radicals.
7. Avocado
Between vitamin E to boost skin vitality and luminosity, vitamin C to reduce inflammation, and healthy monounsaturated fatty acids to maintain moisture in the epidermis, avocados are an amazing superfood for all-around skin health.
8. Broccoli
Another skin superfood, broccoli has vitamins A, B-complex, C, E, and K to rejuvenate skin for a brighter, glowing complexion. Omega-3 fatty acids also support skin cell function for firmness and smoothness.
9. Green tea
With well-documented antioxidant and anti-inflammatory properties, green tea polyphenols quench free radicals and prevent wrinkles, fine lines, and the loss of elasticity in the skin. Green tea catechins have also been studied for the ability to lower blood glucose, which can lead to clear, acne-free skin.
10. Tiny fish (mackerel and sardines)
Tiny pure fish are low in impurities and packed with omega-3 DHA and EPA. These nutrients combat acne inflammation and hydrate from within for even, glowing skin.
Beauty Gurus in the Pink Zone: #1 Food for Skin
We teamed up with some leading beauty bloggers and editors to hear their skincare secrets that start from within. Here's what they had to say on their top foods and rituals for healthy skin:
Love, Shelbey, Beauty Blogger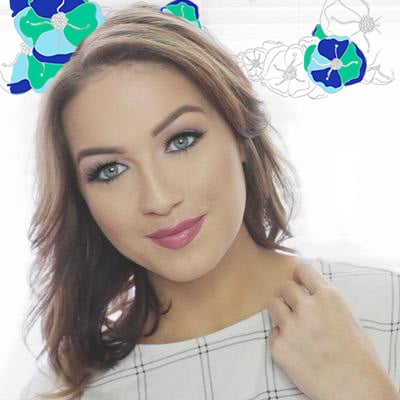 Shelbey Ashburn is founder of blog and YouTube channel Love, Shelbey. She took on HUM's 21-day detox challenge, packed with detoxing botanicals (algae) and skin-clearing minerals (zinc and selenium) in HUM's Cleanse to the Rescue.
What's your skin stress?
I've always suffered from extremely dry skin, especially on my face. It's a hassle!
What's your #1 skin-care tip?
For dryness, I've found that natural oils have played a huge part in relieving flaky skin and irritation. I can't live without Josie Maran Argan Oil; it's a lifesaver!
What's your go-to food for healthy skin?
It's not exactly food, but I think water always makes the biggest difference in the overall appearance of my skin. I can tell the difference when I drink a lot of ice water throughout the day as opposed to only a bottle or two. I've never been one to drink a lot of liquids, but within the past few years, I've really tried to drink as much water as I can in a day!
Morgan Bishop, Beauty Youtuber
Morgan is a Los Angeles-based YouTube guru who features the latest on makeup, beauty, hair, and wellness. She gets her nutrients for skin health with the vegetarian combo of HUM's Daily Cleanse and Red Carpet.
What's your skin stress?
Oily, acne-prone skin.
What's your #1 skin-care tip?
I never leave the house without applying sunscreen under my foundation. I'm very conscious about sun damage, so sunscreen is a must.
What's your go-to food for healthy skin?
I'm a huge fan of Greek yogurt because of the protein it gives you. Also, I love pomegranates for their antioxidants.
Ani Palen, Beauty Editor
Ani Palen is Spa Week's editorial director and resident guinea pig for trending beauty wellness products and innovations. Her beauty bag includes HUM's Flatter Me digestive enzymes.
What's your skin stress?
Oil and combination skin, depending on the season. My skin is very active, so I'm always concerned about breakouts as well.
What's your #1 skin-care tip?
My top skincare tip is to do your research when it comes to choosing your products. Make sure to check labels to find out exactly what you're putting on your skin. According to FDA regulations, the first three ingredients listed on every label are the most potent. It's important to look them up to decide if they're right for treating your skin concerns. Plus, you want to make sure you're not shelling out extra cash for something that promises big results, but in reality is mostly made up of fillers and inactive ingredients. Paula's Choice Ingredient Dictionary is one of my favorite resources. A little extra time spent on research can yield big results.
What's your go-to food for healthy skin?
When I want my skin to look its best, I cut down on salt and load up on all kinds of berries and colorful veggies. Incorporating foods full of antioxidants and nutrient-rich vitamins into your diet will give your skin a noticeable boost from within, making your skin-care routine much more effective.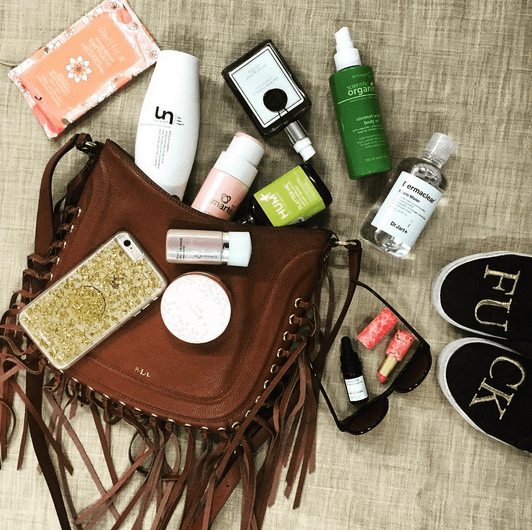 I also make sure to drink at least eight glasses of water per day. Hydration is truly key when it comes to having beautiful skin. As a beauty editor (who definitely knows better), I often find myself forgetting to drink water throughout the day. Sure enough, I always wake up the next morning with dull, patchy skin. Trust me, it's good to have a friendly reminder to stay hydrated every once in awhile. It's one of those things we all *know* we should do, but sometimes we need that extra nudge.