A Thorough Review Of The 5 Best Meditation Apps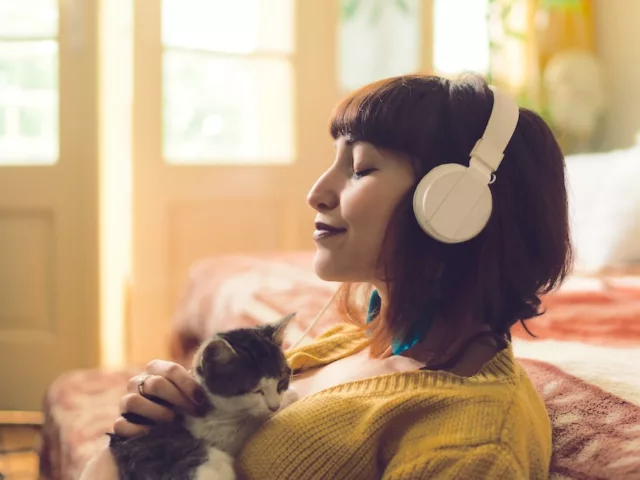 Whether you're trying to cope with
stress in uncertain times
or need help
falling asleep faster
, meditation apps are a convenient and accessible way to incorporate mindfulness into your daily routine. But with so many options, how do you find the best meditation app for you?
Here's our honest and thorough review of five of the best meditation apps out there. 
The 5 Best Meditation Apps Reviewed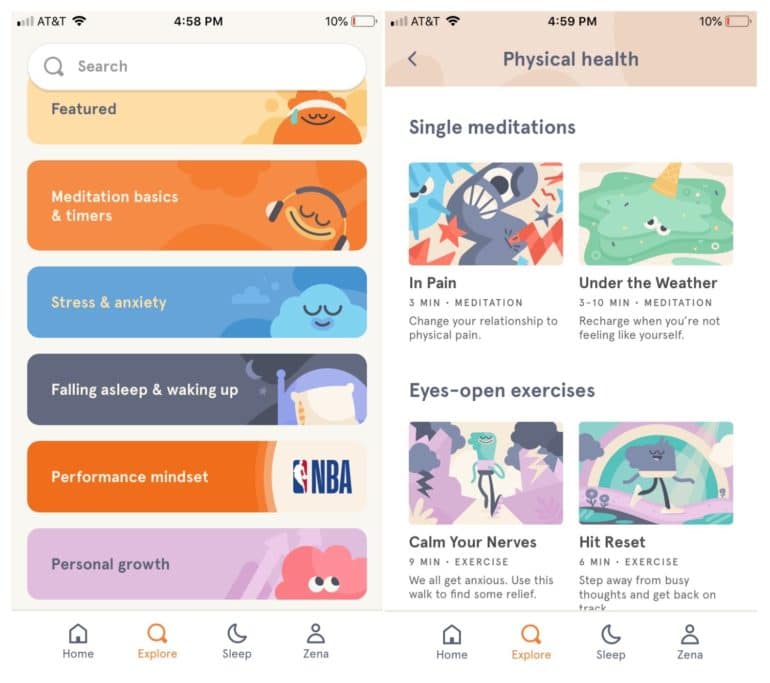 Headspace Review
The OG meditation app co-founded by a Buddhist monk,
Andy Puddicombe
, and an advertising executive.
Pricing
Free 30-day trial, then $12.99 per month, $94.99 per year, or $399.99 for a lifetime membership.
Selection Sample
Coping With Cravings, Managing Conflicts, Eating With Your Senses, Difficult Conversations, Performance Mindset, Creative Writing, Mindful Tech, Business Travel
Pros
To start, Headspace is super accessible right down to the thoughtful branding. No cheesy stock photos here. Just clever little cartoons that make daily meditation seem way less intimidating. They even wisely color all of their nighttime activities in dark colors to not
ambush sleep-deprived eyes with screen brightness
. If you're new to meditation, Headspace introduces you to more esoteric techniques such as visualization or noting using fun video animations. You can search for specific topics and their courses come with a whopping 30 sessions so you can really focus on a specific skill for a full month. Finally, we may be a bit biased here, but we love that they have a sleep meditation that takes place in a Hummingbird Bungalow!
Cons
There are actually so many features on Headspace that it's a little distracting which er… may defeat the purpose of meditation, no? You can choose from unguided, semi-guided or guided meditation timers. Nighttime options include sleep sounds, sleepcasts, or wind downs. They even have
hourly live sessions. This is a nice idea in theory but also creates a manic sense of FOMO with the constant countdown and number of people updating in real-time on your screen. 
Also, the titles of courses can be a bit broad. Individual sessions within larger courses are unnamed so you're going in blind. Similarly, there is no preview of sleep sounds, so you have to wait for each to load in full before deciding whether you like it or not.
Recommended For
Meditation skeptics and beginners.
Website
www.headspace.com
Calm Review
The Calm app was recently
valued at $1 billion
and calls itself the number one meditation app.
Pricing
Free 7 day trial, then $59.99 per year.
Selection Sample
Focus, Compulsion, Negativity, Addiction, Flight Anxiety, Commuting, Forgiveness, Emotions, World Cup Penalty Series
Pros
This one came widely recommended by peers! It's easy enough to navigate with three main categories: sleep, meditate, and music. Light sleepers can select from soundscapes, ASMR, and even bedtime stories. Interestingly, the latter features a
beguiling
list of celebrity cameos. You can fall asleep to Leona Lewis, Levar Burton, Bob Ross, Nick Viall, or even Matthew McConaughey reading you a story. Courses list their individual session names for more informed selections. To personalize your practice, you can also select whether or not you prefer background noises in your meditation – and even which noise!
Cons
There are two main narrators on Calm and they were both a bit formal sounding for my taste. The course names are also pretty broad and you can't search which lends itself to lots of scrolling. I also couldn't quite figure out the vibe of this app. On one hand you have some pretty woo-woo calming music title tracks including "Stars Bring Us Closer," "Elegies For Time Feelers," and "You're Rendering Again."
But in the same app you have World Cup Penalty Series "designed to help World Cup fans ease the anxiety of watching penalty shoot-outs." Huh? Also, as much as I love me some Matthew McConaughey, his dreamy southern drawl kept me wide awake. 
Recommended For
People who like a well-curated selection and/or anyone with a crush on Matthew McConaughey.
Website
www.calm.com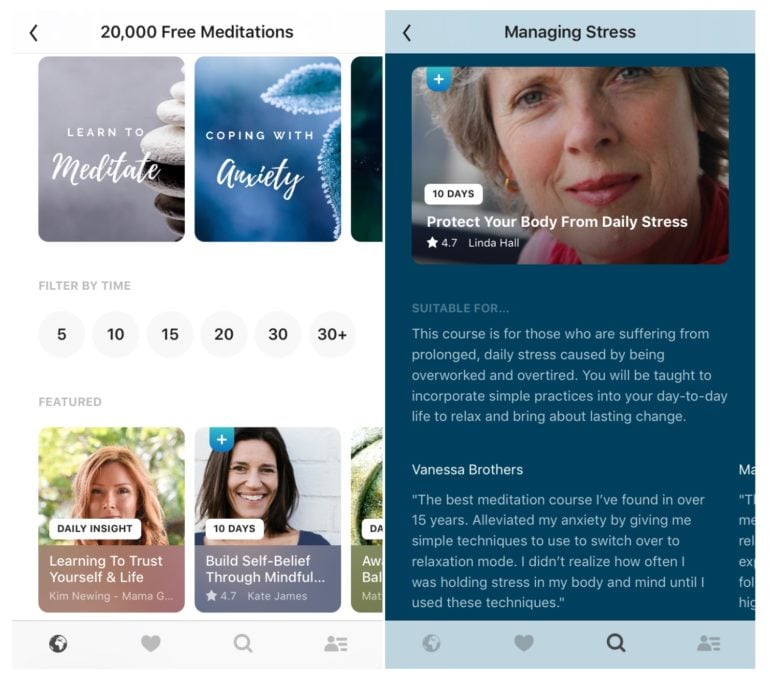 Insight Timer REview
The largest free library of guided meditations and once voted the happiest app in the world!
Pricing
Free 7 Day Trial, then $59.99 per year.
Selection Sample
Overcome Obsessive Thinking, Transform The Way You Manage Time, Sacred Sex, Love The Weight Away, Surrender To Fear Around Fertility, Body Love For Women
Pros
Insight Timer offers a huge library of meditations which is much easier to navigate thanks to their handy search function. One cool thing about this app is that teachers publish directly onto the app giving you lots of new content daily. You can even follow teachers you like to stay up to date with new additions. If you prefer unguided meditations, they still keep it interesting by customizing your starting bell and offering a variety of background noises. You can also customize your home screen with the features you use most on the app. For bonus learnings, you can listen to curated TED talks within the app from mindfulness experts such as psychologists and authors
Judson Brewer
,
Tara Brach
and
Jack Kornfield
.
Cons
The downside of teachers publishing directly is a lack of curation. While searching for "Yoga Nidra" I found at least fifteen different sessions with the exact same name. Then, in terms of interface, it's a little cluttered with unnecessary sell-ins. General topic screens show a paragraph on why meditation can help, descriptions of courses, and customer reviews. While I appreciate the sentiment of providing more context, the course names are pretty self-explanatory and I'd rather the material speak for itself.
Recommended For
Anyone loyal to their yoga and spin instructors.
Website
www.insighttimer.com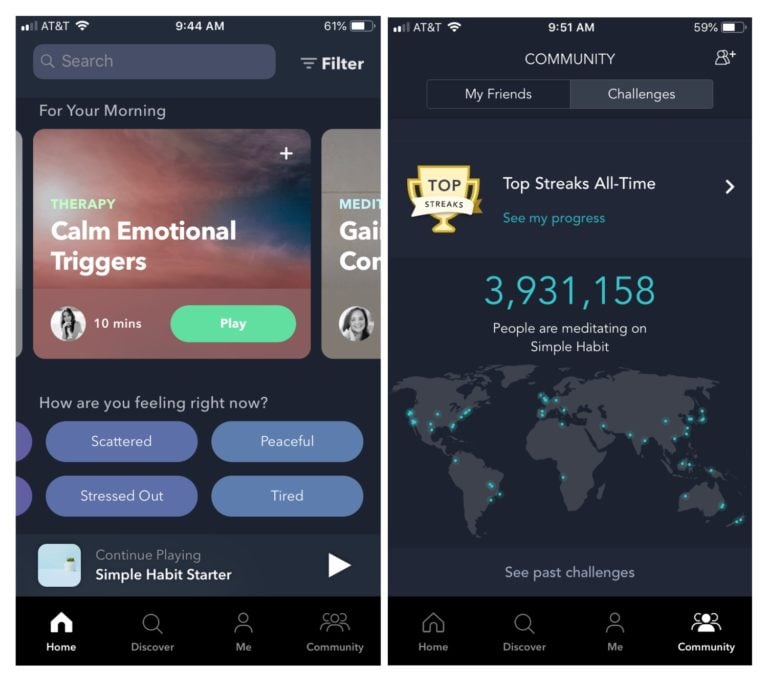 Simple Habit Review
The Simple Habit app promises five-minute meditations for busy people.
Pricing
Free 7 day trial, then $95.99 per year.
Selection Sampling
Romantic Jealousy, Leave Work at Work, Reduce Stress Without Drinking, Test Anxiety, Prepare For A Meeting, Imposter Syndrome, Commuting By Bus, Negativity in the News, Ease Millennial Money Worries
Pros
As you can see, the courses on this app are super-specific – and super-relatable! Whoever is in charge of programming here is definitely tuned into the culture at large. Each meditation comes with the option to include or exclude background music. The teachers I tried all had nice, natural voices. Plus, many of them introduce themselves as psychologists. There's a handy dashboard on your profile to keep track of your total minutes, sessions, and streaks. You can also find friends, encourage their practice with a tap, and join community challenges. 
Cons
Since signing up for the free trial of this app a mere two hours ago, I've already received three emails from them. Hello!? I thought you guys understood my millennial woes of over inundated inboxes! Also, their sleep soundscapes and music tracks are much more limited compared to the apps above.
Recommended For
Anyone who needs help with adulting.
Website
www.simplehabit.com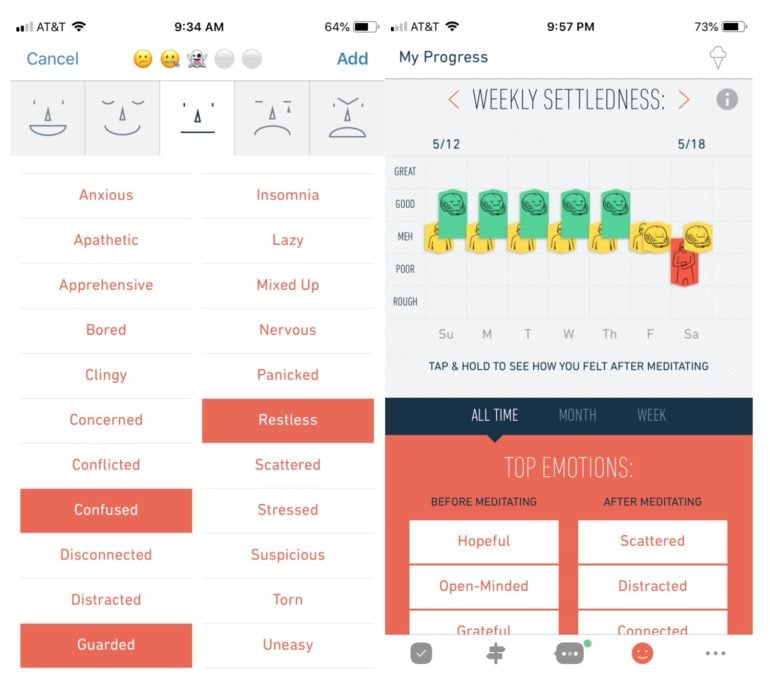 MyLife Meditation REVIEW
A meditation app that tracks your mental health, formerly known as Stop. Breathe. Think.
Pricing
Free for limited features, premium access for $9.99 per month or $58.99 per year.
Selection Sample
Tame Your Anxiety, Sit Back and Chill, First Date, Review the Day, One Minute to Relaxation, Mindful Driving, Lion Mind, Kindness for Pregnancy
Pros
Full disclosure, this one is my personal favorite. Why? Because the free version offers a unique feature that records your emotional state over time. Here's how it works. When you open the app it has you dim the screen for 10 seconds and note how you are feeling in that moment – first physically, then, mentally. Then, you choose five emotions you're currently feeling. From there it suggests some guided meditations, but you can also opt for a timer (with or without background noises) or a simple breathing timer. After your meditation, you check back in with the same metrics. This simple little step results in some seriously interesting data. Besides just seeing your daily streak, you can actually see weekly visuals of how settled you feel before and after meditating. You can also view your top emotions by week, month, or all time. Stop, Breathe & Think can also
analyze data from their users to detect trends
.
Finally, 10% of their earnings go to teaching children mindfulness in underserved communities. Solid! 
Cons
The design isn't anything to write home about. Like headspace, they use cartoons, but they don't have the same pizzazz. Also, their guided meditations are much more limited in selections, difficult to browse through, and pretty stiff in delivery. I have trialed the premium access before, but probably wouldn't pay for it.
Recommended For
Anyone wanting to track your own mental health over time.
Website
www.my.life
More like this