The Ultimate Guide to the Best Foods for Muscle Recovery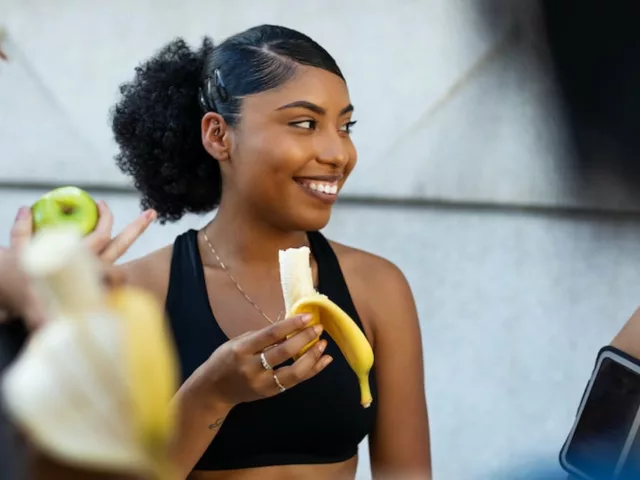 Want to build muscle and take your fitness goals to the next level? Complement your workout with the best foods for muscle recovery, vetted by dietitian and trainer Jessica Nelson, RDN, CPT.
Overworked and tired muscles leave you feeling sluggish and sore, making it difficult to give 100 percent to your next workout. To better reach your fitness goals, fueling your body—or more precisely, your muscles—following a workout certainly helps. Exercise routines like resistance training and high-intensity interval training (HIIT) are two typical workouts that break down muscle tissue. However, muscle inflammation and fatigue commonly result from all types of exercise, no matter the intensity. Without further ado, let's explore your new go-to guide to the best recovery foods and nutrients.
Best Foods for Muscle Recovery
Here are the best foods for muscle recovery and growth, including why they're essential for any recovery nutrition protocol.
1. Fluids + Electrolytes
First, since we lose a lot of fluids during exercise,
rehydrating is essential
. Even in mild cases, dehydration can contribute to muscle cramping. Of course, you should reach for water as your primary source to rehydrate. However, you may also benefit from drinking a low-calorie sports drink for added electrolytes to aid recovery, including potassium and sodium.
Tip:
Take your water intake to the next level by infusing it with water-dense and vitamin C-packed fruits and vegetables, such as:
watermelon
grapes
cucumbers
grapefruit
oranges
tomatoes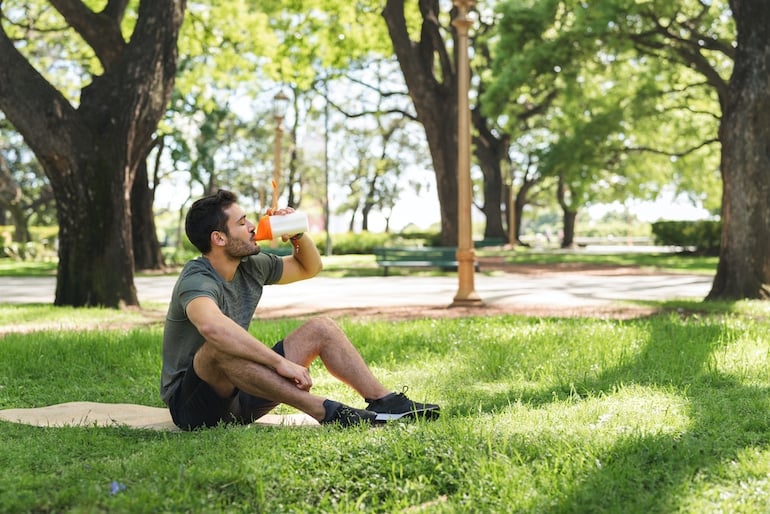 2. Protein
Next on the list of the best foods for muscle recovery: protein! Protein is among the best post-workout food types since it helps repair damaged tissue and stimulate new tissue growth. Research shows that ingesting up to 30 grams of whole-food protein sources post-exercise can
improve muscle protein production
. Aim to prioritize whole-food protein sources, as they're
satiating and nutrient-dense
. Great choices include:
Greek yogurt and low-fat dairy (cheese, cottage cheese, milk)
lean meats (chicken, turkey, fish, beef)
eggs or egg whites
plant-based protein (beans, soybeans, nuts)
That said, protein powders are another great option to complement these protein-rich foods. Protein powder is an especially attractive option for active individuals in need of muscle-repair foods that are quick and easy to make.
Tip:
The
best protein powder for muscle growth and recovery
should provide all 22 amino acids (aka the building blocks of protein).
3. Carbohydrates
Lastly, ensure that you eat enough carbohydrates, as they help refuel the energy stores found in your muscles. When choosing carbohydrates as a post-workout food, aim for a mix of simple and complex carbohydrates. Together, both types of carbs help replenish energy stores after training. Simple carbohydrates include fruit sugar (fructose), glucose, and sucrose (table sugar). Foods with simple carbs include:
fruit + fruit juice
chocolate milk
honey
sports drinks
cereal
Then, complex carbs are higher in fiber. You can find them in fruits, as well as:
starchy veggies (corn, peas)
whole grains (bread, rice, oats)
plant-based foods (beans, chickpeas, lentils)
Tip:
Timing
is another important consideration when eating for muscle recovery. Aim to have a carb- and protein-rich snack or meal within 30 minutes to two hours post-workout to start to rebuilding tissue.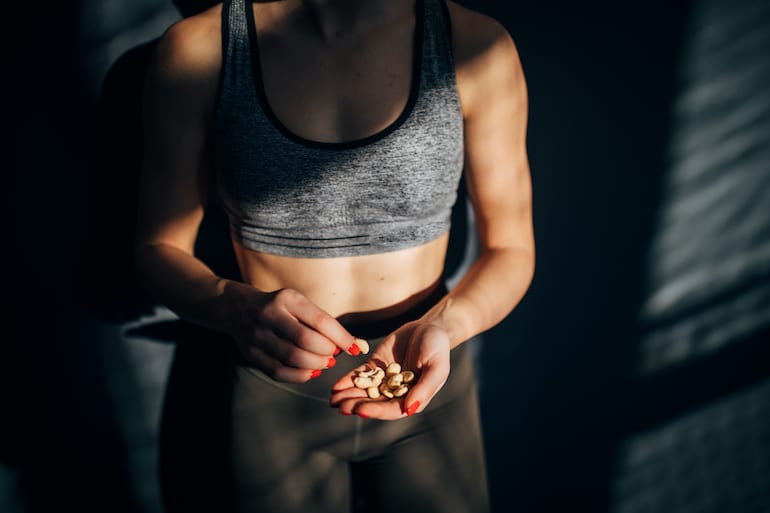 Post-Workout Food Ideas
In sum, combine protein and carbs to help your muscles recover after exercising. The optimal intake of both macronutrients will vary based on your level of physical activity, but here's a list of post-workout snacks and meals to inspire your recovery nutrition plan. And don't forget to hydrate!
Snacks for Muscle Recovery
a smoothie with frozen fruit, your milk of choice, chia seeds + protein powder
hard-boiled eggs, chocolate-covered almonds + clementines
Greek yogurt with granola + blueberries
cucumbers with hummus + a cheese stick
fruit + a protein sports bar
rice cakes with peanut butter + sliced banana with chocolate milk
Meals for Muscle Recovery
turkey and cheese sandwich with avocado, a handful of grapes + cucumbers with hummus
a veggie omelet with cheese, a side of avocado toast, turkey bacon + orange slices
Buddha bowl: greens topped with grilled chicken or chickpeas, quinoa, beets, tomatoes, olives, edamame, sweet potatoes + a drizzle of tahini vinaigrette dressing
a standard well-rounded plate: your choice of meat (baked fish, chicken) or plant-based protein, a starch (brown rice, sweet potato) + veggies (broccoli, asparagus, mixed veggies)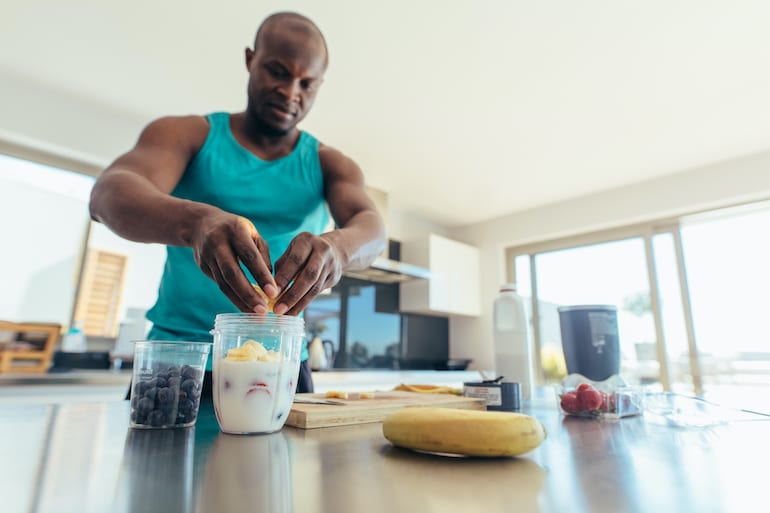 The Best Nutrients for Muscle Recovery
The muscle-repair foods listed above are surely staples for your post-workout eating regimen—but what about other nutrients? If you want to go the extra mile, boost your diet with the following nutrients to round out your muscle recovery diet plan.
Vitamin C + Collagen
To begin, vitamin C offers anti-inflammatory benefits and
produces collagen
. Collagen is the most abundant protein in the body. On top of its beauty benefits, collagen provides structure and elasticity for your joints, connective tissues, and muscles. Plus, it's boosted during post-workout recovery to promote the healing of muscle tissues.
Omega-3 Fatty Acids
Omega-3 fatty acids are another important nutrient that may benefit muscle recovery. Specifically, omega-3s EPA and DHA may help tame inflammation by reducing soreness and swelling. In fact, a 2018 study found that rugby players who supplemented their protein intake with EPA and DHA
reduced muscle fatigue and soreness
better than the protein-only group. Impressively, the participants in the omega-3 group also experienced a boost in "explosive power."
Foods + Supplements
Because of their anti-inflammatory boosting qualities, consider adding collagen and omega-3 fatty acids to your recovery nutrition routine. Here's a list of foods naturally rich in these nutrients. Helpfully, some of them overlap with the best foods for muscle recovery outlined above:
eggs
nuts + seeds
avocado
lean meats
chia seeds
sweet potatoes
bell peppers
pineapple
Last but not least, consider taking HUM's 
Collagen Love
capsules and/or
OMG! Omega the Great
fish oil supplement to boost your post-workout recovery.
More like this