This Avocado Gazpacho Recipe Is Seriously Delish
Don't knock gazpacho until you've tried avocado gazpacho, baby.
This delicious summer recipe comes from celebrity chef, Mychael Chang. While traditional tomato gazpachos can be polarizing, this one is a surefire crowd-pleaser. Instead of tomatoes, this gazpacho recipe uses a surprising combination of green grapes and avocados. The result? A delightfully complex cold soup to help you beat the heat and tickle your tastebuds. As a bonus, it's vegan-friendly and packed with antioxidants. Impress your friends with it at your next dinner party – or add it to your weekly meal prep routine.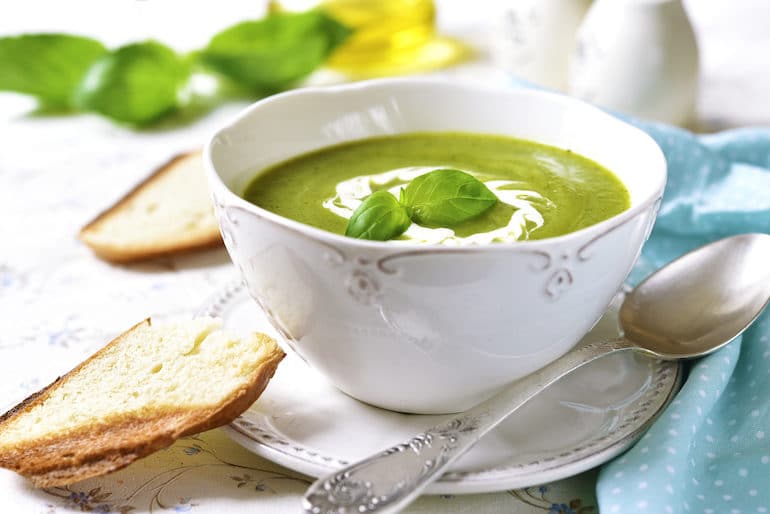 "This is a nice alternative to the traditional gazpacho, which is tomato and pepper-based," Mychael explains. "If you're trying to avoid those nightshade vegetables – this is a fantastic, different gazpacho to try." First, it brings in the surprising element of green grapes for a slight sweetness in this otherwise savory recipe. Next, garlic and sweet onion add a peppery bite. Finally, white vinegar and mint brighten things up.
Nutritionally speaking this recipe is a nice balance of healthy fats to hydrate skin, antioxidants to fight free radicals, and even an antibacterial kick for immunity. Try serving this avocado gazpacho in shot glasses as an amuse-bouche, or in serving bowls as a refreshing first course.
If you find this recipe as addictive as we do, be sure to follow Chef Mychael on Instagram.
Green Grape & Avocado Gazpacho Recipe
Green Grape & Avocado Gazpacho Recipe
INGREDIENTS
3 persian cucumbers
1 ripe avocado
1 1/2 cups green seedless grapes
1/2 sweet onion
8 mint leaves
2 cloves garlic
1 tbsp white vinegar
2 tbsp kosher salt
1/4 tsp black pepper
SUPPLIES
Blender or Food Processor
INSTRUCTIONS
Chop the persian cucumbers and onion into large chunks and add to blender.
Remove the avocado pit and scoop the meat out into the blender.
Add all the remaining ingredients and blend. Add up to a cup of water to reach desired consistency. Taste for additional salt and pepper.
Chill for at least four hours, preferably overnight.
Garnish with thinly sliced cucumbers and a sprig of mint to feel fancy.