5 Adaptogen-based recipes to whip up for for less stress
Discover 5 delicious and easy-to-make adaptogen-based recipes that can help you reduce stress levels. With ingredients such as ashwagandha, rhodiola, and maca, these recipes will not only taste great but also promote relaxation and calmness.
There's a lot that may be on your mind these days. From worries about finances, physical and mental health, relationships, job security, and general uncertainty, Americans report a long list of worries, according to recent survey data from the American Psychiatric Association. Developing coping mechanisms, such as sleep, meditation, and exercise are key to reign in stress. But you may have seen your favorite influencers touting something else: adaptogens. "Adaptogens are substances in certain plants that help your body adapt to all kinds of stress," says Lindsay Delk, RDN, of the Food and Mood Dietitian. These plants are rich in phytochemicals (plant chemicals), such as phytosterols, alkaloids, and flavonoids, which work on a physiological level to affect your stress response, according to research in Nutrients in 2021. One mechanism are adaptogens, which "aid in regulating cortisol levels– the hormone released during times of stress," she explains.
There are many plants that are considered adaptogens, such as ashwagndha, rhodiola, and maca, and each one may promote different benefits. "Adaptogens can be helpful for anyone looking to increase their resistance to stress, boost their energy levels, or support their immune system," says Delk. If you feel as if your life is filled with stress, you're burned out, or you have trouble sleeping, you may benefit from trying adaptogens, she says. That said, it's good practice to check with your doctor first to make sure the adaptogen you're considering won't interfere with any medications you're currently taking.
Adaptogen based recipes
Adaptogens can be added to your diet through your food, such as in smoothies and drinks, sauces and energy bites. Here's how to whip up yummy adaptogenic recipes, depending on what your body needs now:
Ashwagandha-infused latte
Try: Ashwagandha Latte from Hormones & Balance
This warm, soothing drink combines your plant milk of choice stirred together with ashwagandha powder, cinnamon, and maple syrup or honey for a touch of sweetness.
"Ashwagandha is a powerful adaptogen that can have many beneficial effects on your body," says Delk. Used in traditional Ayurvedic medicine, she points to research in 2019 in Cureus that found that taking at least 250 milligrams of the plant daily for eight weeks reported feeling less stress (something that was verified by blood tests showing lower levels of the stress hormone cortisol) and better sleep quality compared to a placebo group.
Rhodiola rosea smoothie
Try: Chocolate Cherry Adaptogen Smoothie from We Make Pretty
For a refreshing, protein-rich breakfast, get your day started off on a calm note with this smoothie, which features dark cherries and banana, plant milk and yogurt, protein powder, and adaptogens rhodiola rosea and ashwaganda.
Rhodiola rosea is a yellow flowering herb that grows in Siberia and the eastern coastal areas of North America. Studies show that the medicinal plant may be effective in helping relieve anxiety, improve mood, decrease anger, lessen fatigue, and act as an antioxidant and anti-inflammatory, according to a 2022 review in the journal Molecules.
Maca energy bites
Try: Mocha Maca Energy Balls from Running on Real Food
Made from a base of dates, protein powder, and almond butter, these bites get their zip from the addition of brewed coffee, cocoa powder, and maca powder. They come together quickly using your food processor and can be stored in your freezer for an energy boost when you need it.
Not familiar with maca? "The root of the maca plant is sometimes known as Peruvian ginseng," says Delk. Maca is not just an adaptogenic plant, it's also considered a food because it contains protein, fiber, minerals, and fat, according to 2022 research in the journal Plants, and it's been used for health conditions like PMS and fatigue. "Maca is generally considered safe for most people," says Delk. Because there's some data that maca may also improve energy levels, she recommends consuming it earlier in the day so it won't affect your sleep.
Holy basil pesto pasta
Try: Tulsi Holy Basil Pesto from Carmelle Lauren Lemaistre, R.Ac
This recipe is packed with greens (holy basil, traditional basil, and spinach) and is made silky with the addition of pumpkin seeds and a generous amount of olive oil. Garlic and lemon juice provide a flavorful punch. The good thing about pesto? It's easy to make by whirling all the ingredients in a food processor. Toss the pesto with the pasta of your choice, spread on whole grain toast, or dollop on eggs.
Holy basil can be purchased as a fresh herb or supplement, says Delk. A sacred plant in India, it's been traditionally used to treat acute and chronic health conditions, as well as relieve stress, according to a review published in Current Neuropharmacology in 2021. That same review points out that a couple of clinical studies suggest that holy basil extracts (which typically contain a more potent concentration of the active ingredient compared to the fresh herb) have been shown to improve cognitive function. One thing to keep in mind if you cook with holy basil is that it's not a complete substitution for regular basil in recipes," says Delk. Holy basil has more bitter and peppery notes, while traditional basil tends to be sweeter. She recommends using holy basil in curries and stir-fries.
Reishi mushroom hot chocolate
Try: Reishi Powered Adaptogen Hot Cocoa from Aviva Romm, MD
By whisking together your milk of choice, along with cocoa powder, reishi mushroom powder, cinnamon, and sea salt, and heating it over a stove, you can create a really decadent, soothing sip.
Reishi mushrooms have anti-inflammatory and antioxidant properties, and they may support your immune system, according to one 2020 study in Pharmaceuticals that calls them "the most potent adaptogen present in nature." That said, this is a supplement you may want to monitor carefully. "There are some nutritional benefits to eating reishi mushrooms because they contain fiber, vitamins, and minerals, but there could be some safety concerns when taking reishi mushroom supplements long-term," says Delk. The National Library of Medicine says that powdered whole reishi mushrooms can be safe to take for up to 16 weeks.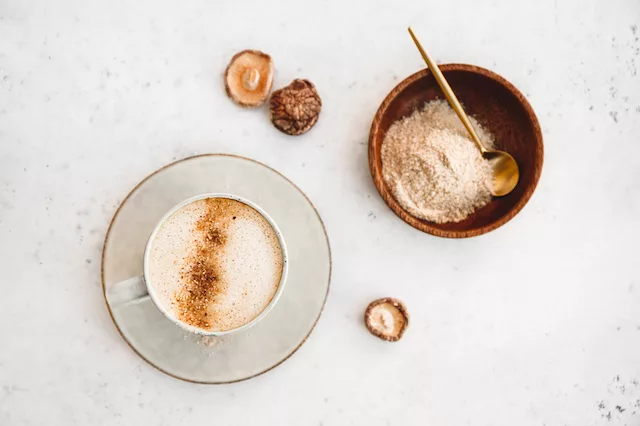 here's to less stress…
Though adaptogens can be a great tool in your stress-management toolbox, keep in mind that they can't do it all. Adaptogens don't erase the stress that comes from a poor diet, difficulty sleeping, or having maladaptive habits to find your calm. But adaptogenic herbs may be able to move the dial for you a bit. Delk recommends starting with a low dose and slowly increasing (if desired) after you understand how your body reacts.
More like this