Everything to Know About a Men's Skincare Routine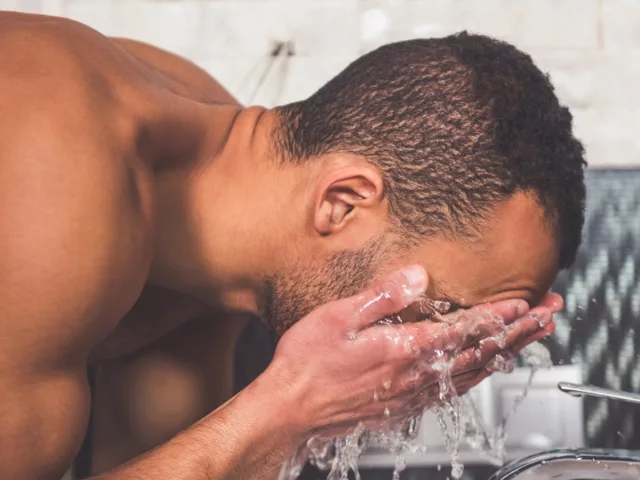 A seasoned grooming editor gives us a master class on men's skin with tips, tricks, and surprising insights. Plus: how to create your own men's skincare routine.
Calling all the guys out there: Your skin could use more love. Garrett Munce, grooming editor for Esquire and Men's Health and author of Self-Care For Men, teaches us about the unique needs of men's skin and why it deserves extra care. He also shares a comprehensive guide on how to build a men's skincare routine from the ground up.
Whether you're a grooming minimalist or fully committed to a multi-step regimen, we've got you covered.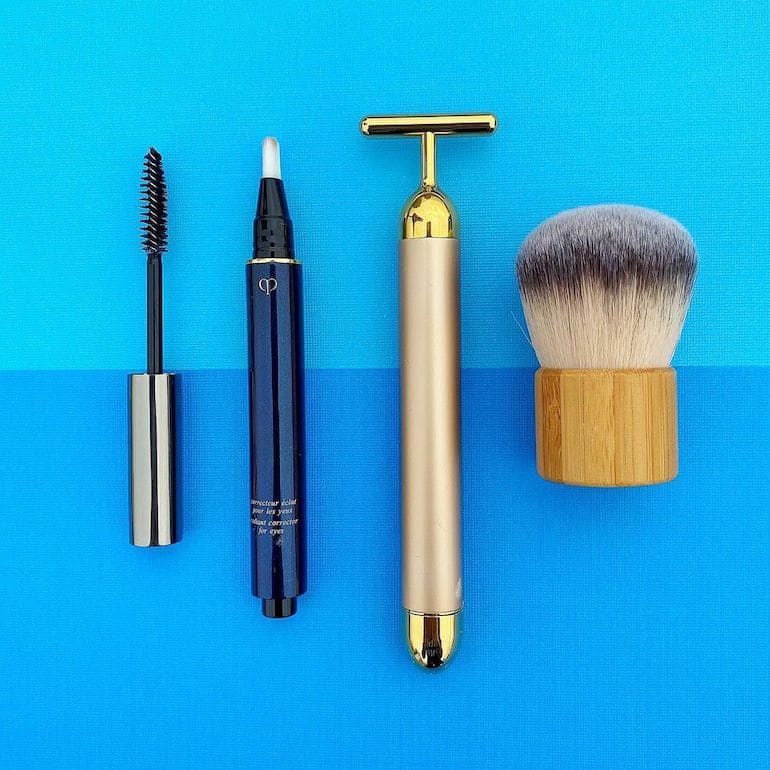 Understanding Skincare for Men
Before we learn how to build a skincare routine for men, it's important to understand why you should—and see why maybe you've yet to dive in.
To begin, we'll look at some myths and key insights on men's skin and facial hair care.
Self-care is universal
Men can benefit from self-care just as much as ladies do. In his years as a grooming editor, Garrett's learned that many men don't lack the desire to create a self-care routine, but rather the knowledge of how to create one.
"Lots of men don't know where to start because so many of the conversations are aimed toward women, which some men find intimidating. This also contributes to the assumption that many self-care practices are feminine, which isn't true," he explains.
Further, he cites that some men can be deterred by the perceived time and effort required. However, the simplest way to start is by taking one step at a time.
GOING BEYOND BASIC GROOMING WORKS WONDERS
Similar to the point above, Garrett doesn't think "men's grooming" and "women's beauty" are mutually exclusive. That said, he sees a world of benefit in upgrading casual upkeep to a dedicated skincare routine.
"Doing more than just the bare minimum (i.e., splashing water on your face) will change your skin for the better," he shares. "Even something as simple as using a moisturizer every day will improve your skin exponentially."
Additionally, we all know that when you feel good, you look good. Clear, healthy skin can boost your confidence and mood while reducing stress. For that reason, Garrett champions the idea of skincare as self-care.
products "for men" can be misleading
It turns out that there are proven physiological differences between men's and women's skin.
"Men have thicker skin, larger pores, and tend to produce more oil," Garrett notes. "So I believe that skincare 'for men' should actually be formulated for men. Yet many of the products you see in stores labeled 'for men' are just repackaged, not reformulated."
Rather than automatically looking for skincare products marketed to men, Garrett insists that you focus on skin type or concerns instead.
Additionally, Garrett suggests that men forgo harsh products, like scrubs and charcoal cleansers. Just because their skin may be better equipped to tolerate these tougher ingredients doesn't mean they can't potentially impact skin barrier health.
Shaving = Exfoliating
Gentle exfoliation is essential to remove dead skin cells and maintain a healthy complexion. But Garrett shares intel that some men may not be aware of: "If you shave every day, you're exfoliating every day. For that reason, you may not need to exfoliate as often as women or men with beards."
Still, Garrett recommends his holy grail product for daily shavers: Biologique Recherche Lotion P50V 1970 exfoliating toner. "It's truly magic. Even though I heard about it for years, I really became a fan when I saw it was the only thing that actually took away my razor bumps," he shares.
Beards Require Extra Care
On the flip side, Garrett continues, men with beards need to exfoliate more regularly. To keep your beard looking its best, he advises washing it often (i.e., every time you shampoo) with a beard wash and then exfoliating once or twice a week.
He recommends using a chemical exfoliator instead of a physical scrub so the ingredients can more easily penetrate the hair and reach the skin.
"One last tip: Beard oil is really meant to moisturize the skin under the beard, not just the whiskers themselves. When applying beard oil, massage it into your face instead of the hair to make sure it gets down to the skin," he advises.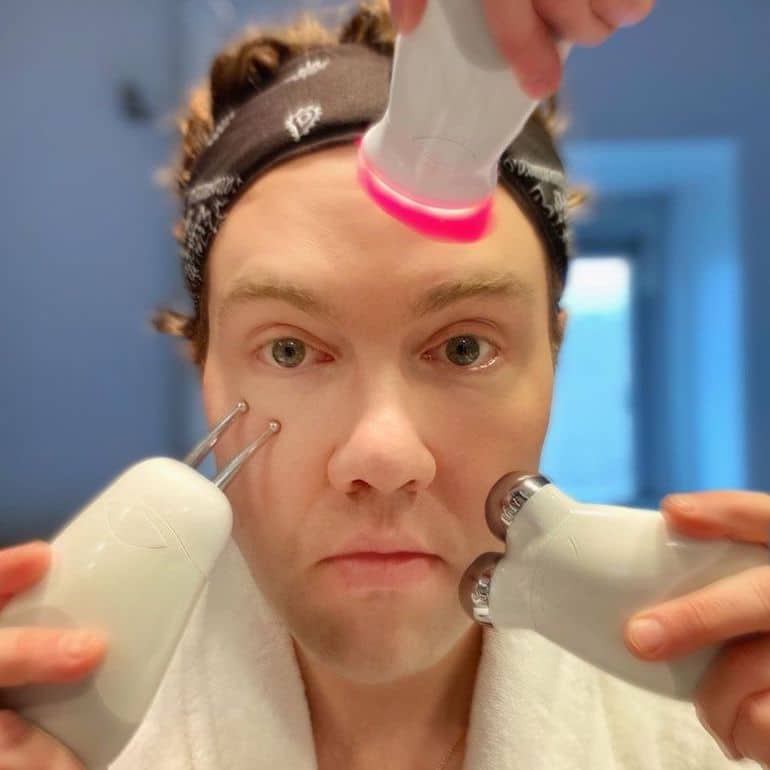 How to Build a Men's Skincare Routine
From the start, Garrett emphasizes that skincare doesn't have to be complicated.
Simply start with the basics, then add products or services as you see fit. Soon enough, you'll begin to notice positive changes in your complexion and confidence that'll encourage you to stay consistent.
Begin with the Basics
In his own words, here are the building blocks for a basic men's skincare routine:
1. Cleanse twice a day with an actual facial cleanser. Don't use the same soap you use on your hands or body. Cleanse both in the morning when you wake up (to get rid of oil and sweat from sleep) and in the evening (to get rid of dirt and debris from the day).
2. Exfoliate once or twice a week, depending on your skin's level of sensitivity. I like chemical exfoliants because scrubs can be harsh if you're too aggressive with them. This detail is especially important if you have breakouts or sensitive skin.
3. Use eye cream. Many men see the first signs of aging around their eyes, so applying an eye cream morning and night can help. Start early (read: now) instead of waiting for wrinkles to show up. Eye cream can also help with dark circles, bags, and other things that men often say they want to change.
4. Moisturize, moisturize, moisturize. Apply a gentle moisturizer morning and night. If you're worried about oily skin or shine, look for a matte moisturizer to cut it down. Many skin issues—not just dryness—are linked to a lack of hydration.
5. Never skimp on sunscreen. Sunscreen is perhaps the most important thing every single person should apply daily. Sun damage is linked not only to aging, but also to more serious health issues. Apply it every morning after your moisturizer, even if it's cloudy or you're staying inside.
Tailor Your Needs with Serums
Want to get more advanced to target your skin concerns? Garrett advises using a serum post-cleansing and pre-moisturizing. Here are some of his top picks:
hyaluronic acid: "helps skin cells retain moisture and become healthier"
vitamin C: "a potent antioxidant that can help skin resist sun damage and othe

r skin issues"

retinol: "for nightly use to regulate the life cycle of skin cells (which can help with everything from aging to acne), but only after committing to daily sunscreen"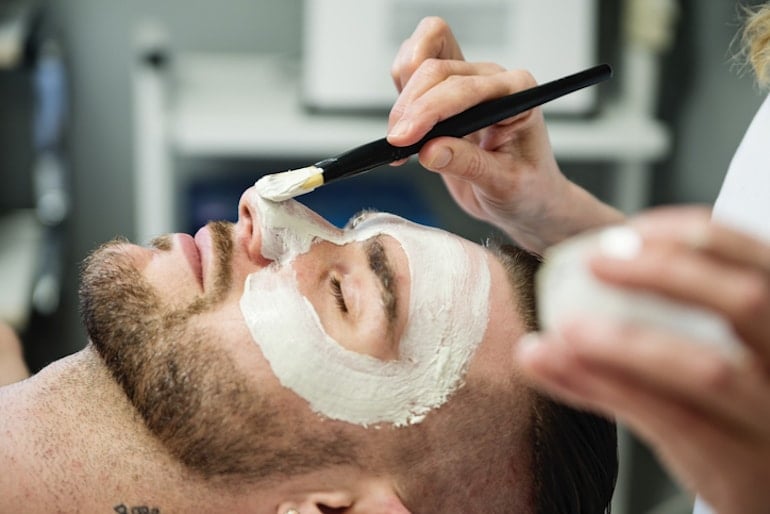 Invest in Regular Facials
Garrett is a firm believer that all men should get facials.
"Lots of men think facials are fussy or pure luxury, but they should really be part of everyone's basic grooming routine, like getting a haircut. Nothing improves your skin and makes you feel great like a good facial," he emphasizes.
"Most estheticians recommend getting a facial about four times a year—when the seasons change—to reset your skin and prepare it for seasonal changes in both the environment and your skin."
He particularly recommends regular facials for those who struggle with blackheads or breakouts. Not only are these common since men's skin tends to be oily, but they can be challenging to tackle on your own.
Upgrade with Supplements for Skin
According to the science behind the gut-skin axis, our skin reacts to what goes on inside our bodies and can show warning signs of internal imbalances or inflammation.
"Taking supplements can be a good way to balance what's going on both inside and outside," he says. "Supplements like prebiotics and probiotics support our gut flora, which can also in turn help promote skin barrier health. One of my personal favorite kinds of supplements is adaptogens. They can be magical and help decrease inflammation inside and outside the body."
For more expert takes from Garrett Munce on men's grooming and wellness, read Self-Care for Men: How to Look Good and Feel Great.
More like this