These Yummy Gummies Can Help You Sleep and Poop Like Clockwork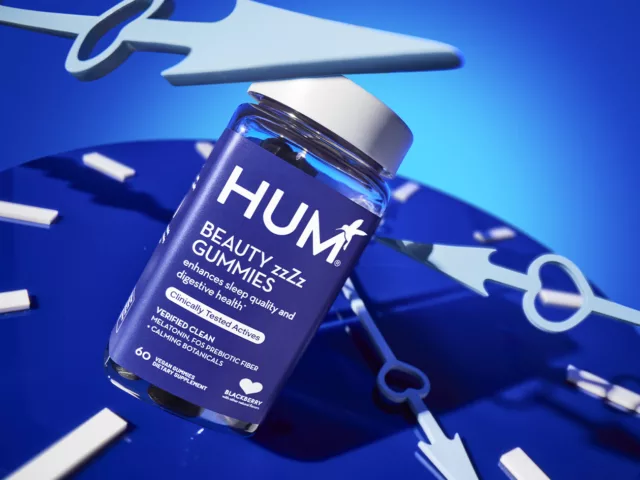 HUM's Beauty zzZz Gummies for sleep and regular BMs are the sweetest way to rest and digest. Here's what makes them a worthy addition to your nightly routine.
Many things will influence how good you feel day in and day out, with the quality of your sleep and digestion chief among them. Anyone who struggles to fall asleep understands how frustrating it is to toss and turn at night—not to mention how inadequate sleep can leave you with subpar energy the next day (and contribute to more serious health concerns down the line). Moreover, if your digestion is worse for wear and you're not passing BMs as frequently as you'd like, sluggishness and discomfort all too often ensue.
If one or both of these scenarios sound familiar, we have a feeling you'll love HUM's Beauty zzZz Gummies. Formulated with melatonin, prebiotic fiber, and calming botanicals, consider them a delicious 2-in-1 ally to support more restful sleep and digestive health. Keep reading for all the details on this exciting launch that's bound to upgrade your routine.
Why We Made Them
HUM customers love gummy supplements—not only because they taste great, but also because they provide noticeable results. With that said, it made sense to add sleep gummies to the product lineup, but we went the extra mile so that it would offer digestive benefits, as well.
"HUM is a leader in digestive health and wellness that people trust," begins Jennifer Martin-Biggers, PhD, MS, RD, vice president of scientific affairs and education at HUM. "Flatter Me and Gut Instinct are among our most popular supplements, so we want to provide digestive benefits in a gummy form, too." In addition to the aforementioned bestsellers, HUM recently introduced PRO ACV Gummies, which include 2 billion CFU of the probiotic Bacillus coagulans IS-2 for gut-boosting benefits. Meanwhile, Beauty zzZz Gummies offer prebiotic fiber to feed friendly gut bacteria. (And who doesn't love a 2-for-1 deal?)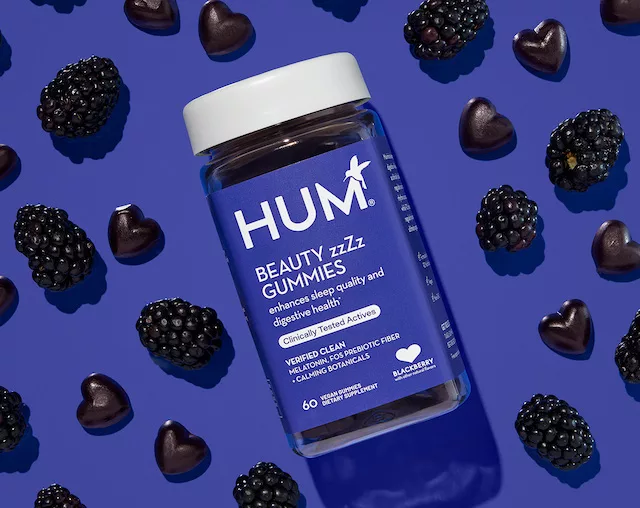 What's Inside HUM's Beauty zzZz Gummies
Like all other HUM supplements, Beauty zzZz Gummies are:
Formulated with clinically tested actives
Verified clean
Triple-tested and third-party validated for purity and quality
Gluten-free
Non-GMO
They're also free of artificial colors, sweeteners, flavors, and preservatives—and they taste great. The vegan sleep gummies have a blackberry flavor, which is sweet and a little tart.
Here's a closer look at the beneficial ingredients in our Beauty zzZz Gummies.
Melatonin
Melatonin is arguably the most popular supplement for sleep… and that's because it truly works to enhance sleep quality and help regulate the body's natural circadian rhythm. However, Dr. Martin-Biggers notes that the dosage is important. "We made Beauty zzZz Gummies with three milligrams of melatonin since clinical research demonstrates that it's a safe and effective dose," she explains. "This amount is effective for those who want to fall asleep faster and achieve higher-quality sleep."
Note: Perhaps you're familiar with (or even take) HUM's original melatonin supplement: Beauty zzZz tablets. These, too, pack three milligrams of melatonin to help you fall asleep faster and promote more restful sleep.
FOS Prebiotic Fiber
Three grams of fiber—two of which are prebiotic fiber from fructooligosaccharides (FOS)—offer gut-friendly, pro-digestion perks.
Although probiotics tend to steal the spotlight in the gut health conversation, prebiotics are just as important to support the gut microbiome and digestion. In fact, the two work synergistically. "FOS is a powerful prebiotic that acts as a food source for beneficial gut bacteria, promoting good bacteria growth and helping to regulate bowel movements," shares Lindsey Schmidt, DC, who specializes in nutrition and gut health.
While there are various sources of prebiotic fiber, Dr. Martin-Biggers says that FOS works especially well for a gummy format. "We wanted to provide something that's both delicious and effective, and we know that FOS helps to support regularity when consumed via food or supplements," she explains.
Moreover, most Americans don't get enough fiber in their diets, despite the nutrient's importance for digestion and overall health.
Calming Botanical Blend
A blend of calming herbs complement melatonin in our sleep gummies, featuring:
20 milligrams of chamomile flower extract
20 milligrams of lemon balm extract
10 milligrams of passionflower extract
"We selected these three herbs because they've been traditionally used to promote relaxation," says Dr. Martin-Biggers. There's a decent chance you've enjoyed some or all of these botanicals in your go-to sleep teas. HUM's Mighty Night also includes passionflower for its relaxing properties that can help you unwind before bed. Better yet, research shows that this herb can also improve total sleep time and sleep efficiency.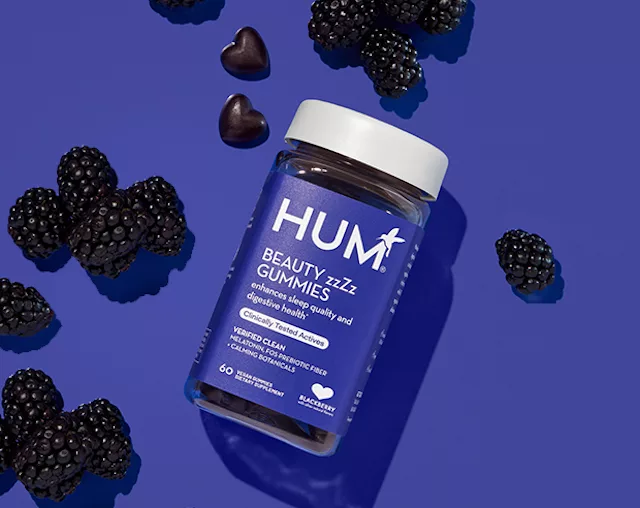 How to Take Them
Enjoy two Beauty zzZz Gummies 20 minutes before going to bed. While melatonin can help you fall asleep faster shortly upon taking it, you'll want to stay consistent with your nightly intake to experience the gut-nourishing, regularity-promoting benefits of prebiotic fiber.
Curious if these gummies for sleep work well with your current HUM faves? Dr. Martin-Biggers says that they pair well with all other SKUs, with the exception of Beauty zzZz tablets: Remember that three milligrams of melatonin is clinically studied for healthy, sleep-friendly use. "Some people can stand to benefit from more or less than this amount, but research shows that this melatonin dosage tends to be a sweet spot for many people," she explains.
With that in mind, *rest* assured that three milligrams is a safe dose to start with—but if you're uncertain or could use more guidance, it's always a good idea to consult your healthcare provider. (If you already sleep well from taking the original Beauty zzZz, it could be worth trying the new gummies for sleep to switch things up—as well as for the added benefit of promoting digestive regularity, courtesy of prebiotic fiber.)
"It's perfectly safe to take Beauty zzZz Gummies with Mighty Night," she adds—the latter of which supports deep, high-quality rest and speedy skin cell turnover to promote healthy skin texture and tone.
The Takeaway
If neither your sleep nor digestion are as optimal as you'd like them to be, Beauty zzZz Gummies can be a worthy addition to your nightly routine. As Dr. Schmidt explains, these two facets of well-being often go hand in hand. "A good night's sleep can do wonders for your digestive system. From regulating bowel movements to reducing inflammation, getting enough high-quality sleep is critical to maintaining optimal digestive health," she shares. In fact, she says that not getting enough sleep—or lacking quality shut-eye—can lead to digestive distress in the form of acid reflux, constipation, and inflammation.
"With the addition of prebiotic fiber from FOS, Beauty zzZz Gummies not only promote restful sleep, but also support healthy digestion by nourishing the gut microbiome," Dr. Schmidt continues. HUM believes that everyone deserves to sleep and poop like clockwork, and these gummy supplements can help you do exactly that.
More like this