I Tried a 30-Day Lagree Challenge—Here Are My Results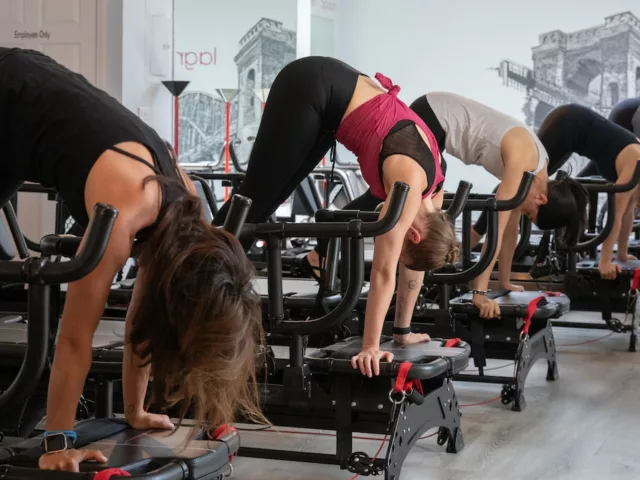 TLDR: If you're lucky enough to have a Lagree studio near you, stop what you're doing and book a class ASAP. I promise you won't regret it. The double-tap worthy fitness technique is a high-intensity, low-impact full-body workout that centers around spring resistance and ultra-slow movement to target slow-twitch muscle fibers and ultimately burn more calories and fat. In other words, it's no wonder why the workout has become a must-try among the boutique fitness community. And not to mention why I wanted to kickstart my 30-day Lagree challenge, stat.
Why I Wanted to Try Lagree
Having never done Pilates and always veering more towards high-intensity interval training and classic weightlifting, I honestly didn't know what I was in for when I signed up for my first Lagree NY class. I thought it'd be slow-paced and similar to yoga. All I knew for sure was that my friend looked her best after six months of Lagree. Plus, after being in a workout rut for the past two years, I was game to try anything.
A Quick Background on Lagree
First things first, as I incorrectly assumed, Lagree isn't traditional Pilates. Instead, think of it as Pilates after drinking a 24-ounce Red Bull. In other words, it's intense. Whereas machine-based Pilates is executed on wooden reformers, Lagree workouts use Megaformers. They offer greater options for movement thanks to their wider carriage; eyelets for easier gripping and footing; high, low, and mid handlebars; and more. Lastly, while Lagree transitions are lightning-fast, the exercises themselves are meant to be performed as slowly as possible. This pacing begs for even greater stability compared to classic reformer Pilates.
Leading Into My 30-day Lagree Challenge
When I secured my Lagree NY monthly membership, I decided that I'd regularly attend class for 30 days. By taking class every day, I hoped to tone my muscles and perhaps lose a pound or two. More than that, I hoped the regularity of the routine would improve my cardiovascular health and ease my anxiety.
Now, my intention of attending Lagree for 30 days straight was before I knew the ways in which a Megaformer can make your muscles quake like never before. This was also before my Lagree NY instructors told me that I most definitely had to take at least one day off a week to avoid injury. As a result, my 30 days of Lagree became less about taking class every single day, and more about completing 30 classes. In the end—after catching a stomach bug that knocked me on my butt for almost an entire week, canceling class once after having too much fun the Saturday night before, and obliging to take one day off per week—it took me 43 days to complete 30 classes.
My Diet During My Lagree Challenge
During those 43 days, my diet remained largely unchanged. I didn't eliminate any foods from my diet. Instead, I was simply a bit more mindful about how much I ate (especially in regards to carbs and sugar). For the first two weeks, I adhered to a 1,400-calorie diet to help supplement the Megaformer results. After regularly burning anywhere from 370 to 520 calories per workout, however, I let up on tracking. I definitely could have been stricter with my diet. However, the fact that I wasn't, IMHO, makes the results even more notable. Speaking of…
[before_after id=1]
[before_after id=2]
My Final Results
While I only lost six pounds in 43 days, it was still enough to make me feel giddy. Ever since taking anxiety medication for four months at the end of 2017 (and gaining 50 pounds in the process), it's been extremely difficult to shed even two pounds.
The real kicker, however, came when I busted out the measuring tape. After 30 Lagree classes, I lost an inch on each arm, 1.5 inches around my bust, two inches around my waist, 1.5 inches around my bum, and 1.5 inches on each thigh.
Why Lagree Is My New Favorite Workout
After 30-day Lagree challenge (well, 30 classes in 43 days), I feel like I've found a technique that works for me and a community at Lagree NY that truly supports me. As for the technique, it's wild to see how much stronger I've gotten in such a short time. Then there's my studio, which has become my home away from home. It has the most encouraging instructors (Eileen and Laura, I adore you) and the kindest founder (Laurie, you're one of a kind). My experience with Lagree has simply been unmatched by any other boutique fitness class I've tried. And, let's be clear, I've tried a lot.
More like this