Gift your loved ones (or treat yourself to) self-care for the new year.
Because no one geeks out harder on beauty and wellness than HUM employees, we knew just who to ask for gift recommendations this year. See Team HUM's holiday gift guide to look and feel your best in 2019.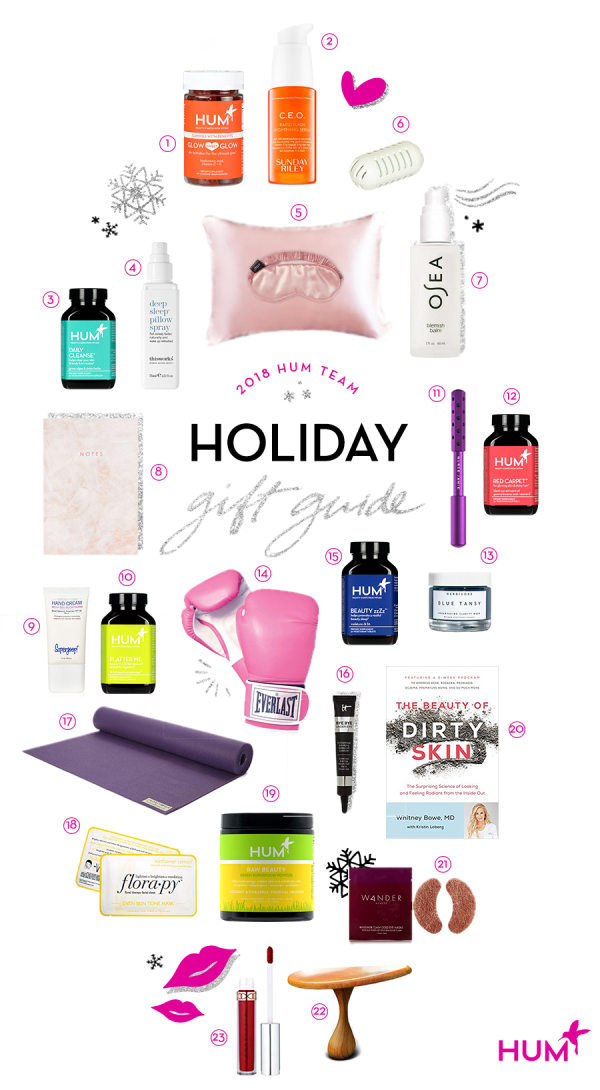 Caitlin Lier, Director of Customer Support
1. Glow Sweet Glow,  $25
I love the flavor of these gummies and am always tempted to eat them like candy. I've been taking them every day since we released them in May, and my skin looks fresher for it.
2. Sunday Riley CEO Serum, $85
I discovered this product in one of our monthly boxes and have used it every day since. It's worked so well that my facialist told me I could decrease visits!
Joann Row, Creative Copywriter
3. Daily Cleanse, $25
I recently hopped on the Daily Cleanse train and can totally see why it's our bestseller! It's only been a few weeks, but just yesterday I noticed how wonderful my skin looks since incorporating it into my beauty routine.
 4. This Works Deep Sleep Pillow Spray, $29
This one's seriously MAGIC. I don't know how this super blend of sleep-inducing essential oils work together, but they do. Period.
5. Slip Beauty Sleep To Go! Pink Travel Set, $119
I get this may seem pricey, but we spend an estimated one third of our lives in bed, so might as well treat ourselves! The silk material helps to prevent signs of aging and preserve blowouts. Also, it helps keep my overnight treatments on my skin, whereas cotton or other fabric blends can soak in skin care products.
Brittany Hallin, Graphic Designer
6. GoPure PuriBloc Water Filter, $25
This inexpensive portable water filter is effective and super easy to use. Also, it produces zero waste and eliminates need for plastic water bottles!
7. OSEA Blemish Balm, $44
This achieves the perfect balance of hydrating my skin and controlling oil production. The scent is so refreshing, too!
Kristin Daddario, Sales Associate
8. Urban Outfitters Journal, $12
I love starting off the new year with a fresh journal and setting new intentions.
9. Supergoop Forever Young Hand Cream, $12
This hand cream is perfect all year round. It has SPF and sea buckthorn to keep your hands looking youthful. The one-ounce size is perfect for your purse and it's at a great price point!
10. Flatter Me, $25
This one's my secret weapon to beat bloat during the holiday season and jumpstart my detox for the new year. It's amazing!
Vanessa Lee, Director of Sales
11. Nurse Jamie Beauty Roller, $69
I love this thing! It's a daily massage for my face and easy to pack and travel with so my skin stays uplifted.
12. Red Carpet, $25
This product was the first one I tried when I started working at HUM two and a half years ago and I still take it everyday to keep my skin hydrated.
13. Herbivore Blue Tansy Mask, $48
This mask is the best one for brightening your face! Even better, the ingredients are clean and non-toxic.
Chloe Rodabaugh, Community Manager
14. Mad City Boxing Class, $25
I recently took my first class and I'm hooked. Boxing uses circuit training to get your heart rate up so it makes you sweat like never before. Bonus: It also makes you feel like a total badass.
15. Beauty zzZz, $10
I wake up constantly in the middle of the night and Beauty zzZz has really diminished that. Plus there's NO grogginess in the morning.
16. IT Cosmetics Bye Bye Under Eye Concealer, $24
This concealer is E-V-E-R-Y-T-H-I-N-G! A little goes a long way so it lasts forever AND it's anti-aging.
Erica Tam, Brand Director
17. Jade Fusion Yoga Mat, $135
Hands down the best yoga mat I've come across. It's eco-friendly, well-cushioned, and of great quality.
18. Florapy Sheet Mask Collection, $56
Super relaxing, smells amazing, and they help your skin look and feel great. I love that they're made from 100% coconut fibers and infused with flower essences and essential oils.
19. Raw Beauty, $39
Our superfood powder tastes like a treat and is loaded with nutrients to make your skin glow.
Amy Oliver, VP of Digital & Marketing
20. The Beauty of Dirty Skin by Dr. Whitney Bowe, $18
This book is an eye-opener on the gut-skin-brain connection and provides easy-to-follow and straightforward advice.
21. Wander Beauty Rose Gold Eye Masks, $25
If I can figure out my Dyson Air Wrap Styler, I think it'll be a game changer. But in the meantime, I recommend these eye masks. They're so pretty and don't fall off so they're perfect for holiday travel.
Zena Wozniak, Editorial Director
22. Simply Sitting Meditation Stool, $150
This meditation stool is so comfortable to sit on and puts your back in perfect alignment. I make all my friends try it out when they come over and they're always amazed. It's honestly been one of the best investments in my mental health.
23. Anastasia of Beverly Hills Liquid Lipstick, $20
Embracing a bold lip has been my most empowering beauty evolution of 2018. I love the classic eye-catching color of the American Doll shade and can trust this formula to stay put for the whole evening.