This Menopause Supplement Will Help You Cool Down and Feel More You Again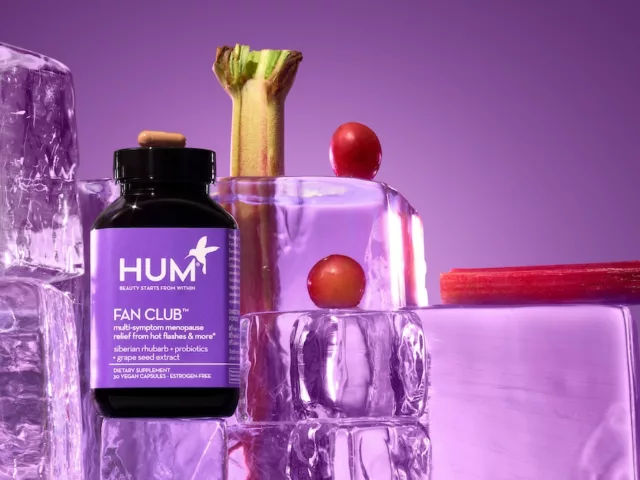 If you've been searching for a menopause supplement for hot flashes, night sweats, vaginal dryness, fatigue, and more, HUM's Fan Club is the solution you've been looking for.
Jennifer Martin-Biggers, PhD, MS, RDN, HUM's VP of scientific affairs and education explains why supplements for menopause can make this time easier and how Fan Club's star ingredients help to reduce 11 common symptoms of menopause and perimenopause, so you can get back to conquering the world (or, you know, your to-do list.)
A Menopause Supplement that Actually Works
Every person with a uterus will go through menopause—that's half of the world's population. Still, most women aren't even sure exactly what perimenopause and menopause are and what they should expect until they're experiencing it for themselves. 60 percent of women say the physical and mental effects of declining hormone levels aren't discussed enough, leaving them feeling unprepared for menopause. Not only that but there are so few products available to help women cope with symptoms.
"Menopause is still a taboo subject that is not commonly discussed, yet we heard from our customers over and over that they wanted something to help manage their menopause symptoms," explains Dr. Martin-Biggers.
In fact, 7 in 10 women have not received any treatment for their symptoms.
At HUM, we want to change this so women going through perimenopause or who are post-menopausal can be more confident, energized, and feel themselves again. No one should have to go through menopause alone.
Just think of us as your biggest fans, cheering you on along the way. That's where Fan Club comes in.
What is Fan Club?
"Fan Club is a non-hormonal, clinically studied dietary supplement that plays the role of your biggest fan, helping to smooth out the decline of estrogen that can cause menopause symptoms," says Dr. Martin-Biggers.
"For medical or personal reasons, some women may not be able to take hormonal treatments prescribed by a doctor, like hormone replacement therapy, or other supplements that directly affect estrogen levels," explains Dr. Martin-Biggers. "Fan Club is an estrogen-free supplement that does not affect hormone levels and has been studied to be safe with prolonged use. It's a great supplement for someone looking for a non-hormonal option."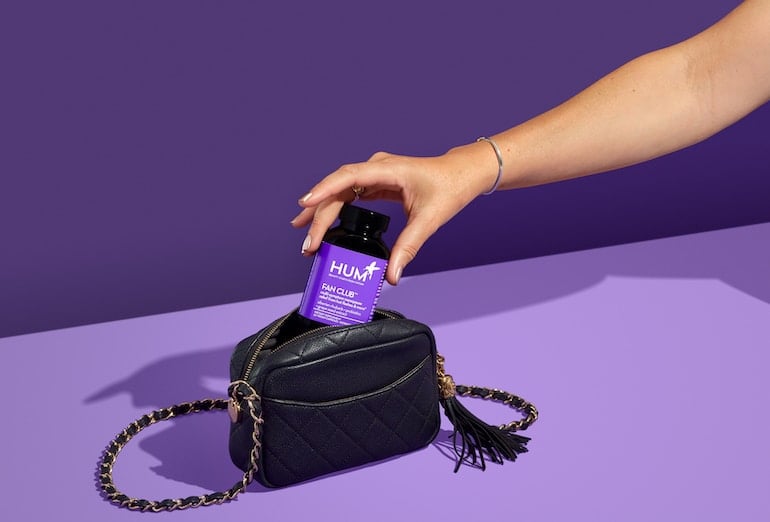 Fan Club features three ingredients: Siberian rhubarb root extract, Lactobacillus Plantarum DR7, and grape seed extract.
Overall benefits that the trio have provided in clinical studies include:
83% reduction in total menopausal discomforts
83% reduction in hot flashes
66% reduction in irritability and mood swings
Optimized gut microflora balance
More on these benefits and ingredients soon.
What Causes Menopause Symptoms, Anyway?
Every person going through menopause will experience it differently, but most menopause symptoms all tie back to a gradual decline in the hormone estrogen. Estrogen typically begins to drop in your 40s, and this can cause a ripple effect on other hormones and processes throughout the body, leading to a range of symptoms.
The most common sign of perimenopause, of course, is getting menstrual periods less often and changes to length and flow. But other symptoms are also common in the 4-8 years leading up to menopause. Some women may even experience symptoms post-menopause, or after it's been one full year without a period.
11 Common Symptoms of Menopause
Hot flashes + night sweats
Fatigue
Mood swings
Irritability
Restlessness
Sleeplessness
Heart racing
Bladder problems
Joint and muscle discomfort
The Top Ingredients to Help Reduce Menopause Symptoms
To reduce the many symptoms that women experience during menopause, we looked at the most clinically effective ingredients and doses of ingredients and identified three standouts.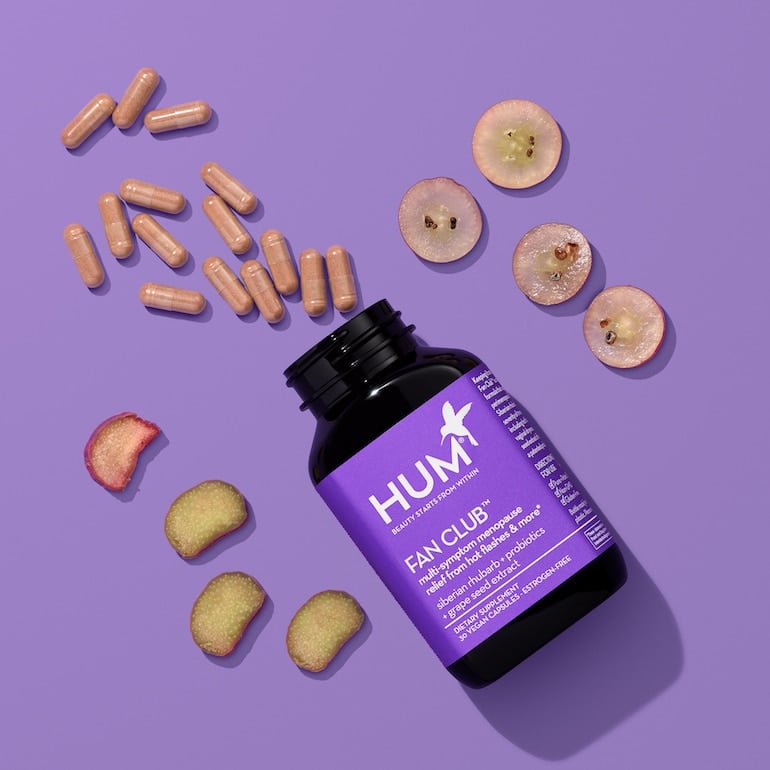 Siberian Rhubarb Root Extract
We sourced ErR731Ⓡ, a special extract of Siberian rhubarb root, to combat the most disruptive menopause symptoms. "It has undergone rigorous clinical testing and consistently shown beneficial effects and safety in every study," says Dr. Martin-Biggers. This extract reduced hot flashes by 83 percent and decreased the severity, found a 2006 clinical study in the journal Menopause. Siberian rhubarb root extract has also been shown to improve night sweats, heart racing, sleep disturbances, mood swings, irritability, restlessness, fatigue, sex drive, vaginal dryness, and joint and muscle discomfort associated with menopause.
Scientists believe molecules from the extract stimulate an estrogen receptor, tricking your body into thinking it's estrogen and evening out the symptoms associated with estrogen's unstable decline.
Lactobacillus Plantarum DR7
Probiotics for menopause!? Yes! This super-strain reduced symptoms of stress, improved mood, and reduced levels of the stress hormone cortisol in clinical studies.
Your brain and gut are connected via the gut-brain axis, so positive changes in your gut health can boost mood.
This probiotic has also been studied to evaluate its effects directly on mood. A 2020 study discovered Lactobacillus plantarum DR7 helps to increase serotonin and other chemicals that support brain health and mood.
Grape Seed Extract
Not your average grape, we packed Fan Club with a proprietary extract of grape seed. Studies show it helps relax and control blood vessels, improving symptoms like hot flashes and sweating and reduces perceived stress and worry.
A study of 96 women with at least one menopausal symptom significantly improved their symptom scores at 8 weeks and mood scores after just 4 weeks.
Grape seed extract contains a concentrated amount of the powerful antioxidant proanthocyanidin, which can increase your body's natural production of nitric oxide. Nitric oxide is needed to help oxygen, blood, and nutrients travel throughout your body.
Join Our Fan Club
"We recommend taking Fan Club in the morning with food, so you don't forget later in the day," says Dr. Martin-Biggers. "Results may be seen after 1 month, but it takes around 2 months for the results to fully be seen." The best part about Fan Club is that because of its safety, you can take it as long as you need relief from menopause symptoms.
Weekly reads to help you level-up your skincare, wellness, digestion, nutrition, and more.
By signing up to receive our weekly newsletter, The Wellnest, you agree to our privacy policy.
Your HUM Line-up for Menopause Support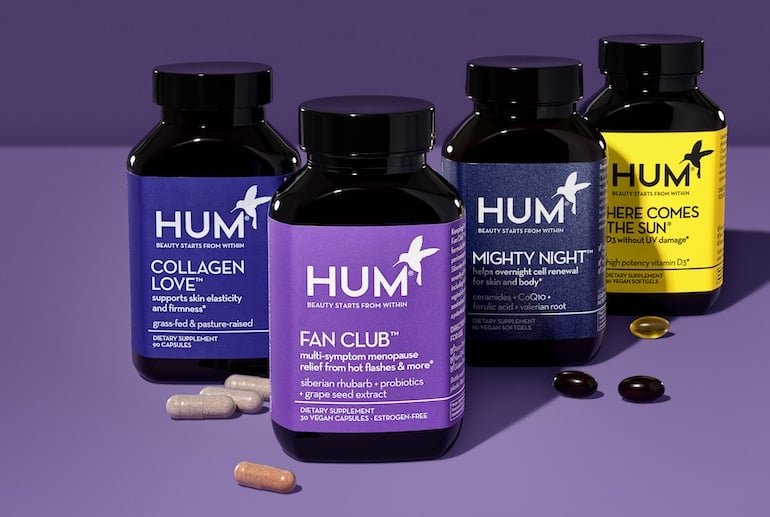 New to HUM or looking for more ways to support your body during the perimenopause or post-menopausal phase?
These supplements pair well with Fan Club:
Mighty Night
Many women going through menopause experience sleep issues due to (you guessed it!) the decline in estrogen. The valerian root, passion flower, and hops in Mighty Night help promote deeper sleep, plus you get the added bonus of ceramides, ferulic acid, and CoQ10 to promote healthy-looking skin.
Collagen Love
Collagen, which keeps skin looking firm and plump, declines by about 1 percent each year, starting in your 20s. Collagen Love features collagen peptides to support skin firmness and elasticity.
Here Comes The Sun
It can be hard to get enough vitamin D from sunlight and the need for vitamin D increase as you mature. Here Comes The Sun delivers 250 percent of your recommended daily vitamin D intake.
Ready to wave hot flashes goodbye? Check out Fan Club for yourself and be sure to reach out to your personal HUM RD to get the scoop on how you can use nutrition to support perimenopause and menopause.

Sara Angle
October 25, 2021
Mentioned in this article
More like this