The 8 Best House Plants for Air Quality & Oxygen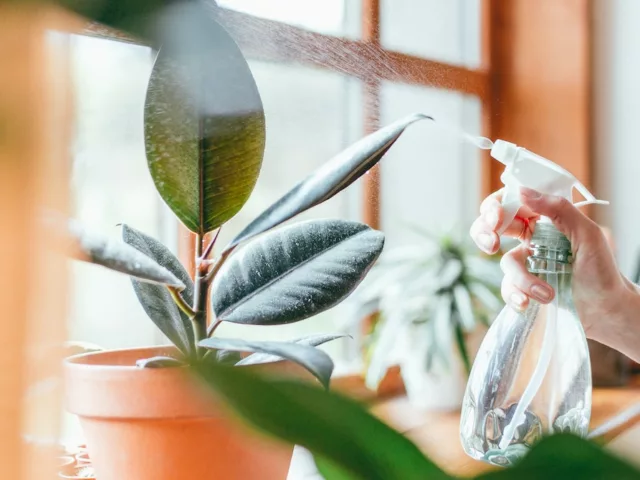 Curious about the best house plants for air quality? Also, can they actually increase oxygen levels? Here's what a plant scientist and studies say about the benefits of house plants and select types.
There are cat people, there are dog people, and then there are plant people. Their windowsills are lined with succulents, curly tendrils dangle from their bookshelves, and pothos vines cling to their shower walls.
Yes, adding house plants is a wonderful way to turn your home into an instant oasis. Yet plant people also may enjoy cleaner air quality in their homes thanks to their leafy green friends.
Here's why. Plus: a handy guide to the best house plants for clean air that are worth purchasing and potting, stat.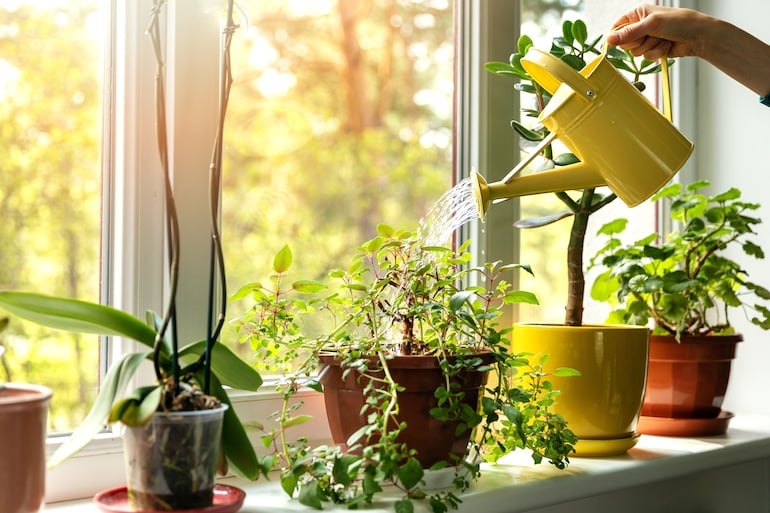 Benefits of House Plants
Aesthetics aside, there are many worthy benefits of house plants. Here are a few that will encourage you to flex your green thumb indoors.
Greater Oxygenation
Plants help improve air quality in a number of ways. One of the big ones is through photosynthesis, which removes carbon dioxide from the air and converts it to oxygen.
"Plants breathe like us," begins Rebecca Lazarou, a medicinal plant research scientist at the Kew Royal Botanic Gardens in England. "But instead of breathing in oxygen and breathing out carbon dioxide, they do the opposite and breathe out clean oxygen. It's just one of the beautiful cycles that connect plants and people." 
Reduced Contaminants
To take things a step further, studies show that plants in indoor spaces can significantly decrease the presence of volatile organic compounds (VOCs), man-made chemical gases that can have long-term repercussions on your health.
Furthermore, scientists have found that an increase in the sheer volume of house plants leads to a decrease in air contaminants, particularly if these plants are placed in the sun.
Neutralized Toxins
Plants can also metabolize toxins, rendering the byproducts neutral and safe. On top of this, plants can actually stash away pollutants and keep them in a plant dungeon of sorts, and out of the surrounding environment.
Boosted Mental Health
Apart from the physical cleansing plants provide, there's also a positive emotional element that can't be denied.
"The connection between nature and humans has long been known for its restorative benefit, with biologists coining the term 'biophilia' to describe this emotional phenomena," Rebecca shares.
"Looking after houseplants and being surrounded by greenery lowers our cortisol levels," she continues. "Cortisol is a stress hormone that weakens our immune systems and our ability to remember things," making this benefit of house plants particularly appealing for mental health support.
8 of the Best House Plants for Air Quality
Now that you're itching to run out to the nearest nursery, we've rounded up a list of the best indoor plants for air quality. Read on and breathe easy!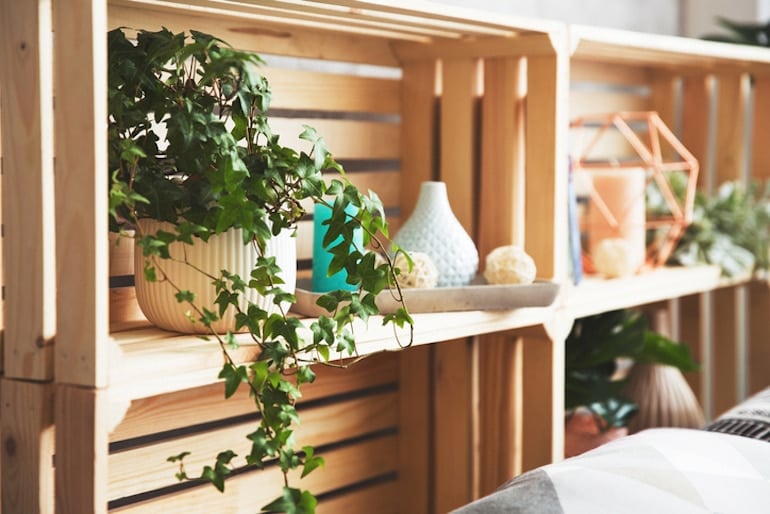 1. English Ivy
The English ivy has a flair for the dramatic, with its cascades of coiling vines and recognizable leaves. It also has a knack for clearing the air of harmful substances including benzene, formaldehyde, xylene, and toluene. While it's pretty low maintenance, it requires direct sunlight, consistent temperature, deep watering, and well-draining soil.
2. Barberton Daisy
Quite possibly one of the most delightful-looking plants, its ability to lift the mood of any room could suffice as purification in and of itself. Similar to the English ivy, the Barberton daisy cleanses the air of numerous chemicals found in things like paint and other substances. It likes moist but well-draining soil and natural light.
3. Pothos
This showstopper removes toxins from the air and releases oxygen at night. It was also used in a study that investigated the psychological and physiological effects that touching plant foliage has on humans. Not surprisingly, it seems to calm us down and bring us peace—yet another reason why it's a great addition to your indoor plant family. Pothos thrives in indirect sunlight and stays healthy with sporadic watering.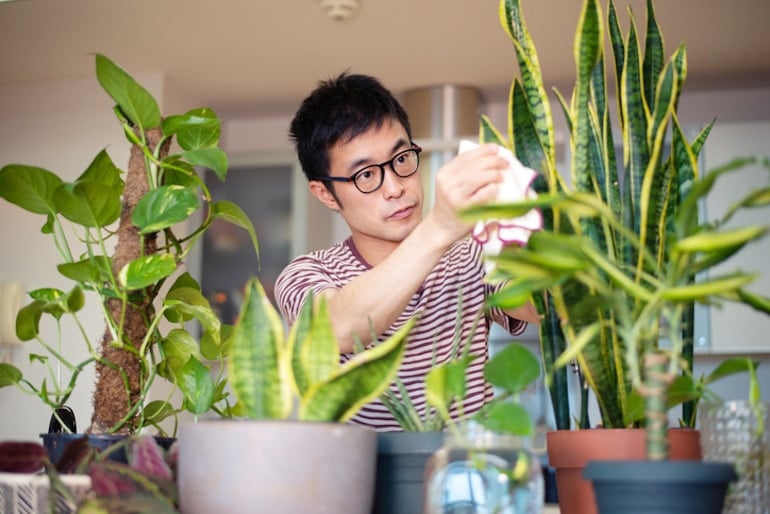 4. Snake Plant
This sexy plant cleanses the air of nasties like formaldehyde, xylene, nitrogen oxide, benzene, and trichloroethylene. It also absorbs carbon dioxide. Snake plants are hardy; they can handle a variety of light variations, but do best with indirect sunlight. Just be careful not to overwater these babies!
5. Lady Palm
This beaut is a pro at clearing the air of all sorts of toxic compounds, including ammonia. The lady palm loves low light and can survive in a wide range of temperatures. It requires a hefty dose of water and is great if you want to up-level your plant parenting game.
6. Bamboo
Bamboo is a treat to have in any home, and it's not surprising that it also happens to be a powerhouse plant for air purification. Like the others above, bamboo removes toxins that can irritate the respiratory system and increases oxygen levels. It's best to water bamboo once a week.
7. Tulsi
The fact that tulsi smells incredible is among the many reasons why we love tulsi. It's also one of the top oxygen-producing indoor plants. Water your tulsi plant regularly, but be sure not to overwater it. It likes sunlight and needs good drainage.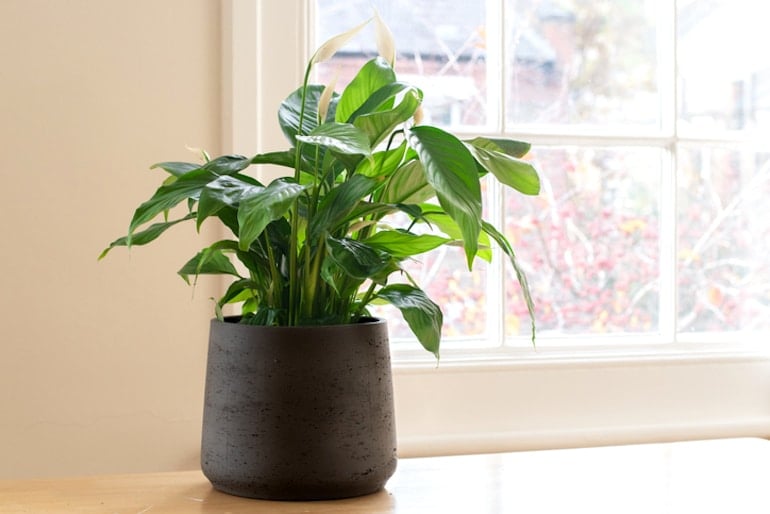 8. Peace Lily
Adorning your space with a peace lily is yet another stunning way to purify your home with plants. It's known for being one of the most effective plants when it comes to clearing VOCs. However, avoid putting it in direct sunlight because the leaves can burn. Next, it requires very little water to survive.
As wonderful as this plant is, here's an important word of caution: Peace lilies are toxic to humans and pets if consumed. Keep that in mind if you have any little ones running around—furry or otherwise.
(P.S. It's always a good idea to check on poison potential with any house plant you choose, whether on this list or otherwise.)
Final Thoughts
The benefits of house plants are innumerable, especially when it comes to indoor air quality.
In a world that can feel out of control, building a relationship with beautiful, calming, and purifying organisms like these can give us back a sense of control over our environment. They can also teach us a lot about reciprocity along the way, and remind us how much better things are when we take care of each other.
So clear some space, find your light, and make room for the most cherished roommates you'll ever have. 
For more feel good plant science inspiration, we also recommend following experts like Rebecca on Instagram.
More like this