A Handy Guide on Yoga Etiquette for Newbies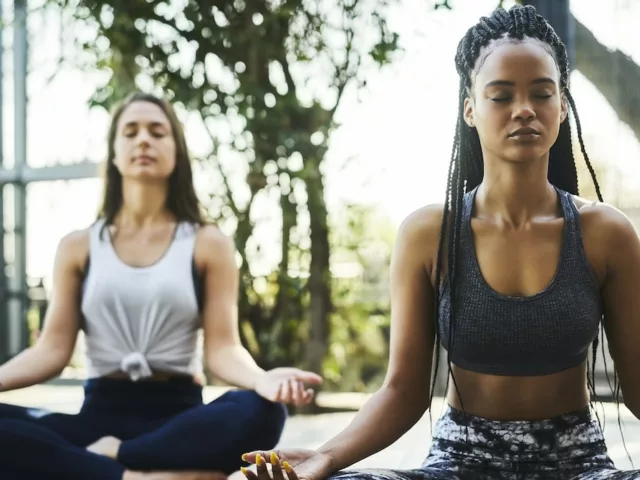 Beginning a yoga practice may seem awkward and intimidating at first. But don't stress; good studios and instructors take care to foster a warm, welcoming environment. You can also do your part to get in sync with yoga culture. Whether you're new to yoga or need a refresher on studio etiquette, here are some tips that'll help you go with the (yoga) flow.
9 Ways to Practice Good Yoga Etiquette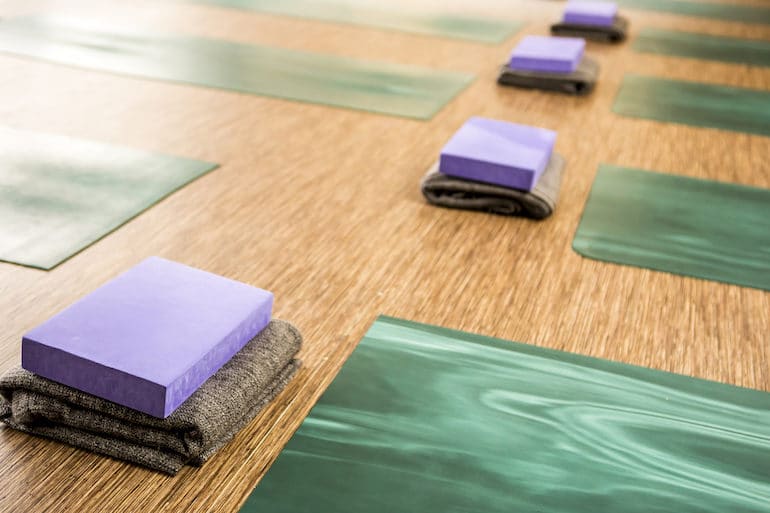 1. Arrive on time
Plan ahead so you have adequate time to check in, situate your things, and settle into class. Tardiness can be disruptive to both the instructor and the other students. The studio may even have restrictions on late entry. On your first visit, arrive early to fill out the necessary forms and get acquainted. Additionally, talk to the instructor before class if you're new to yoga or have an injury. He/she will be able to give you a brief rundown, keep an eye on your form, and offer alternatives while still maintaining the flow of class.
2. Tread lightly
Enter and exit the room with courtesy. Heavy footsteps can be percussive in a quiet room and sometimes even shake the floor. Furthermore, you run the risk of knocking over water bottles and props. (Soundbaths are lovely; stampedes are not.) Next, here's one major piece of yoga etiquette that should go without saying: Don't step on the mats of your fellow yogis! After all, do you want the sweat, germs, and smells from someone else's feet lingering on your own mat? We didn't think so.
3. Place your yoga mat with intention
Mat placement is crucial for any
yoga class
. First, try gently unrolling your mat instead of harshly whipping it open. Some studios have preset markers for mat placement, so if you see stickers on the floor, adhere to them. Otherwise, make sure there's adequate room between you and your neighbor. It's also wise to stagger your yoga mat a little ahead of or behind theirs so you don't bump into each other. If the studio has mirrors, try to position your mat so that the yogis behind and beside you can see themselves. Doing so will help them correct their form and establish a steady
drishti
(gaze) for balance and concentration.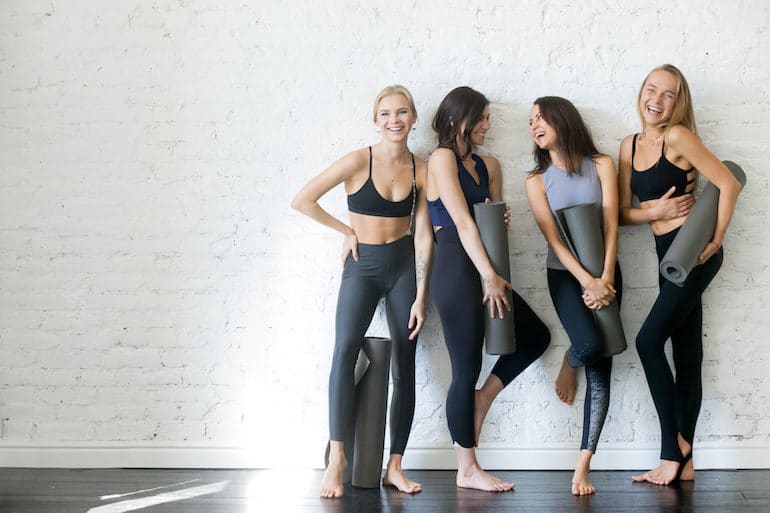 4. Keep the conversation outside
It's great to practice yoga with friends (and also terrific to make new ones at the studio). However, talking in the room is a faux pas when it comes to yoga etiquette. Many yogis come in before class to unwind and
meditate
, which can be difficult if others are chatting loudly nearby. Likewise, it's considerate to remain
silent
even when class ends, as some yogis like to stay in savasana (corpse pose) to extend their final moments of zen. Out of respect, limit conversations to the lobby or locker room. Even better? Go out for a post-yoga
kombucha
date or catch up over a yummy
vegetarian
meal.
5. Stay in class
It's best to stay in the room for the entire yoga class, as leaving can disrupt flow and concentration. Use the restroom before class to bypass bathroom breaks. Next—and this is a key yoga tip for beginners—resist the urge to retreat if you feel physically or emotionally challenged. Instead, try resting and recovering on your mat. If you know you
have
to head out early, give the instructor a heads up. Then, grab a spot close to the door and leave before savasana to cause as little disturbance as possible.
6. Leave your phone in your locker
And on silent! Staying present and disconnecting from technology are two of the many benefits of yoga. It's standard yoga etiquette to leave your phone in your locker or cubby while you practice. (Some studios will even declare the yoga room a no-phone zone.) Want to snap a selfie? No judgement! Just do so before or after class. If a work or personal matter requires phone accessibility, perhaps it's best to reschedule your flow for another time. Otherwise, be sure your phone is set to silent and place your screen face down.
7. Time your water breaks wisely
While it's essential to
hydrate
before and after class, be conscious of your water intake throughout the actual practice. Some classes with set sequences—such as Bikram and Hot 26—will have built-in water breaks. Try your best to hold out for them so you can flow in tune with the rest of the class.
8. Modify As Much as yOu nEed to
Your yoga practice is your own. It's totally fine to rest in child's pose or take a modification if you need a break. (Similarly, seasoned yogis might opt for advanced variations of a posture to dive deeper into their practice.) Safety is key, so listen to your body, know your limits, and don't compare yourself to others. Make like Kendrick Lamar and be
humble
. For example, just because your neighbor holds a killer handstand doesn't mean you're expected to do the same. Instead, you can work on developing wrist and core strength or take handstand hops by the wall. After all, it's called a yoga
practice
, not a yoga
competition
.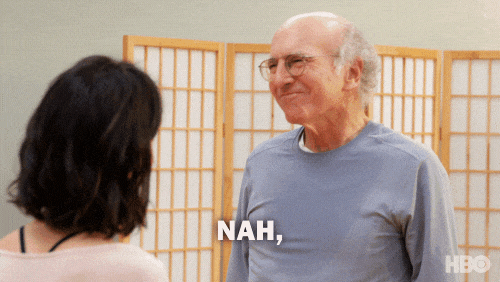 9. Clean Up After Yourself
Once class ends, wipe down any borrowed props or yoga mats. If you used a blanket, take the extra minute to fold it neatly, and return anything else to its proper station. Next, clean up any drops (or puddles) of your sweat. They can lead to slippage and other unpleasantries. By leaving the room the way you found it, you show respect for the studio, incoming students, and your own yoga practice.
More like this