Yes, it really is that good for you.
Time to take mediation off of your "I should try that someday…" list and make it part of your daily routine! Science keeps finding more and more ways this very affordable (aka completely free) practice can change our lives. Here are five of our favorite meditation benefits.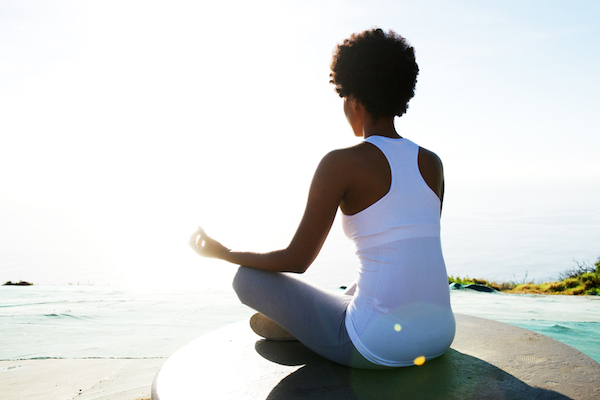 1. Better Mood
Let's start with the expected. We imagine most people start a meditation practice to live a less stressed and more zen lifestyle. According to science – they're right to! Studies show meditation can help reduce a whole bunch of nasty feelings including stress, anxiety and depression. In fact, some studies even report that a meditation practice can be as effective as medication in preventing depressive episodes and relapses.
2. Super Skin
Because a stressed mind goes hand in hand with stressed skin. Psychophysiological skin conditions are those which have a physical cause but become exacerbated by stress. This includes acne, eczema, rosacea, psoriasis and more.  Studies show that stress reduction can help improve your skin's resiliency to these stress-related skin conditions. In one especially intriguing study, those undergoing light therapy treatments for psoriasis healed much faster when they paired their treatments with audio meditation.
3. Weight Loss
According to research at Brown University, people who are less mindful are 34% more likely to be obese. No, it's not that you torch as many calories meditating as you will in a spin class. But, studies show meditation can be an effective means of improving weight loss. It's also helpful for keeping weight off. Why? Because a mindfulness practice can lead to more mindful eating and greater self-restraint.
4. Productivity
Reminder: even Don Draper got on board with the meditation train. Studies show meditation can improve team cooperation, productivity and reduce burnout in the workplace. Additionally, one study in Japan found that employees who meditated had enhanced job performance, work engagement and satisfaction compared to employees who didn't meditate. Yet another study reports increased creativity after just one week of regular meditation.
5. Stronger Relationships
Research at Emory University found that after eight weeks of mindfulness training, study participants displayed increased activity in the areas of the brain related to empathy. Another study reported improved language skills after four weeks of mindfulness training. This means meditation can not only make you more sensitive to those around you – but also better able to communicate with them. Finally, in a scientific analysis of 12 different studies, researchers found that more mindful individuals have higher quality relationships. Sign us up!

Work Stress Too Real? Here's What You Can Do
3 Breathing Exercises To Master Your Mood