If You Thought The Mediterranean Diet Couldn't Get Any Better, Try The Green Mediterranean Diet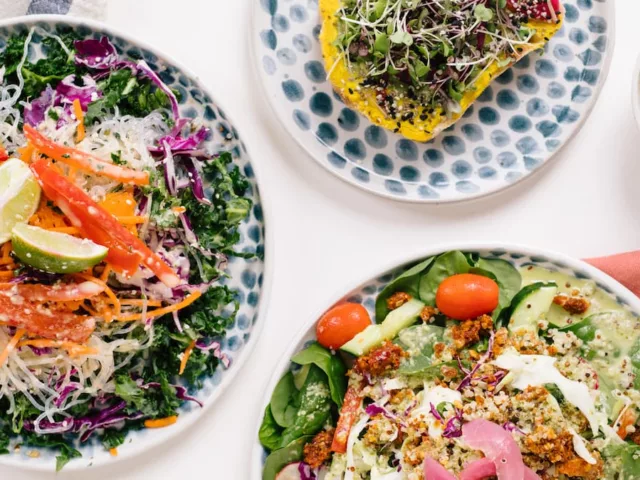 Introducing the green Mediterranean diet, an even healthier version of the famed Mediterranean diet. But what it is exactly? Experts break down everything to know about this breakthrough approach to eating.
According to experts, the Mediterranean diet is not only one of the most popular diets in the world, but one of the healthiest. In 2022, U.S. News & World Report ranked the method of eating, which emphasizes the consumption of foods found in countries bordering the Mediterranean Sea, as the top diet in a number of categories, including Best Diets Overall, Best Plant-Based Diets, Best-Heart Healthy Diets, Best Diabetes Diets, Best Diets for Healthy Eating, and Easiest Diets to Follow.
However, according to 2020 research published in Heart, there may be another diet in town that can one-up the traditional Mediterranean Diet: The green Mediterranean diet.
What Is the Green Mediterranean Diet and How Does it Compare to the Mediterranean Diet?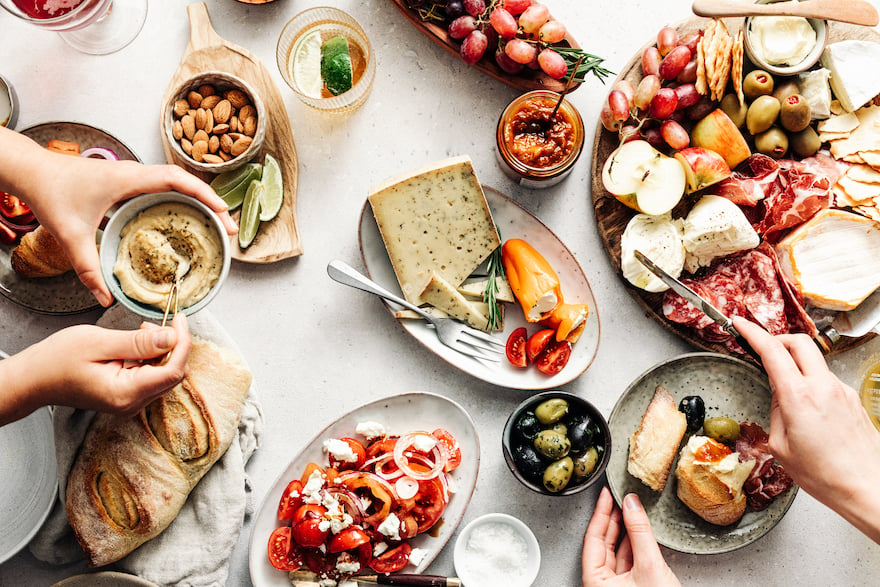 The green Mediterranean diet "is basically the regular Mediterranean diet but a little super-charged," says Keri Gans, RDN, a nutrition consultant and the author of The Small Change Diet.
The "Mediterranean diet" is not a trademarked diet but a general term to describe the eating habits of those who live in the 16 countries bordering the Mediterranean Sea, according to The American Heart Association. While the exact foods these people eat vary, most of their diets involve an abundance of fruits and vegetables, bread and whole grains, potatoes, beans, nuts, and seeds, olive oil as a primary fat source, and a minimal amount of dairy products, eggs, fish, and poultry. The Mediterranean diet also emphasizes the consumption of fish and poultry over red meat, minimally processed, plant-based foods over processed foods, and fruit over refined sugar. It allows wine in low to moderate amounts.
So, what's the difference? The green Mediterranean diet includes even more green food and less meat than its counterpart. "It focuses on even more plant-based foods and meals and totally excludes red and processed meats," says Gans.
Kristina Žalnieraitė, head of nutrition and wellness for Kilo Health, who holds a BA and MA in Public Health Nutrition, Food Safety, and Dietetics, adds that the green Mediterranean diet is higher in polyphenols. "Polyphenols are the main source of antioxidants in the diet, as they are abundant in plants, including fruits, nuts, vegetables, and cereals, as well as derived beverages such as tea, coffee, and wine. There are more than 8,000 known polyphenols, which are classified into phenolic acids, stilbenes, phenolic alcohols, lignans, and flavonoids," she explains.
While there are many foods that can be consumed on the diet, there are three that should be eaten on a daily basis, according to Gans and in line with the clinical research:
3-4 cups of green tea
100 grams of duckweed (typically consumed in a smoothie)
1 ounce of walnuts
Green Mediterranean Diet Benefits
There are a few studies supporting the potential health benefits of the green Mediterranean diet.
It Might Improve Heart Health and Metabolism
A study published in the Journal of Clinical Endocrinology & Metabolism, found that the diet "may amplify the beneficial cardiometabolic effects of the Mediterranean diet," says Gans. Researchers noted that those following the diet experienced double the elevation in fasting ghrelin levels—the stomach-derived hormone that stimulates appetite—compared with participants who followed a more traditional Mediterranean diet or a healthy balanced diet. "The findings suggest fasting ghrelin levels may serve as a valuable indicator of cardiometabolic health following weight loss," senior study author, Iris Shai, PhD, professor at Ben-Gurion University of the Negev in Beer-Sheva, Israel, and the Harvard T.H. Chan School of Public Health in Boston, Mass, said.
It Might Help Slow Down Age-Related Neurodegeneration
According to a study published in The American Journal of Clinical Nutrition, the polyphenol-rich diet may help slow age-related brain atrophy. "The beneficial association between the green Mediterranean diet and age-related neurodegeneration might be partially explained by the abundance of polyphenols in plant-based food sources, which have antioxidant and anti-inflammatory metabolites," Dr. Shai, the lead author of the Ben-Gurion University of the Negev-led international study, said in a press release. Polyphenols can cross the blood-brain barrier (BBB), reduce neuroinflammation, and induce cell proliferation and adult-onset neurogenesis in the hippocampus."
It Might Help Decrease "Bad" LDL Cholesterol
Those on the green Mediterranean diet for a period of six months experienced a decrease in LDL cholesterol (the "bad" kind) greater than those on the traditional Mediterranean diet, according to the 2020 Heart study. They also experienced more of a drop in diastolic blood pressure (the pressure in the arteries when the heart rests between beats) and inflammatory markers (which indicate inflammation in the arteries—a potential cause of heart attacks).
It Might Help You Lose Weight
Like the Mediterranean diet, weight loss is also a known health benefit of the green Mediterranean diet. The Heart study found that those on the green diet lost an average of two more pounds—a total of 14—than those on the traditional Mediterranean diet.
What to Eat on The Green Mediterranean Diet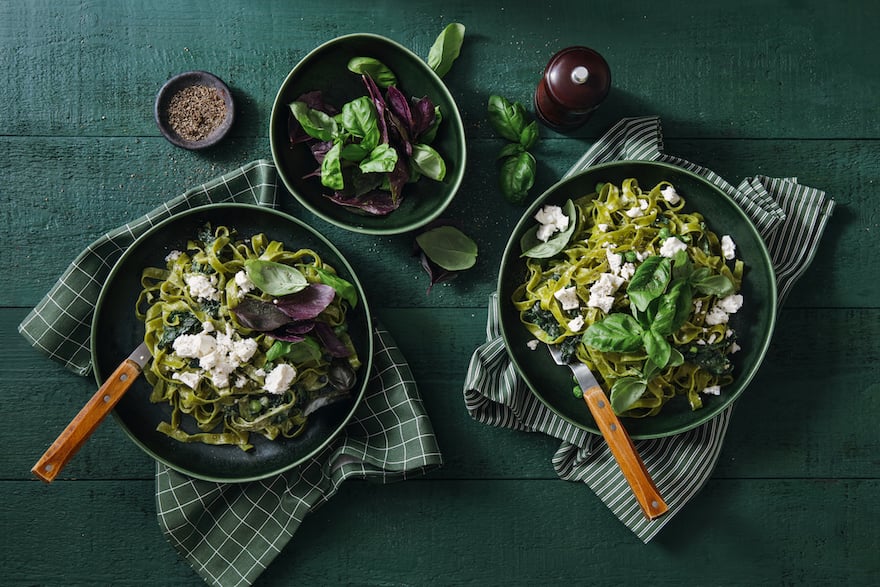 The green Mediterranean diet actually offers a lot of flexibility because it doesn't restrict calories, narrow your eating window, or force you to count macros like some other diets. Gans explains that in the green Mediterranean diet one should consume daily:
3-4 cups of green tea
100 grams of mankai duckweed (typically consumed in a smoothie)
1 ounce of walnuts
100 percent whole grains
Seafood
Poultry
Legumes
Nuts (especially walnuts)
Seeds
Yogurt
Eggs
Vegetables
Fruit
What is Mankai Duckweed?
Wondering what Mankai duckweed is? It's one of the key ingredients that makes the green Mediterranean diet, well, green! Gans explains that duckweed is a unique protein-rich aquatic plant also known as water lentils.
Žalnieraitė adds that Mankai has a unique nutritional composition profile, which includes about 45 percent protein of its dry weight, with all nine essential amino acids. It is also a great source of omega-3 fatty acids, dietary fiber, polyphenols, iron, and other micronutrients like beta-carotene, riboflavin, vitamin B6, and folate, she says.
One cup of Mankai shake, which is equivalent to about20 grams of dry matter, provides the following proportions of recommended intakes:
Bioavailable protein, 18 percent
Bioavailable iron, 75 percent
Folic acid, 60 percent
Vitamin B12, 21 percent
While many greens can be easily swapped out (kale for spinach, for example), you can't sub in just any leafy green for duckweed if you're staying true to the green Mediterranean diet, as other greens aren't as high in protein. However, you could possibly try other plant-based foods, such as legumes, nuts, seeds, or tofu. "Keep in mind that the research on the green Mediterranean Diet showed the improved benefits did include Mankai daily," Žalnieraitė says.
Makai duckweed is available in some health food stores and online, but as it's only beginning to gain popularity in the U.S., it can still be hard to find. If you're unable to get it, Žalnieraitė suggests the following as the closest swaps.
Chlorella or spirulina: "It is a nutrient-dense freshwater algae with high levels of vitamins and minerals and is a great source of healthy fats like omega-3s and protein," she says.
Watercress: A cruciferous plant that grows in water. "It is high in protein, and one cup of watercress contains 0.8 grams of protein," she explains.
Alfalfa sprouts: "They are very low in calories and rich in nutrients," she adds. One cup (33 grams) of alfalfa sprouts contains 1.3 grams of protein.
Foods to Avoid on the Green Mediterranean Diet
While there is flexibility in the green Mediterranean diet, Gans says that there are a few foods to avoid:
Red and processed meats
Soda and other highly-sweetened beverages
Overly-processed packaged goods, like cookies and cake
Who Should Try the Green Mediterranean Diet?
Žalnieraitė maintains that anyone can try the green Mediterranean diet. However, she does point out that it is still in the early stages of study. "If you have a chronic condition like heart disease or high blood pressure, it could be a great solution to try it," she says.
However, always consult with a physician before starting any new diet or nutrition interventions, she notes.
More like this