What a Dietitian Thinks About the Top TikTok Food Trends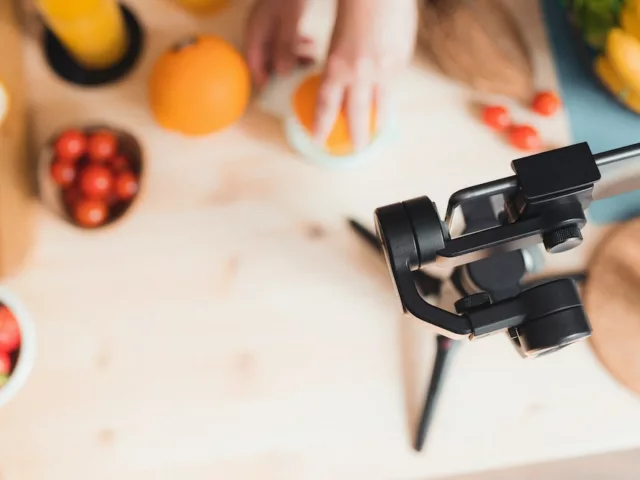 TikTok has become an emerging source for trends to develop and take off in just about every area, from fashion and beauty to music and dance, and yes, food. Some TikTok food trends will have you wondering why you never thought of them before while others may leave you scratching your head. But just how healthy are they, and should you try them? We tapped
Gaby Vaca-Flores, RDN, CLE
, a registered dietitian nutritionist and education specialist at HUM to break down the nutrition behind some of the top TikTik food trends. See how they stack up.
The Tortilla Wrap Hack
To try the tortilla wrap hack, make a single cut from the center of a tortilla out to the edge. Then, visually divide the tortilla into quadrants. Fill each quadrant with a different ingredient, and work a little origami magic to fold one quadrant over at a time and pan fry.
Why fold your quesadilla in quarters when you've probably been folding it in half all this time? Turns out, it may have some merit in helping you balance your plate. "I recommend making sure that one of the quadrants contains some sort of veggie like chopped bell peppers or spinach," explains Vaca-Flores. "The other quadrants provide a tasty opportunity to incorporate lean protein like chicken or turkey and healthy fats like avocado." The drawback? "This recipe calls for a large flour tortilla, which unfortunately isn't as healthy as its corn counterpart," she says. Vaca-Flores advises looking for a high-fiber flour tortilla, but overall says this hack has the potential to be a balanced meal.
"Nature's Cereal"
If fruit salad went through a rebrand, it would be "nature's cereal." This trend involves filling your classic cereal bowl with fresh mixed berries, coconut water, and ice. Let's clear one thing up: Boxed cereal also contains ingredients that come from nature, so this trend's name can be a little misleading.
"The ingredients in 'nature's cereal' are of course healthy," says Vaca-Flores. "However, it's no replacement for a bowl of cereal or a balanced breakfast. I wouldn't recommend this as your morning meal because it's missing protein and healthy fats, two macronutrients that are important for energy and helping you feel full throughout the day." If you want to try the trend, just make sure it's not your entire morning meal, she recommends. It's worth noting that if
you're a big cereal fan
, you don't need to replace traditional cereal in your diet. Vaca-Flores explains that a high-fiber cereal can be a solid pick, and milk contains protein, vitamin D, calcium, B vitamins, and potassium. But she says there's one thing to be wary of: "If you're reaching for a sugary cereal, be mindful of your portion size and consider adding sliced banana or strawberries for a fiber boost."
Baked Feta Pasta
Bake grape or cherry tomatoes with a block of feta cheese, a glug of olive oil, and your choice of spices, then stir in your favorite pasta. That's it. This TikTok food trend gets an overwhelming seal of approval from Vaca-Flores—and thank goodness, because if you haven't tried it yet, start heating up your oven now. It's easy, tasty, and healthy.
"If we take a look at the actual ingredients in the baked feta pasta, they surprisingly stack up to be a balanced meal.
A balanced meal
usually contains a grain such as pasta, a fruit or vegetable such as tomatoes, a healthy fat like olive oil, and of course, a protein source like feta cheese." To healthify this further, go easy on the cheese and opt for a whole-grain pasta for added nutritional value with fiber and micronutrients like selenium and copper, she recommends. It's easy to personalize this one for your nutritional goals and preferences, too. I've used chickpea-based pasta and added chicken for
extra protein
. Vegan TikTokers and bloggers have also swapped feta for vegan cheese or tofu, and others have even
swapped pasta for chickpeas
. Customize the flavor with garlic, basil, red peppers, salt, and pepper.
"Proffee"
This portmanteau is pretty genius—blend protein with cold brew coffee, espresso, or hot coffee for a power beverage. But why would you need this concoction? "People who may be lacking a balanced breakfast containing protein may benefit from adding protein powder to their coffee," explains Vaca-Flores.
Protein at breakfast
can promote balanced blood sugar levels and long-lasting energy, but if you're already getting protein in at breakfast, you probably don't need the addition.
Proffee has a lot of variations on TikTok, which can make or break the nutritional quality. Some users make the beverage with a pre-bottled protein shake, which could contain unnecessary sugar, sweeteners, or additives. Other users add syrups or additional sweeteners. Finding a high-quality protein powder that's low in added sugars is key, says Vaca-Flores. "Finding a protein supplement that is naturally flavored may also save you from having to add additional sweeteners." Eager to try the trend?
HUM Nutrition's Core Strength
is a plant-based vanilla protein powder—we're big fans! (We've even tried it in a
matcha latte
.)
Frozen Honey
There's something visually satisfying about watching frozen honey, which maintains its viscous property, be squeezed out of a bottle, so we'll give this trend an A+ for aesthetics. But on the nutrition side? Let's just say we're grading on a sliding scale.
Most TikTokers are eating a *lot* of honey when they try this. That's a hard fail. "It can be easy to forget that honey is packed with calories and sugar even though it's natural," says Vaca-Flores. "When we consume too much sugar, this can cause spikes in our
blood sugar levels
. These spikes eventually drop, which can feel like short-lived energy followed by intense feelings of fatigue," she explains. "Plus, eating too much honey can cause GI discomfort in the form of bloating, nausea, and diarrhea." But in moderation, you're free to try frozen honey. Stick to no more than a tablespoon (or the size of your thumb) in one sitting, says Vaca-Flores. Even better, try it with a protein or healthy fat to help prevent dramatic changes in your blood sugar levels.
Lettuce Water
TikTokers on the quest to
get better sleep
have devised a new brew: soaking lettuce leaves in hot water like tea to reportedly help with sleep. While there's no evidence that lettuce has a sleep-inducing effect in humans, Vaca-Flores says
romaine lettuce
contains a phytonutrient called lactucarium, also known as "lettuce opium," which has proposed sleep and calming benefits.
While lettuce water may not have any magic properties, Vaca-Flores says it's also harmless—just wash your lettuce first. (Though people taking blood thinners should avoid lettuce water as it may interact with their medication.) But better yet? Dim the lights and
limit screen time
an hour before bed to signal to your brain it's time to produce melatonin, the hormone that controls our sleep cycle, advises Vaca-Flores.
Pesto Eggs
This may be one of the easiest ways to make your breakfast feel fancy that we've ever seen. Take your favorite way to make eggs (scrambled, sunny side up, or over easy) and instead of cooking them in butter or oil, use pesto. That's it. You can, of course,
personalize your dish
by serving over toast with various toppings like avocado, tomato, or red pepper flakes.
Vaca-Flores approves of this TikTik food trend since
eggs are a complete protein
and deliver choline among other vitamins and minerals. "Just make sure that you're using a pesto sauce that has high quality, unsaturated fats like olive or sunflower oil. Or better yet, make your own pesto sauce at home," she recommends. Not a pesto fan? You can also try
these chili oil eggs
.
The Bottom Line
TikTok foods trends can be a mixed bag, so keep in mind that they're not all vetted by a dietitian when you see them pop up in your feed. If you're unsure about something, it's best to check with a dietitian or even your doctor to avoid any potentially dangerous consequences. You may want to modify a trend to fit your nutritional needs or skip something altogether.
More like this