Why We're Collaborating with Diversify Dietetics
Here's a look at HUM's present and future diversity-building initiatives, including the details on our exciting new collaboration with Diversify Dietetics.
Diversity—of all kinds—has been one of HUM's core values since day one.
We come from all walks of life, from different corners of the country and pockets of the globe. Together, we believe that our unique backgrounds, experiences and perspectives not only enrich us as individuals, but also create positive change in the world at large.
For that reason, we always look to build upon our commitment to promoting diversity.
How HUM Celebrates Diversity
While diversity comes in many forms, one point of focus is increasing awareness concerning racial and ethnic disparities.
We Start Conversations
Over the years, we've had programming, roundtable talks and educational initiatives to discuss pressing issues surrounding diversity. These include but aren't limited to:
unconscious bias

social justice
discrimination
We welcome curiosity and vulnerability, and don't shy away from uncomfortable topics. That's also why we're transparent about Team HUM's demographics.
Team HUM
As of January 2021, we have 76 team members representing a wide range of racial and ethnic groups: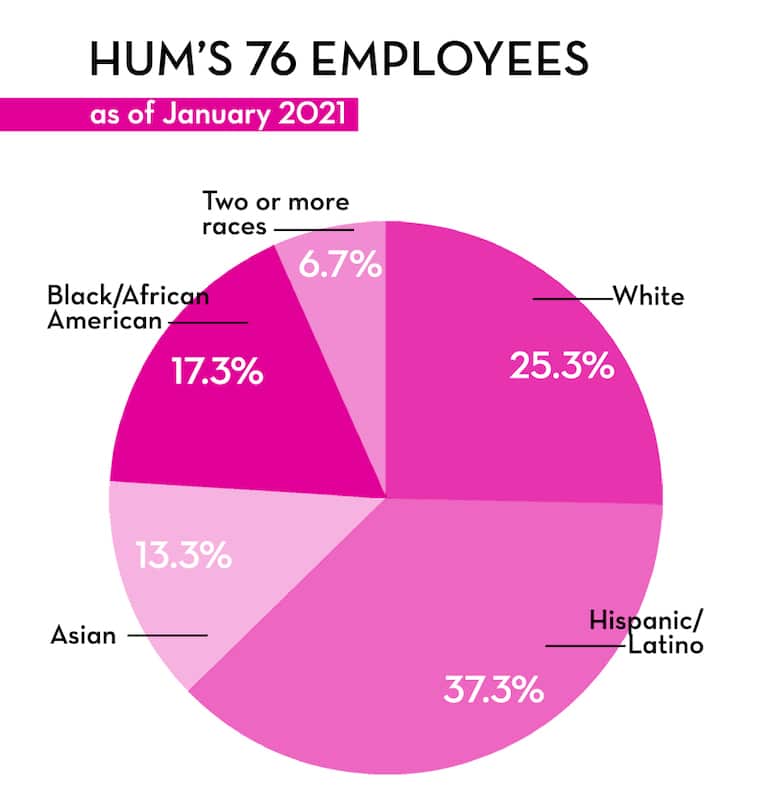 Next, we always seek opportunities to share our individual culture(s) with each other.
Whether that's in the form of a cultural Thanksgiving potluck; foreign language and movie clubs; or virtual cooking classes featuring Moroccan, Indian and other international dishes, celebration is the key word that comes to mind.
Recruitment
We champion diversity of all kinds in the recruitment process and prioritize aligning on our values with every candidate. Yet since HUM's inception, we've noticed a significant lack of racial and ethnic representation amongst dietitian applicants to our RD team, which speaks to a wider trend in the field of nutrition as a whole.
To make progress on this front, we're teaming up with Diversify Dietetics to encourage greater opportunities for dietetics students amongst underrepresented demographics.
Why We're Collaborating with Diversify Dietetics
HUM and Diversify Dietetics share a common goal: to promote diversity and accessibility in the field of nutrition.
As we can see from this graph from the Commission of Dietetic Registration, there are significant gaps in the number of BIPOC (Black, Indigenous, Asian, Pacific Islander, Middle Eastern, Latinx) dietitians compared to the size of their respective communities: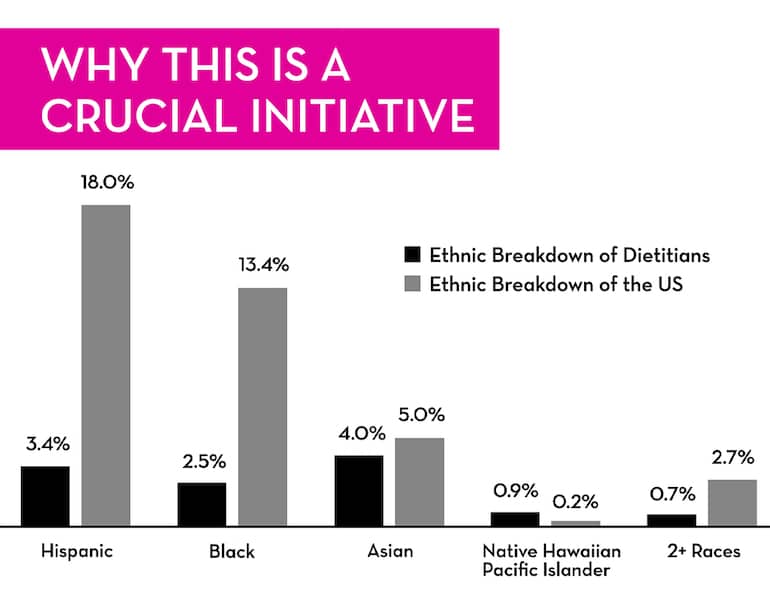 According to this data, only 11.7 percent of dietitians identify as a racial or ethnic minority.
As Diversify Dietetics succinctly puts it: We need practitioners that more closely reflect the diverse communities that they serve.
To rectify this imbalance, the nonprofit's mission is "to increase the racial and ethnic diversity in the field of nutrition by empowering nutrition leaders of color." And we couldn't be more thrilled to get on board.
Diversity in Nutrition Matters
For many reasons, adequate representation is essential to meet the unique needs and concerns of diverse communities.
With greater diversity in the field of dietetics, BIPOC RDs may better serve their communities by:
understanding specific cultural dietary + nutrition staples

addressing health trends and/or obstacles specific to a given ethnic group
providing comfort + solace based on a shared background
In sum, familiarity and rapport with members of a dietitian's community (and their unique concerns) can make all the difference to make nutrition and wellness accessible to all.
Aspiring Dietitians Face Unique Challenges
Then, while there are several challenges to becoming a dietitian, finances are often chief among them.
Firstly, to become a dietitian, you must receive a bachelor's degree. From there, you have to complete a dietetics internship—many of which are full-time and unpaid. As Diversify Dietetics notes, students of color face a disproportionate amount of barriers, particularly when it comes to this internship requirement.
Unfortunately, mounting tuition and living expenses—in addition to the time required for homework and self-study, especially before the national registration exam—leaves little room to find paid work elsewhere.
For this reason, it's no surprise that financial limitations may hinder aspiring dietitians from starting or completing this journey. However, HUM wishes to help alleviate the financial burden—as well as offer additional support—through our Diversify Dietetics collaboration.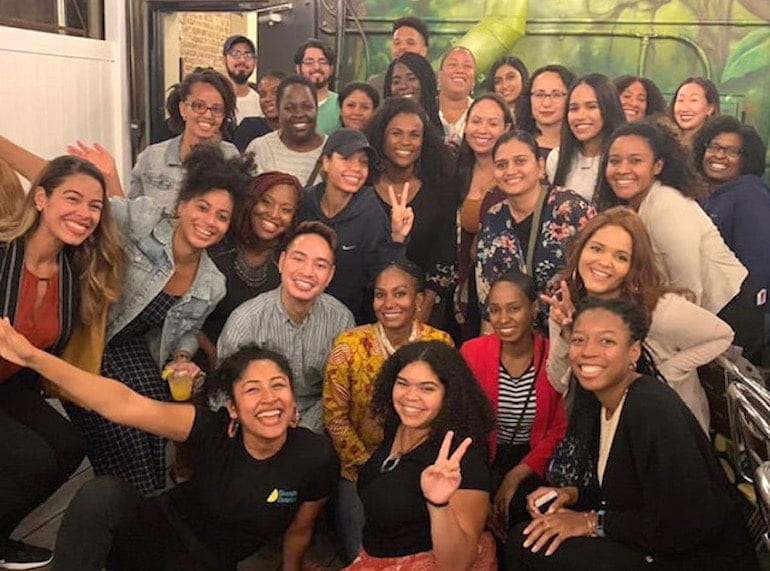 The HUM x Diversify Dietetics Grant
Here's what the HUM x Diversify Dietetics internship grant includes.
Grant Details
HUM is offering grants of $30,000 total to three BIPOC aspiring dietitians.
Grant recipients will also have full access to the robust Diversify Dietetics community. Current programming includes but isn't limited to:
educator workshops + webinars

professional development workshops
mentorship programs
Lastly, one grant recipient will be awarded the opportunity to participate in an RD internship rotation with HUM. Here, they'll work alongside our director of education and team of registered dietitians.
During the four to eight weeks of this all-expenses-paid internship, the student will:
gain experience making personalized nutritional recommendations

participate in product development + in-house research
deep dive into clinical research + create educational materials
collaborate with marketing teams to create nutrition content
How to Apply
In order to qualify for the grant, you must:
have a bachelor's degree by fall 2021

be a student of color actively applying to (or accepted into) a dietetic internship
need financial support for the dietetic internship
Key Dates
Applications for the HUM x Diversify Dietetics grant open on February 16, 2021.
Applications are due by April 5, 2021.
Grant recipients were announced in early June 2021

.
Next Steps
As for what's next? We'll keep you posted on our candidates' journeys via HUM's social media, newsletter and blog. We also encourage you to follow and support Diversify Dietetics.
We understand that this collaboration is a small step on a longer road to promoting diversity, both in the field of dietetics and for Team HUM as well.
In the meantime, we're making changes internally to further uphold the HUM value of diversity.
For starters, HUM's people and culture department has enacted a plan to eliminate opportunities for unconscious bias when looking for new hires. We've started to make our recruitment process anonymous by removing any information that will tell gender, race, social class, and more.
In addition, we'll continue to:
observe MLK Day and Juneteenth as company holidays

invite flexible scheduling around cultural holidays
invest in internal education + promote dialogues around diversity
We hope you'll follow along and share your thoughts with us throughout this journey. After all, we see HUM as a party, and we want everyone to attend.