5 Black Nutritionists to Follow for Inspo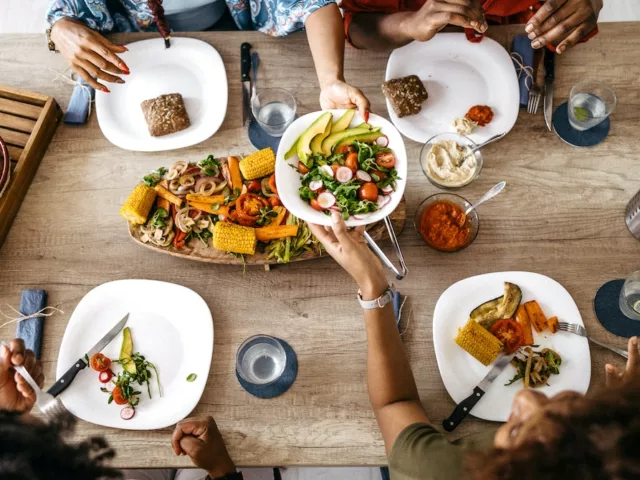 To emphasize the importance of diversity and accessibility in the field of nutrition, we're highlighting a few Black nutritionists to follow for inspiration.
We share a common creed in the world of wellness: Good health should be a right accessible to all. In order to further that goal, we need to ensure that we tune into a wide range of people for well-rounded cultural and nutritional perspectives.
With that in mind, we'd like to shed light on the positive impact that diversity has in the wellness industry—as well as the world at large—by featuring a few Black nutritionists championing diversity and accessibility in nutrition.
5 Black Nutritionists to Follow
Our unique experiences enrich the wellness space, and we strive to embrace that fullness.
With that in mind, here are five Black nutritionists to follow on Instagram.
 

 

View this post on Instagram

 
1. Tambra Raye Stevenson, MPH
First, Tambra Raye Stevenson is the founder of NativeSol Kitchen. She runs the show as a meal-healer and kitchen coach for this food security and nutrition-awareness movement.
She also founded WANDA: Women Advancing Nutrition Dietetics and Agriculture, which brings nutritional awareness to women in order to raise healthy, conscious families.
On top of that, Tambra has racked up an impressive resume in local and national government in health and human services. She's also taken her work internationally. Tambra hails from Nigeria, and feels her work there is a vital part of her soul's journey. She even brought NativSol to Africa, teaching classes and empowering women and girls.
A jewel in the BIPOC nutrition community, Tambra is also a social justice warrior. She stands for ending food insecurity and providing access to education on food politics for women and families.
 

 

View this post on Instagram

 
2. Vanessa Rissetto, RD
Vanessa Rissetto is a registered dietitian and the co-founder of Culina Health, an online resource for nutrition counseling and science-based education. Previously, she spent five years as a senior dietitian at Mount Sinai.
In addition, her private practice work hones in on the holistic treatment of:
GI disorders
weight management
family nutrition
Vanessa reminds us that we should all invest in our uniquely personal health journeys. Her adage is that it's important to find what works for us so that we can stick with it. Through equal access to food and nutrition education, she believes that we all can see real, lasting change in the way we fuel and heal ourselves.
 

 

View this post on Instagram

 
3. Mearaph Barnes, RD
Mearaph Barnes, RD, is the owner and creator of One in a Melon. Her philosophy centers around helping others create their best selves through knowledge, empowerment, and nutrition. She also hosts wellness events like "Gym & Juice" in LA.
Mearaph brings fun to the table, lifting some of the weight that comes with shifting our lifestyles via dedicated health adjustments.
She also offers personal nutrition counseling and mentorship for existing and aspiring dietitians. In fact, mentoring future RDs is an essential part of her practice. Through her experience and guidance, Mearaph is even diversifying the way in which nutrition experts are educated.
"When there are more BIPOC dietitians, more people have the opportunity for adopting sustainable health practices. [That's] because the person they work with knows what it's like to eat something other than a Eurocentric diet," she explains.
"Some cultures have preparation and cooking practices that are deeply rooted in history, but [are] obscure," she continues. "For example, growing up in an Ethiopian household meant that kitfo (a traditional Ethiopian dish made from raw beef, chili powder, and butter) was a dish regularly eaten. But during pregnancy, kitfo is prepared well-done, and yet it's still called by the same name. Knowing this is crucial, especially if you're providing nutrition services to a first-time mom-to-be who speaks English as a second language and has a predominantly Ethiopian diet."
 

 

View this post on Instagram

 
4. Stefen Thompson, Certified Nutritionist + Holistic Health/Wellness Coach
Based in San Diego, Stefen Thompson is the founder of Mind Over Food Coaching. Her work centers around the act of improving our lives through proper nourishment. To Stefen, this means power, and self-love. It's all a part of positive thinking and creating healthier habits to shape a joyful, full life.
Her mantra centers around shifting our reality with small steps, ritual, and routine. And since wellness is holistic, so is Stefen's approach when it comes to coaching others to lead healthier lives.
 

 

View this post on Instagram

 
5. Denine Rogers, MS, RDN, LD, FAND
Denine Rogers, MS, RDN, LD, FAND, is the woman behind Living Healthy, a nutrition, health, and wellness consulting business in Douglasville, Georgia. Living Healthy takes an integrative approach to a life of total nourishment. Its focus is on preventing and healing the body from chronic illnesses by using functional foods as daily medicine.
In her 15 years as a nutritional consultant, she's worked for all kinds of businesses and industries, such as:
food service
hospitals
federal government programs
educational institutions
corporations
small businesses
healthcare facilities
Denine is a political liaison for the National Organization of Blacks in Dietetics and Nutrition, as well as an avid volunteer for a number of other organizations. No matter where her duties take her, Denine's vital work shines a light on the importance of diversity in the wellness realm. In short, she not only drives for change, but is the change we want to see.
Seeking more inspo and leads for Black nutritionists to follow? We encourage you to check out Diversify Dietetics, a nonprofit we're working with to provide grants for BIPOC aspiring dietitians.

Nicole Lesmeister
February 27, 2021
More like this