6 Strategies to Balance Your Cortisol Levels for Sounder Sleep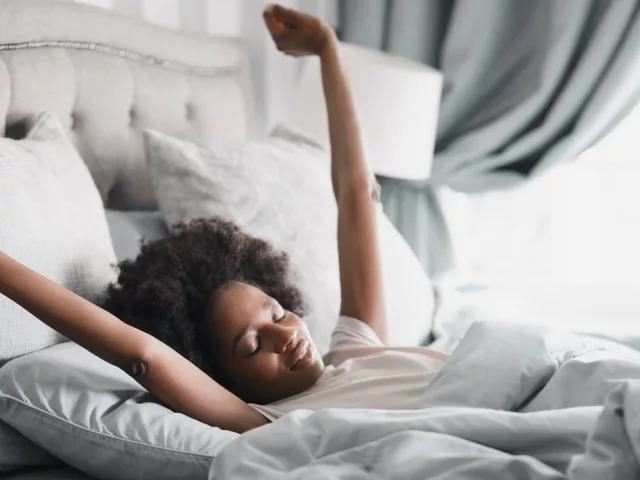 If you're one of the 70 million Americans that struggle with sleep issues, your hormones may be the last thing on your mind, but they should be. The connection between the hormone cortisol and sleep proves that it could be a powerful player in helping you get better zZzs.
Waking up groggy, crashing mid-afternoon, and having trouble falling asleep? They're all possible signs of cortisol imbalance. Cortisol is your body's primary stress hormone, but it can have a ripple effect on other areas of your life, including sleep.
You've likely heard about cortisol before in negative contexts, like high-stress situations or its role in "stress belly," but there are some benefits of cortisol. When you have the right dose of cortisol at the right time, you'll be more energized in the morning, fall asleep easier at night, improve blood sugar balance (which can also interrupt sleep), and reduce inflammation. As with most things, reaping these benefits is all about learning how to balance cortisol.
Wondering if cortisol could be contributing to your sleep issues? "One sign is that they will wake up in the middle of the night feeling wired and have issues falling back to sleep," says Kelly Murray, a certified pediatric and adult sleep consultant and owner of Kelly Murray Sleep Consulting. "Also, they may have trouble getting moving in the morning or low energy levels in the afternoon or evening."
Learn more about how to maintain healthy cortisol levels and take advantage of this powerful hormone.
What is Cortisol?
Cortisol is a steroid hormone that plays a role in everything from your immune function and glucose metabolism to blood pressure. When your body is under stress, whether real or perceived, your hypothalamus indirectly signals the adrenal glands to release the stress hormones cortisol and adrenaline. This process is also called hypothalamic-pituitary-adrenal (HPA) axis activation, and it's part of the body's fight-or-flight response. In turn, your heart rate speeds up, breathing rate quickens, blood pressure rises, and you get a burst of glucose for energy to help you fight off the impending threat.
When you're chronically stressed, cortisol levels can remain elevated, and if not managed, your adrenal glands can actually stop producing enough of the hormone. Too high cortisol levels and too low cortisol levels can both lead to health issues over time and leave you feeling less than optimal.
"I order at-home hormone panels for most of my clients and have discovered that the vast majority have issues with their cortisol levels and patterns," says Murray. "Either their bodies are producing too much cortisol due to high-stress levels, or they have been under a lot of stress for a prolonged period of time and their cortisol becomes dysregulated." Murray has also seen people with cortisol levels that are above normal overnight and early in the morning, then extremely low in the afternoon and evening.
The Connection Between Cortisol And Sleep
There are two main hormones that regulate our circadian rhythm, explains Murray: cortisol "the alert hormone", and melatonin, "the sleepy hormone." Normal cortisol levels naturally spike in the morning to help you wake up—called the cortisol awakening response (CAR)—and reach their lowest point at night to help you fall asleep. (That's also when melatonin levels begin to increase to induce sleep.) Too high cortisol in the evening and you might be lying awake at night or tossing and turning, impacting your overall sleep quality. When levels are extremely high, you'll feel wired (but tired) and have difficulties staying asleep, notes Murray. If your cortisol levels are lower than they should be in the morning, you may not feel fully recovered and have a hard time starting your day (hence, reaching for caffeine.)
The result can be cyclical—research in Brain, Behavior, and Immunity has shown that sleep deprivation increases cortisol and markers of inflammation.
How to balance cortisol levels for better sleep and health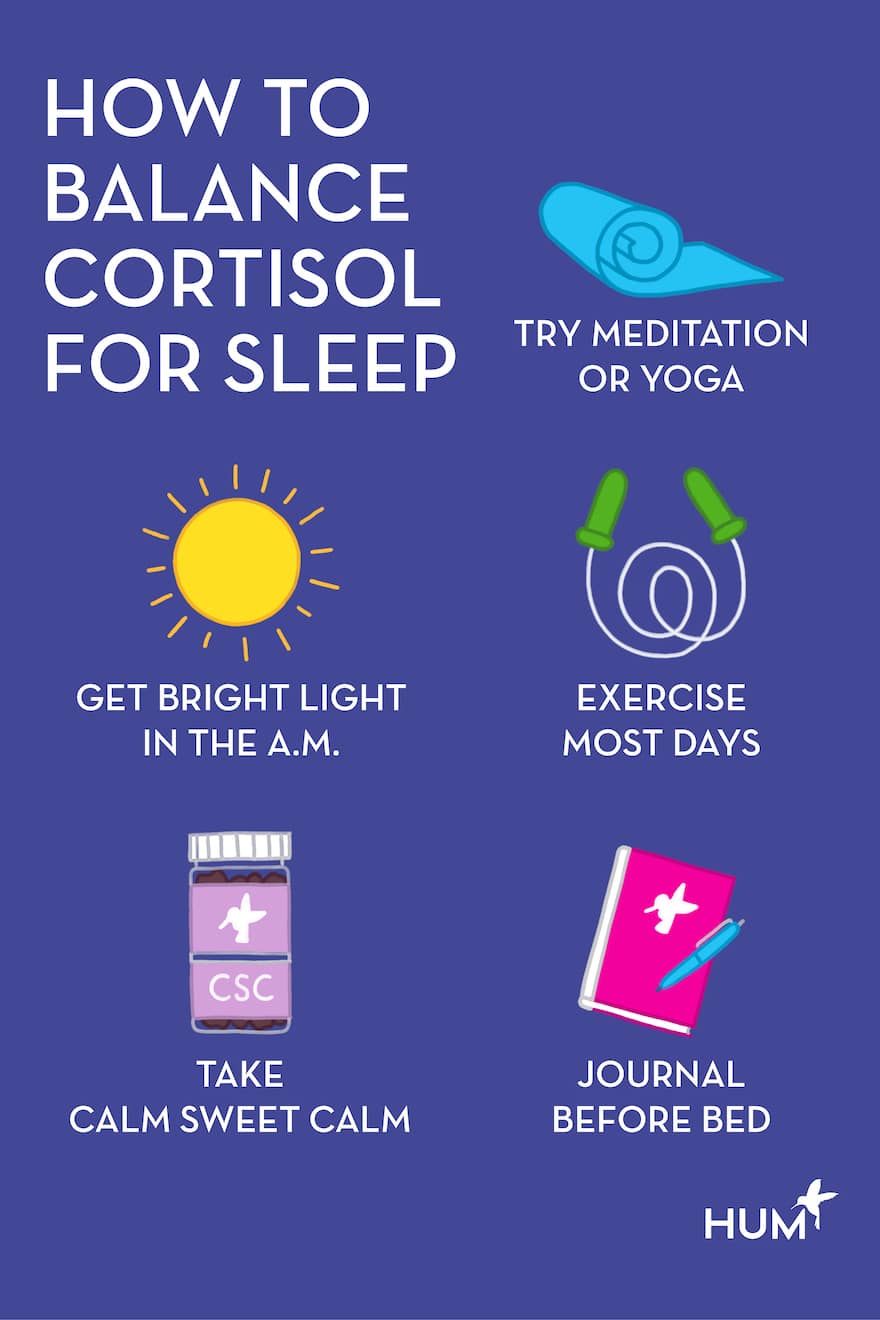 Ready to balance your cortisol levels for better sleep and better health? Start with these six science-backed strategies.
Add a calming supplement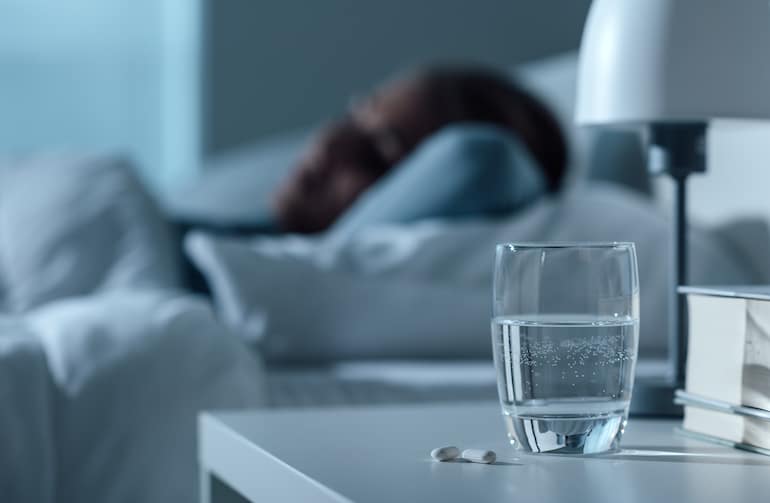 A supplement designed to reduce symptoms of stress and help manage the ups and downs of cortisol and keep it stable over time could help you fall (and stay) asleep. There are a few key ingredients to look for. The adaptogen ashwagandha can support healthy cortisol levels by helping your body manage stress. HUM's Calm Sweet Calm stress gummies contain ashwagandha and l-theanine, an amino acid that can relax the body for sleep and improve sleep quality.
"The clinically studied amounts of Sensoril, a patented extract of ashwagandha, and L-theanine found in Calm Sweet Calm are a potent combination to help you relax and de-stress," explains Jennifer Martin-Biggers, PhD, MS, RDN, HUM's VP of scientific affairs and education. "You can take them at any time of day to support cortisol fluctuations; some people find the effects to be beneficial at night while others prefer it in the morning to prep for their day."
Exercise most days
Cortisol and exercise have a bit of a complicated relationship: it can increase and decrease cortisol, so strategizing your workouts is key. High-intensity or long-duration exercise can increase cortisol levels temporarily, so recovery in between more intense days is crucial. But planning longer and more intense workouts for your mornings may also help with sleep quality.
By contrast, lower-intensity exercise, at around 40 percent of your VO2 max, may help to reduce cortisol levels, found research in the Journal of Endocrinological Investigation, making it great for evening workouts. Aerobic exercise, in particular, may be beneficial for increasing the cortisol awakening response, studies show.
Don't deprive yourself of foods you love
Instead of worrying about food that lowers cortisol or massively overhauling your diet to incorporate the best foods for sleep, you may be better off stressing less, says Martin-Biggers. "Keeping a healthy balance in your diet to support optimal wellness yet not depriving yourself can help keep stress at bay and manage cortisol levels." (Though, we still can't resist these tasty bedtime lattes.)
Get bright light first thing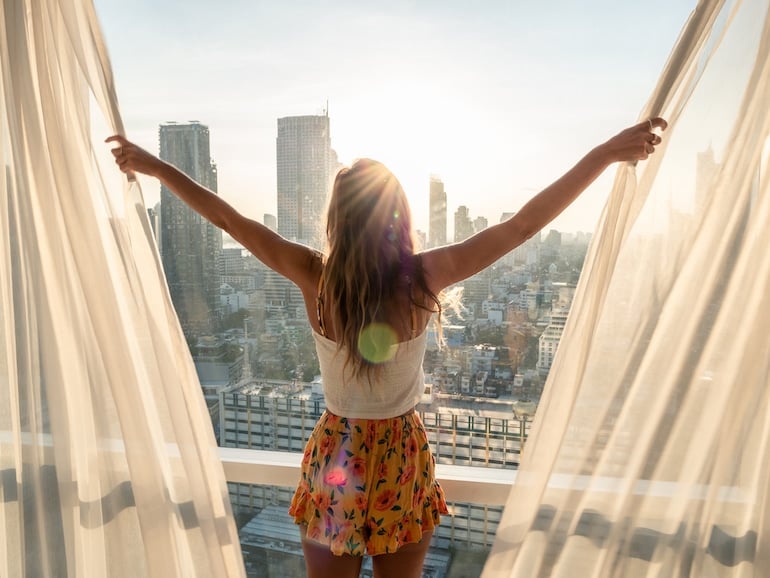 Blackout shades may not necessarily be your friend when it comes to cortisol. When men were exposed to bright light for a three-hour period from 5-8 a.m., there was a 50 percent increase in cortisol levels as compared to a control group that received only dim light exposure, found research in The Journal of Clinical Endocrinology & Metabolism. Morning exposure to light can be an effective way to prepare you for an active day, additional research concludes. Leaving your shades up or using a wake-up light alarm clock may help you get the boost of cortisol you need in the morning.
Get quality sleep
This may seem counterintuitive, given the reciprocal relationship between sleep and cortisol, but controlling what you can in your sleep environment can help to break the cycle. Decrease your exposure to blue light two hours before bedtime, do a calming activity before bed like journaling or meditation, and find the optimal sleeping temperature to rest easier. (You can also try these top sleep hacks.)
Add meditation or yoga to your routine
Because stress directly leads to cortisol production, decreasing stress in your life will help you avoid chronically high cortisol levels, but that can be easier said than done. Focus on activities that facilitate mindfulness, ultimately helping you reduce stress levels. A 2017 study in Frontiers in Human Neuroscience found that individuals who participated in a 3-month yoga and meditation retreat had an increased magnitude of cortisol awakening response. Murray also recommends doing deep breathing exercises when you find yourself in a stressful situation. One study of 28 middle-aged women found that those who participated in deep breathing exercises lowered their cortisol levels by 50 percent, she says.
The Takeaway
If you have trouble falling or staying asleep, there may be multiple factors at play, but maintaining healthy cortisol levels can help you get better rest and improve your overall health. Reducing stress, exercising strategically, and supporting your body with supplements can all help with achieving healthy cortisol levels.
More like this