5 Beauty Benefits of Papaya (+ Recipe)
WRITTEN BY Allie Flinn
The benefits of papaya are insane. But this delicious fruit is often overshadowed by big-name tropical fruits like mango and pineapple or up-and-comers like soursop and mangosteen. (I think it's fair to say that papayas suffer from a touch of middle-child syndrome.)
Here: five amazing reasons you should pay more attention to papaya, plus one delicious smoothie recipe.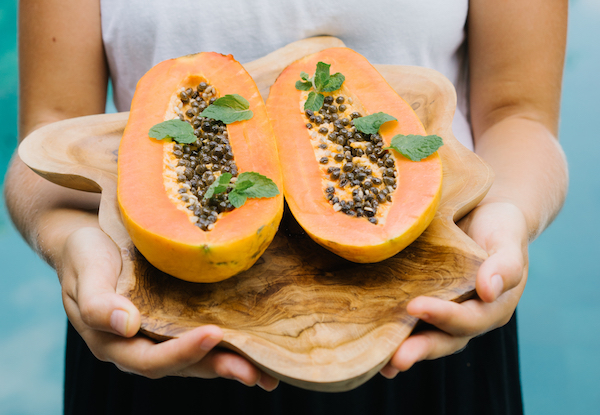 1. Benefits of Papaya: Laters, Bloating
One of the amazing benefits of papaya? It's amazing for food hangovers. (Definition: when you wake up the morning after a cheat meal, swollen and puffy from the sodium-heavy chips, salsa, and burrito you consumed the night before.)
That's because papayas contain papain, aka the de-bloating enzyme. Papain helps you break down fiber and protein so that it's easier to digest. In sum, easy digestion = flat tummy.
(PS: Flatter Me uses a blend of papain and other digestive enzymes designed to ease belly bloat and soothe digestion.)
2. Benefits of Papaya: All the Vitamin C
Oranges, smoranges. Papayas kill it in the vitamin C game. A small papaya contains around 95 grams of vitamin C, compared to 51 grams in a small orange.
Vitamin C basically tells your immune system that it better work. It stimulates the production of antibodies, which gives your immune system a boost and helps fight infection.
3. Benefits of Papaya: Stay Regular
Or, in less "polite" terms, they help you poop. (Yes, we went there.) Talking about digestive issues isn't the sexiest convo, but whatevs. It's happening.
Remember all that vitamin C we were just talking about? In addition to boosting your immune system, it also helps soften your stool. This is great news if you're suffering from constipation or general BM issues. The papain in papayas also helps move things along.
Plus, papayas are a good source of insoluble fiber. Insoluble fiber helps your stool bulk up as it goes through your intestines so you can… ahem… pass it more easily.
4. Benefits of Papaya: Beta-Carotene FTW
Beta-carotene is a super powerful antioxidant that keeps your skin and eyes healthy. While carrots and tomatoes are typically the "it" produce when it comes to beta-carotene, you shouldn't discount papayas. They contain a form of beta-carotene that's three times easier for our bodies to absorb, according to a study from the British Journal of Nutrition.
Pair papaya with a healthy fat for optimum absorption.
5. Benefits of Papaya: Glowy Skin
If you only eat papaya, you're missing out on some serious skin-glowing opportunities. The combination of papain and fruit enzymes in papaya makes it an exfoliation ace. Using papaya in a DIY mask will help remove dead skin cells, which means radiant skin and clear pores. It can even help diminish the look of skin discoloration. Plus, the recipe is oh-so-easy: Simply mash up a quarter cup of papaya, apply it to your face and neck, wait 15-20 minutes, then rinse. Use once a week for best results.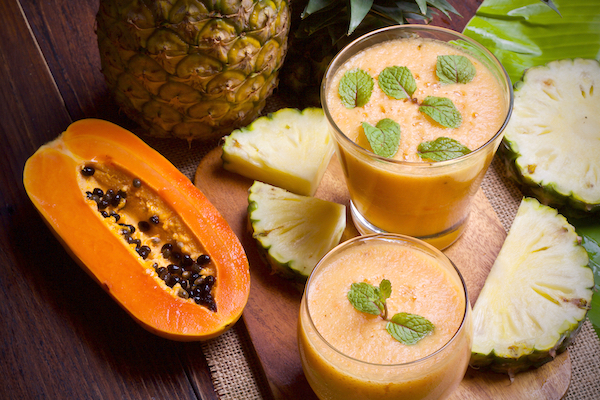 De-Bloating Tropical Smoothie
INGREDIENTS
1 cup diced papaya (seeds removed)
1 frozen banana
1/2 cup coconut water
1/4 cup pineapple juice
INSTRUCTIONS
Blend until smooth.
REFERENCE LINKS
PRODUCT LINK
https://www.humnutrition.com/product/23/flatter-me

ARTICLE LINK
https://www.humnutrition.com/blog/benefits-of-papaya/