We Challenged an RD with a $50 Grocery Budget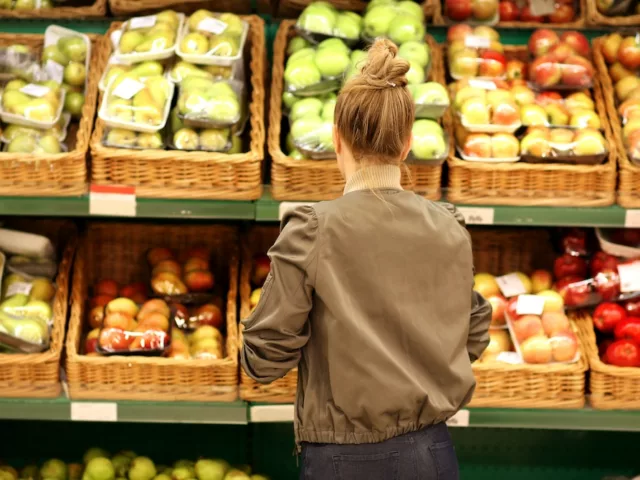 What would you do if you were limited to a $50 grocery budget per week? According to the USDA, the
average monthly cost of food
for one person is $250, or around $62 per week. However, grocery store prices fluctuate around the country. My LA-based friends and I typically spend over $100 weekly on groceries—and that doesn't include dining out with friends. Yikes!
My $50 Grocery Budget Challenge
Team HUM challenged me to spend only $50 dollars for a week's worth of food. A few notes before diving in:
I didn't clear all existing items in my fridge and cupboards. But I did vow to use only the essentials I already had, such as spices, salt, pepper, olive oil, etc.
For this challenge, I spent around three hours browsing different grocery stores looking for deals. It was time-consuming, but paid in savings! For instance, I found avocados on sale at Sprouts for 88 cents apiece, while they were $1.59 at Trader Joe's. However, for others attempting this, I recommend saving time by researching deals online beforehand.
Full disclosure: There were one or two meals throughout the week that I got for free from events! Let's call it the perks of working with food for a living…
Grocery Haul
Unseasoned Roasted Chicken, $7.99 Dave's Killer Whole Grain Bread, $4.99 Salsa, $1.99 Unsweetened Almond Milk, $1.79 Red Split Lentils, $1.69 2 Green Bell Peppers, $1.38 Garlic Bulbs, $0.98 Eggs, $1.29 Low-Sodium Vegetable Broth, $1.99 Old-Fashioned Oatmeal, $2.69 Unsalted Crunchy Peanut Butter, $1.99 Brown Rice Medley, $1.99 Tomato Paste, $0.89 2 lb. Rave Apples, $3.99 2 lb. Sweet Potatoes, $1.99 Organic Coleslaw, $1.99 1 lb. Lemons, $1.59 2 Sweet Jumbo Onions, $1.18 Head of Cauliflower, $1.79 6 Bananas, $1.14 Collard Greens $0.99 Fresh Cilantro $0.99 2 Pumpkin Seed Snack Packs, $1.98
Total Spent: $50.71
Daily Food Diary

Day One
For breakfast, I made a cup of oats with half a banana, one heaping tablespoon of peanut butter, and cinnamon. To be honest, it was pretty bland so I'm going to try a different recipe tomorrow. For lunch, I cut some rotisserie chicken, made red lentils cooked in water with onion salt, and mixed some of the cabbage blend with homemade dressing of olive oil, lemon juice, salt, a garlic clove, and cilantro. It was delicious as well as the perfect amount of food. Since I was working from home, I knew I'd prepare a large dinner with extra portions to save for later. I found and cooked a delicious (and reasonably priced)
West African vegan peanut stew recipe
. I had one serving with a half cup of cooked rice medley, both of which I prepared in bulk. The two
vegan
options are high in fiber and plant-based
protein
, making a perfect pairing for filling, healthy eating on a budget. On top of that, I made it through day one with no snacks!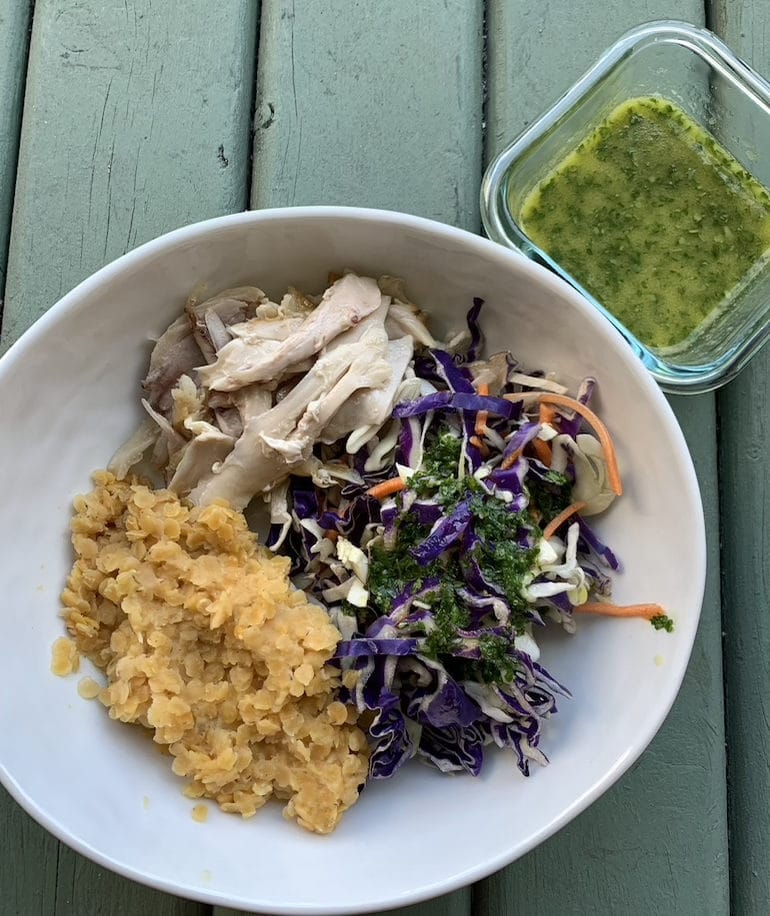 Day Two
I upgraded yesterday's breakfast by blending a half banana, half cup of almond milk, a large scoop of peanut butter, and cinnamon in my Vitamix. I then poured it onto cooked oatmeal. It tasted much better this time around! Lunch was leftover peanut stew with the rice medley and an apple for dessert. I'm craving sweets, but they didn't fit into this budget. Thankfully, these cravings aren't intense, probably because I'm eating enough starchy carbohydrates to keep my blood sugar more leveled than normal. For dinner, I had some more rotisserie chicken, lentils, and cabbage slaw with homemade dressing.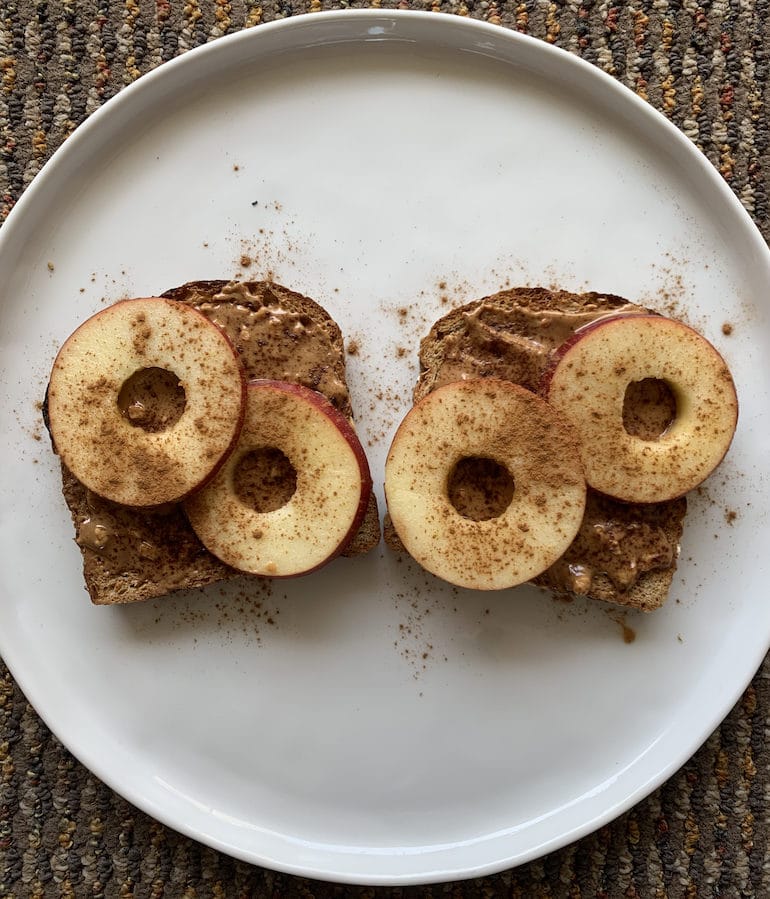 Day Three
I decided to switch things up this morning. I toasted two pieces of
Dave's Killer Bread
, then added two tablespoons of peanut butter, apple slices, and cinnamon. Delicious! For lunch, I had the rest of the coleslaw and dressing, rotisserie chicken, and lentils. Before going to a concert, I ate a quick dinner of rice medley; sautéed green peppers and collard greens in avocado oil, salt, and pepper; and two scrambled eggs with two tablespoons of salsa. It was actually more filling than I expected, but
healthy fats
like avocado tend to keep me satisfied. I was feeling snacky once I got home, so I ate an apple and a few tablespoons of peanut butter.
Note to self: I think this peanut butter will save my life.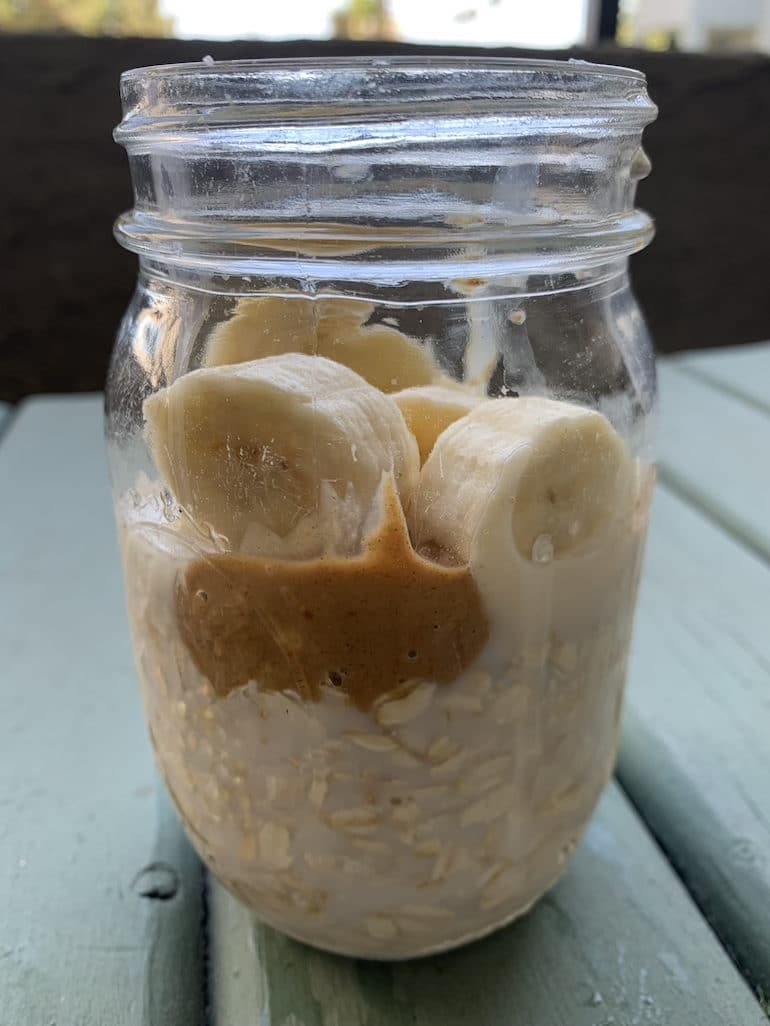 Day Four
Day four was super busy! I had to be at a work function downtown very early, so I planned ahead and made overnight oats. I used oats, almond milk, cinnamon, a scoop of peanut butter, and a chopped banana. I didn't pack any
snacks
, which isn't like me, so I was ravenous by the time I got home. I had more of my peanut stew, adding to it some shreds of rotisserie chicken. In the evening, I attended a
dietitian
networking event. While I stuck to my budget by not spending anything, there was free pizza, so I willingly had a slice. When I got home, I filled up on more peanut stew and collard greens.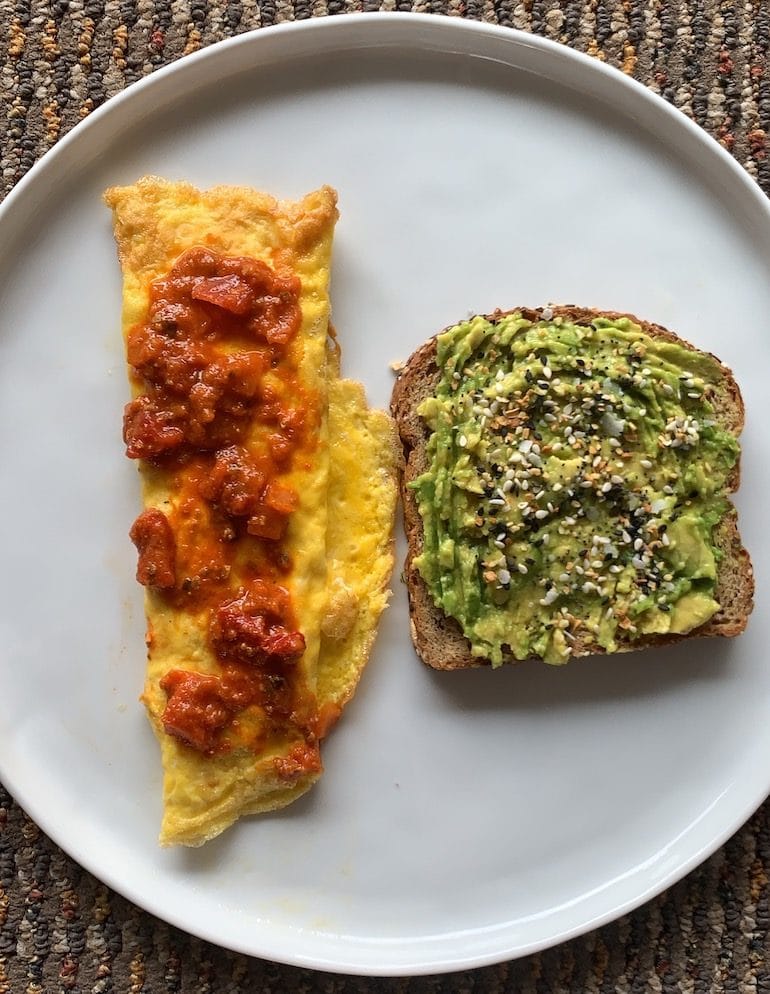 Day Five
By day five, I finally grew tired of eating the same things, so I looked to create new meals. I made a two-egg omelet with salsa, plus a piece of toast with smashed avocado and Everything but the Bagel seasoning. For lunch, I had more rotisserie chicken, some rice medley, and chopped sautéed bell peppers with the rest of my homemade dressing. Later, I ate an apple and a snack pack of pumpkin seeds. Dinner included the last of the rotisserie chicken with sweet potato fries cooked in my air fryer. I also roasted a head of cauliflower in olive oil, cumin, garlic powder, and salt. It was a large head, so I snacked on more of it post-dinner.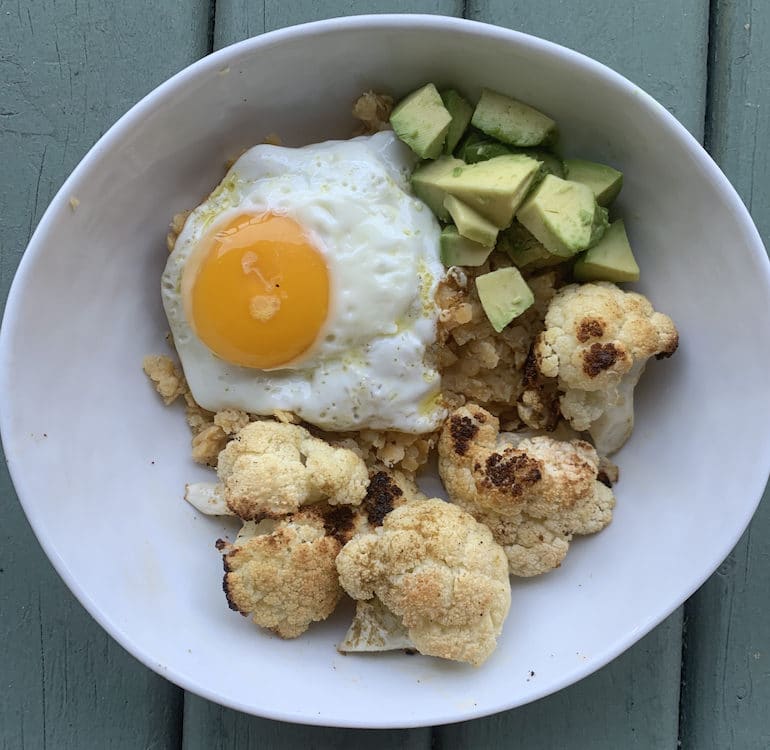 Day Six
This morning, I made a quick breakfast: one poached egg over lentils, a quarter of an avocado, and the last of the roasted cauliflower. Later, I went to a cooking class where we made crispy-skin salmon and roasted root vegetables. (Since I'd already paid for the class, I was obviously going to eat the food I cooked!) For dinner, I went out with my boyfriend. Now that it's the weekend, the food I have for my challenge kind of flies out the window. However, I do think that if I followed this budget regularly, it'd be a normal occurrence to dine out on weekends and prepare most of my meals at home during the week.
Final Thoughts
In sum, I do think that adhering to a weekly $50 grocery budget for one person is both feasible and possible to do healthily. Being on a budget doesn't mean you have to limit yourself to buying processed foods. You can still be healthy by getting creative and cooking for yourself. Thinking ahead and making enough food to last for a few meals definitely helps. Also, yes—you may have to look a bit harder to find deals. But if you care about food (and your wallet), it's worth the extra effort.
Nutritionally speaking, while I like vegetables and generally find them satiating, for this challenge I found myself reaching for more high-fiber complex carbohydrates and protein. Additionally, t
his week I realized that I'm spoiled and probably spend too much on snacks. But I also recognized that apples and peanut butter are healthy alternatives and can be just as satisfying as a $6 bag of almond-flour crackers.
More like this