A Healthy Quinoa Salad Recipe Perfect for Summer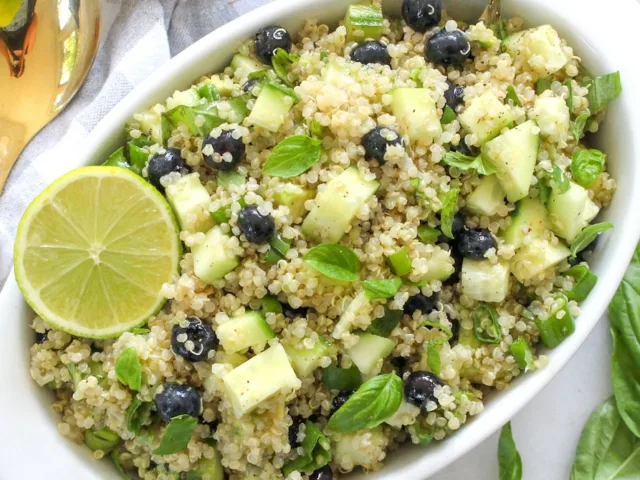 Chelsey Amer, MS, RDN, CDN, whips up a perfectly refreshing summer quinoa salad recipe featuring in-season fruits and veggies.
Don't let pasta salad and potato salad have all the fun this summer! Make your life easy (and delicious) with this summer quinoa salad you can prep once and eat all week!
About This Summer Quinoa Salad Recipe
Unlike traditional starchy salads that are high in fat, this quinoa salad is much lighter. That said, it's still packed with lots of flavor thanks to fresh summer produce. Plus, it's filled with fiber to support your gut health. Whether it's a summer BBQ, picnic, or
lunch meal prep
for the week, it's the perfect make-ahead side you'll want to try! As an added bonus, this quinoa salad gets better as it sits, so don't be afraid to make it a day in advance!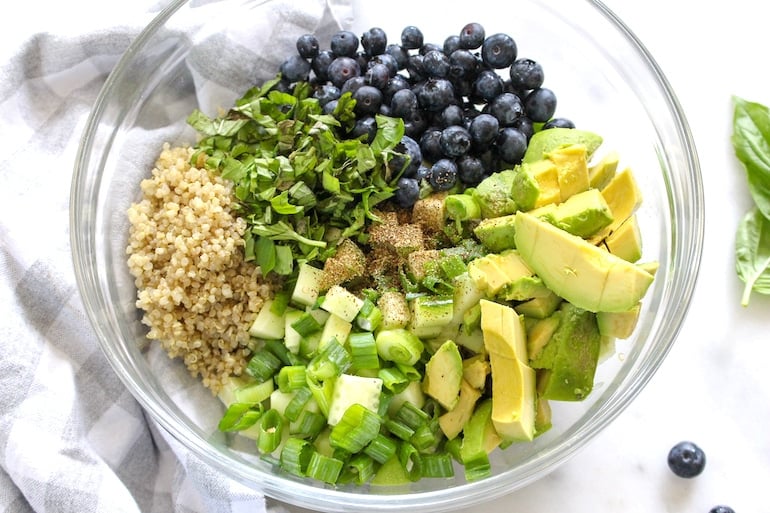 Ingredient Highlights
Every ingredient in this summer quinoa salad was deliberately chosen for peak ripeness. Also, did you know eating produce when in season actually provides more nutrients?
Quinoa
If you've never had quinoa, this grain-like seed has a nutty flavor and more nutrients than most grains. Quinoa is a terrific grain to add to your diet. One cup packs:
eight grams of protein
five grams of fiber
countless vitamins and minerals
omega-3 fatty acids per cup
Plus, it's naturally gluten-free and a complete
plant-based protein
with all essential amino acids your body needs.
Cucumbers
On hot summer days, cucumbers are an excellent choice thanks to their high water content. At over 96 percent water, cucumbers are one of the most hydrating foods you can eat.
Adequate hydration is essential
, among other things, to:
keep energy levels elevated
promote bowel regularity
prevent headaches
Blueberries
In each little burst of flavor, blueberries are packed with nutrients that are also skin- and gut-friendly. First, blueberries are an excellent source of vitamin C, which is essential to
promote collagen production
. Plus, blueberries are about 85 percent water, providing extra hydration for your summer skin. Plus, blueberries contain four grams of fiber per cup to promote bowel regularity and support gut health. Most Americans don't eat enough of the recommended
25 to 38 grams of fiber
per day (for women and men, respectively). For that reason, blueberries are a delicious fruit to boost your fiber intake.
Avocado
Packed with healthy fats, avocado helps make this quinoa salad filling. Moreover, healthy fats (like those found in avocados) help to:
hydrate dry skin
increase skin elasticity
reduce the appearance of wrinkles
Lastly, thanks to their high quantity of vitamins, minerals, and antioxidants, avocado can also help protect your skin from sun damage. (Still, make sure you remember to use SPF!)
How to Make this Quinoa Salad in advance
In just a few short steps, you'll have a flavorful summer salad to enjoy! One of the best parts about this summer quinoa salad is that you can easily prepare the recipe in advance and keep it in the fridge for several days.
Prep the Quinoa
First, you can prepare the quinoa a day or two in advance. This quinoa salad is meant to be served at room temperature or even chilled, so you may want to prep the quinoa in advance to give it time to cool down.
Prep the Vinaigrette
Second, you can mix the honey lime vinaigrette recipe (see below) ahead of time. I personally like to prepare salad dressings in a small mason jar with a lid to store excess in the refrigerator for future use. Bonus: Grain salads hold up very well when dressed, so you can also mix the salad with the dressing and enjoy it all week long.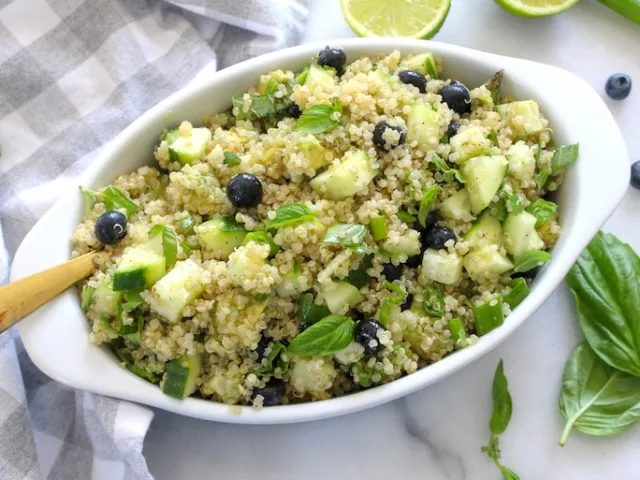 Summer Quinoa Salad Recipe
This refreshing summer grain salad is made with less than 10 ingredients and minimal hands-on time.
Plus, it's great to meal prep at the beginning of the week or serve at your next BBQ!
PREP
20 minutes
COOK
12-15 minutes
SERVES
6
INGREDIENTS
1 cup dry quinoa
Pinch of salt
1 ½ cups chopped cucumbers
3/4 cup blueberries
1/3 cup chopped scallions
1/4 cup chopped basil
1 medium avocado, cubed
1/2 teaspoon dried oregano
Black pepper, to taste
SUPPLIES
Fine mesh strainer
Small stock pot
Large bowl
Mixing spoon
INSTRUCTIONS
Rinse the dry quinoa in a fine mesh strainer. Add to a small stock pot. Add 2 cups of water plus a generous pinch of salt.
Bring to a boil, then reduce to a simmer and cover until all of the liquid has been absorbed (about 12-15 minutes).
Prepare your vegetables while the quinoa cooks. Chop cucumbers, scallions, basil and avocado.
Let the covered quinoa sit for about 10 minutes after you turn off the heat. Quinoa should be fluffy when done; not mushy. (As we discussed earlier, you can prepare the quinoa in advance to give it time to cool down.)
In a large bowl, combine quinoa, cucumbers, blueberries, scallions, basil, avocado, and oregano.
Add the dressing (see recipe below) to the quinoa mixture. Toss together until well combined. Season with additional salt and pepper to taste.
Let sit for 10 minutes before serving. Enjoy!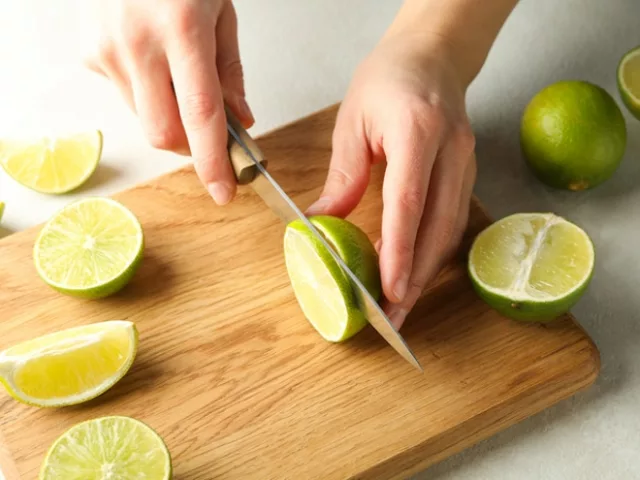 Honey Lime Vinaigrette Recipe
This easy-to-make honey lime vinaigrette adds a hint of sweetness alongside a burst of acidity. All you need is the juice from two limes, olive oil, honey, plus salt and pepper to taste.
Tip: If you prefer a sweeter dressing, add a bit more honey.
PREP
1 minute
COOK
1 minute
SERVES
6
INGREDIENTS
Juice from 2 limes
2 tbsp olive oil 
2 tsp honey
Salt + pepper to taste
INSTRUCTIONS
Add lime juice, olive oil, honey, salt, and pepper to jar.
Cover the jar and shake well until combined. 
More like this