We caught up with Patchology product development manager Fedora Stojkoska-Hristov to learn more about Patchology's innovative and efficient hydration technology.
Plus: her tips for a super-efficient beauty routine.
Q&A with patchology
when is your favorite time to mask?
All the time! No, seriously. I generally don't wear a lot of makeup, so I focus my attention on achieving a glowing, naked look. I mask every morning while I make my coffee and prepare my food for the day. Then, I wear my eye gels in the car on my way work. Here's the proof: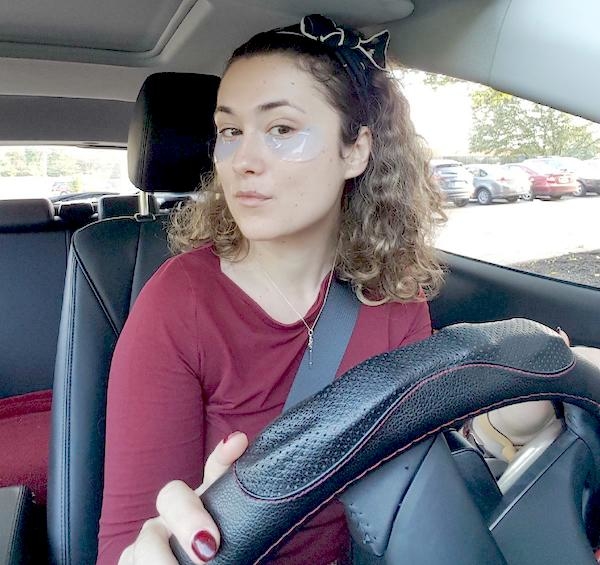 I even use them with makeup on as I find the eye gels don't interfere with my concealer or foundation. If there's excess liquid, I just dab it into my skin.
The lip gels are my go-to anytime I intend to wear lipstick. I exfoliate my lips and then hydrate them with the lip gels, which eliminates any dry patches and thus allows the lipstick to go on smoothly. It also prevents dryness that can be caused by the lipstick itself.
Do you have any other time-saving tips?
Here's one for efficiency: Layer your mask and patches like you layer your skin care and makeup. I don't like to compromise with dull skin when I'm pressed for time, so I use my eye and lip patches and layer a sheet mask on top. They all get to do their job in one third of the time.
Which ingredients should consumers avoid in their skincare?
I try to avoid harsh surfactants, especially in facial cleansers. Cleansing is so important. In fact, it's one of the most influential factors in healthy skin. But surfactants such as ammonium laurel sulfate and sodium laurel sulfate can strip the skin of all its natural goodness. These ingredients can lead to dryness and even damage the skin's natural moisture barrier, causing redness and irritation.
How do you make your masks so fast-acting?
First, skincare products have to be functional, which is our number one priority. But we can't neglect the fact that people have increasingly less time to devote to their skincare rituals. We want to provide our customers with quick and easy skincare solutions that won't interfere with their daily activities.
The Patchology 5-Minute FlashMasque is formulated to deliver all the benefits in one-third of the time. The ingredients were carefully selected to provide a holistic benefit for the specific concern. Also important are the sheets we use, which were carefully tested to adhere to the skin. It enables the user to go about her day, without any interruptions, while wearing the masks.
Tell us more about the lip gels, eye masks, and flashmasques
FlashPatch Hydrating Lip Gel contains hyaluronic acid to plump up the lips with moisture. It also helps promote collagen synthesis that contributes to the anti-aging benefits. Next, green tea is well-known for its antioxidants and combats environmental pollution, while peptides fight against further signs of aging.
FlashPatch Rejuvenating Eye Gel uses high levels of caffeine to battle the number-one cause of puffiness: fluid buildup. It also helps in reducing inflammation associated with dark circles to improve the overall appearance of the eyes. Last but not least, the eye gels also contain hyaluronic acid and hydrolyzed collagen to promote hydration.
Illuminate FlashMasque includes licorice extract, which brightens and evens skin tone. We also use grapefruit extract, which is rich with antioxidants to combat environmental stressors like pollution. For dull skin, hyaluronic acid helps moisturize and plump the skin.
Why is it so important to use Masks on these areas?
The thickness of the skin on the lips is very thin compared to typical facial skin and is thus far more vulnerable. Simple weather changes (such as reduced humidity in winter or prolonged sun exposure) can cause your lips to lose moisture quickly.
On top of weather, air pollutants are becoming a serious concern especially for people living in urban areas. Pollutants strip the skin of moisture, oxygen, and valuable nutrients, leaving it dry and dull.
Finally, baggy under eyes are the result of fluid buildup that's commonly caused by allergies or consuming too much salty food. Smoking, poor diet, lack of sleep, and high levels of stress can cause any and all of the above conditions.