How to Prevent Post-Workout Breakouts, According to A Dermatologist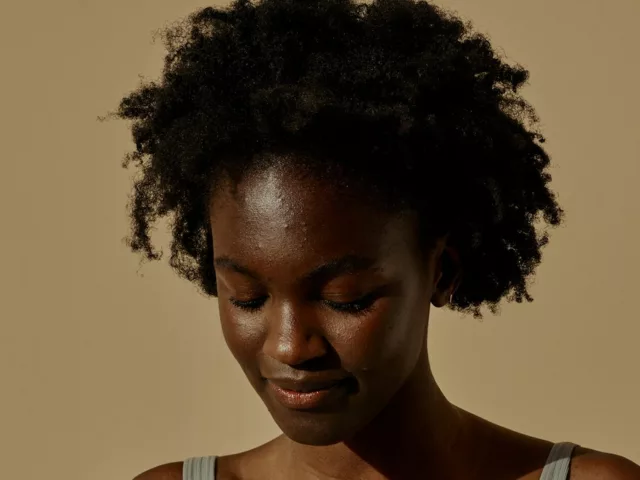 Does sweat cause acne? A board-certified dermatologist breaks down why you may be experiencing post-workout breakouts—and shares how to get rid of them.
There are endless benefits to exercise: It can boost your immune system, reduce stress, and improve your sleep. But for some, there may be one downside to regular workouts: an unexpected bout of breakouts. If you've been crushing it in the gym (or outside), you may have noticed some unwelcome pimples—either on your face, on your back, or elsewhere. But does sweat cause acne? The answer is a little more complicated than you might think. Sweating itself doesn't automatically cause pimples, but if it's not washed off properly, it can cause unwanted breakouts.
This doesn't mean you have to give up working out, though. With a few adjustments to your gym routine, you can clear up your skin—and keep it that way. We spoke to a board-certified dermatologist to learn more about the link between exercise and acne and how to clear up those post-workout breakouts.
Does Sweat Cause Acne?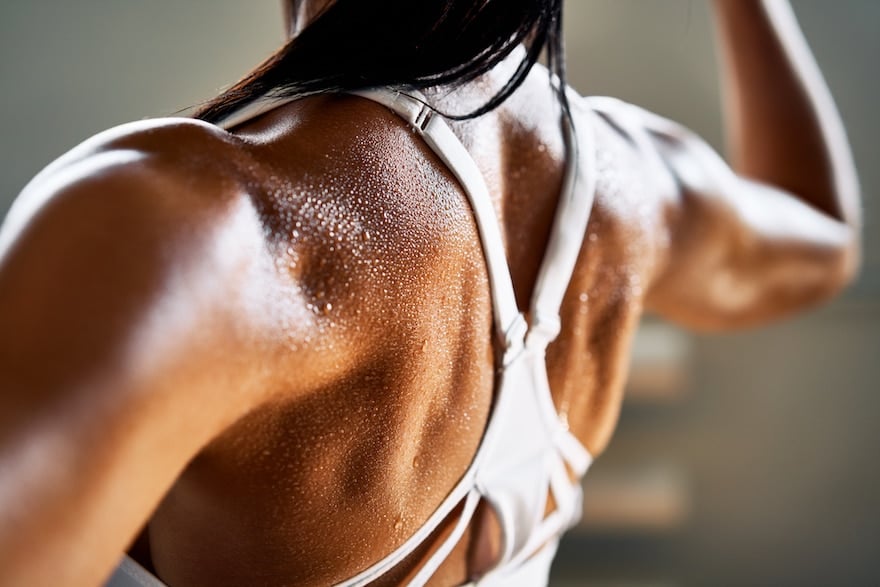 So, can sweat cause acne? Yes and no, says Marisa Garshick, MD, FAAD, a board-certified dermatologist in New York City. "While sweat inherently doesn't cause acne, if it's not properly rinsed off the skin, it can lead to clogged pores and contribute to breakouts," she explains. If sweat sits on the skin for too long (or dried down), it can clog pores. Your postworkout breakouts are likely a result of pore-clogging sweat, dirt, and oil—all of which can lead to bacterial growth. This bacteria can flourish in clogged pores and cause pimples. 
So you won't automatically get acne from working out, but you might experience breakouts if you don't wash your face and body off properly afterward (or if you leave your sweaty clothes on a little too long after your gym session).
How to Prevent Post-Workout Breakouts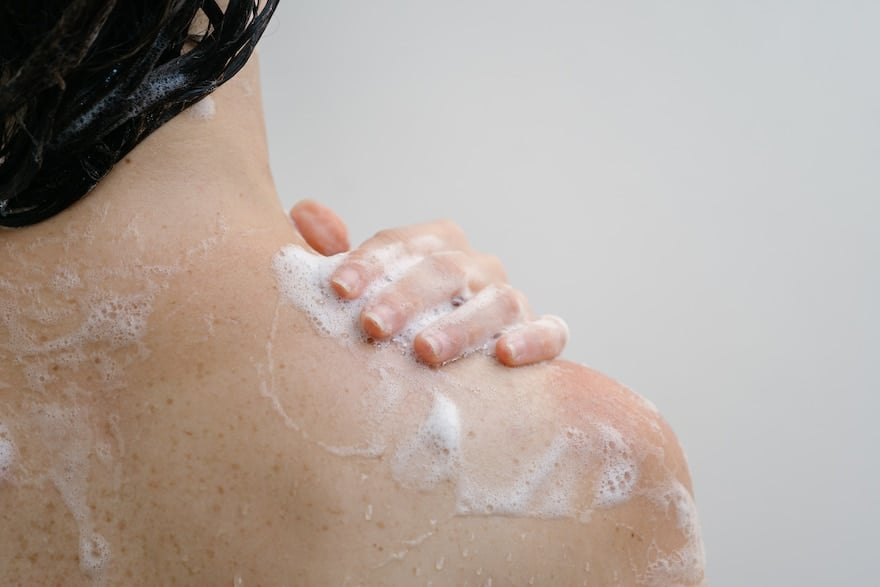 Here's the good news: There are ways to avoid getting acne from working out. Dr. Garshick explains how, below.
Wash Off Properly
Not only does showering after a workout feel good, it's good for your complexion too. "It's recommended to wash your face and body after a sweaty workout to prevent the sweat and bacteria that can collect from causing breakouts or irritation on the skin," Dr. Garshick says. "Even just a quick rinse can be helpful if you are short on time." She recommends using a gentle, non-comedogenic (read: won't clog pores) cleanser, but if you're particularly oily or breakout-prone, it can help to incorporate a salicylic acid (SA) wash or a swipe of SA-infused pads or toner to keep excess oil at bay.
Change Your Clothes ASAP
Don't have time to hit the showers? Dr. Garshick says it's super important to change out of your workout clothes as soon as possible. "Some workout clothing can be more likely to trap sweat and bacteria, making the skin more susceptible to breakouts," she explains. Certain synthetic fabrics, for example, can cause pimples if you leave them on after your sweat sesh.
Refresh Your Workout Wardrobe
Changing your clothes ASAP is one way to keep post-workout breakouts at bay, but giving your workout wardrobe an upgrade can help too. "Wearing light, breathable fabrics can help to reduce sweating, as tighter clothing is more likely to trap heat and potentially increase sweating," Dr. Garshick explains. "There are sweat-wicking fabrics that help to absorb the sweat and some brands that incorporate additives or technology into their workout gear to help prevent bacterial growth and reduce odor."
Keep Your Hands Off
While it may be tempting to quickly wipe the sweat off with your fingers in the middle of a workout, Garshick says this could contribute to breakouts after your workout. "In general, it is always best to avoid touching your face, but this is especially the case after a workout or at the gym when handling equipment," she says. "Many of the machines and equipment you may come into contact with may have a buildup of sweat or bacteria." If you need to wipe excess sweat away, use a clean towel.
Remove Your Makeup Beforehand
You may not want to take the extra time to wash off your makeup before starting your workout, but Dr. Garshick says not doing so can cause pimples to form. "Wearing makeup while working out can contribute to acne and irritation of the skin as the makeup can become trapped in the pores and contribute to clogged pores which can cause breakouts," she explains. "It's best to remove makeup prior to exercising with a gentle cleanser, micellar water, or a cleansing balm." Another option? Keep makeup wipes in your bag for those days you need to clean off in a pinch. Word to the wise: Use the wipes gently, as rubbing your skin too vigorously can cause irritation.
Clean Off Your Equipment
"Mats and gym equipment often have a buildup of bacteria that can contribute to breakouts," Dr. Garshick says. "It's important to wipe down equipment after every use to minimize the transfer of bacteria that can contribute to breakouts or infection." This is especially important if you're using shared equipment (like machines, mats, or benches at a gym).
How to Clear Up Post-Workout Breakouts
Preventative measures, like those ones discussed above, are the most important in achieving clear skin after your workouts, but we can all slip up from time to time. Since post-workout breakouts are likely the result of a buildup of bacteria, incorporate some new products into your rotation to clear it up. Of course, it's best to consult a board-certified dermatologist to ensure you're treating your skin concerns properly. But these products are a great starting point:
"For those who prefer a bar, I recommend this bar from Dove as this bar effectively cleanses and washes away dirt, without drying out the skin as it helps to replenish moisture lost, unlike ordinary soaps which can strip the skin of its natural oils," Dr. Garshick says. "This makes it a great multipurpose option, as it can be used for the face, body, and hands." It's easy to use, suitable for all skin types, and non-comedogenic (meaning it won't clog pores even in acne-prone skin).
"This acne wash contains 2% salicylic acid to help reduce breakouts and gently exfoliate the skin in addition to oil-absorbing hectorite clay to reduce clogged pores," Dr. Garshick says. "Also formulated with niacinamide and ceramides, it won't leave the skin feeling dry or irritated."
"This cleanser is a great option for those with oily skin as this gel cleanser contains 0.5% salicylic acid to help unclog pores and improve acne blemishes as well as zinc and copper to help reduce excess oil, visibly reducing excess shine," Dr. Garshick says. "It also contains 15-mineral Vichy water, which helps to hydrate the skin."
"These salicylic acid wipes can be applied to the area to help get rid of excess oil, dirt, and buildup to help prevent breakouts," Dr. Garshick says. Throw these in your gym bag and use on areas that are especially acne-prone.
If you deal with body breakouts, Dr. Garshick recommends his acne treatment spray, which makes it easier to apply on hard-to-reach areas like your butt or back. It contains salicylic acid to help reduce breakouts and blemishes.
Give your system a boost with this supplement. It's made with natural detoxifiers (like green algae) to help clear your skin from the inside out.
More like this