The Ultimate Guide to Sun-Safe Summer Skincare at Target
Get it while it's hot: Here's the ultimate guide to summer skincare finds at Target, including sun-safe FYIs and derm-approved tips to choose the best sunscreen for you.
With summer in full swing, it's time to have fun in the sun. That said, it's incredibly important to do so in a safe way to protect your skin's appearance and health. Whether you're sipping a cocktail poolside, jetting off to a beachside resort, or simply walking from your car to the office before you're able to enjoy your PTO, it always pays to be proactive when it comes to sun safety. Better yet, you can shield your skin from damaging UV rays with budget-friendly summer skincare products from Target.
Ahead, we'll recap the basics of all things summer, sun, and skin—including why you need to stay protected, how to choose the best sunscreen for you, and other ways to save and soothe your skin all season long.
Side Effects of Sun Exposure
As beneficial as mild sun exposure can be for your mood and your vitamin D levels, mild is the operative word here. According to the EPA, as much as 90 percent of signs of aging—think wrinkles, fine lines, and photodamage—can be attributed to UV rays. But the side effects of getting too much sun—especially without adequate protection—goes well beyond appearance alone.
"Ultraviolet (UV) light exposure causes DNA damage in the skin," says Kseniya Kobets, MD, Director of Cosmetic Dermatology at Montefiore-Einstein Advanced Care. "This prematurely tires out the skin, making it dull, hyperpigmented, and less plump, but also makes it more susceptible to developing skin cancers."
We can't avoid the sun 100 percent of the time… nor do we have to. Instead, your best bet is to establish and stick to a solid sun-safe skincare routine. While this applies 365 days a year, it's especially pertinent in the summer. After all, we're typically outdoors more often—including deliberately spending time in the sun during peak hours. Moreover, the EPA shares that UV intensity tends to be highest throughout the summer, which heightens the importance of a summer skincare routine to keep your defenses up.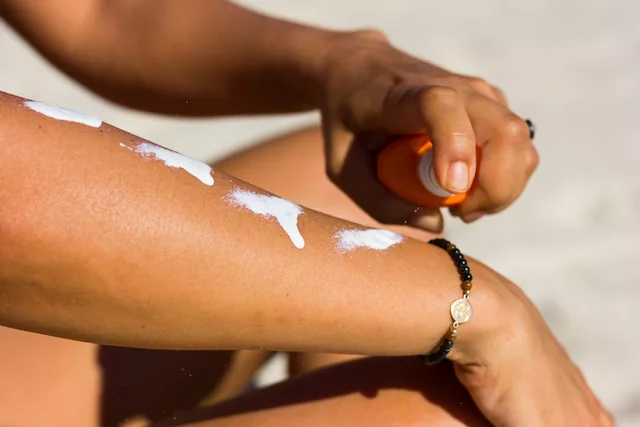 How to Choose the Best Sunscreen
There are tons of options for sunscreen at Target and in the greater skincare market. That said, it helps to know about the basic categories and types of sunscreen to figure out which option is best for you.
Chemical vs. Physical Sunscreen
Per the American Academy of Dermatology (AAD), the primary difference between chemical and physical sunscreen is that the former acts like a sponge to absorb UV rays, while the latter acts as a shield to deflect UV rays.
Chemical sunscreen includes the likes of:
Avobenzone
Oxybenzone
Octisalate
Octinoxate
Homosalate
Meanwhile, physical sunscreen (aka mineral sunscreen) most often includes zinc oxide or titanium dioxide.
While chemical sunscreens often run into the skin more easily and avoid the infamous white cast that some mineral formulations leave behind, many derms—Dr. Kobets included—give priority to sunscreens in the latter camp. "In my opinion, chemical SPF ingredients like avobenzone and oxybenzone can be irritating to the skin and can burn the eyes when sweating," she shares. "There are also some reports that chemical SPF can have hormonal effects." (Note, however, that some chemical formulations may be safer than others—and any sunscreen is better than no sunscreen at all.)
Dr. Kobets prefers physical sunscreen for her patients of all skin types and tones. "It is true that zinc-based mineral SPF can be pasty especially in skin of color patients, but trial and error can definitely find a great match," she says. Fortunately, newer brands and formulations are popping up to address the specific needs of melanin-rich skin. This includes MELE Dew The Most Sheer Facial Moisturizer with SPF 30, a sheer formula infused with balancing niacinamide and soothing vitamin E that abides by Target's clean standards.
"Physical SPF ingredients are a better fit for sensitive skin patients," Dr. Kobets adds. Moreover, people with acne-prone skin often find that mineral sunscreen is less likely to trigger breakouts.
SPF 30 vs. 50
SPF stands for sun protection factor. The AAD cites that everyone should aim for a minimum of SPF 30, though some people will require a higher number—most often SPF 50. So how do you know which one is right for you?
"SPF 50 is definitely better than 30 if you are planning to be in the sun," Dr. Kobets shares. She adds that you should reapply it at least every two hours or sooner if you're staying in the water or otherwise exposed to the sun. Further, if you know you'll be splashing around, you'll absolutely want to invest in a water-resistant formula.
Moreover, you'll likely be better suited to opt for something higher than SPF 30 if you have:
Fair or light skin
Light-colored eyes
Freckles
A personal or family history of skin conditions, including cancer
Broad Spectrum
On top of the sun-safe skincare considerations above, it's best to find a sunscreen with broad-spectrum protection. This simply means that it will offer protection against both UVA and UVB rays. As the Skin Cancer Foundation explains, UVA has a longer wavelength and contributes to signs of aging, whereas UVB has a shorter wavelength and is associated with sunburn.
Shop for Sunscreen at Target
In light of the insights we've covered so far, some of the best face sunscreens at Target include:
Better yet, Target also carries SPF-infused beauty products—including makeup and moisturizers with SPF. Consider checking out the following SPF-infused items on your next Target run:
Note: While these SPF products are great options for your face, you'll also want to buy sunscreen for your body during your summer skincare haul at Target.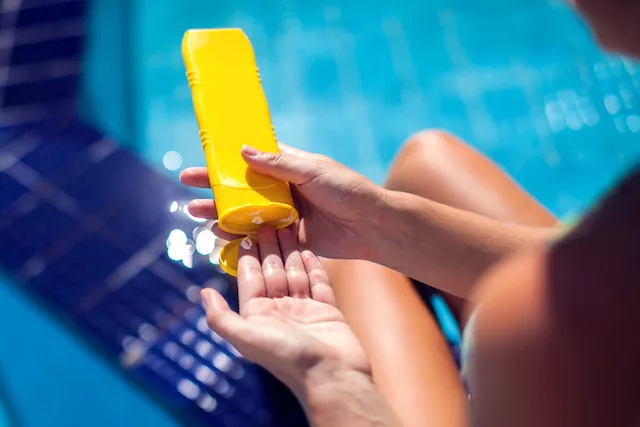 More Sun-Safe Essentials at Target
Of course, applying (and reapplying) sunscreen is non-negotiable—full stop. But you'll also need to include other sun-protective items and habits in your routine. "I tell my patients that wearing sunscreen is never enough to fully protect the skin," cautions Dr. Kobets.
According to the derm, smart sun protection also includes:
Seeking and staying in the shade whenever possible
Wearing wide-brimmed hats
Wearing UPF clothing (tip: check out All in Motion women's activewear at Target, which boasts UPF 50+ sun-blocking fabric)
Investing in polarized glasses to protect your eyes
Moreover, post-sun skincare products can hydrate parched and weathered skin—not to mention soothe sunburn and irritation. "Aloe vera is a great ingredient post-sun exposure," says Dr. Kobets. That said, she adds one tip to keep in mind: "Make sure it is pure aloe vera and not mixed with extra chemicals."
You can also keep a hydrating face mist on hand—like the BYOMA Balancing Face Mist, a clean formula containing a ceramide complex to boost the skin barrier and probiotics and allantoin to replenish the skin microbiome. Lastly, if you're dealing with itchiness from sun exposure, Dr. Kobets suggests spot-treating "with hydrocortisone or pramoxine-based creams like the CeraVe Itch Relief Moisturizing Lotion."
More like this