We Tried Sweat Therapy So You Don't Have To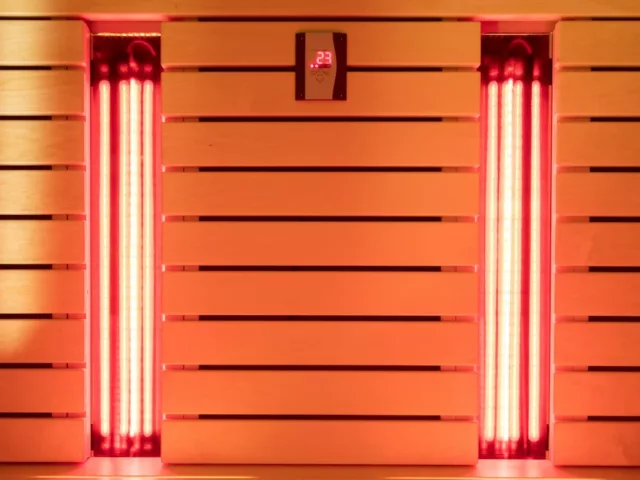 We went to
Shape House
, a trendy infrared sauna. Here's what happened.
In LA, we have access to cutting-edge wellness trends.
Cupping
? All over that.
Crystal
chakra balancing? At least once a week. Now, the latest "it" treatment is the infrared sauna. These saunas use infrared heat to help visitors sweat out their sins. It claims that one session can burn 800 to 1,600 calories. (This calculation includes the time you're in the bed plus extra calories from the metabolism boost that comes with it.) The idea is that the infrared light makes you sweat because your body is trying to maintain a normal temperature, which requires a lot of energy. They say this leads to weight loss. Other purported benefits include better sleep, stress reduction, and healthier, clearer skin. Shape House, an "urban sweat lodge" in LA, calls itself "a movement, a crusade of sorts, which grew out of our desire to contribute to wellness." And yes, it sounds like something off of
@overheardla
's Instagram account. But all skepticism aside, we were intrigued. A treatment that only requires laying down and can magically make weight fall off? We had to try it. Here,
Amy, Head of Growth and Marketing
, and
Vanessa, Head of Sales
, sound off on their experiences.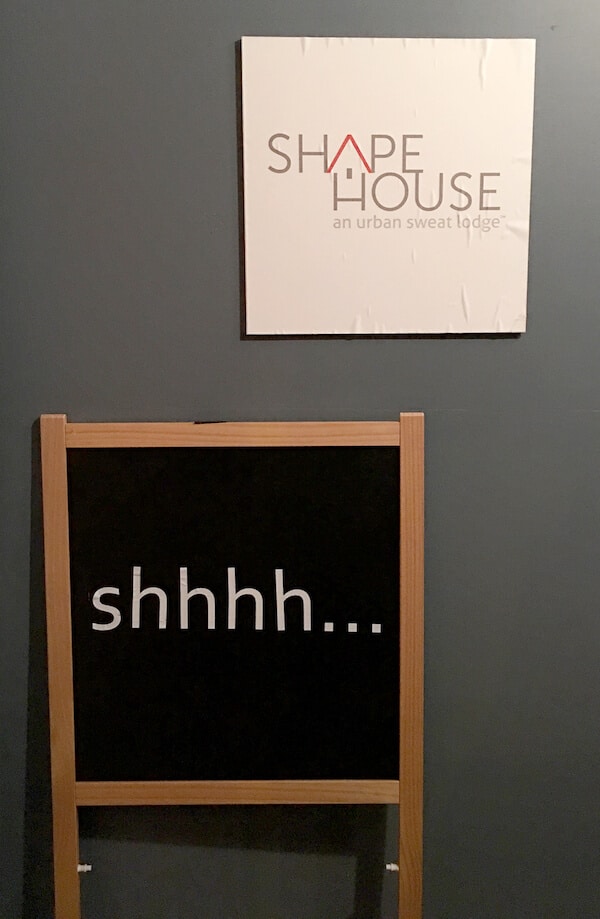 THE NOT-SO-GOOD:
I love being among the first to learn about and try new buzzy diets, exercise boutiques/methods, and self-care rituals. Crystal chakra balancing, nature bathing, trapeze workout, vitamin IVs, acupuncture training, astrology-based nail care, moon-circles, paddleboard Pilates… I can't get enough of it and often go all in! A couple of years ago, DailyCandy (RIP) mentioned a new urban sweat lodge that hinted at a celebrity clientele and benefits such as more energy, better sleep, weight loss, and clear, glowing skin from a single session. I signed up for a four pack *immediately.* I was suspect about their claim that their way is the "smartest, quickest, most affordable, and most comfortable way you can sweat." But I like hot yoga and assumed this would be even better since I could sweat out the bad without the work. They also offered lymphatic drainage. Of course, I had to book that too: I was going to get on this trend before it even became one. I received a very detailed email about how to prepare and what to expect beforehand. Shape House is housed in a cute cottage and has a very welcoming vibe. I arrived early to fill out some paperwork, including a waiver that said risks include death and heart attack. But all I could think of was how pretty and blissful I would soon be. I was assigned a "caretaker," aka attendant. I met her in the lymphatic room after changing into a very stylish outfit of orange sweats and socks. She strapped me into several cuffs—think the blood pressure kind. One of the bad things about being an early adopter is that all the kinks aren't *quite* worked out. Since I'm on the smaller side, the cuffs weren't tight enough to have much pressure and didn't fit in the right places. But I still had hope for the main event!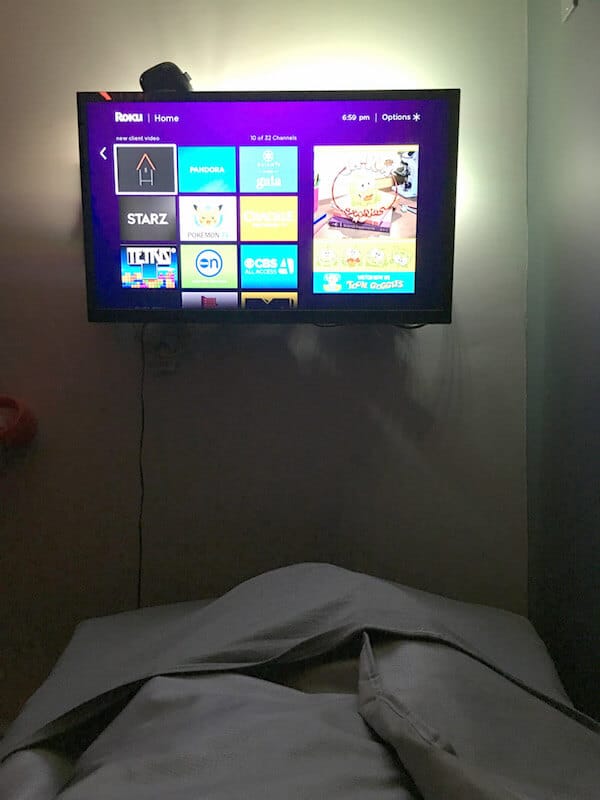 It started out just like I'd imagined. The wrap covered me from my neck to my toes. It was heavy and slightly warm. It felt kind of like being wrapped in a cozy hug. The attendant placed a jug of alkaline water next to me with a straw. She asked what she could put on TV for me, since your arms are covered so you can't do anything. Let the healing begin. Here's a timeline of my thoughts:
0:01
– I should do this all the time. Totally worth $45!
0:05
– It's getting hot in here!
0:08
– Why are Ted Talks so short?
0:10
– I'm really relaxed. Start thinking of DIY options for an at-home infrared sauna.
0:12
– When is this over?! It's not too hot, but now the sweat and stillness are uncomfortable. It reminds me of being in the South during the summer.
0:15
– Caretaker checks in with more water. I request a new HBO doc that's long enough so that I'm not left alone with my own thoughts.
0:20
– Sweat is rolling down my face. I'm committed to not unwrapping so I can get the full benefits (and feel smug about it). Remind myself that it's "toxins" and all my bad life/food/drink choices—of which there were many—leaving me.
0:28
– Now it's really hot and sweaty. I pop my arms out and wildly fan my face.
0:31
– I stick my arms back in when the caretaker checks in with more water and encouraging words. I totally got this! I'm going to be so pretty, skinny, and blissful by the time I finish!
0:35
– My heart is starting to beat as fast as my mind is racing. I try to think of anything other than baking in my own sweat. I fail.
0:40
– Sweet caretaker checks in again with a cool towel and a new bottle of water!
0:45
– My attempt at meditation spirals into thinking too many thoughts per second. I then comment on those thoughts and judge myself being unable to stop them. This has to be over soon, right?
0:46
– My caretaker is back with more water. She lets me know it's going to get very intense for the next 10 minutes, but then it's over. ANOTHER 10 MINUTES?! AHHHHHHH.
0:46.5
– As I gulp water from the straw, I somehow knock it over. 🙁
0:47
– Is this what heatstroke feels like? This was not what the
reviews
promised. I'd read Gisele had even slept through her session, because
of course
. If others can do it for the full time, so can I.
0:48-0:54
– I've blocked this out.
0:55
– Done! I'm unwrapped and led to the relaxation room, where I receive some orange slices and hot tea. I can't think of anything less relaxing than spending more time hanging out covered in sweat. But I briefly sit to reflect on how I spent the past couple hours. I'm left bright pink in a sweat-soaked, borrowed orange jumpsuit. I proceed to devour my orange.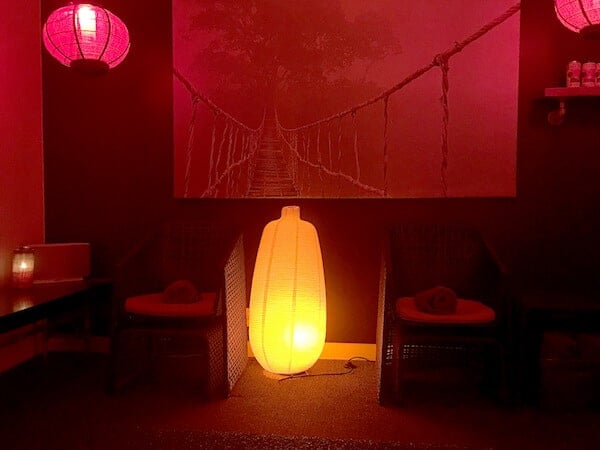 Sadly they only have one bathroom, which also houses the shower and it was in use. So no shower for me. I just couldn't deal anymore and made do with the face wipes I'd brought and headed home.
Pros:
– Slept really well that night. – Lost two pounds (which lasted one day). – The experience (paired with an ill-fated silent retreat shortly after) helped me to not be so competitive and smug when it comes to wellness, and to trust my body and myself.
Cons:
– See description. – I broke out the next day on my chest (?!) and chin.
THE GOOD:
Vanessa
For my first sweat, I went to the Santa Monica location. I had a lot of questions. How long will I be in there? What happens if I overheat? What do I do for all that time? The staff answered my queries thoroughly. Basically, you're in a heated cocoon for 55 minutes. During that time, you can just zone out and watch TV. If you get too hot, it's no… ahem… sweat to simply get out. I chose my show, laid back, and tucked into my cocoon. The first few minutes were okay. I mean, is there anything better than cuddling up under a warm blanket? By minute 15, though, I was dripping in sweat. I started to feel uncomfortable. Luckily, a woman dressed in an orange dress came around and put a cold, lavender-infused towel on my head. The next half hour passed without incident, as I actually do love a good sweat. But once 45 minutes rolled around, I was anxious and ready to hop out of that bed and dry off. For some odd reason, my toes started to itch. (I forgot to ask if that's normal.)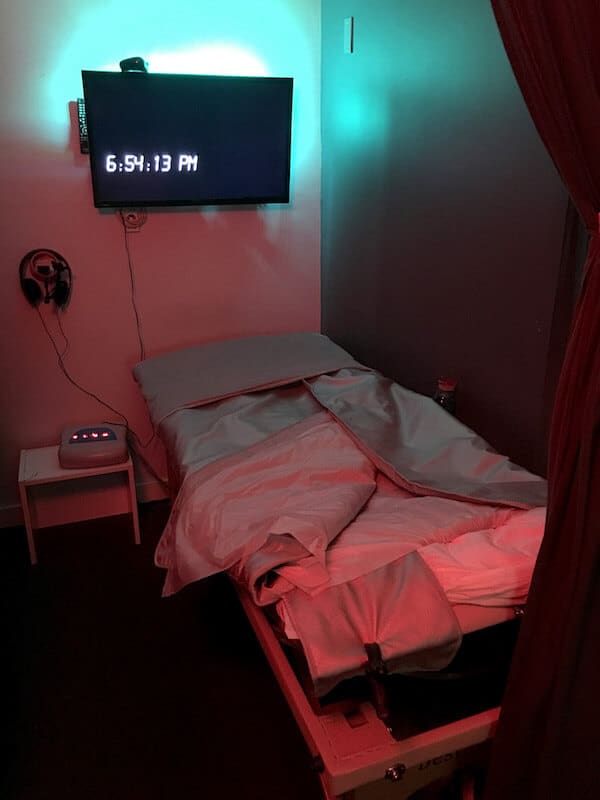 After my session, I was led to a room to relax and let my body temperature drop. They offered me tea and orange slices, and told me not to shower, so I didn't. [Editor's note: the reasoning behind this is, since your body has eliminated toxins through your sweat, you may end up inhaling them thanks to shower mist.] I went home, crawled into bed, and slept
hard
. Since my first sweat session, I've been back at least four times. I usually go if I have a few restless nights since I found that the sweat is a great way to help me sleep. Sometimes, I do my own detox then include a sweat session. I wanted to go once a month, but that never happened. Maybe for 2017, I'll include a monthly sweat in my wellness routine!
Pros:
– Sleep quality was amazing. – I love a good sweat, so this was right up my alley. – Relaxing.
Cons:
– It lasted a tiny bit too long. – It made my toes itchy for unknown reasons.
More like this