Non-Toxic Nail Polish: Q&A with a Natural Nail Guru
By
HUM PR
•
Updated October 30, 2019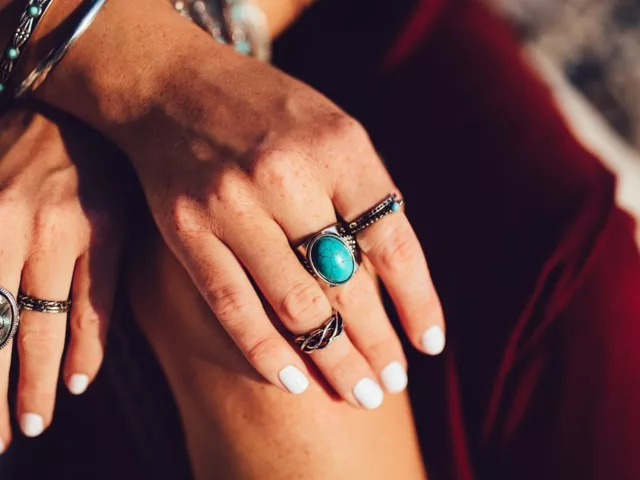 We got the scoop on non-toxic nail polish from a natural nail guru.
Here at HUM, we're in the process of spring cleaning our beauty routines. We've already covered the ingredients to avoid in your skincare routines, and now we're moving on to our nail polish. Unfortunately, one of the pitfalls of going more natural with your topical cosmetics is that they tend to not work as well. In the case of non-toxic nail polish, that often means a mani is only fresh for a couple of days before it starts to chip. Sad!
We picked the brain of Aja Frierson, founder of non-toxic nail polish line Habit Cosmetics, to get the details about why going natural on your nails is so important—and the reason why her line is long-lasting.
Why Switch to Non-Toxic Nail Polish?
"Anything you put on your body, even on your nails, can be absorbed internally," Frierson says.
And regular nail polish contains ingredients like formaldehyde, formaldehyde resin, and toluene. These are the WORST toxic ingredients found in traditional polish, says Frierson. Formaldehyde has been ranked by the Environmental Working Group (EWG) as a high hazard to health; formaldehyde resin can release formaldehyde; toluene also received a high hazard ranking from the EWG because it's an irritating neurotoxin.
These toxins can also damage your nails and cause peeling. Frierson, who painted her nails all the time, noticed that her nails began to peel. When looking for a non-formaldehyde-containing nail strengthener, she discovered myrrh. Myrrh is a great natural nail strengthener. Plus, it's antibacterial, anti-fungal, and anti-inflammatory, says Frierson. (She uses it in her nail polishes.)
What Does Non-Toxic Nail Polish Actually Mean?
"Non-toxic means there's no expectation of harm from any of the ingredients. This label can refer to anything from carcinogens to irritants," explains Frierson. The problem: We don't always know the full toxicity of ingredients. "For example, polish manufacturers initially added Triphenyl Phosphate (TPP) to polish in an attempt to replace Dibutyl Phthalate, a known endocrine disruptor. TPP was supposed to be safer, but now we've come to understand that it's an endocrine disruptor, too," she says. "So while alternatives abound, they aren't always better."
She elaborates: "So will nail polish ever be clean enough to drink? If it's expected to perform on par with traditional nail polish, then the answer is no. But we can make it as safe as possible by eliminating known toxins and staying armed with the latest research on chemicals whose toxicity we're not 100 percent sure of."
What Do You Wish People Knew About Non-Toxic Nail Polish?
"Nail polish should be as toxin-free as possible," she says. "But if you want it to stay on your nails for more than 15 minutes, have the shine and variety of color that you want, and not dissolve in warm water, it will never be chemical-free. It's still, essentially, paint." While she says alcohol and water-based formulas may use fewer chemicals, they'll still chip faster than traditional polish.
What Makes Habit Cosmetics Polishes Different?
"Habit naturally strengthens nails with myrrh extract, is PETA-certified as vegan and cruelty-free, gluten-free and free of Toluene, Formaldehyde, Formaldehyde Resin, Camphor, Triphenyl Phosphate, Dibutyl Phthalate, Xylene, Parabens and fragrances," Frierson says. They also strive to be as sustainable as possible, and are the only brand that uses a bamboo overcap, which cuts down on plastic use. "Basically, Habit is as natural and sustainable as possible while being chic enough to leave on the bathroom counter! The proof is in the photo below."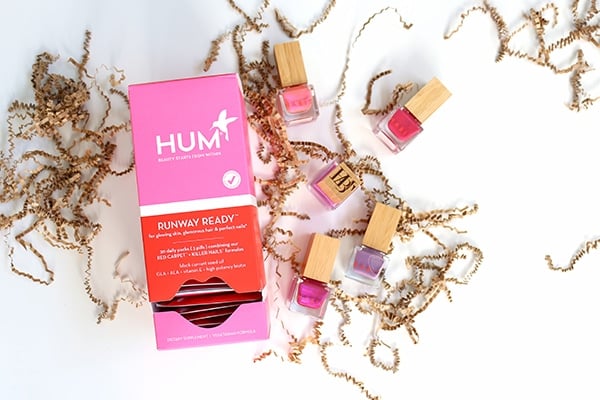 More like this