Everything You Want to Know About Postpartum Hair Loss But Are Too Afraid to Ask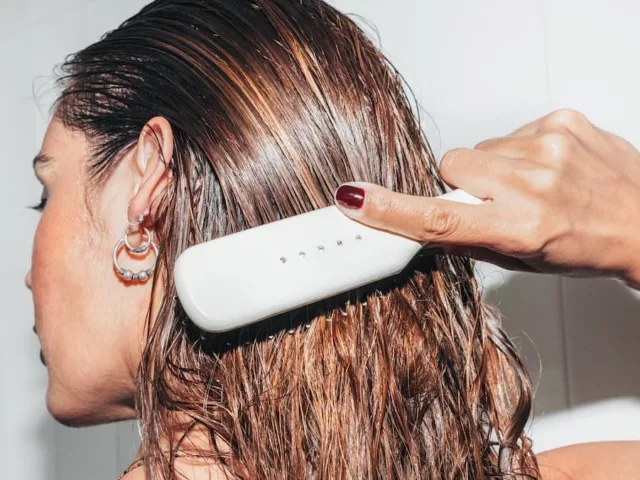 The stories are true: postpartum hair loss is a thing. But before you panic, know that there are ways to treat it. Experts break down everything you need to know about hair loss after pregnancy and how to stop it.
While the news of a pregnancy is undoubtedly joyful and exciting, the slew of symptoms that come along with the pregnancy package are anything but—we're talking breast tenderness, morning (or in some cases all-day) sickness, and extreme fatigue. And the laundry list of pesky symptoms unfortunately don't come to a halt the moment that your baby is brought into this world. In fact, a slew of new, yet equally unappealing, symptoms come into play, including postpartum hair loss. 
What Is Postpartum Hair Loss?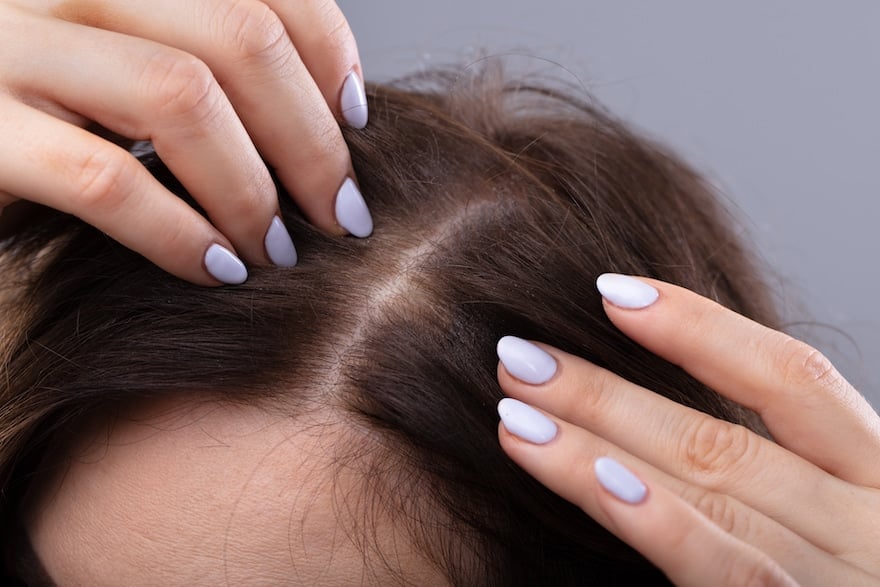 First things first: Postpartum hair loss is a real thing that happens to 40 to50 percent women three to four months after they have given birth. Also called telogen effluvium, medically speaking, postpartum hair loss is the result of the hormonal shifts that occur after delivery—namely the decrease in estrogen levels and increase in cortisol (stress) levels. "This triggers more hair follicles to enter the telogen (resting) phase of the hair growth cycle, meaning that more hair falls out at the same time," explains Dendy Engelman, MD, cosmetic dermatologist and Mohs surgeon at Shafer Clinic in New York City.
What Are the Causes of Postpartum Hair Loss?
You can thank those pesky pregnancy hormones (estrogen and cortisol) for the bulk of the postpartum hair loss that you will experience. These hormonal changes can contribute to hair shedding and loss, as a result of the drop in estrogen after delivery, explains Marisa Garshick, MD, a board-certified dermatologist at Medical Dermatology & Cosmetic Surgery (MDCS) in New York. (The boost in estrogen that you have during pregnancy is also the reason many women experience a thicker, fuller head of hair throughout pregnancy—estrogen keeps hair in the growth phase for longer.)
Another factor that comes into play is the physical and emotional shock that occurs in the body during and after the experience of giving birth (either vaginal or C-section). "This shock causes hair loss by triggering a large number of hair follicles to enter the telogen (resting) phase of the hair cycle (telogen effluvium)," says Dr. Engelman. "The hair then falls out in large quantities and can cause an overall appearance of thinness and weakening at the hairline."
Unfortunately, the realities of post-delivery life—the lack of sleep, poor nutrition, and stress—don't help when it comes to postpartum hair loss. In fact, stresscan affect hormone levels and, in turn, stunt hair growth. "Not taking the appropriate vitamins during or post-pregnancy might also trigger a slowdown or even regression of hair growth," warns Dr. Engelman.
How Long Does Postpartum Hair Loss Last?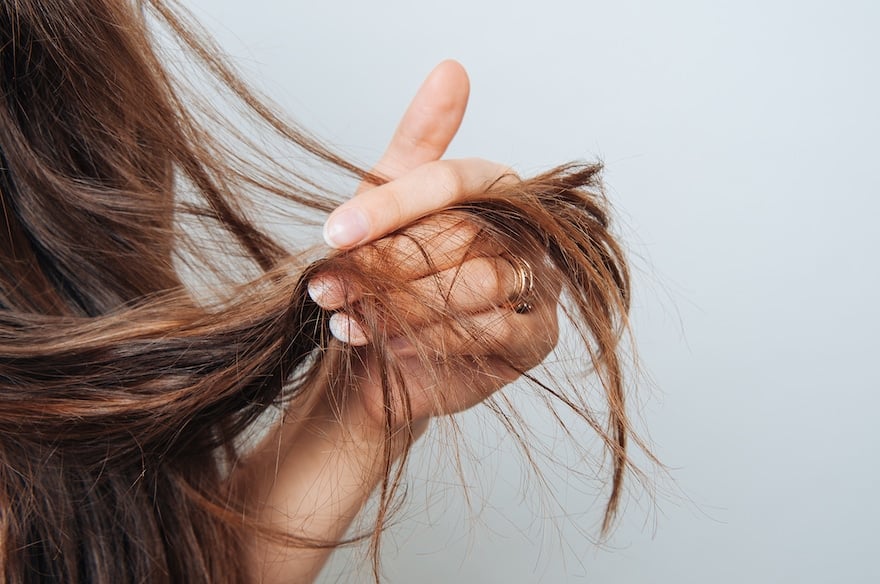 Postpartum hair loss tends to peak, on average, about three months after delivery, according to the American Academy of Dermatology Association. But it can be noticed within several weeks after delivery in some individuals, notes Dr. Engelman. "While some people may notice hair loss and shedding slows down at around three to four months postpartum, it can take some time for the hair to return to normal, as it takes the hair time to grow," she says. "For this reason, some people may not feel their hair return to normal until six to12 months postpartum."
One unpleasant symptom you might experience during the regrowth phase is something called "baby hairs," or hair growing back around your hairline. As harmless as this might sound, it can be quite inconvenient and even embarrassing for new mothers as the short hairs sort of stick up from their hairline and make styling difficult. But keep in mind: It's temporary, and your hair will grow back to its normal length in time.
Postpartum Hair Loss Treatment Options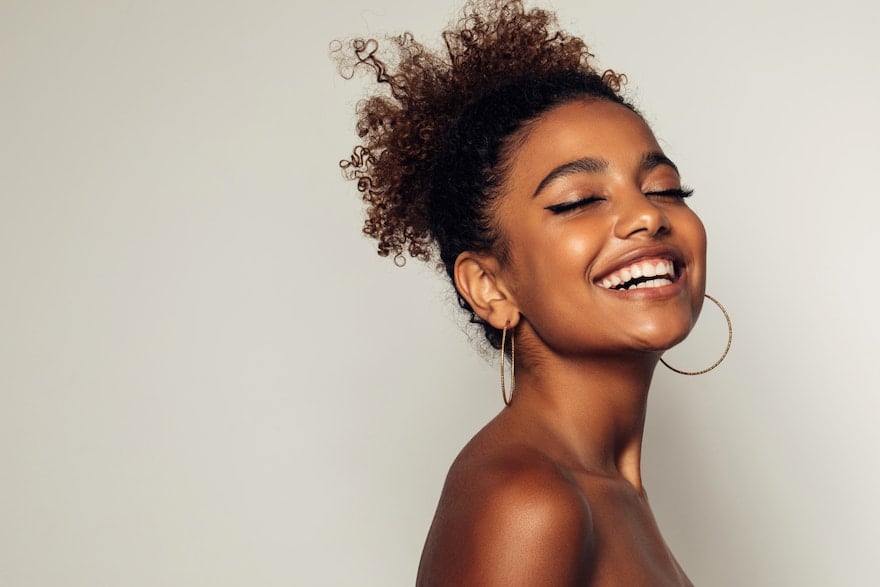 Rest assured, even if you're dealing with pesky postpartum hair loss, there are plenty of solutions for coping and even remedying it right from the comfort of your home. Here, experts share their best tips for how to handle postpartum hair loss.
Prioritize Self Care Whenever Possible
One of the best things you can do for yourself and your baby during the postpartum period is focus on caring for yourself. Your recovery might be longer than you anticipated—mentally, physically, and emotionally—and that's OK. But keep in mind that postpartum self-care is key. It's important that you make your health a priority and try your best to sleep whenever possible, eat nutrient-dense foods like fruits, vegetables, whole grains, and lean proteins, and keep your stress level at a minimum (try postnatal yoga if you're able to squeeze it in during one of baby's naps).
Consider Adding Supplements to Your Routine
In addition to taking your prenatal, a multivitamin for expecting and new moms that contains all of the nutrients your body needs during this time, it's a good idea to take a supplement that's formulated to help with hair growth. "Stimulating growth while maintaining color, Hum Nutrition's Hair Sweet Hair Supplement, makes for a great addition to your daily vitamin routine," says Dr. Engelman. "The gummy strengthens hair with a non-GMO formula including zinc, biotin, and folic acid and is also a great choice for those in need of a vegan-friendly or gluten-free option."
It's important to note that you'd only want to start taking Hair Sweet Hair once you're done breastfeeding or pumping. In the meantime, you can still give your hair a boost by taking HUM Nutrition's Red Carpet supplement, which is formulated with black currant seed oil and vitamin E to nourish hair follicles from the inside out. These ingredients are generally well tolerated by breastfeeding mothers.
Use a Volumizing Shampoo or Conditioner
Adding a volumizing shampoo and conditioner can be an excellent resource to help mask hair loss until your hair grows back while strengthening your strands for overall healthier hair, according to Dr. Engelman. She recommends NatureLab Tokyo's Volume Shampoo and Conditioner Duo, which are formulated to strengthen hair with ingredients such as rice protein and soy protein. "The proteins reduce breakage and restore hair to its natural thickness," she adds.
Avoid Intense Hair Treatments
Now is not the time to try a new keratin treatment that just hit the market; instead, it's a time to be gentle with your strands. Dr. Garshick recommends using conditioners that are formulated for fine hair, such as Briogeo Blossom and Bloom Volumizing Conditioner, and avoiding such intensive conditioning treatments. "While these may seem to help the hair look and feel softer and smoother, it is important to avoid any conditioning products that are too heavy and will weigh the hair down," she says.
Get a New 'Do
While it won't necessarily make the hair grow back any faster, asking a hairstylist to create a new look for you that accommodates your hair shedding and hair regrowth may be in your best interest. "If the front hairline is getting shorter, maybe add bangs, curtain bangs or try a short pixie, suggests Penny James, IAT-certified trichologist and owner of Penny James Salon in New York City.
Dr. Garshick also points out that certain haircuts can actually make the hair appear fuller, especially if layers are introduced, so this could be something to bring up with your hairstylist during your appointment.
Make an Appointment With Your Board-Certified Dermatologist
Hair loss is estimated to affect some 35 million men and 21 million women in their lifetime, per The Hair Society. What's more: The American Academy of Dermatology Association has seen a stark increase in hair loss cases during the COVID-19 pandemic, so this is an issue that certainly shouldn't be overlooked.
If you're dealing with postpartum hair loss and have not found a useful remedy that works for you, consider making an appointment with your board-certified dermatologist. Certain treatment options may be available for you, such as platelet-rich plasma treatments, which can help with hair loss. "Performed in the in-office setting, platelet-rich plasma injections have been used to help different types of hair loss," says Dr. Garshick. "While results can be variable, it is possible that this treatment helps to promote hair growth and increased hair density."
More like this