Keep Your Gut (And Guests) Happy with This Chef's Healthy Holiday Recipes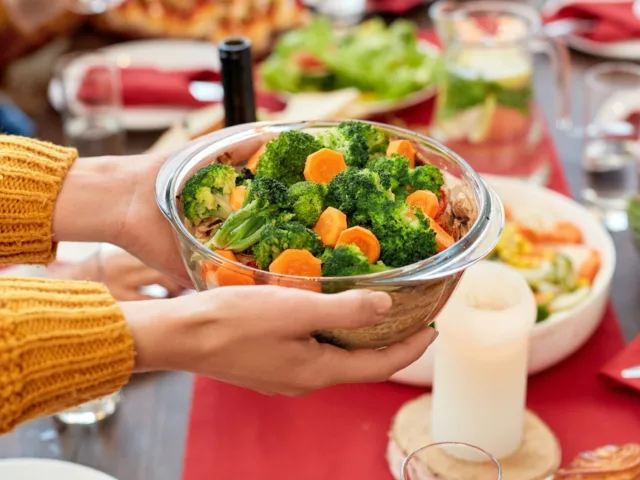 The holidays have many perks, but the digestive drama that often ensues is not one of them. Often our gut is at the receiving end of the worst discomfort after eating the traditionally indulgent, rich meals that accompany the holidays. As an RD-to-be and a trained chef, I'm no stranger to finding that perfect balance between yummy and healthy, and yes, you can absolutely have both. So let's discuss how to be kind to your gut while still enjoying delicious holiday foods, plus I'll share some recipes I created for you to make for you and your loved ones over the holidays.
Why your gut health matters around the holidays
Gut health is important year-round, of course, but it's particularly important around the holiday season as traveling, shopping, and cooking demands increase which can promote higher stress levels. In recent years, research has revealed why and how our gut is so closely linked to our emotions and stress response. This gut-brain connection is one reason you feel "butterflies in your stomach" before an exciting event. Our brain influences how the gut operates and the gut regulates how the brain functions. Much of this has to do with your microbiome, the collection of bacteria and other microorganisms that live in your digestive tract. A healthy microbiome promotes everything from better digestion and mood to a healthy immune system.
These are my top gut-healthy tips for the holidays and beyond to keep your gut in top shape.
Don't skip fermented foods. Probiotic foods, such as yogurt, sauerkraut, and kimchi promote healthy bacteria in your gut.
Eat a wide variety of fiber. Fruit, vegetables, nuts, and whole grains contain prebiotic fibers that feed your healthy bacteria.
Limit ultra-processed foods. Skip packaged items like rolls, crackers, and cookies. They often contain ingredients that can suppress good bacteria, plus, they tend to contain excess sodium, which can lead you to retain water and feel more bloated.
Choose extra-virgin olive oil over other fats. EVOO contains a high number of microbe-friendly polyphenols & helps manage blood pressure.
Be kind to yourself! Stressing too much about what you're eating over the holidays can only increase your cortisol levels and make you feel even worse. Allow yourself to enjoy the moments with friends and family.
5 Healthy Holiday Recipes with Gut Benefits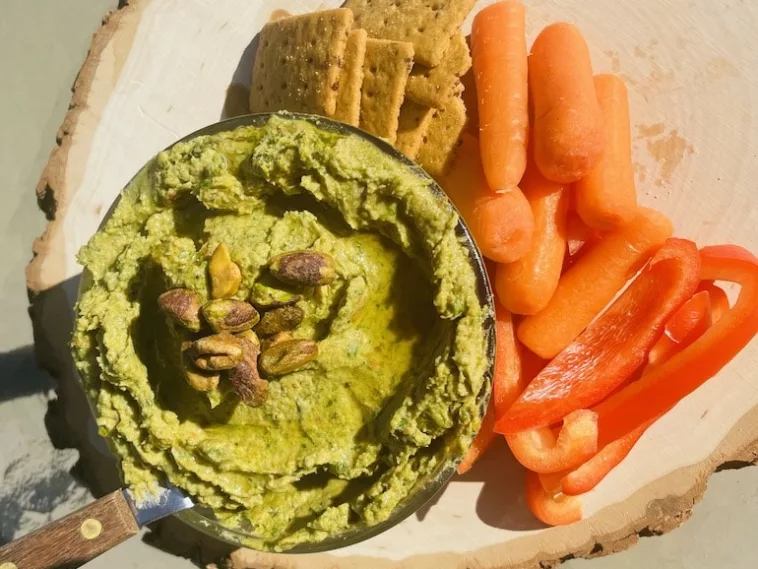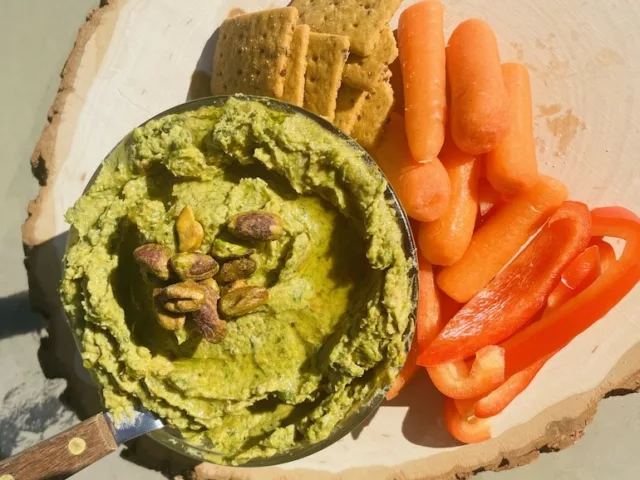 1. Pistachio Hummus
This protein-packed dip is rich in prebiotics thanks to lemon juice, pistachios, and olive oil. Prebiotics help fuel the good bacteria living in your gut. Additionally, chickpeas are high in dietary fiber which can promote healthy digestion and regularity. (If you're prone to bloating and other GI issues, you'll want to eat small amounts of recipes containing chickpeas because they're high in oligosaccharides, a fermentable carbohydrate.)
Even more, as a chef, what I love about this dip is the rich holiday color from the pistachios that pairs perfectly with any vibrant vegetable (carrots, sugar snap peas, peppers) as an appetizer plate.
PREP
15-20 min
COOK
15 min
SERVES
8
INGREDIENTS
1 15-ounce can Chickpeas, drained liquid
2 cloves Garlic, minced
2 tbsp fresh parsley
2 tbsp Lemon juice
2 tbsp tahini paste
1 tsp of sea salt and pepper
1 tbsp extra virgin olive oil
1/2 cup shelled pistachios
SUPPLIES
blender or food processor
INSTRUCTIONS
Add chickpeas, pistachios, garlic, parsley, tahini, lemon juice, and olive oil into a food processor or blender. Blend, adding just enough reserved liquid from the chickpeas, to create a smooth, creamy texture. Slowly add the olive oil while pureeing.
Season with salt and pepper as desired.
Serve with seed crackers, celery, carrot sticks, bell peppers, or sugar snap peas.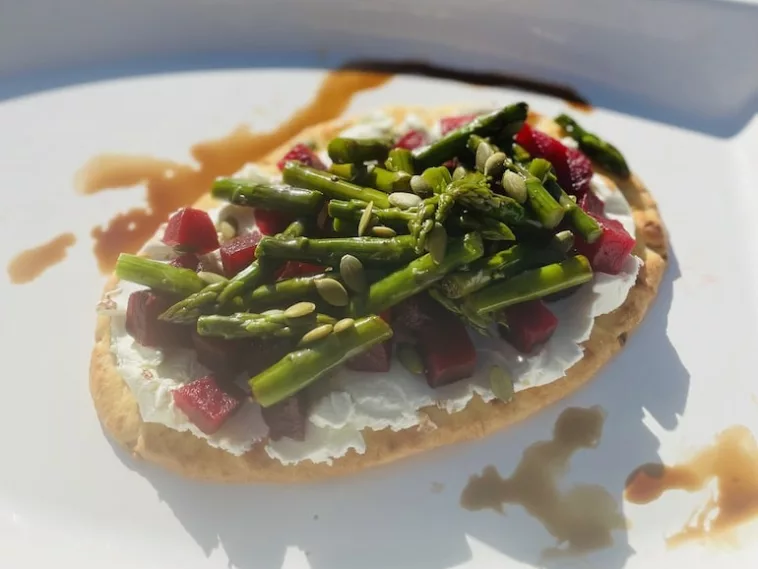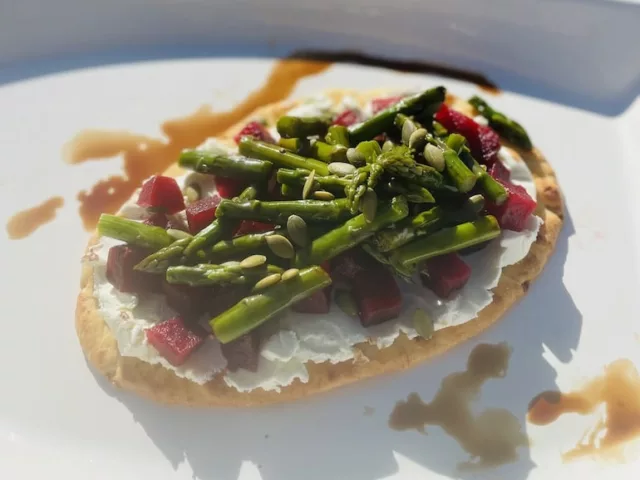 2. Roasted Beet, Goat Cheese, and Balsamic Asparagus Flatbread
Flatbreads are a great alternative to traditional pizza dough as they're usually lighter on calories, salt, and saturated fat. The crisper crust adds a nice texture, especially when layered with nutrient-dense veggies. Beets, pumpkin seeds, and asparagus contain prebiotics and minerals that support digestive enzyme production. In addition, this recipe packs omega-3s that can favorably alter the composition of the gut microbiome.
This fan-favorite dish is always a topic of conversation with my friends and family, as I discuss the beautiful colors and the beneficial properties of each one. Also by adding any leafy vegetable, such as arugula or spinach as a garish can further benefit the antioxidant properties of this flatbread!
PREP
10-15 min
COOK
10-15 min
SERVES
6
INGREDIENTS
3 medium sized beets peeled and cut into small cubes
½ cup extra virgin olive oil
⅓ cup balsamic vinegar
1-pound fresh asparagus, ends trimmed
8 oz goat cheese
¼ cup roasted pumpkin seeds
3 pre-packaged, flatbread
¼ teaspoon salt
¼ teaspoon pepper
INSTRUCTIONS
Bake beets in a single layer on a lightly greased baking sheet at 425° F for 40 to 45 minutes or until tender, stirring every 15 minutes; cool completely.
Whisk together ½ cup olive oil, red wine vinegar, salt, and in a small bowl; set vinaigrette aside.
Peel beets and toss together with 1/4 cup vinaigrette, salt; set aside.
Cut asparagus into 3-inch pieces, cook in boiling water for 1 to 2 minutes or until crisp-tender. Plunge into ice water to stop the cooking process; drain.
Spread goat cheese evenly over flatbread, then layer ½ cup of beets and asparagus. Top with pumpkin seeds.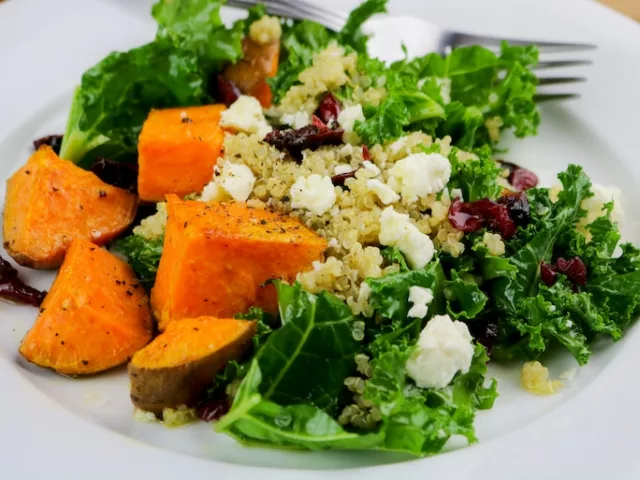 3. Winter Salad
To lighten up your table, incorporate fibrous, prebiotic sweet potatoes and probiotic-rich dried cranberries in a quick and easy winter salad. The addition of the almonds provides a good source of protein and fiber, which promote good gut flora and fullness. Of course, you can swap in any nut readily available if you'd like.
INGREDIENTS
3 sweet potatoes, cubed
1 tbsp olive oil
2 pears, sliced
½ cup sliced almonds
4 oz swiss cheese, cubed or shredded
½ cup dried cranberries
2 cups baby arugula
½ cup pomegranate vinaigrette (recipe below)
SUPPLIES
Baking sheet
Small mixing bowl
Large salad bowl
INSTRUCTIONS
Preheat oven to 425°F.
Coat sweet potatoes with olive oil in large bowl. Spread out evenly on baking sheet.
Bake for 30 minutes, flipping halfway.
While waiting, make pomegranate vinaigrette.
Remove sweet potatoes from the oven and let cool.
Place all ingredients in a serving bowl and toss with vinaigrette.
For the pomegranate vinaigrette, whisk together all the ingredients below in a small bowl or shake together in a jar. Serve immediately or refrigerate in a sealed container for up to 1 week.
¼ cup olive oil
¼ cup pomegranate juice
2 Tbsp balsamic vinegar
1 Tbsp honey
1 tsp dijon mustard
Salt and pepper to taste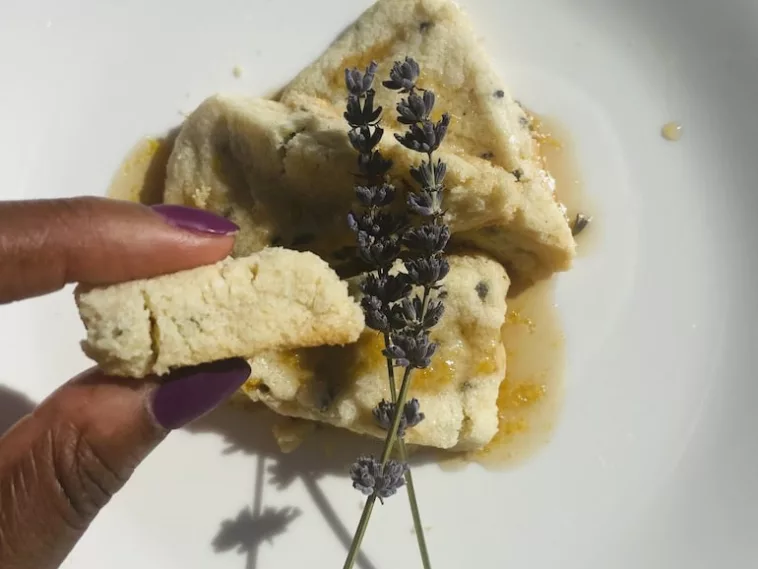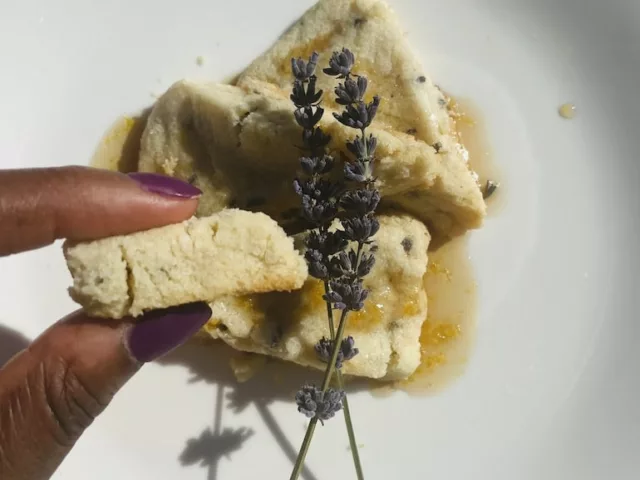 4. Stress-Free Lavender Bites
If you tend to stress out during the holidays, this one's for you. This recipe packs the calming benefits of lavender and nutrient-rich almond flour, which provides fullness by aiding good bacteria growth. (Pro-Tip: Be sure to get a good whiff of your lavender prior to mixing.)
You can customize this lavender bite using dried or lavender extract, with the addition of the lemon sugar topping or substituting sweetener of your choice. This prebiotic dessert is also a good source of vitamin C, which can benefit gut barrier function.
PREP
5-10 min
COOK
5-10 min
INGREDIENTS
1 cup almond flour (superfine)
3 tbsp butter, softened
¼ cup sugar
¼ tsp lavender extract or 1/2 tsp dried lavender
1 tbsp lemon zest
Lemon Sugar (recipe below)
SUPPLIES
Baking sheet
Medium mixing bowl
INSTRUCTIONS
Heat oven to 350° F and line a baking sheet with parchment paper.
In a large bowl combine ingredients with a fork or pastry blender to get a dough-like consistency. Gently knead mixture with hand until formed.
Roll the dough out into a ¼ inch thickness then wrap dough in plastic. Place in the refrigerator for 15 min.
Make lemon sugar by mixing all ingredients into a small bowl.
Remove dough from the refrigerator and slice into small rectangles.
Bake at 350° F for 10 minutes.
Allow to cool before sprinkling with lemon sugar.
For the lemon sugar, mix all ingredients below together in a small bowl.
¼ cup granulated sugar
1 tbsp lemon zest
½ tsp dried Lavender-optional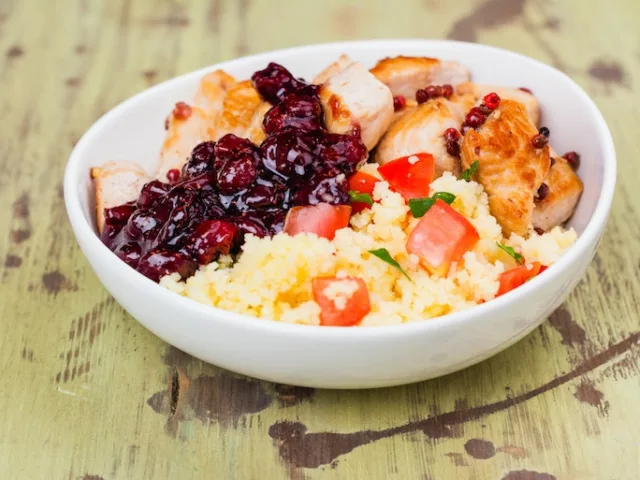 5. Festive Power Bowl
Personally, as a mom and dietetic intern, I love reinventing leftovers to provide a good source of fiber and good bacteria growth. This recipe mixes traditional holiday ingredients with ingredients that are high in nutrients and taste.
I do suggest, however, that you adjust the amount of each ingredient to accommodate your serving size. Divide each bowl and add more or less of the leftovers on hand, which can help eliminate space in your refrigerator.
INGREDIENTS
1 cup turkey, cubed
1 roasted or mashed sweet potatoes, diced
1 green onions, chopped
1 cup fresh kale, chopped
¼ cup cranberry yogurt (recipe below)
1 ½ cup quinoa, prepared according to package instructions
1 tbsp roasted pumpkin seeds
SUPPLIES
Medium size boiling pot
Small mixing bowl
INSTRUCTIONS
To assemble the bowls: Place quinoa at the base of the bowl. On top, divide the turkey evenly with sweet potatoes, kale, green onions, and pumpkin seeds.
Dollop cranberry yogurt on top. Serve and enjoy!
To make the cranberry yogurt dressing, mix all ingredients together in a small bowl and set aside.
¼ cup cranberry sauce
½ yogurt, greek

Shanetta Edwards
November 15, 2021
More like this