5 Easy & Healthy Breakfast Ideas for Busy Mornings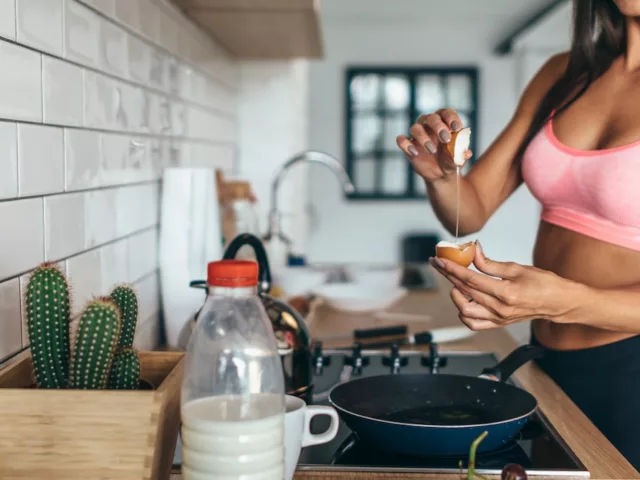 Carrie Gabriel, MS, RDN, shares five easy, healthy breakfast ideas, perfect for even the busiest of mornings.
Are you the type of person who struggles with eating a healthy breakfast? Maybe you
'
re not hungry upon waking, or perhaps you don't leave yourself enough time to put something together. But i
deally, you'd start your day right with a balanced breakfast rich in complex carbohydrates, protein, and maybe even some fresh produce. If you start the day eating
sugary cereals
or pastries, your blood sugar levels will likely crash well before lunchtime. You're then left suffering from low energy and eventually get
hangry
. To avoid this scenario, keep reading for
RD-approved
delicious morning meals.
5 Easy & Healthy Breakfast Ideas

Eggs and Avocado Toast
If you don't feel like making eggs in the morning, you can just make the toast with avocado. However, the egg adds a nutritious and filling protein boost. If you prefer to make hard boiled eggs ahead of time, that's also a great idea. You can even microwave your eggs. While it's not my ideal choice—I personally don't think they taste as good—cracking one in a microwave safe bowl and putting it in the microwave for a minute
is
convenient. While your egg is cooking, you can throw a piece of your
favorite bread
in the toaster. Sprouted-grain bread is ideal for fiber and
satiety
. Cut a quarter of an avocado (or more if you choose). If it's still pretty firm, mash it up a bit before spreading it on your bread. Avocado is a great source of
healthy fat
, giving you energy for your day. For more flavor, sprinkle lightly with salt, paprika, and/or lemon pepper.

Overnight Oats with Berries
Overnight oats are great because—surprise!—you make them the night before. By morning, there's nothing left to do but grab them and go. Start by adding one cup of your milk of choice in a mason jar, then pour in a half cup of
oats
. From there, you can chose to top it with anything you desire. For something satisfying, pick a handful of chopped walnuts or almonds, or a tablespoon or two of your favorite nut butter. Lastly, add some chopped fruit of your choice. Berries are an excellent source of vitamin C and fiber. Not sweet enough for you? Add a drizzle of honey and/or a dash of cinnamon to make this a fantastic and filling breakfast idea.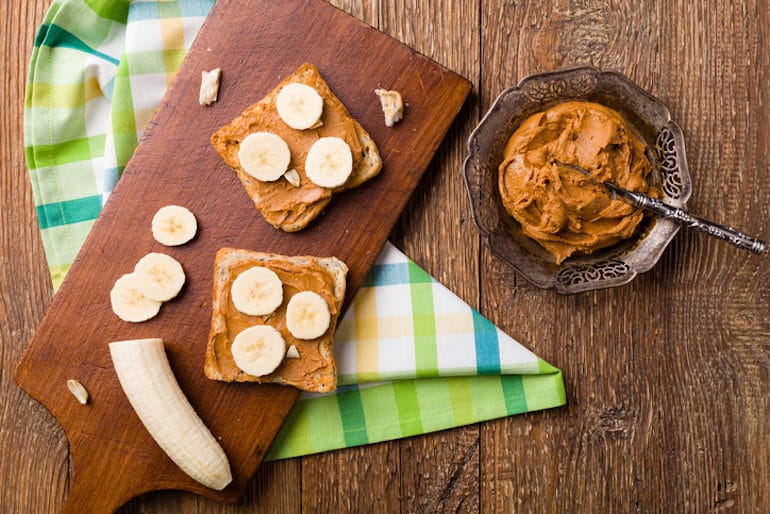 Nut-Butter Toast and Banana
This idea is probably the quickest and makes the least mess in the kitchen. Toast one or two slices of your bread of choice, then add two tablespoons of your favorite nut butter. I like the added sweetness of pairing the toast with a banana. This option provides lots of healthy fat and fiber. Depending on your choice of bread, you can pack in some
protein
as well. Additionally, you can sprinkle two-to-three tablespoons of hemp seeds on your toast to add around 10 grams of plant-based protein.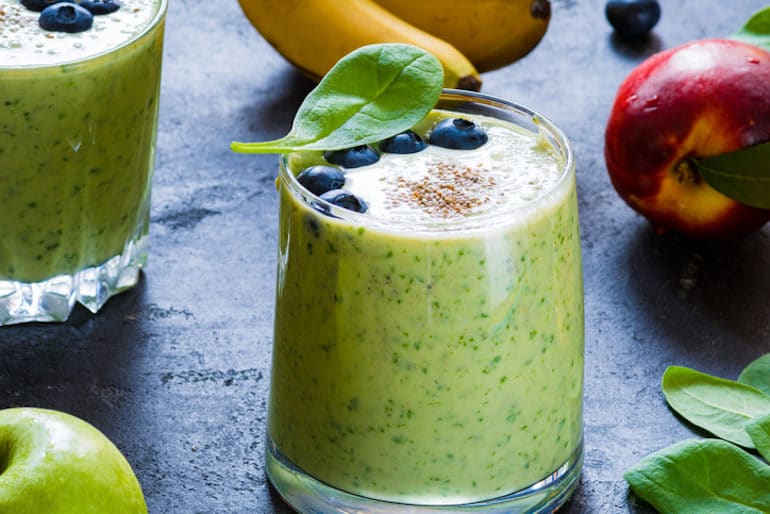 Blueberry Spinach Smoothie
Smoothies are one of my go-to to easy, healthy breakfast ideas since I'm often not hungry the moment I wake up. By making your own smoothie, you can customize what's in them, including having enough protein and fat to make them satisfying. I also use mason jars for my smoothies to carry on the go. Blueberry spinach smoothies are among my favorites. Here's my recipe:
2/3 cup plain 2% Greek yogurt (highest in protein)
1 ripe banana
2/3 cup frozen blueberries
1 cup spinach leaves
1/2 cup milk of choice (dairy, coconut, soy, almond)
2 teaspoons protein powder (optional)
chia or flaxseeds (optional as an addition to or in lieu of protein powder)

Egg Muffin Bites or Quiche
This final healthy breakfast idea is one you can prepare once weekly and have a few servings ready to go on busy mornings. I recommend either buying silicone egg trays or using a cupcake tin if you have one. You can make a mixture of eggs and egg whites if you choose. My favorite add-ins are spinach, feta, and green onion, but you could use just about any
vegetable
you have in your refrigerator to cook in your egg muffins. Here's my go-to recipe:
Preheat oven to 350°. Spray eight cups of a muffin tin with cooking spray and set aside.
In a medium-sized mixing bowl, whisk together 6 eggs and 6 egg whites, 1/4 cup of almond milk, salt, and pepper until smooth and lightly colored.
Add in 1/4 cup of crumbled feta, 2 tbsp of minced chives, and 1 cup of chopped spinach; stir to combine.
Fill each prepared muffin cup with the mixture and then bake in a preheated oven for 15-17 minutes, or until the cups are solid and slightly brown on top.
Let cool 10 minutes, then remove from muffin tin. Store in an airtight container in the fridge for up to four days.
You can also use a shallow baking dish and create something similar, like a frittata. Cut it into slices and pack one on the go with a piece of your favorite toast, fruit, or all on its own.
More like this