12 DIY Beauty Recipes for At-Home Spa Day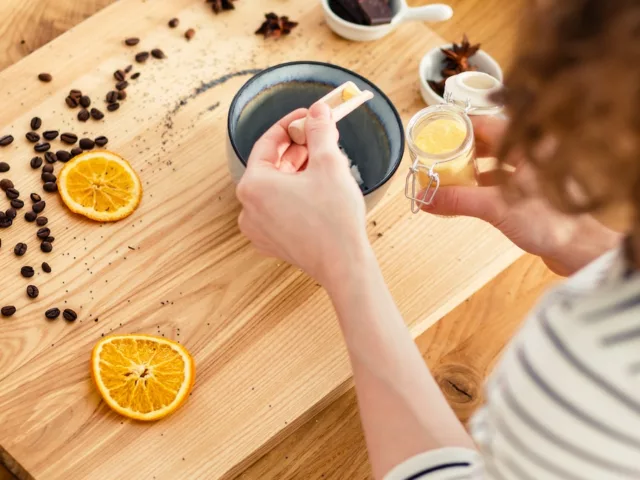 Make your own at-home spa menu by whipping up these easy DIY beauty recipes.
Quick poll: How's everyone doing out there? By now, you fully grasp the importance of
staying home
, not only for yourself but for others, and you've taken all
precautionary measures
to hunker down wherever you are. Sure, you've stocked up on your favorite snacks and have workout videos lined up—but how's your beauty routine looking? Your product arsenal might not be as stocked as you'd prefer, so it's time to get creative. We called up 12 beauty pros to share their go-to DIY beauty recipes so your usual self-care routine doesn't take a hit.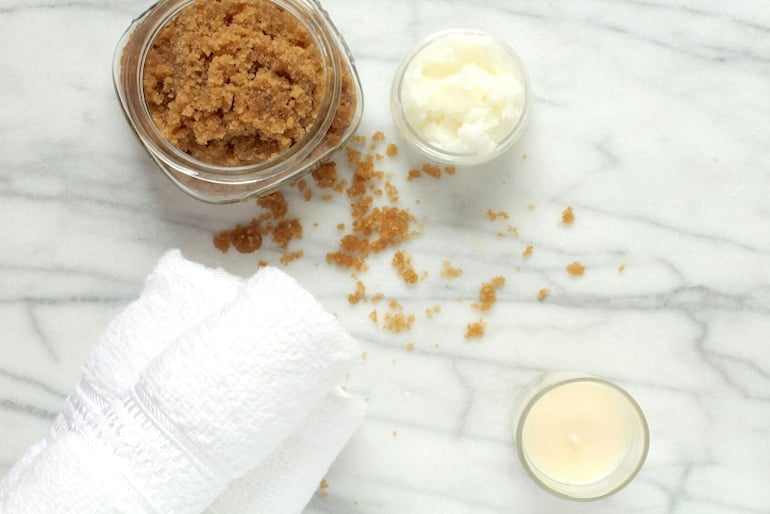 DIY Beauty REcipes for Face
Coconut Oil Lip Scrub
Dry skin can be a consistent issue, which also includes
your lips
. In fact, A-list celeb makeup artist
Molly R. Stern
is such a big advocate of lip exfoliation that she even has her own recipe you can use while you're holed up.
Ingredients
1 tbsp coconut oil
1 tsp brown sugar
Mint essential oil (optional)
Instructions
Mix coconut oil and brown sugar in a bowl. Put mixture in an ice cube tray or on a small piece of foil to freeze for a few hours. "To make the application easier, get an old mascara wand and wash it with dish soap and water to clean," she elaborates. "After the scrub freezes, rub a chunk between your fingers to warm it, then use the wand in circular motions to massage the scrub in." Do that for three to five minutes, then rinse.
Cornmeal Face Exfoliator for Sensitive Skin
Ever wonder how celeb makeup artists like
Suzie Kim
achieve flawless application? It's all in skin prep! Even though you may not be wearing tons of makeup in hibernation, a
consistent exfoliating practice
is never a bad idea. "I mix this up once a week to keep my face glowing. It also helps my skincare products absorb deeper into my skin in drier months," she explains.
Ingredients
1 tbsp finely milled organic cornmeal
1/2 tbsp organic honey
Instructions
Mix honey and cornmeal in a bowl. Wet your face and gently apply the mixture. "I usually start with my nose, then my chin and forehead, and finish lightly on my cheeks." Wash off and continue with your normal skincare regimen.
Lemon Aloe Vera Brightening Face Mask
If your skin is feeling dull in quarantine, look to the favorite DIY concoction of Darren Tieste, co-founder organic and vegan clean skincare line
Mizz Bloom
. "This super simple and effective mask brightens and hydrates. Just grab a lemon and some aloe vera, and off you go," he adds.
Ingredients
5 tbsp fresh aloe vera
Whole lemon
Instructions
Squeeze the whole lemon into a bowl. Add the aloe vera and mix gently. Apply evenly to your face for five to 10 minutes, then wash off.
Honey-Cacao Antioxidant Face Mask
Leave it to Beverly Hills glow queen behind 
Celeste Rodrigues Skincare
to share an antioxidant-packed triple threat face mask. "Manuka honey is antibacterial and anti-inflammatory, and helps with redness and inflammation. Meanwhile, cocoa is an amazing antioxidant that'll instantly brighten up your skin. Lastly, avocado is extremely hydrating," explains Celeste.
Ingredients
2 tbsp Manuka honey
2 tbsp avocado
1 tbsp cocoa powder
Instructions
Combine all ingredients in a bowl. Apply to freshly cleansed skin for 10 minutes. Wash off with warm water then moisturize.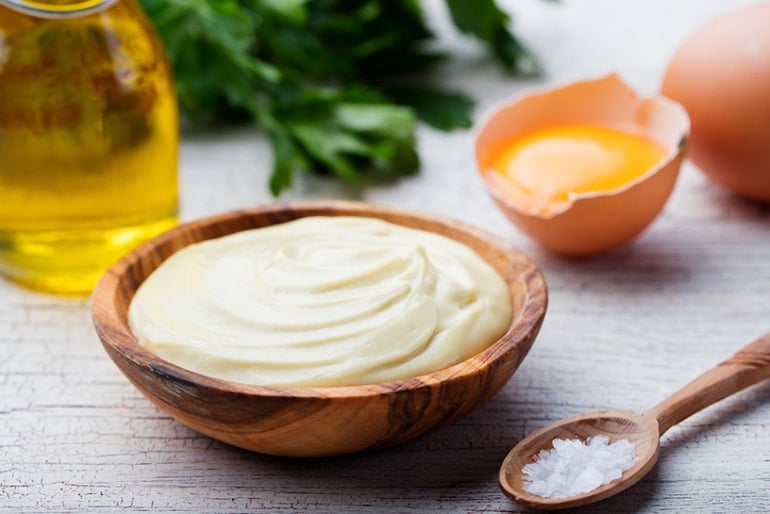 DIY Beauty Recipes for Hair
Exfoliating Hair and Scalp Detox Oil
One of our top quarantine beauty goals is to grow out our hair and get it healthy. According to wellness expert
Bianca Cheah-Chalmers
(she's honestly #hairgoals), incorporating this one step into your bathing routine will make all the difference. "This DIY beauty recipe is good for dry shampoo buildup. It's also nice to use this for
a couple of minutes of relaxation
and de-stressing."
Ingredients
Handful coarse sea salt or sugar crystals
Few tbsp pumpkin oil (or sub another oil)
Instructions
Simply combine a handful of coarse sea salt or sugar crystals (Bianca prefers salt crystals), with pumpkin oil. Mix them together into a paste. "Just exfoliate your scalp once per week in the shower with it and, boom, you're on your way to healthier hair," she attests.
Shiny Hair Vinegar Rinse
Shiny hair will never get old, especially when it's something you can achieve with minimal effort and cost. Just ask
Olivia Casanova
, colorist at IGK salons Soho. "I love a vinegar rinse because it's one of the best natural ways to balance your hair's pH (meaning it can help with
any damage
). Not to mention, it also gives you great shine," explains the pro.
Ingredients
1 bottle of white or apple cider vinegar
Instructions
After shampooing and conditioning, quickly rinse your hair with about a cup of white or apple cider vinegar from the roots to the ends. Let it sit in for a couple of minutes, then rinse thoroughly and style as usual.
Egg and Oil Hydrating Hair Mask
Have dry strands? Take this opportunity to make a homemade hydrating hair mask by hairstylist
Sabrina Porsche
. "Since I'm practicing social distancing, it's a good time to take out the weave in my hair, let it breathe, and really take care of my locks by doing masks and deep conditioning treatments," she shares.
Ingredients
1 tbsp olive oil
1 tbsp sesame seed oil
Whole avocado
1 egg
1 tbsp honey
Coconut oil (optional)
Instructions
In a blender, add all ingredients and puree until smooth. Add liberally to wet or dry hair. Leave on for 15 minutes to an hour, then wash it out and style as usual.
Dead End Hair Repair Mayonnaise Mask
Ricardo Rojas, celeb hairstylist and founder of
Ricardo Rojas Hair Care
, is no stranger to red carpet beauty secrets. Here's an easy hack for you: mayonnaise. "This deep conditioning mask is great for nourishing your hair and great for avoiding split ends, as mayo is loaded with amino acids, vitamins, and more," he mentions.
Ingredients
Instructions
Apply to damp hair, starting at the roots and applying in a downward motion to your ends. Once fully coated, grab your shower cap and chill for 15 to 20 minutes. Rinse thoroughly and finish with shampoo. "Follow with a light conditioner for even better results," Ricardo adds.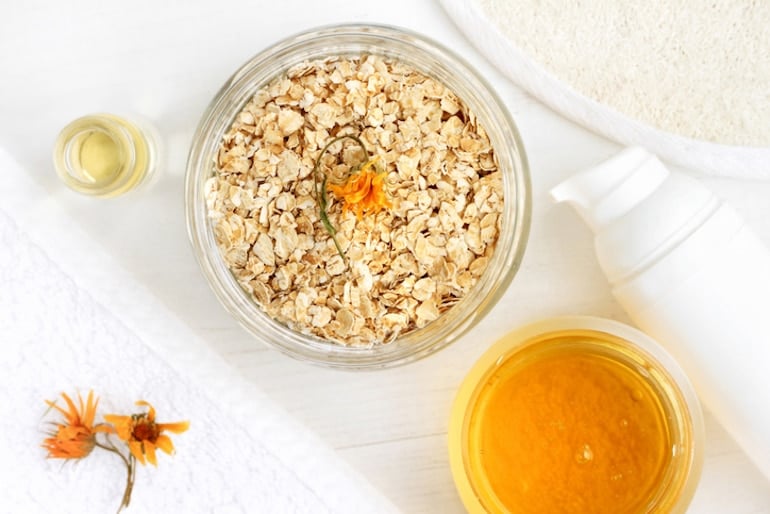 DIY Beauty Recipes for Body
Face Haus Honey Yogurt Hand Mask
If your hands are still raw from all the sanitizing, here's a hand mask option from Dylan Mustapich, the lead esthetician at
Face Haus
NYC. "It uses antioxidant-rich oats to help fight free radicals, hydrating honey to soothe, and
naturally probiotic
Greek yogurt to balance the
skin's microbiome
 while also gently exfoliating with lactic acid," she explains.
Ingredients
2 tbsp oats
1 tbsp honey
1-2 tbsp Greek yogurt
Instructions
Refine the oats in a food processor or blender before adding to the rest of the mixture. Mix all ingredients in a small bowl. Apply to hands for 10 to 20 minutes, then rinse.
Restorative Oatmeal-Coffee Body Scrub
Take advantage of this extra time at home by whipping up a nutrient-filled body scrub—courtesy of Miami-based spray tanner Kristyn Pradas of
Pradas Glow
—to combat any vestiges of dry winter skin. "The oatmeal will calm and soothe the skin, the coffee will exfoliate and tighten your skin with caffeine, and the salt/sugar will remove dead skin cells. Finally, the oil will plump and restore moisture while its antioxidants will
protect your skin from free radical damage
," she explains.
Ingredients
2 tbsp ground coffee
2 tbsp salt or sugar
1/2 cup cooked oatmeal
2 tbsp olive oil or coconut oil
Instructions
Cook oatmeal in water until it's very soft. In a blender add oatmeal, coffee grinds, ground salt or sugar, and olive oil or coconut oil (or both oils if you want a super boost of vitamins and antioxidants). Apply product in the shower in circular motions, with your hand or a washcloth. Let it sit for at least 60 seconds so your body absorbs all the nutrients. Rinse with lukewarm water then pat your skin dry.
Pre-Manicure Hands-Only Sugar Scrub
Transform your mani-pedi into a full spa experience by referring to this at-home sugar scrub from LA manicurist
Brittney Boyce
, who works with ORLY. "Not only will this DIY recipe help with dry hands, but it's easy and will make your skin feel like you just indulged at a spa," she explains.
Ingredients
1 cup sugar
Coconut oil
Lemon juice
Any essential oil for scent
Instructions
Mix all ingredients in a bowl until you get your desired viscosity. Gently massage scrub onto hands or feet and wash off with water, then proceed with your manicure as usual.
Overnight Coconut Oil Hand Treatment
Natalie Minerva of
Nail Swag
in Downtown LA is big on moisturizing, especially right now. "
Hand washing
and using sanitizer dries our hands out very quickly, and can result in painful, flaky, dry skin. Here's a quick and easy way to mitigate that overnight," she shares.
Ingredients
Olive or coconut oil
Gloves
Instructions
Apply a generous amount of oil to your hands. Cover the whole surface of your hands, including your wrists. Put on gloves and go to bed. "The key to this treatment is to lock in moisture over an extended period of time, hence why we do this overnight," she continues. By the next morning, your hands will feel drastically better.
More like this