A Nutritionist Tells Us What to Eat at a Music Festival
Registered dietitian Jess Nelson gives us a strategic list of snacks to fuel you through a long weekend of dancing. Here's what to eat at a music festival to stay nourished and energized. Another plus? You'll also save a boatload of money…
Looking for more healthy musical festival tips? Check out these
packing essentials from a festival fanatic
.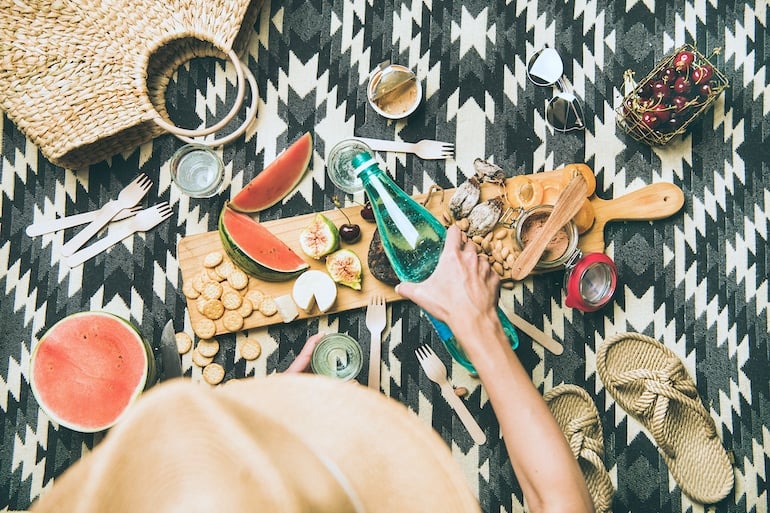 feel-good festival Eats
First, I think we can all agree that music festivals are generally hot, muggy, and sticky. So bringing snacks that could melt or get mushy is not ideal. We also want to load up on items that need minimal refrigeration – or none at all. When you're bouncing from stage to stage you don't want to worrying about keeping your snacks cold. Here is a list of the top dry goods to carry in your backpack or fanny pack.
Trail Mix
The perfect snack for so many reasons… high energy, good source of fat, tasty, and endless combinations to choose from. Watch out for ones loaded with chocolate. Although this may make it tastier, chocolate will melt on a hot day and make your mix undesirable real quick. Save those chocolate mixes for nighttime when the weather is much cooler.
Jerky
A staple in my opinion. Jerky is a great way to get in protein and replenish your body with sodium that you'll sweat out while dancing. Jerky travels nicely and can come in many flavors so you're sure to find one that will tantalize your taste buds.
Fruit
Think hand fruit that is easy to store and won't brown quickly. A great vegan option is a clementine. They even have a peel, so no washing is required (except maybe your hands after… hand sanitizer anyone?) Dried fruit is also an option, especially if you aren't feeling the raisins in trail mix. My recommendation is to go for fruits you already like in the fresh version and to look for fruit leather strips that are packaged for single use.
Granola/Protein Bar
Bars are a convenient, grab 'n go item that are perfect for providing you with carbohydrates, protein, and fats. Similar to trail mix you will want to avoid bars with a chocolate or creamy coating over it. Instead, look for a bar that has a crisp texture and held together by some type of clear or light colored syrup source. Some brands to consider include KIND Protein Bar, Nature Valley Crunchy Granola Bars, or Cliff Bars.
Roasted Chickpeas, Edamame, and Green Peas (vegan-protein options)
Something to add a little variety in your festival food haul. Similar to nuts, these legumes offer protein. However, they are lower in fat and higher in carbohydrates than nuts. So you will want to pair these with some other higher fat snacks to make it that much more fueling. You can find these in many flavors – or even make your own at home to save on cost.
Nut Butter
So versatile and delicious, a definite fan favorite right here. For convenience, get the to-go packets. Spread your favorite nut butter on fruit, a granola bar, rice cakes, crackers, or make a good old fashioned PB+J sandwich.
Root & Kale Chips
Veggies anyone? Typically there is not much happening in the vegetable department when you are cruising around a music festival all weekend. Not to worry. There are great chip products out there that offer dehydrated vegetables like kale, beets, sweet potato or carrots.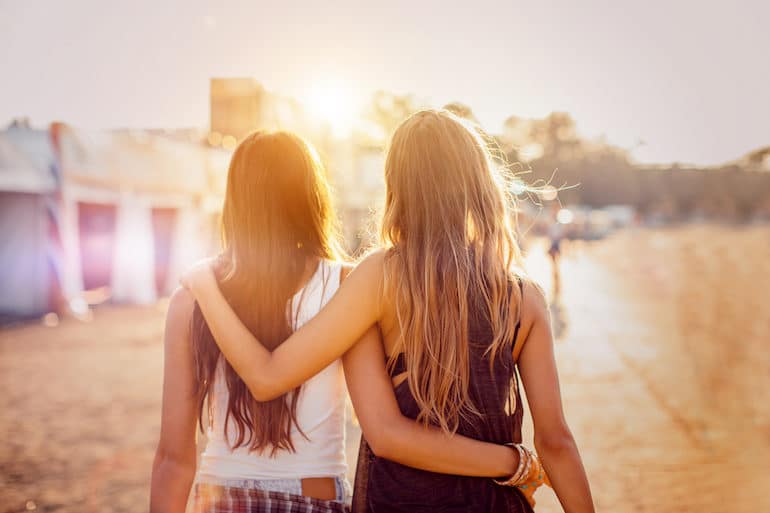 campground warriors
If you're staying at the campgrounds, bring a cooler (or two) pre-stocked with ice. Because the cost of ice at events like this is triple the normal cost, so you will need to choose wisely about the snacks you bring. The key with cold snacks is to choose items that don't take up much space or immediately fall apart or go bad when taken out of coolers and thrown into a sack.
Hummus
A good option if you're sick of peanut butter. Hummus goes great with crackers or pretzels. You can also bring cut-up celery or carrots for a fresh veggie option, which again pairs well with hummus (and PB too). Again, look for the single serving to-go cups for convenience.
Cheese stick
Another convenient item for on the go exploring, and a bonus is that it doesn't take up much space in the cooler!
Yogurt
Yep, I know what you're thinking… but wait! There is squeezable yogurt in a tube. You can also freeze these ahead of time, so it helps to keep other campground food cold. Then, when you're ready to eat it's a refreshing and flavorful protein snack.
Hard-Boiled Eggs
Make these ahead of time, peel, and then store in Tupperware. Hard-boiled eggs can quickly provide protein and fat, not to mention vitamin D. When stored consistently in a cooler with ice, they can last for three to five days.
Mini Meat & Cheese Sandwiches or Wraps
Stack lunch meat and cheese on a small bun, or roll in a tortilla. These are great additions to other foods to make a quick meal. or eat alone as a snack. Make just a few and eat relatively quickly as the bun or wrap can become soggy after a while. Garnish with mustard, mayo, cream cheese, or even that hummus!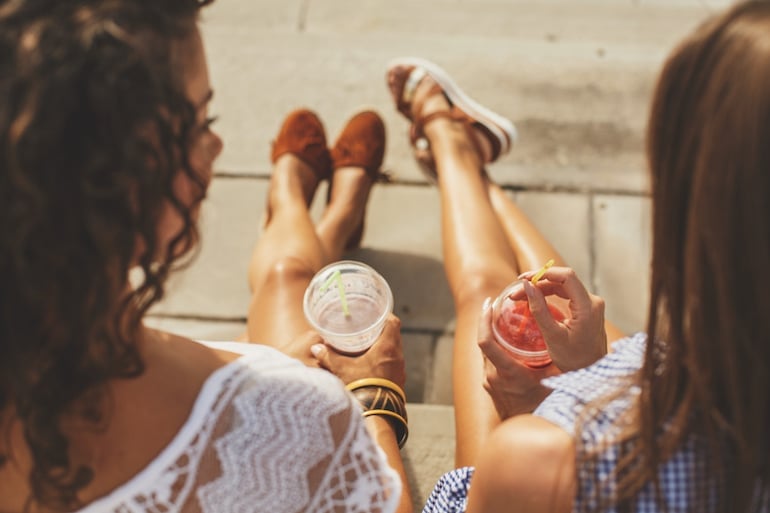 GULP, GULP
More important than fueling your body with food is being on point with getting enough fluids in. Dehydration is a common occurrence and a big problem at music festivals. Nothing beats water and many festivals have water filling stations around the grounds. But sometimes you want a little more flavor and nutrition than what water has to offer. We also know that having a tasty, rehydrating beverage on hand is more likely consumed and not forgotten when completely engulfed by all the fun of a music festival.
Coconut Water
Coconut water is slightly sweet and offers hydration, electrolytes, and fat. Because of the natural source of sweetener and electrolytes, coconut water is better suited for those with sensitive stomachs than traditional electrolyte or sport drink beverages. Some coconut water products need refrigeration after opening and some do not. Best option is to choose a brand that requires cold storage after opening (coolers ftw, baby) and to keep it in a cool dry place before opening (i.e. not the hot sun).
Sports Drink
Packed with electrolytes such as potassium and sodium, as well as sugar or glucose, sports drinks rehydrate you quickly and boost your energy.
Juice
Cold pressed juices are very yummy but need refrigeration or to be consumed within two hours. If you feel that you have a healthy supply of ice than I'd go with this option. They retain more nutrients when going through a cold pressed process. However, if short on the ice, regular 100% fruit juice you find on the shelf will still provide vitamins, minerals, antioxidants, and calories. Pro tip – look for 100% juice blends that combine juices from red, purple, and/or orange fruits for more antioxidants.
FINAL WORDS
No matter the festival, taking care of yourself is a priority. Enjoy the music, people, and environment by borrowing from this list of what to eat at a music festival. It's sure to help you make the most of your music festival experience!
More like this